Expedited Logistics Becoming Preferred Option for Noncritical Shipments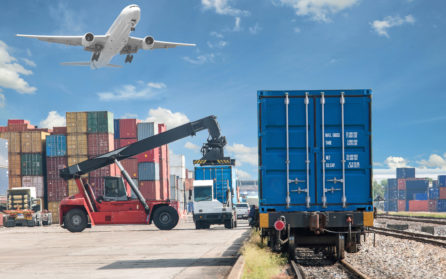 When expedited shipping first appeared in the early 1980s, it was described as "the ambulance service of the trucking industry, rushing freight when and where needed as quickly as possible," and while the service still fills that role, it has undergone a dramatic transformation in recent years. No longer solely the purview of businesses in need of "emergency" or "extremely urgent" services, expedited service has become an option of first resort for many businesses, a preferred solution for "routine" supply chain needs, and an important way to meet customer delivery expectations.
What exactly is meant by expedited shipping? The definition itself has evolved. Today, expedited service refers to fast, uninterrupted delivery service with premium attention to customer service and shipment specifics. Or as one provider defined the service to the Journal of Commerce: "Expedited trucking today is about customized solutions for critical shipping needs. It's evolved from being just a time-specific service. People come to us for so much more than that. They're sophisticated about how they purchase transportation, and they're shopping."
But whereas the service was once considered the "Rolls-Royce" of logistics, with a price tag to match, today's businesses are often surprised to find costs are quite manageable. Costs are still higher than standard service but in many cases at a much lower price point than might be expected, given the premium level of service. This brings many retailers to the question is my logistics provider able to support expedited shipping?
The Role of Expedited Shipping in Industrial Manufacturing
Many industries—automotive, technology, pharmaceuticals, health care—rely on expedited services to meet just-in-time manufacturing needs, or to ensure on-time delivery of perishable or highly regulated materials. Expedited services can also be integral to a product launch, whereby "just released" inventory needs to be in place in retail locations across the country. New England Patriots fans were the beneficiaries of expedited shipping when, following their team's come-from-behind Super Bowl victory in February 2017, T-shirts commemorating the win were available within hours, after a Guilford, CT-based supplier worked through the night to print the shirts, which were then expedited to stores via a carefully crafted logistics strategy.
Expedited services are also priorities for manufacturers that have made significant investments in advanced techniques, including robotics, technology, and even artificial intelligence. These savvy manufacturers understand the importance of investing in a logistics strategy that can keep pace with their facilities' higher levels of output and supply chain sophistication.
For some, the peace of mind that comes from knowing a shipment will arrive on time is worth the extra cost. Others are able to justify the higher fees through lower inventory carrying costs—products that spend less time in the warehouse also spend less time on a business's ledger.
The retail industry has also come to recognize the benefits of expedited service, both as a way to guarantee inventory replenishment to stores and to meet consumer expectations for fast and flexible delivery options. This is especially true when inventory needs to cross an international border, with little time for border clearance delays often caused by missing documentation or incomplete paperwork.
And of course, expedited service continues to be the preferred option for "emergency" and "time-critical" delivery needs. An article in Inbound Logistics highlighted a situation in which a 250,000-pound part for a nuclear reactor in Portland, OR, needed to be serviced at a facility located in Charlotte, NC. "It cost $1 million each day the reactor was down waiting for the part," the article stated, so it was easy for managers to justify the cost of chartering a plane to transport the part to North Carolina.
Whatever the reason for selecting expedited service, businesses give careful thought to choosing the right provider, with experience, capabilities, and innovation among the most important considerations. There is no learning curve within the world of expedited services— a provider either has the required capabilities or it doesn't, and there is no room for "on-the-job training." Therefore, it is necessary for a business to do its homework before entrusting its priority shipments to a logistics provider.
The following discussion will focus on the expanding role of expedited services in helping U.S. industries meet their supply chain objectives. Manufacturers and retailers can look with confidence to their expedited service provider and rest assured their shipments will benefit from the highest levels of care; that deliveries will occur on time, as promised; and that customers' high service expectations will be met.
What's New in Expedited Services
There is general agreement within the logistics and transportation community that Frederick S. Smith, the founder of Federal Express, was a true expedited air service visionary. According to that company's historical timeline, Mr. Smith laid out plans for an expedited air service in a 1965 undergraduate term paper. That idea eventually came to fruition in 1973, with the launch of Federal Express.
It wasn't long before the idea for "expedited trucking" took hold. During the early 1980s, Bill Blodgett, the owner of a local delivery service, came to understand that a truck dedicated to a single delivery could be as fast as air delivery. Blodgett also understood that customers would be willing to pay the higher cost of "chartering" a truck if a shipment's contents were valuable enough.
Blodgett's thinking proved prescient, as his small business was purchased by Roadway in 1994 and then by Federal Express in 1998.
For many years, expedited logistics remained largely a high-priced solution for urgent, last-minute needs. Traditional users of expedited services included auto parts manufacturers; pharmaceutical companies; shippers of perishables including flowers, fruits, and meats; and critical documents.
Gradually as technology took hold within the logistics industry, the nature of the expedited market began to change. For one thing, as technology allowed carriers to shorten their standard transit times, expedited carriers have seen increased competition to simply be "the fastest." This "need for speed" has largely been fueled by what is often referred to as "the Amazon effect," whereby the Internet retailer has normalized the expectation for two-day shipping and helped drive customer expectations for increasingly flexible delivery options.

"Everybody is retooling their networks, all the big carriers, to figure out how they can deliver faster, how they can get it there before the end of the day, before noon, before 10 in the morning," one logistics manager told the Journal of Commerce. "Every LTL and truckload carrier now has expedited or hotshot delivery. Obviously, if you're just relying on speed as your selling point, lots of people are trying to move into that space."
Transportation Concierges
With a surge in the number of competitors offering fast service, expeditors have sought to distinguish themselves. This has created a niche category of true expeditors who offer much more than fast service. Today's expeditors are transportation concierges, offering the fast, guaranteed delivery that has always been the benchmark of expedited service but also offering highly specialized services, including:
Premium levels of dedicated customer service
Customized transportation plans
Shipment security
Special handling (including temperature control, liftgate services)
White glove services, including special care for highly fragile or perishable shipments, product installation capability, specialized equipment, and properly trained drivers
Customs compliance and border clearance processing
GPS-based tracking
Personal courier
Premium last-mile services, including regular updates from driver and the flexibility to reschedule or reroute a delivery until the last possible moment
Technology-Based Solutions
For expedited services, technology is vital in developing a comprehensive solution. A service provider cannot be sure its solution is the fastest or most efficient option available without a technology-based seal of approval. A report in Inbound Logistics called technology a "must-have" for expedited shipments and noted that shippers simply will not use providers that do not have a high degree of technology driving their solutions.
Among the key benefits of a technology-based expedited solution:
Real-Time Visibility/Asset Identification. A provider can know immediately the exact location of all transportation assets and assess the best option to meet a particular shipment's precise needs.
Backup Plans. What if something goes wrong—an unexpected breakdown or weather event? Technology will ensure an alternative solution is immediately identifiable and accessible.
In-Transit Visibility and Communication. GPS tracking of expedited shipments allows shippers to know precisely where important cargo is at any moment. In addition, drivers are immediately accessible via in-truck radio systems. This allows a dispatcher or monitor to contact a driver with any last-minute changes or for regular progress updates.
Route Optimization. A savvy provider will use satellite-based technology to highlight the most efficient route. This "smart" solution will "see" traffic backups, road construction, and other potential delays and recommend the most direct route.

Since many expedited shipments are high value or, as in the case of pharmaceuticals and electronics, highly attractive to criminals, in-transit security is a top priority. Smart providers are meeting this need through technology-based security protocols, including:
GPS devices embedded in cargo
Tracking devices embedded in trailers
Anti-jamming devices, including RF beacons, which thwart efforts to jam a truck's GPS signal
Cargo analysis software, which helps assess shipment risk for potential theft and determine necessary level of security
Geofencing capabilities, which send fleet managers an alert if a truck goes off-route and also allows for remote engine "starter disable" if theft is suspected.
Sensors can report on cargo location, door open/close status, and alert managers when trailers are moved from predesignated locations
Membership in theft-prevention industry groups such as the Pharmaceutical Cargo Security Coalition and the Transported Asset Protection Association, which logistics providers are eligible to join if they meet certain criteria, including technology-based security initiatives
Innovation Adds Efficiency and Flexibility
Expedited service has also increased its "brand portfolio" in recent years, with several new delivery options falling under the expedited umbrella. These options include:
"Flying Trucks" Ground Service. Certain carriers have been able to reduce ground transit time so significantly that it is possible to transport shipments faster via a ground solution than by air. This expedited level of service is more cost efficient and comes with premium levels of service.
Two-Driver Teams. Ensure an expedited shipment stays in constant motion by relying on a two-driver team. This way, drivers take turns driving and resting, which means fewer stops and a shorter transit time. This can be especially helpful in light of new restrictions imposed by the Federal Motor Carrier Safety Administration on driver hours and requiring mandatory rest periods.
Customized Solutions. Sometimes a shipment has such unique needs that a specialized solution must be built from the ground up. Retailers may encounter this situation, for example, when trying to coordinate a nationwide product launch. Or a pharmaceutical company may need a customized solution to oversee transport of a highly regulated, temperature-controlled substance. When the need arises for a one-of-a-kind solution, a good expeditor will be ready with a technology-based plan that ensures the highest levels of efficiency and effectiveness.
Customs Facilitation. Customs delays can be a catastrophic obstruction for extremely time-sensitive shipments. Fortunately, an experienced expeditor can mitigate the likelihood of a delay by having all paperwork and fees pre-filed. Shipments can be routed to avoid notoriously inefficient border clearance points, either by traveling via a less hectic regional airport or through a well-staffed land crossing. Another option is to enlist the services of a local customs courier to physically walk a shipment through the customs process. The local courier will speak that country's language, have thorough knowledge about all customs paperwork and documentation requirements, and, in many instances, be acquainted with customs officials manning the clearance queue.
Hybrid Solutions. Innovative providers can build a customized solution that incorporates different combinations of services. As described by East-West Manufacturing, "Imagine this scenario: The air freight quote has given you sticker shock, but you know that ocean freight will take too long. It's possible that a forwarder can find the best route, combining ocean and air freight with a dedicated truck to deliver your order as quickly and cost-effectively as possible."

Intermodal Service. Several U.S. railroads have introduced expedited services in recent years, which allow a rail/truck intermodal solution to be a viable option in certain cases. According to Inbound Logistics, expedited rail can eliminate as much as an entire day from a transit route and can be ideal for large shipments (a single rail car can hold the equivalent of 3.5 truckloads) in need of priority service.
Any shipper considering expedited services must be aware of the vast capabilities' differences among providers. Not every provider can offer immediate access to a truck or plane required to expedite a shipment, and definitions can vary with regard to what is meant by "critical," "urgent," and "priority." This leads as an example of why it's important to ask many different questions before creating a supply chain strategy. The above discussion also offers a good overview of innovations taking place within the expedited category and can guide shippers as they consider different providers.
Contact Purolator International Today: The Expert in Expedited Shipping
At Purolator International, we are proud to provide expedited, dependable shipping solutions to our customers. We understand that our services directly impact your ability to get the job done right for your customers, and it is our goal to help you be as successful as possible.
If you're ready to learn more about our expedited shipping services and custom, innovative solutions, contact us online today. We look forward to partnering with you!