Asset-Based or Non-Asset-Based? How to Decide?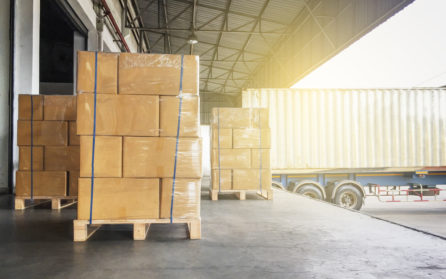 Whether to enlist an asset-based 3PL or a logistics provider that does not own assets will depend on a shipper's specific needs. There is no right or wrong answer. A business will need to evaluate its logistics needs against the capabilities offered by the specific 3PLs it chooses to consider. This evaluation process is a critical step since many businesses, with the benefit of hindsight, came to realize they made the wrong decision.
Following is a brief overview of common supply chain needs with a comparison of asset-based and non-asset-based 3PL capabilities.
Comparison of Asset-Based and Non-Asset-Based 3PL Capabilities
Scalability. Businesses with broad variances in shipping needs require a solution that allows service levels to fluctuate based on need. A garden equipment supplier that sees a huge spike in shipments during warmer months, for example, would benefit from a solution that allowed it to scale up service levels during peak periods and to scale back during slower months.
Scalability is also very important for retailers during the busy holiday period and for eCommerce businesses that may want to offer different tiers of service, including next-day or 2-day delivery.
Non-asset-based providers can work with shippers to identify their precise needs and build a customized logistics strategy. The ability to offer scalable solutions is generally regarded as a strength for non-asset-based providers since they have the flexibility to draw from a wide pool of carriers and warehouse operators.
Companies with their own assets are generally unable to offer much in the way of flexibility since they have a limited pool of resources with which to work. While an asset-based company may certainly try to address a shipper's need for scalability, its solution is likely to be less flexible than that of a non-asset-based 3PL.
Technology-Based Solutions. According to an analysis by ARC Advisory Group, access to technology-based solutions is a major reason businesses decide to outsource their logistics needs, thereby allowing shippers to avoid having to make significant investments in transportation or warehouse management systems of their own. But an "IT Gap" exists – "a gap between the importance shippers attach to a logistics service provider's IT competence and how competent the shipper finds the 3PL it works with."
ARC notes that "an explosion" of new data is available to create digital supply chains, but not all logistics providers understand the potential of this data or have the skills required to achieve maximum benefit. "Core applications that logistics service providers use to provide differentiated service for their customers – warehouse and transportation management systems, and increase supply chain planning and omnichannel execution – continue to be enhanced," the ARC Advisory analysis noted. Specifically, today's savvy logistics providers are incorporating IoT platform capabilities, artificial intelligence and machine learning, and predictive analytics.
Technological prowess is essential regardless of whether a logistics company owns its assets. But for a business considering its 3PL options, understanding the degree to which a company has embraced technology should be a key consideration in the decision-making process.
Regulatory/Special Handling. Manufacturers of products with specific handling needs (including temperature-sensitive pharmaceuticals, theft-susceptible electronics, fragile computer chips, or highly regulated medical devices, among others) will need to ensure their transportation provider can guarantee the required levels of service. A manufacturer will soon come to learn that while many logistics providers will claim to have the required expertise, most have only cursory experience and lack hands-on knowledge and a demonstrable record of success.
Many asset-owned providers specialize in certain capabilities, including refrigeration or oversized loads such as auto and industrial, or in servicing a specific industry. Successful specialized providers will have long lists of satisfied customers that can attest to their logistics proficiency and dedicated personnel with direct industry experience.
As an alternative, a non-asset-based 3PL can enlist qualified providers with the necessary equipment and capabilities, and it can offer additional services, including greater flexibility in scheduling pickups, seamless coverage to specific geographic regions, or greater access to warehouses.
In either case, the top consideration is to ensure a 3PL understands a shipment's special requirements and can ensure safe, efficient processing and delivery.
Cross Border/Global Reach. Just because a logistics company manages a seamless supply chain in the U.S. is no guarantee of similar success in an international market. Even if that market is Canada, which many U.S. businesses erroneously assume is "essentially the same" as shipping within the United States.
Shipping across an international border – any international border – requires capabilities that can only come with experience. These capabilities include knowledge and insight about customs/border clearance requirements and processes, access to distribution within the international market, and experience with an international market's infrastructure, local customs, and expectations. Did you know, for example, that Canadian is officially a bilingual country and all labels must be prepared in French as well as in English?
A non-asset-based 3PL will have access to a wide network of international providers in order to ensure service to a specific market. This will include the ability to provide critical last-mile services within that market and ensure on-time deliveries. Since non-asset-based providers are in the business of developing seamless, integrated solutions, building and maintaining an international network of service providers is often a core capability.
Asset-based companies that offer international access are often unable to provide commensurate levels of service. While a provider may be able to transport goods to a required market, in-country distribution is often handed off to local carriers that have no accountability to the provider. This can mean a loss of shipment visibility, longer delivery times, and, when multiple shipping companies are involved, lost or damaged shipments.
Warehousing and Inventory Management. According to The Wall Street Journal, in July 2018 U.S. warehouse space was at its tightest capacity since 2000 with no end in sight as eCommerce-fueled demand continues to exert pressure for even more space. Businesses are not just looking for space in which to store inventory but instead are looking to warehouse operators for comprehensive fulfillment and distribution services as a way to quickly process shipments and ensure on-time consumer deliveries.
Not surprisingly, in many ways Amazon has set the standard for today's warehouse expectations with its growing network of strategically located, fully automated warehouses. According to Business Insider, Amazon's 140 warehouses are aligned with markets where it offers same-day shipping and one-hour shipping in New York City, Baltimore, and Miami. Overall, the retailer's warehouses are within 20 miles of as much as 65 percent of its core same-day market.
Each Amazon warehouse operates as a full-service fulfillment center. Each center is highly automated and oversees comprehensive fulfillment services, including sorting, picking and packing, labeling, and shipping. Amazon's centers have multiple floor levels and dense rows of floor-to-ceiling shelves.
Clearly, the retailer is in a league of its own, and while most businesses neither need nor can afford this level of functionality, Amazon's model of efficiency has in many ways become the new standard. Operating today's warehouse – and keeping pace with rapid advances in technology and capabilities – requires significant investments in time and resources. This is why a warehouse solution from a non-asset-based 3PL would likely be more "cutting edge" and innovative than relying on a provider's internal assets.
Today's warehouse serves a vastly different role than it used to – no longer simply a storage facility located in some remote location. Instead, the warehouse is a vital part of an efficient supply chain with technology guiding everything.
Capgemini Consulting's "2017 Third-Party Logistics Study" found nearly 70 percent of shippers surveyed said they outsourced their company's warehouse and distribution center management to a third party. A key driver is the ability to take advantage of the facility's updated warehouse and transportation management systems, which can help businesses tap into reams of analytics to help improve efficiency and better meet customer expectations. This critical role will expand in coming years as demand for better utilization of data continues to grow.
Innovation/New Options. Logistics capabilities have improved tremendously in recent years, with solutions available today that were unthinkable only a few years ago. Current options include the potential to skip a distribution center stopover, route optimization, horizontal collaboration, shipment consolidation, and direct line-haul service.
Non-asset-based 3PLs would be more likely to tap into these new capabilities since they have the flexibility to implement innovative solutions offered by third-party suppliers. A 3PL that has invested in its own assets, on the other hand, would be less likely to risk the return on these investments by proposing solutions that would result in less asset utilization or reduced revenue.
Pricing. Managing costs is always a top priority for supply chain managers, and that need is exacerbated as tightened capacity and consumer demands for premium levels of service are driving up shipping costs. It's tempting to choose a logistics provider based solely on bottom-line cost estimates, but a wiser course is to dig deeper and select a provider that offers the best quality at a competitive price point.
Because asset-based providers own their equipment, they generally have more control over pricing since they set transportation and warehouse rates and do not have to negotiate with third parties. That said, it's important to determine if a provider's rate is competitive and to have a full understanding of exactly what is included in a pricing proposal. Many businesses have been surprised to receive invoices chock-full of unexpected charges for services they assumed were included in the original pricing. In many instances, these unexpected charges result in final charges that far exceed the original price quotation.
Non-asset-based 3PLs negotiate pricing within their networks of transportation and warehouse suppliers, which, depending on the 3PL, can be quite beneficial for a shipper. An experienced company with a deep network of suppliers that regularly contracts for large volumes, for example, will have more leverage in negotiating prices than a newer, less established entity.
Non-asset-based companies also have the option of soliciting quotes from multiple suppliers and using pricing as a determining factor. This selectivity also allows a 3PL to choose a supplier that most precisely meets a shipper's specific requirements, thereby ensuring greater cost efficiency. Why, for example, should a business have to pay for two-day shipping for a nonurgent shipment that doesn't require a premium level of service? In some instances, an asset-based company will have no other option available, whereas a non-asset-based provider can reach out to its extensive network and identify more suitable – and cost-efficient – solutions.
Capacity Guarantees. A "perfect storm" of sorts currently hangs over the shipping industry, with a surge in demand and an unprecedented shortage of truck drivers causing a serious tightening in capacity. According to analysis by DAT Solutions, at the start of 2018, just one truck was available for every 12 loads in need of shipping services.
For many shippers, the threat of not having adequate service is a real concern. Missed deliveries can not only wreak havoc with a company's supply chain but can do serious damage to its reputation.
The impact of the capacity crunch is being felt across the board, with all shippers affected. Larger companies, however, are in a better position to make contingency plans than smaller shippers. Mike Regan, Advocacy Chair for the National Shippers Strategic Transportation Council, explained to the Journal of Commerce: "Large retailers, to a person, will tell you they're not going to run out of trucks. They're going to pay what they need to pay to get the trucks they need to move the freight they have. The question then becomes, if large shippers are willing to pay above-market rates to guarantee capacity, what does that say about what's coming to the small to midsize shipper?"
It's understandable then that a top priority for shippers is to enlist a logistics provider that can ensure coverage will be available when and where it is needed.
Businesses that have long-standing relationships with asset-based carriers may be able to leverage that loyalty to lock in service commitments. The problem though is an asset-based company has a finite number of trucks available and can only make commitments to a certain number of shippers.
A non-asset-based 3PL can draw from its extensive network to lock in service guarantees for each of its customers. Assuming the 3PL makes effective use of technology, a shipper's logistics requirements can be quickly matched to a list of qualified – and available – carriers. And, as described by Talking Logistics, an efficient technology system can "identify opportunities for maximizing load fill across all modes and pinpoint opportunities to consolidate less-than-truckload loads across inbound, outbound, and multiple shippers."
A non-asset-based provider may also have the option of drawing from intermodal assets and relying on rail or air service for a portion of the transit route.
The Impact of Choosing a Strong Logistics Provider
When the logistics manager for a top-selling German shoe company was asked about the process his company followed in selecting a logistics company to handle sales to the U.S., he quickly noted that "the process was a lot like dating."
The manager described a process in which many firms were considered, and while each had core strengths, "in the end only one was the exact match for what we were looking for."
While this example might be a little unusual, it is a good illustration of the wide range of capabilities that exist among logistics providers. As the preceding discussion makes clear, both asset-based and non-asset-based providers have much to offer, so there is no clear "better choice" when it comes to choosing one over the other.
A business must determine its logistics requirements and then identify the provider that can best meet those needs. To carry the "dating" comparison a step further, you may have to kiss some toads along the way, but the ideal logistics provider does exist. And since the right provider can have a dramatic impact in improving supply chain efficiency, the selection process is usually time well spent.
At Purolator International, we have a wealth of experience in the shipping and logistics, and our extensive network enables us to deliver dependable, custom solutions to our customers. Contact us today to learn more about our services!