Is Your Supply Chain Canada-Ready? Five Tips to Ensuring a Highly Effective Canadian Logistics Strategy.

A key takeaway from an October 2017 roundtable discussion among shippers and carriers was the growing demand by shippers for more visibility, better use of technology, and more precise delivery windows. For example, one shipper expressed a growing demand among businesses that products arrive within 10- to 15-minute windows, which can be extremely challenging.
Does this sound familiar? As U.S. businesses and their transportation providers are well aware, expectations have changed dramatically in recent years for faster service, more flexible solutions, and complete transparency into the shipping process. And while this conversation could have easily taken place in the United States, it did not. Rather, the conversation was between Canadian shippers and carriers, who experience many of the same logistics issues as their U.S. counterparts.
Shippers expressed frustration that carriers have not invested more heavily in technology, while carriers noted the potential impact of a nationwide driver shortage and new regulatory mandates. To be sure, Canadian businesses face many of the same logistics issues as their U.S. counterparts – except in solving these issues, the solutions must be uniquely Canadian.
Many U.S. businesses enter the Canadian market with the assumption that their U.S.-based logistics strategy is transferrable – that what works well in the U.S. will work equally well in Canada since the two countries are so similar.
This mindset has proven problematic, and many U.S. businesses have learned the hard way that shipping to Canada is, in fact, very different from shipping within the United States. This is probably why the U.S. Commercial Service lists "failure to do market research or understand the Canadian market" as top reasons U.S. businesses fail in their expansion efforts.
When it comes to logistics, there are "uniquely Canadian" circumstances that must be taken into account, including difficulty in providing service to the country's more remote provinces and territories; the fact that most local carriers only offer regional coverage; and the need for compliance with all customs mandates.
One Pennsylvania baby-gear manufacturer found this out the hard way, when it decided to use its U.S.-based logistics provider to handle its expansion into Canada. It wasn't long before problems began to surface. Costs were very high, logistics routes were extremely disjointed, shipments were being delayed at the border, and shipments were arriving late at their final destinations. As it turns out, the company's logistics provider was trying to replicate its U.S. logistics strategy – which had worked so well – into the Canadian market.
Fortunately, this manufacturer was able to reach out to a different logistics provider, one with deep experience in the Canadian market, and its logistics problems were solved before permanent damage was done to its brand. The example is indicative though of the importance of having a Canada-based logistics strategy.
This example has a happy ending, but unfortunately, not all U.S. companies have the same positive outcome. Target's ambitious plan to expand throughout Canada is probably the best example of a U.S. company failing to understand the unique dynamics of the Canadian market. The U.S. retailer aggressively entered the Canadian market – opening 124 stores within ten months during 2013 – only to be forced to pull out of the market entirely just two years later. Although numerous post-mortems have been written on the subject, the Harvard Business Review offered a fairly thorough assessment:
"The store locations were often out of the way, and stores weren't up to par with Target's U.S. look. The new stores also struggled with distribution challenges and shelf replenishment, leading to stock-outs. Particularly for Canadians familiar with Target, the poorly stocked shelves, an assortment that differed from the U.S. stores', and, often, higher prices than in the U.S. all combined to discourage traffic. The issues also made it hard to win customers who were new to the brand."
U.S. businesses can learn from these examples about the difficulties inherent to international expansion, even to Canada, which many assume to be quite similar to the United States. A U.S. business must do its homework and develop a Canada-specific logistics strategy to guide its operations in that country. The following discussion will help by focusing on five critical areas that, if properly understood and addressed, can help ensure a smooth entry to the Canadian market.
Tip #1: Understanding the Canadian Market
In the aftermath of Target's failed effort to put down stakes in Canada, many analysts cited the retailer's poor understanding of its Canadian customers and its apparent failure to do
its homework to learn about the nuances of the Canadian market. "It didn't quite appreciate Canadian shoppers are significantly different from U.S. consumers," said one analyst cited in a Marketwatch report. "There's a misconception among Americans that Canadians are just like Americans."
This "Canada as the 51st State" perception has been the downfall of many U.S. businesses attempting to expand to Canada. As businesses quickly learn, Canada is a very unique country, and its 35 million residents have distinct preferences from their U.S. counterparts. A few considerations a U.S. business should keep in mind include the following:
Canada is officially a bilingual country, recognizing both English and French as its primary languages. Roughly 22 percent of Canadians list French as their preferred language, while 30 percent consider themselves conversant in the language. In Québec, where French is considered "the population's first language," French is spoken by nearly 80 percent of residents.
Canada follows the metric system. Businesses used to measuring in inches and yards will need to reconfigure internal systems to accommodate Canada's official use of the metric system. Metric measurements must be us
Canadians have their own currency and expect transactions in Canadian dollars. The official currency of Canada is the Canadian dollar – nicknamed "the loonie." U.S. businesses have been on the receiving end of significant criticism for attempting to interact with Canadian consumers without being able to offer merchandise in Canadian dollars, for lacking the capability to accept Canadian currency as a form of payment, or for failure to make necessary conversions.
 80 percent of Canadians live within 100 miles of the border. And 80 percent live in urban areas and are fairly easy to reach. But consideration must be given to those potential consumers who live in Canada's more remote regions.
Preferences can vary between provinces and territories. Just as cultural norms and expectations vary between American cities and regions, so too exist varying preferences among Canadians. Would an ice hockey stick manufacturer commit marketing dollars to Miami Beach? Probably not. In Canada, similar geographic preferences exist, which should be taken into account in building a Canadian marketing strategy. More specifically, the Canadian government identifies five distinct regions:
The Atlantic Provinces (Newfoundland and Labrador, Prince Edward Island, Nova Scotia, and New Brunswick): This region is highly dependent on natural resources that have helped to sustain the region's fishing, farming, forestry, and mining industries. This region is also highly dependent on tourism.
Central Canada (Québec, Ontario): More than half the entire population of Canada lives in these two provinces, which are generally more urban and cosmopolitan than other regions. Toronto is the largest city in Canada and the country's main financial center, while Québec is considered a hub of Canada's French culture.
The Prairie Provinces (Manitoba, Saskatchewan, and Alberta): Energy production and agriculture are the two key industries in this area. Manitoba is regarded as an important center of Ukrainian culture, as well as the home of the largest Aboriginal population of any province. Alberta is the most populous of the Prairie Provinces, and is renowned for its vast cattle ranches along with its expansive oil and gas reserves.
The West Coast (British Columbia): British Columbia is regarded as Canada's "Pacific gateway." The Port of Vancouver, Canada's largest and busiest port, handles billions of dollars in goods transported from around the world. Other leading industries include forestry, mining, and fishing. The province also boasts of roughly 600 provincial parks. The province's large Asian communities have made Chinese and Punjabithe most spoken languages after English.
The Northern Territories (Nunavut, Northwest Territories, and Yukon Territories): The least populated region of Canada, these three territories contain one-third of Canada's land mass but have a population of only about 100,000 people. In the Northwest Territories, more than half the population is Aboriginal, while in Nunavut, 85 percent of the population is Inuit, and Inuktitut is an official language and the first language in schools.
U.S. businesses must have at least a general awareness of the differences between Canadian regions. Understanding local preferences will help a business better market its products and prioritize which regions might be receptive to its products. Integration technology can be a costly investment, especially if a business decides to have a platform customized for its specific needs. Most business though can work with any of a number of commercially available solutions and make necessary adaptations. Another important consideration is the logistics integration platform offered by an experienced logistics provider.
Tip #2: Delivering on Canadian Consumers' Expectations
Canadian consumers were actually a bit slow to embrace eCommerce, but since taking hold, online shopping has seen annual double-digit rates of increase. According to research by eMarketer, in 2015 online sales accounted for 5.8 percent of all retail sales. By the end of 2017 that number is expected to exceed 7 percent, and by 2020 online transactions will account for 10 percent of all sales, with a value of CAD $55.78.
By comparison, online sales in the United States accounted for 8.2 percent of total U.S. retail sales during the second quarter of 2017, according to the U.S. Census Bureau.
Roughly 19 million Canadian consumers are considered "digital buyers," with an additional three million designated as "digital shoppers." Together, these 22 million consumers comprise 63 percent of Canada's total population of 35 million people.
Similar to the U.S., Amazon has been a driving force in Canadian eCommerce. According to eMarketer research analyst Paul Briggs, Amazon has invested heavily in creating a uniquely Canadian digital experience, most notably through Amazon.ca. Briggs notes that during 2016, Canadians spent more than US $1 billion through third-party sellers on Amazon.ca, which is indicative of the overall amount spent on the Amazon platform.
As Canadians have grown comfortable with the convenience and flexibility of online shopping, they have also grown accustomed to the high levels of service offered through mega-sellers, including Amazon and Walmart. Similar to U.S. buyers, Canadian consumers feel empowered when it comes to setting terms for transactions and delivery. Key expectations include the following:
Websites should have a Canadian "look and feel," including a .ca address and text available in both French and English.
All prices should be listed in Canadian currency, and sites must have the ability to seamlessly process payment transactions.
Inventory listed on U.S. websites should also be featured on a retailer's Canadian website.
All taxes, duties, and customs fees should be included in the price charged at time of purchase.
Product returns should be hassle-free and handled quickly.
Deliveries should be fast, flexible, and preferably free. Research by KPMG consultants found that while most Canadian's see free shipping as a major benefit, nearly 70 percent paid no shipping on their last purchase.
Canadian consumers also have very definitive expectations about the shopping experience:
Free Shipping! Research among Canadian consumers by UPS/comScore found 77 percent of respondents cited "free shipping options" as the most important option considered during the checkout process.
Shipping Cost Expectations. With so many consumers expecting free shipping, it may not be surprising that Canada leads the world with regard to shoppers who have abandoned their cart for reasons related to shipping costs. According to the comScore research, more than 60 percent of consumers who abandoned their cart cited "shipping costs made the total purchase more than expected" as the primary reason.
Delivery Expectations. Canadian shoppers have grown increasingly accustomed to the convenience and flexibility offered by Amazon.com, particularly when it comes to delivery speed. But while expectations for immediate gratification are not as high in Canada – same-day service is very limited – the pendulum is swinging in favor of speed and flexibility. "If I'm ordering something online, today is better than tomorrow or three days from now," Shoes.com CEO Roger Hardy told the Global News.
Similarly, Kersi Antia, associate professor of marketing at Western University's Ivey Business School, noted that increased online competition is forcing retailers to find ways to differentiate themselves. "One of the ways that companies try to do that," she noted, "is to do so on the basis of a.) convenience or b.) speed – or preferably both if they can with respect to delivery."
Meeting Canadian consumers' expectations can be difficult for a U.S. retailer, since it must factor in time to transport shipments to the border along with time spent navigating the border clearance and customs compliance process.
Ease of Returns. The comScore survey found that 65 percent of consumers would be more likely to make future purchases from a retailer if the returns process was hassle-free and efficient. Meanwhile, lack of free returns shipping was a deal breaker for more than four in 10 Canadian shoppers.
A savvy U.S. retailer will heed these expectations and take the steps necessary to provide Canadian consumers with the highest levels of service and flexibility. This is especially important since, as research by Deloitte discovered, expectations are changing with regard to what is considered "fast shipping." Whereas 63 percent of consumers considered "delivery within 3-4 days" to be fast shipping during 2015, that number had fallen to 42 percent just a year later. Instead, Deloitte's research found 89 percent now consider "delivery within 2 days" to qualify as fast shipping.
Tip #3: The Last Mile is Everything
Canadian expectations for fast, flexible, and preferably free deliveries can be particularly challenging for U.S.-based retailers because logistics costs – especially last-mile costs – tend to be higher in Canada than in the United States. Research by Deloitte found that within Canada, the last mile typically accounts for 75%-85% of total distribution costs. Although a business can certainly try to control these costs, there are several unavoidable contributing factors:
Canada's Low Population Density: Canada's population of 35 million people is spread across an area so large that the country qualifies as the world's second largest in terms of geographic size (Russia is first, the United States is third, and China is fourth). As a result, the combination of a relatively small population spread across an enormous landscape affects the ease – and cost – of transporting goods. While most Canadians – 80 percent – live in urban areas, logistics efficiency can be exacerbated trying to reach Canadians who live in less populated provinces and territories.
Professor Jacques Roy of the University of Montreal's business school, HEC Montreal, has written extensively on Canadian logistics and transportation capabilities, and he recently noted Canada's performance in the World Bank's annual "Logistics Performance Index," which rates countries on a number of logistics-related factors. Roy noted that Canada ranked 23rd in the world with regard to "ease of arranging competitively priced international shipments" and calls this poor showing "the greatest hindrance to the country's overall performance, perhaps reflecting Canada's expansive geography and small market."
In addition to affecting costs, Canada's geography also drives delivery promises. While a U.S. retailer can generally guarantee delivery to residents located in urban areas, shipping to non-urban areas can take considerably longer.
Another factor is the "regionalization" of many last-mile service providers. Most carriers only provide coverage to certain provinces or within a specific radius. This means a U.S. retailer – or its U.S. logistics provider – with shipments headed to multiple destinations will have to patch together a network of carriers to reach different regions. In doing so, a retailer loses visibility into its shipments, increases the risk of loss or damage, and essentially entrusts the critical last mile to an unknown entity.
A way to avoid this, however, is to partner with a logistics provider with a distribution network in place to service all of Canada. Since most U.S.-based providers do not have the capacity to offer seamless service from point-of-pickup in the United States to the final Canadian destination, it's essential for a U.S. business to do its homework and find a provider that does have this capability.
Distribution Costs are Higher in Canada: Professor Roy also compared supply chain management costs in Canada versus the United States by sector and cost category. "In all sectors," Roy wrote, "the costs observed in the United States are lower than costs in Canada." In fact, Canadian costs were significantly higher:
5 percent higher in the manufacturing sector
18 percent higher among wholesalers
6 percent higher among retailers
Among other things, Roy found a 24 percent higher inventory turnover rate in the United States than in Canada, leading to higher warehouse and storage costs in Canada.
Faced with the reality of higher costs to service the Canadian market, retailers have adapted to meet the changing last-mile expectations of Canadian consumers. U.S. businesses might do well to consider some of these "distinctly Canadian" approaches to last-mile delivery, which include the following:
Click and Collect: This concept first took hold in Europe but has since caught the attention of Canadian consumers – and retailers. Through "click and collect," customers place an order online and pickup their shipment at a designated location that could be located anywhere from a retail store to a designated neighborhood collection facility. "It's a middle ground for customers who want to have a product in their hands right away without having to pay shipping costs, and for retailers who find it economical to handle," David Ian Gray of DIG360 Consulting told Vancouver's News 1130. As the concept evolves in the Canadian market, retailers are finding click and collect an option for embellishing the consumer experience for urban consumers and a cost-saving lifeline for consumers living in more remote areas.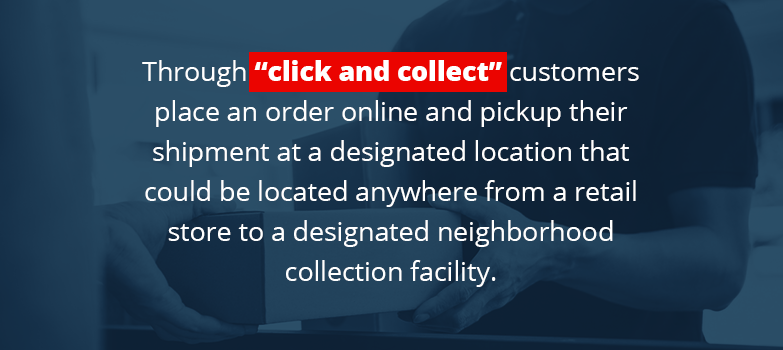 Parcel Lockers: Another option is the use of parcel lockers, whereby online purchases are delivered to a pre-determined locker facility and retrieved by a consumer who has been given a code to access the locker. As reported by Dan Goodwill of Canadian Shipper, the lockers not only make deliveries more convenient for online shoppers, who can pick up their purchases 24/7 without having to wait in line, but they also reduce costs for shippers and carriers by boosting last-mile delivery efficiency.
"Drivers can drop off many more parcels at a bank of lockers than at a home address," Goodwill noted. "Overall, such high-volume deliveries save carriers time, space, and fuel. Lockers make B2C deliveries one-and-done events-eliminating the hassles and hazards of follow-up deliveries or storage at alternate pickup sites."
Goodwill also noted that lockers give drivers the flexibility to fill lockers during off-peak hours as a way to avoid traffic congestion. And parcel lockers can serve as a convenient way for consumers to initiate a return back to a retailer.
Service Across Canada – All of It: Some of Canada's outer provinces and territories are so remote that most carriers simply do not offer service. Residents in the Northwest Territories and Nunavut, for example, were disappointed to learn that Amazon would no longer allow them membership in its Amazon Prime program, which offers guaranteed "free shipping" for an annual fee. According to the local media outlet com, residents were notified by the Internet retailer that their Amazon Prime subscriptions were being refunded in full along with a message stating "that as of today, free shipping is no longer available due to the economic and shipping complexities in remote locations."
One resident noted that his $40 diaper order would now be assessed a $162 fee for shipping. Clearly, Canada's geography and demographics combine for last-mile hurdles that must be taken into account. This is why Canada Post, that country's national postal service, can be an important partner. Since Canada Post has access to every address in every province and territory, it makes sense that the postal service would be an ideal partner to ensure last-mile parcel delivery across Canada. In fact, there is one U.S.-based provider that has formed such a partnership – Purolator International. Purolator offers a solution called PuroPost that provides fast service to the Canadian border, followed by last-mile service offered through Canada Post. PuroPost is ideal for Canada-bound eCommerce shipments, with guaranteed delivery times that are significantly faster than any other U.S. logistics provider.
Tip #4: Don't Underestimate the Customs Process
Professor Roy, in his assessment of Canadian logistics, also wrote about that country's performance in the World Bank Logistics Performance Index's criteria for "efficiency of the customs clearance process and security measures." Canada ranked 20th in that category, among a listing by Roy of the world's 20 most developed countries. (Norway was given the top ranking, Germany was second, and the United States was ranked 16th). According to Roy, based on interviews he conducted with stakeholders, "although customs clearance at border crossings has improved substantially, issues and costs related to the need to comply with different and changing regulations and to keep records on international transactions lead to excessive red tape…."
This statement gets at the heart of what many U.S. businesses have learned the hard way: The U.S./Canada customs process is complicated and time-consuming, and unless handled with expertise and proper diligence, shippers will likely face delays and possibly fines.
Did you know, for example, that products entering Canada must comply with numerous marketing and labeling requirements that are mandated both at the federal level and by the provinces? The Consumer Packaging and Labeling Act, for example, mandates that products be labeled in English and French, with weights and measurements displayed in metrics. In addition, an imported product must display the name of a Canadian importer, and the Canada Revenue Agency requires a country of origin marking on specific goods.
Specifics such as this are why most shippers entrust the border clearance process to their logistics provider, on the assumption that the provider has experience and competency in clearing goods into Canada. Unfortunately, this assumption often proves to be wrong and can result in clearance delays, punitive fines, and sometimes in shipments being denied clearance.
This underscores the importance of enlisting a logistics provider that has bona fide expertise in the Canadian market. An experienced partner will ensure that all paperwork requirements are met, all duties and taxes are paid, and all security mandates have been satisfied. But a truly experienced provider will go the extra mile to identify efficiencies and take advantage of opportunities to facilitate the clearance process. These efficiency initiatives include the following:
Tariff Classification
Every product entering Canada must be assigned a 10-digit tariff classification code that is used to assess tariff/duty obligations, determine eligibility for free trade benefits, and capture key trade data. Canada's tariff classification system is called the "Customs Tariff" and is based on the Harmonized Commodity Description and Coding System (HS) that is used by more than 160 countries worldwide.
But determining the proper tariff classification code can be difficult since tariff classifications are very exacting. Slight variances between products will generally mean different tariff classifications and, very often, different tariff rates. In fact, the Canadian government reports that roughly 20 percent of all shipments arrive at the border bearing an incorrect tariff classification. This can result in improper amounts of duty being assessed, which can mean a business is paying more duty than is actually owed.
Improper tariff classification is also a "red flag" for customs agents in identifying shippers that might be selected for a time-consuming and costly customs audit.
An experienced logistics provider will take the time to evaluate each shipment and ensure the proper tariff code is assigned. In addition, should there be any doubt about a product's classification, the provider will consult with Canadian Border Services Agency (CBSA) officials to ensure the correct code is assigned.
Many U.S. businesses have been denied free trade agreement benefits, or been charged excess tariff amounts, simply because the wrong tariff classification code was assigned to their shipments.
Duty Drawback
Duty drawback allows businesses a refund of up to 99 percent of duties paid on products that are imported into the U.S. and then subsequently exported or destroyed. For many U.S. shippers, this can mean a significant windfall, especially since drawback can be claimed on import duties paid going back three years.
However, the government sets a very high bar for proving drawback eligibility, and the process can take years to complete. A business must maintain meticulous records and be able to provide a clear "trail" that a product initially imported into the U.S. is the same – or in some cases nearly the same – as the product subsequently exported (or destroyed). The process is so time-consuming and technical that many logistics providers don't understand how it works, and therefore fail to properly assist their customers. In many instances, businesses are not aware that the option to seek drawback even exists! This helps explain why each year more than $2 billion in drawback funds go unclaimed – that's money to which U.S. businesses are legally entitled.
This is another example of the need to enlist a logistics provider with customs expertise. Not only will an experienced provider have knowledge of the drawback process, but  its representatives will advise a business with regard to recordkeeping requirements and about shipping strategies that can facilitate the drawback process. For example, an experienced shipper will ensure that each drawback-eligible shipment is listed on a separate invoice with "duties paid" clearly noted.
Non-Resident Importer
With certain exceptions, the Canadian government does not allow non-Canadian entities to collect taxes or to serve as the "importer of record" in clearing goods into Canada. These restrictions can place U.S. businesses at a significant disadvantage when competing against Canadian counterparts.
For one thing, the inability to collect taxes means a U.S. business cannot provide a Canadian customer with a comprehensive landed cost. Instead, the Canadian customer will have to pay those taxes and associated customs fees when the shipment arrives. In addition, the inability to clear goods through customs could potentially mean a Canadian customer may have to physically travel to a customs office to collect those shipments.
The Canadian government has addressed this competitive disadvantage through its Non-Resident Importer (NRI) program. A U.S. business can apply to CBSA for NRI status, which allows the business to act as an "importer of record." As an importer of record, the U.S. business benefits in several ways:
Ability to factor in all duties, taxes, and brokerage fees at time of purchase
Greater control over delivery times
Ability to compete on a level playing field with Canadian businesses
Potential for reduced supply chain expenses since a U.S. business can operate in Canada without having to maintain physical assets in that country
Enhanced customer satisfaction
Trusted Trader Programs
Both the U.S. and Canadian governments maintain "trusted trader" programs that promote border security through government-industry partnerships. Through the U.S. Customs-Trade Partnership Against Terrorism (C-TPAT) and Canada's Partners in Protection (PIP) programs, qualified trade partners (businesses, transportation providers, logistics providers, customs brokers, etc.) undergo a rigorous application and screening process in order to receive important trade facilitation benefits from the government.

Trusted trader program participants certify the safety of their own supply chains as well as the supply chain security of their vendors and suppliers. In exchange, program members benefit from a reduced number of random shipment inspections, access to expedited service lanes at the border, and direct access to CBSA and CBP personnel, among other important benefits.
Trusted trader recognition has become an important criterion for any logistics provider that regularly transports goods between the United States and Canada. If your logistics provider is not a C-TPAT or PIP participant, you may want to make an inquiry and validate the provider's claims about customs expertise.
Terms of Shipping
Shipping to Canada can be exacerbated when the parties involved in the transaction fail to agree on established terms of service. International shipping operates under a uniform set of standards – known as Incoterms – that establish clear expectations and responsibilities between buyers and sellers. "Incoterms" is shorthand for "International Commerce Terms" and are developed and maintained by the International Chamber of Commerce (ICC) located in Paris, France.
Because of Incoterms, all parties have an agreed-upon definition of what constitutes "delivery," for example. The current list includes 11 specific Incoterms, which are divided into two categories based on mode of transport. For purposes of ground shipments traveling between the United States and Canada, Incoterms choices are generally limited to the Delivered at Terminal (DAT), Delivered at Place (DAP), and the Delivered Duty Paid (DDP) options.
The primary difference between these three terms of service is that a DDP transaction places most responsibility on the shipper, including responsibility for payment of customs, taxes, and brokerage fees. DAT and DAP shipments place these responsibilities on the importer/buyer. The choice then really comes down to "duty paid or duty unpaid." Does it make more sense for a U.S. business to prepay its customers' customs fees and transaction costs at time of purchase, or is it preferable to have the customer pay those costs at time of delivery? Also, under what circumstances is it preferable for a U.S. business's international customer to oversee the import process as opposed to having the U.S. business bear responsibility? Failure to determine shipping terms ahead of time will result in confusion and delays. A shipment arriving at an international border will have to wait – and possibly accrue fines – as the shipping company and shipper work out the details that should have been handled ahead of time.
Tip #5: Experience Matters – Choosing the Right Logistics Provider
As the preceding discussion has made clear, successful cross-border shipping requires a high degree of knowledge about the Canadian market, and the assets and resources necessary to reach the entire country. Many U.S. businesses, in developing their Canadian logistics strategies, reflexively turn to their U.S.-carriers on the assumption that a logistics plan that works well in the U.S. can simply be replicated in Canada. Another assumption is that by using a large, well-known logistics provider, the company "must" have Canadian expertise.
Unfortunately, these businesses have learned the hard way that there is no substitute for legitimate, verifiable Canadian experience. Which is why, when selecting a logistics provider to handle U.S.-Canadian shipments, a few capabilities are absolutely essential. Key "must haves" include the following:
Distribution Network: While many U.S. providers will have access to Canada's urban areas, most cannot service the more remote areas. Instead, shipments are off-loaded to third parties, thereby increasing the risk of a missed deadline, or of shipment damage. A provider with an established Canadian network will have access to a wide range of assets to ensure seamless travel from the U.S. to final destination – regardless of how remote that final destination might be!
Scope of Service: Not only should a logistics provider be able to reach the entire country, but you should have a range of service options from which to choose. For example, a business in Atlanta with a shipment in need of service to Toronto should not have to send that shipment via "overnight express" if it doesn't need to arrive in Canada until five days later. Similarly, a shipment that needs to be in Vancouver as quickly as possible should have access to a "next flight out" expedited solution. Only logistics providers with established Canadian networks will offer a full menu of service options. Instead, most non-Canadian-centric providers might offer a single, rigid option and leave shippers with the impression that no other solutions exist.
Warehouse Space: Depending on volume, it might make sense for a U.S. shipper to locate inventory in Canada, especially in the highly competitive eCommerce market. However, this can be cost prohibitive for many U.S. businesses, and a non-Canadian logistics provider will likely not be in a position to help. But a Canadian-based provider likely will have access to appropriate warehouse space that a shipper can use as needed.
Cultural Familiarity: An experienced provider will be thoroughly familiar with all Canadian cultural nuances as well as with federal and provincial mandates and regulations. Among other things, shipments will arrive in Canada in full compliance with requirements that labels be listed both in French and in English. French-speaking drivers will be used for last-mile deliveries to predominantly French-speaking neighborhoods, and distances will be measured in kilometers, not miles.
Customs Clearance: An experienced provider will have the resources in place to ensure complete compliance with all U.S. and Canadian customs mandates. As discussed previously, an experienced provider will identify ways to make the clearance process more efficient and ensure shipments are assigned the correct tariff classification code, as well as benefit from all applicable free trade agreements.
Customer Service: Whether your shipments are headed to Canada, China, or anyplace else in the world, you need to ensure that your logistics provider prioritizes your business and provides high levels of service and oversight. Many shippers have enlisted "brand name" providers only to find that after the ink is dry on the contract, their calls are no longer returned and the people who so actively solicited their business are nowhere to be found. Make sure the provider you select prioritizes customer service! A good provider will assign a customer service representative to your account. That individual will have direct involvement with your business, work as a partner in recommending new ideas, and proactively address any glitches that arise.
Conclusion – Purolator. We deliver Canada.
When a Tennessee-based musical instrument manufacturer expanded to the Canadian market, it thought it had done its due diligence by enlisting an internationally recognized logistics provider to handle its transportation strategy, including moving shipments through the U.S./Canada border clearance process.
But this manufacturer quickly learned what many other U.S. businesses have learned: When it comes to transporting goods into Canada, experience matters. In this instance, Canadian experience was needed but was sorely lacking. For one thing, shipments were being delayed at the border because, as it turns out, the logistics provider was unaware that a permit was required from the U.S. Fish and Wildlife Service to export the company's wooden guitars. In addition, the manufacturer was surprised at how expensive its transportation bills were and that shipments seemed to be arriving in Canada late on a regular basis.
The manufacturer did what it should have done at the beginning, which was to call upon a logistics provider with deep experience in the Canadian market. That provider offered a solution that quickly got the manufacturer back on track, with shipments arriving days faster in Canada at a much lower price point.
As this example illustrates, there is no substitute for local experience. And as Canadian consumer expectations evolve for increasingly fast deliveries at an increasingly reduced cost, Purolator is the best-kept secret among leading U.S. companies who need reliable, efficient, and cost-effective shipping to Canada. We deliver unsurpassed Canadian expertise because of our Canadian roots, U.S. reach, and exclusive focus on cross-border shipping.
Every day, Purolator delivers more than 1,000,000 packages. With the largest dedicated air fleet and ground network, including hybrid vehicles, and more guaranteed delivery points in Canada than anyone else, we are part of the fifth-largest postal organization in the world.
But size alone doesn't make Purolator different. We also understand that the needs of no two customers are the same. We can design the right mix of proprietary services that will make your shipments to Canada hassle-free at every point in the supply chain.
U.S. shippers need to double down on their logistics strategy to ensure that Canada-bound shipments are entrusted to an experienced, efficiency-driven, and innovative provider.