What You Need to Know About Automotive Supply Chain Management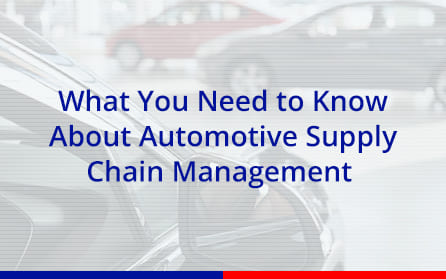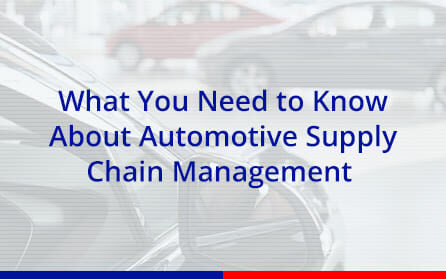 The automotive industry is one of the most complex and information-intensive sectors. With countless companies requiring thousands of parts delivered to complete their manufacturing processes and deliver high-quality products, it's no wonder technology has drastically improved the industry.
Software systems combined with the internet allow manufacturers and distributors to search hugely complex inventories instantly. With global logistics networks, companies can ship goods anywhere on the planet. The result is an automotive industry that can produce all sorts of products using globally sourced materials for fast assembly and sale to the customer.
This guide covers everything you need to know about automotive supply chain management. We will begin by discussing all that supply chain management entails and how it's implemented in the automotive industry. Finally, we'll cover the wide-ranging benefits automotive companies can expect when integrating these systems into their workflow.
About Auto Industry Supply Chain Management 
Supply chain management involves implementing software systems and management strategies to tighten up every stage of the manufacturing operation, beginning before client orders and ending with product delivery. 
Supply chain management software incorporates technology and data collection to develop detailed logistics plans. In conjunction with logistics software, various management strategies help reduce recalls and returns, eliminate waste and improve profit margins.
What Is Automotive Supply Chain Management?
The automotive and transportation supply chain involves all incoming and outgoing materials, services and parts that pertain to your business operations. This means that the success of your enterprise depends on the reliability and consistency of automotive manufacturing logistics. 
Several aspects of automotive and transportation industry SCM (supply chain management) are critical to its success and can be modified to suit your needs better. These include integrating technology, identifying and collecting data and producing detailed logistics plans. It can also involve employing innovative third-party logistics providers that can serve as linchpins in the supply chain.
1. Integrated Technology
As our world becomes more and more globalized, parts and materials can be shipped internationally at far cheaper rates than before. This opens up many markets which had previously been either inaccessible or too expensive to ship from. A scalable global market means that nearly every automotive manufacturer or service provider can shop for exactly what they need when they need it. 
The internet has made international commerce truly global, with real-time updates, including part quantities and availability visible to merchants around the clock. Manufacturers and merchants can attract clients from all over the world using the internet, where previously their clients would be limited to face-to-face interactions and personal connections.
In addition to the internet, product database software enables instant searches. By parsing through thousands of products, a product database makes huge amounts of information available to locate the exact specifications required for the client's order — a task that would have taken many hours to complete only a few short years ago.
2. Data Collection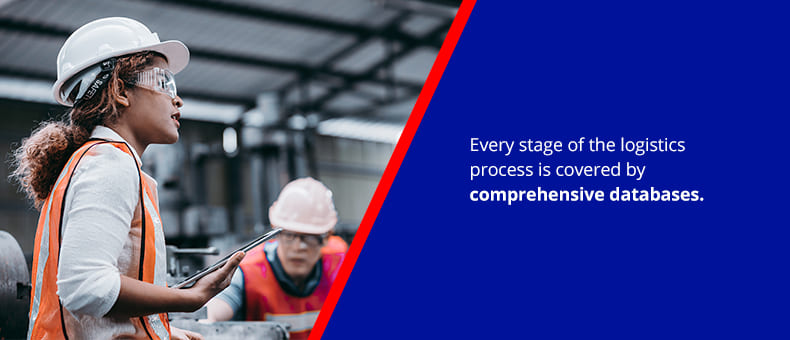 Database software has truly revolutionized the automotive logistics world. Every stage of the logistics process is covered by comprehensive databases. From part identification and ordering to shipping and receiving, database software allows for the seamless, instant transmission of information between multiple parties to ensure the correct products, parts or materials arrive on time.
The success of database software depends on the accuracy and quality of data entry. Before parts or materials can be searched in a company database, they must first be entered and cataloged appropriately. This means that the company must have spent sufficient time customizing its database software to suit its product selection. They then need to have properly entered their parts or products to create an accurate, searchable profile. 
When automotive companies create a sufficient index of their parts, they benefit from a truly useful and versatile database that their customers will come to depend on and appreciate.
3. Logistics Planning
Technology has played a crucial role in the betterment of automotive supply chain management, specifically in auto industry logistics. From the moment a client requests a product, part or material to when it arrives in their hand, logistics is responsible for the entire operation which is why planning for logistics efficiency is crucial to success.
Modern manufacturing businesses rely heavily on the dependability of logistics service providers. They need to receive their parts promptly to fulfill client orders. If parts or materials fail to arrive on time, the effects can be devastating and result in dissatisfied customers and damaged relationships.
Logistics companies employ a wide range of technologies to assist them in tracking and identifying shipments in real-time. Some tools help them manage their vehicle fleet and keep maintenance and repairs up to date. These tools allow logistics companies to provide accurate and reliable services to their clients.
4. Third-Party Logistic Providers
If a business is short on warehouse or storage space, third-party logistics (3PL) providers have a tailor-made solution. These companies lease their warehouse spaces to businesses to store their parts, products or materials until needed, which frees up valuable floor space for the business. When their products, parts or materials are needed, the 3PL providers have a vast shipping network that can have their wares shipped quickly.
These services are especially valuable in dense urban centers where real estate is costly. Businesses can then put their time and energy into perfecting their products and services rather than worrying about where they're going to store their products or parts.
The essential requirement for 3PL providers is that they must store their clients' products in an environmentally suitable climate and ensure security so items are ready to be shipped at a moment's notice. In addition, their transportation network must be reliable and dependable so their auto industry clients can operate as if their products were stored on site.
Benefits of Supply Chain Management in the Auto Industry
Supply chain management in the auto industry sector is critical. Without airtight supply chain management and logistics practices, companies can quickly fall behind on orders, experience detrimental delays and risk upsetting their customers.
On the other hand, auto manufacturers with dependable supply chains benefit from higher customer satisfaction levels, maximized profit margins and fewer recalls and replacements.
1. Increased Customer Satisfaction
At the heart of every successful automotive business is happy repeat customers. For this to happen, customers need to know that they can depend on you for their needs. For automotive manufacturers, this means there can't be any delays when customers need your products. You must always be able to deliver your services reliably.
No Delays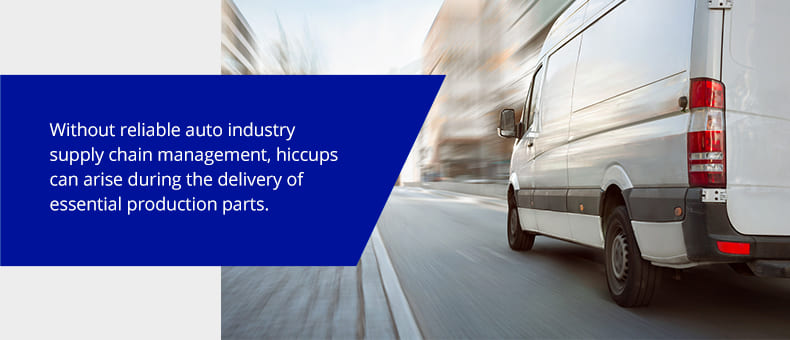 The modern global marketplace demands the timely arrival of goods and services, and they must meet the quality and value expectations of the customer. Many businesses in the automotive industry rely on a constant stream of incoming and outgoing products and services. Without reliable auto industry supply chain management, hiccups can arise during the delivery of essential production parts. Inevitably, long parts delivery wait times lead to delays in the arrival of the final product. Delays anywhere along the supply chain are far too costly in today's marketplace. With sufficient supply chain management, you can avoid them.
To ensure a delay-free experience, select logistics companies that employ the latest technologies to ship and receive your products. You should be able to verify your shipments electronically and receive real-time updates on your goods' locations and arrival times.
Reliability
The technologies that make up supply chain management allow a business to watch their incoming and outgoing shipments carefully to verify that they are being received on-time. They also allow for detailed record-keeping to make sure the correct parts and products are selected for shipment. With these technologies and systems in place, businesses can build a reputation of reliability and competence with their clients.
When a client orders a complicated product consisting of many parts, they expect it to perform exactly as promised. This means that even small errors cannot exist any time during the ordering, assembly or shipment of the product. Thankfully, the technology currently implemented in supply chain management systems provides the adequate reliability needed to ensure that products are ordered, built and shipped exactly as the client specified.
2. Better Margins
The number one reason why most automotive businesses choose to implement supply chain management systems into their workflow is increased margins. Using 3PL and other service providers gives you more efficient use of your storage space. Ultimately, having greater control over competitive part, component and product pricing will result in greater profitability.
Lower Part-Storage Costs
Due to increases in real estate and rental costs, businesses are more conscious than ever about maximizing their warehousing spaces. Having old or irrelevant parts scattered throughout your inventory storage can result in clutter, ultimately making searching for the right parts more laborious and time-consuming.
Production efficiency depends on locating items you need quickly and accurately. Whether it's an item used in assembly or to be processed for shipping, it's necessary to avoid time-consuming clutter that increases the risk of delays.
Many manufacturers in the automotive sector have implemented just-in-time (JIT) manufacturing, where they order the materials used in their processes as they expect to need them, without storing extra materials on site. This enables them to eliminate large amounts of storage space required to locate all of their materials and parts on site. For JIT manufacturing to work, suppliers and their logistic networks must be extremely reliable and flexible to the needs of everyone involved. They need to invest in supply chain management systems themselves.
Optimized Part-Pricing
Supply chain management systems include software solutions that allow companies to upload, in real-time, the prices of their various products, materials and parts. With the internet, customers can view their prices online and compare them to a wide range of global businesses offering similar products. This information gives purchasers the power to select the lowest prices and ultimately results in their own increased profit margins.
If a business decides they want to implement a supply chain management system, they should invest in indexing software such as E2Open, SAP SCM and others. These systems allow companies to search through their products with ease to determine how much stock they have and if it needs to be replenished. 
These software systems can generate automatic alerts and notifications, allowing complete customizability. With enough customization and calibration, automotive parts companies can become extremely efficient and reliable. They will ultimately attract many more clients who will come to rely on them for their service.
3. Fewer Recalls and Replacements
Supply chain management systems allow for parts, products and materials to be indexed and cataloged in real-time. Digital inventory-keeping is a huge improvement over manual operations, where an employee had to continuously monitor supply and determine whether there was sufficient stock to maintain operations. 
Automotive manufacturing operations require assembling complex systems with many parts, which means the potential for human error rises as the number of parts increases. With the implementation of supply chain management software, companies can track every part and determine if sufficient quantities are available. 
Additionally, supply chain management software can determine which parts are required for assemblies and can dramatically reduce the chance of human error. This ultimately results in products being assembled exactly to the customers' specifications. In a global marketplace that has come to expect accuracy in product orders, supply chain management software can be an invaluable asset to integrate into your operations. 
How to Manage Supply Chain Operations in the Auto Industry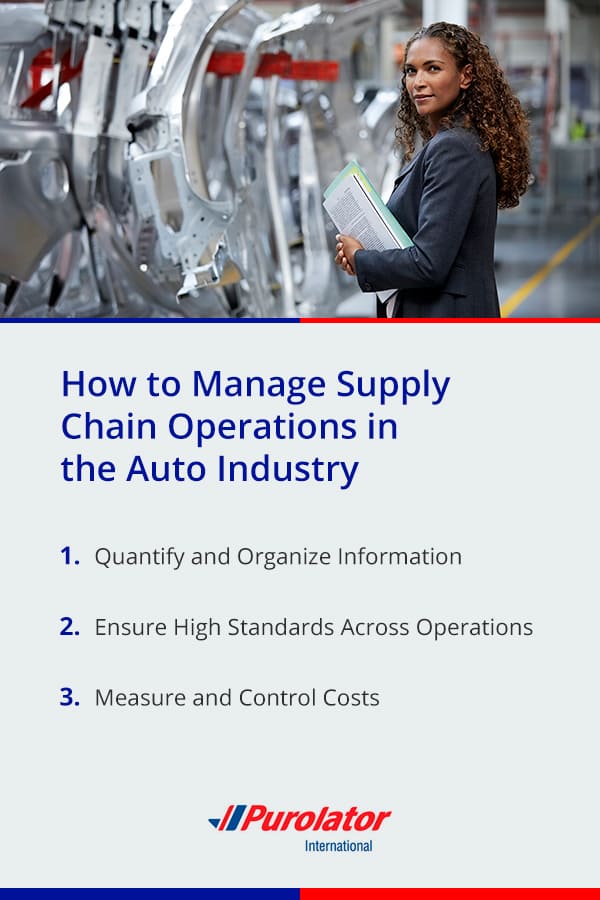 Supply chain management in the automotive industry can be broken down into three core areas:
Using technologically capable software platforms to collect and organize information and predict and analyze trends.

Maintaining the highest possible standards in all operations, both internally and externally.

Ensuring all of your variable and fixed costs are justified so your margins can be maintained and improved.
1. Quantify and Organize Information
Software innovation has allowed logistics and manufacturing operations to become an irreplaceable part of the automotive industry. However, this technology is only useful if it's integrated into your operations and used to its most capable degree. To do this, your company needs to adopt a software platform that can handle all incoming and outgoing data and ensure that parts, products and materials are entered into the system consistently.
Once you've implemented a software system to track your parts and products, it's important to connect with your suppliers and manufacturers. You'll need to determine which software they use and whether you can integrate your systems. Although not all software systems will interact seamlessly, many operate with similar protocols and architecture and can be modified to collaborate. In market segments with multiple companies comprising an entire supply chain, integrated systems result in seamless delivery to clients.
2. Ensure High Standards Across Operations
Quality control is an essential step in the manufacturing lifecycle. Since it has become such a routine function of the manufacturing process, it's easy for companies to get complacent. However, this can have a slow, insidious effect on production quality. It's important not to underestimate quality control as a key supply chain strategy in the auto industry.
Supply chain management places quality control as one of its most important elements down the line. Every supplier and manufacturer connected to your operations should have reliable and comprehensive quality control measures in place. They should be able to produce reports indicating that these measures have positive desired effects. 
Many manufacturing and supply companies in the automotive industry turn to third-party quality auditors to ensure standards are up to date and reliable. External auditors are another set of eyes that can spot problems before they become significant. An external auditor's goal is to improve your operations, save you money and ultimately make your clients happier. 
3. Measure and Control Costs
By implementing supply chain management systems and integrating them with other manufacturers and suppliers, you can control the cost-effectiveness of your purchased parts and materials. The internet makes purchase price research easier than ever, and it's a good idea to shop around regularly for the best deals on parts and materials you require for production.
Labor is typically the largest overhead expense of any business, so it's a good idea to conduct regular audits to determine where productivity can tighten up. Providing training and coaching to increase worker productivity is a crucial strategy in automotive assembly supply chains.
Choose Purolator International for Automotive Supply Chain Management
The automotive industry has entirely embraced supply chain management and its host of technological, software and management strategies resulting in increased profits, fewer recalls, more satisfied customers and higher profit margins. If you run an automotive company and want to implement supply chain management processes, it's essential to ally yourself with companies that have a proven track record.
Purolator International can handle all of your logistic needs with full-scale implementation of supply chain management, meaning that you can depend on our expertise no matter what your needs are. For more information on how we can help improve your automotive or transportation supply chain management, contact Purolator International today or give us a call at 1-888-511-4811.