Who's Responsible for Managing Organizational Customs Procedures?
When it comes to international logistics, missteps and miscommunications can lead to shipments getting stuck in customs for days (or weeks); duties and tariffs costing more than expected; and paperwork being filed incompletely or incorrectly. Add time zone differences, cultural nuances, and language barriers to the mix, and the situation can quickly translate into a major supply chain disruption. According to our survey, less than one-half (42%) of organizations have a department that's dedicated to dealing with customs regulations and compliance issues. Instead, such responsibilities are largely left up to the logistics managers and compliance officers to make sure their organizations comply with customs guidelines. (Figure 17)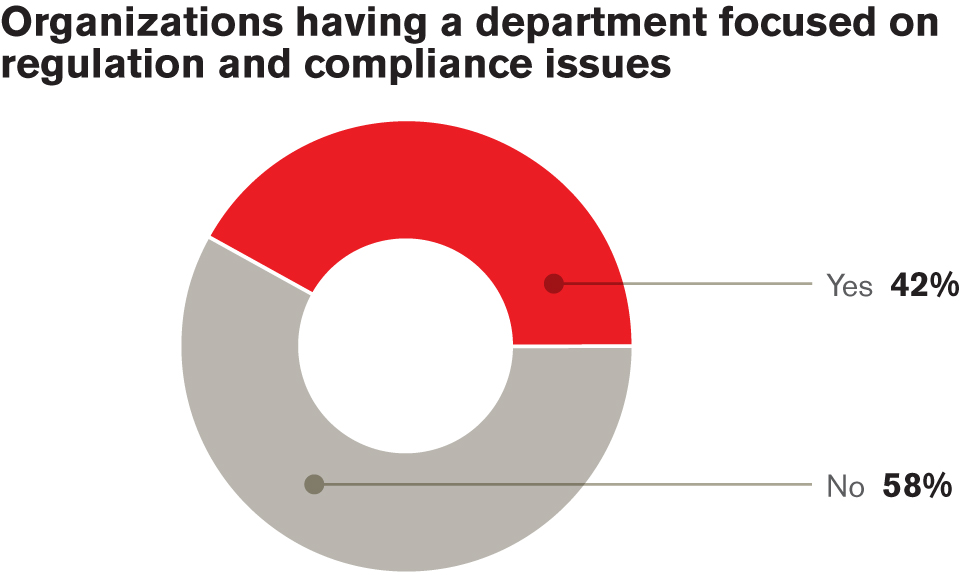 3PL Usage and How a 3PL Facilitate Border Obstructions
As mentioned earlier in this report, organizations are finding great value in outsourcing cross-border freight tasks to reliable, reputable third parties. In fact, just over one-half of shippers are now using a third-party logistics provider (3PL) while almost 23% are currently considering outsourcing their cross-border logistics operations to a reliable provider. (Figure 18)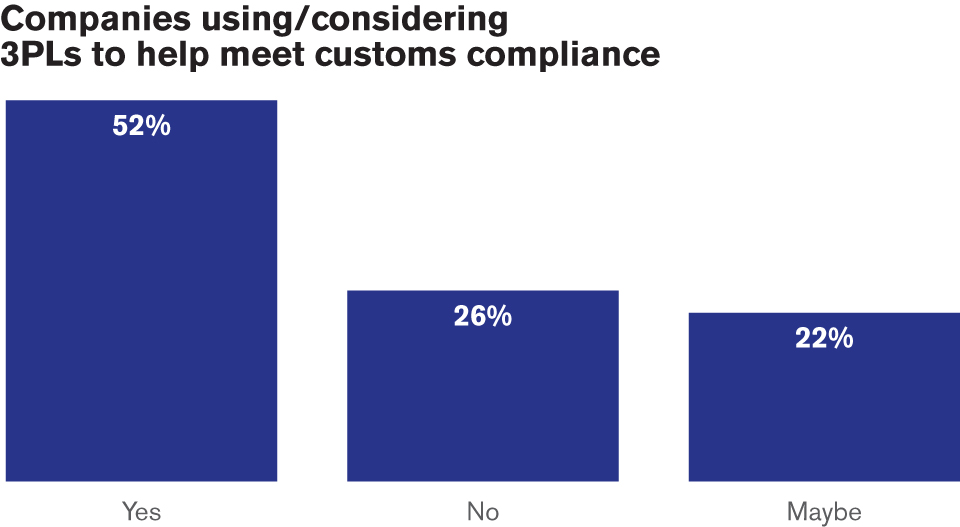 Working with a 3PL is paying off well for some companies, which have solved their border clearance obstacles by outsourcing that aspect of their operations to a third party. Because a 3PL serves as a single point of contact for shippers, those shippers no longer have to deal with multiple transportation partners to move their shipments through customs. In addition, 3PLs have deep experience with documentation and tracking capabilities, and they have know-how to proactively address and avoid hassles at border crossings. (Figure 19)
Conclusion
The global trade environment has been getting more challenging for shippers over the last few years, and those complexities aren't going away anytime soon. Most cross-border shipments require a great deal of paperwork and verification as they make their way across the supply chain, and especially at customs. For help, a growing number of shippers are turning to reliable, reputable logistics providers that can not only manage "non-core" activities like customs clearance, but can also help minimize shipment delays, fines, or penalties. A 3PL can also provide the technology infrastructure (TMS, GTM, etc.) that shippers need to be able to manage all of the different moving parts in the cross-border shipment process.
As the volume of cross-border shipments continues to increase—and as country-specific regulatory requirements continue to morph—shippers that want to look beyond their borders to move freight will face an intricate set of challenges. Those obstacles include, but aren't limited to, customs, paperwork, the use of multiple carriers, security, and weather. The companies that take the time to address these issues early in the process will be best positioned to leverage both current and future growth in global trade.  
Methodology
This research was conducted by Peerless Research Group (PRG) on behalf of Logistics Management magazine for Purolator International, Inc., a provider of international supply chain shipping solutions. The study was executed in the spring and summer of 2018, and was administered via the Internet to Logistics Management magazine subscribers. Respondents were prequalified for working at a company that ships freight globally.  
In total, 66 executives with logistics, warehousing, operations, or purchasing responsibilities were surveyed. Respondents were distributed across a range of company sizes and industries, including manufacturing, retail, and wholesale.
About Purolator International Inc.
Purolator International is the expert in cross border shipping with an unmatched Canadian network.  Our ground and air distribution network reaches 100% of both commercial and residential addresses throughout Canada.  Combined with efficient transit times, a loss ratio of less than 1%, and proven reliability, Purolator International offers shippers peace of mind with a wide range of service levels and superior customer service that includes end-to end-visibility and proactive communication from pickup to final delivery
Contact Information
Dawn Downes