Avoiding Cross-Border Obstacles in Global Trade
How smart shippers can offset the monumental challenges that come with running today's increasingly complex, intertwined global supply chains.
Introduction
Operating in a world where global supply chains are becoming increasingly intertwined and complex, today's shippers face a litany of challenges when importing and exporting goods. The current tariff environment, transportation capacity crunches, rising freight rates, and the North American truck driver shortage are just a handful of the key issues that all shippers are facing. On the global front, constantly-changing regulations, customs requirements, and compliance/risk issues can cause delays in even the most well-thought-out supply chains.
With global trade management becoming more complex, and with more companies trading and working with one another "cross-border," keeping goods moving across the supply chain in an expedient manner while also maintaining good visibility over those orders is getting tougher and tougher. That's because companies looking to reduce costs and grow their profits are tapping into large networks of suppliers, manufacturers, trade brokers, and customers that are literally spread across the globe.
"A paradigm shift has occurred in which companies that once built domestically to sell internationally now look globally for raw materials, services, and finished goods to sell into a defined marketplace. This shift is happening because of reduced barriers to trade and investment, lower transportation costs, ease of information flows, new enabling technologies, and the emergence of economies such as China and India," Trade Ready points out. "Companies have discovered that effective supply chain management cuts costs, reduces waste, prevents over-production, and helps ensure that customers are more satisfied with product, price, and service. This means it is an essential tool for competitiveness in a global marketplace."
Facing increased and changing customer expectations, shippers are more focused on transit times. For example, in dealing with potential disruptions like natural disasters, they're using strategies like nearshoring to shorten up their supply chains and ensure more reliable shipping timetables.
According to a recent survey of manufacturing and distribution companies in the U.S. and Western Europe, 69% of organizations believe nearshoring is a possible opportunity to meet demand from consumers (up from 40% in the prior year's survey). And in another study, more than half of companies said they were already using nearshoring as a location strategy for their production processes.
Finally, in today's business environment, logistics managers mustn't forget to factor in softer metrics like customer satisfaction, as these measures have the ultimate power to improve or erode a company's bottom line.
To help shipping managers address the many global freight challenges that they're facing in today's business environment, Peerless Research Group (PRG), conducted a survey for Purolator International, Inc., on behalf of Logistics Management. We surveyed 66 top corporate, supply chain, logistics, operations, and procurement executives to assess customs setbacks; see how companies are handling border crossing issues; explore which job functions and departments are largely responsible for understanding and overseeing regulations compliance; and find out who is involved in the process for transportation, logistics, sourcing, and partner relationship management decisions.
Chapter 1: Organizations Shipping Practices
Today's global shipping networks are expansive, so it's no wonder that many global shippers encounter significant challenges when managing their end-to-end supply chain. According to our survey, nearly all organizations ship both domestically and internationally. At least one-half of these companies work with customers and/or suppliers that are located in Canada, Mexico, Asia, Western European countries, South America, and Southeast Asia. (Figure 1) The sheer expansiveness of these networks—and the tariffs, compliance, regulatory issues, and risk that come into play in any supply chain scenario—is making good supply chain management more and more difficult for companies of all sizes.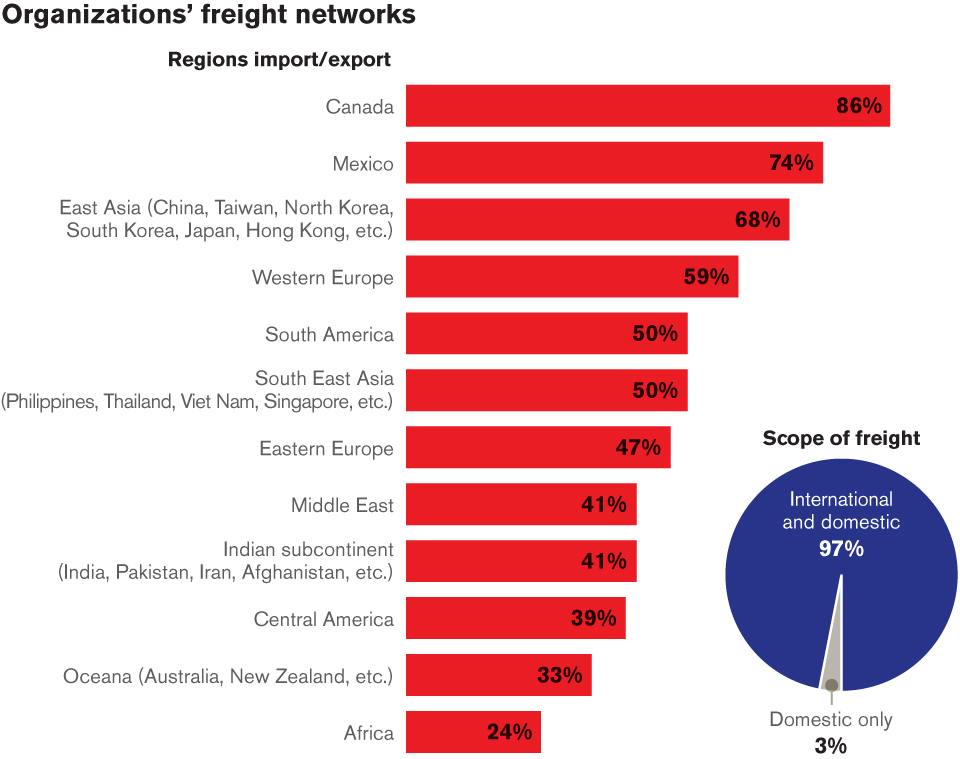 Adding to these global supply chain complexities, companies regularly use a multitude of modes for transporting shipments. This introduces a litany of different challenges for shippers of all sizes. Our survey found that roughly three-fourths of the companies rely on a combination of air, less than truckload (LTL), and ocean carriers to get their goods from Point A to Point B. Small package, ground, and priority carriers are also commonly used. Relying on numerous transportation suppliers often creates difficulties in tracking shipments, reduces end-to-end supply chain visibility, and requires a higher level of orchestration—all of which can add costs for global shippers. (Figure 2)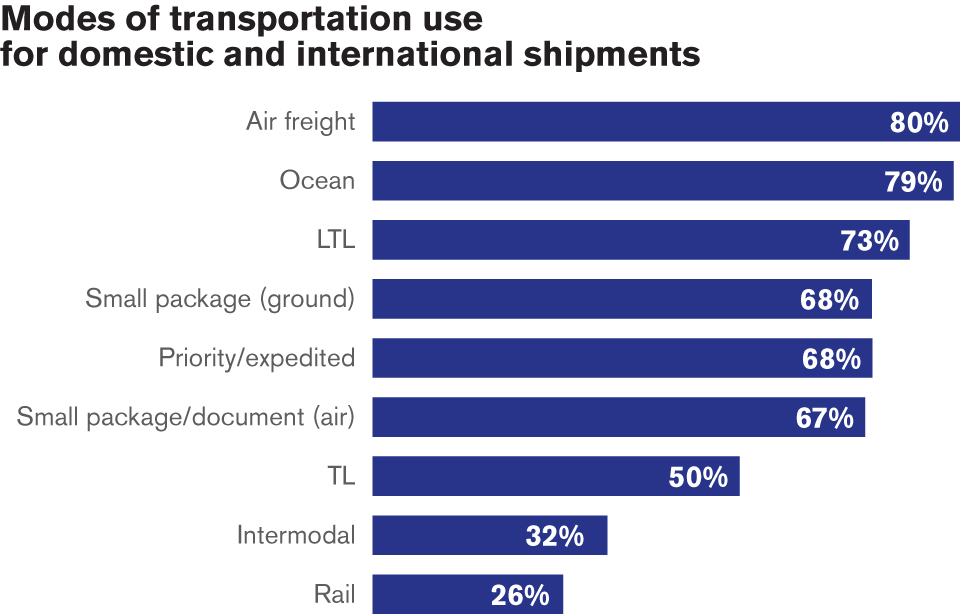 Global Shipping Issues and Challenges
The complexities of managing a domestic supply chain are many, but when companies look beyond their borders to move freight, they face an entirely new set of challenges. For example, freight problems at border crossings impact nearly two out of three shippers, which claim they have been forced to contend with issues at customs. Having inaccurate paperwork filed, for example, can not only result in penalties and fines, but it can also create shipment delays that cost companies hours (or even days) in the ultimate delivery of their freight. These are issues that shippers simply can't afford to contend with in today's business environment. (Figure 3)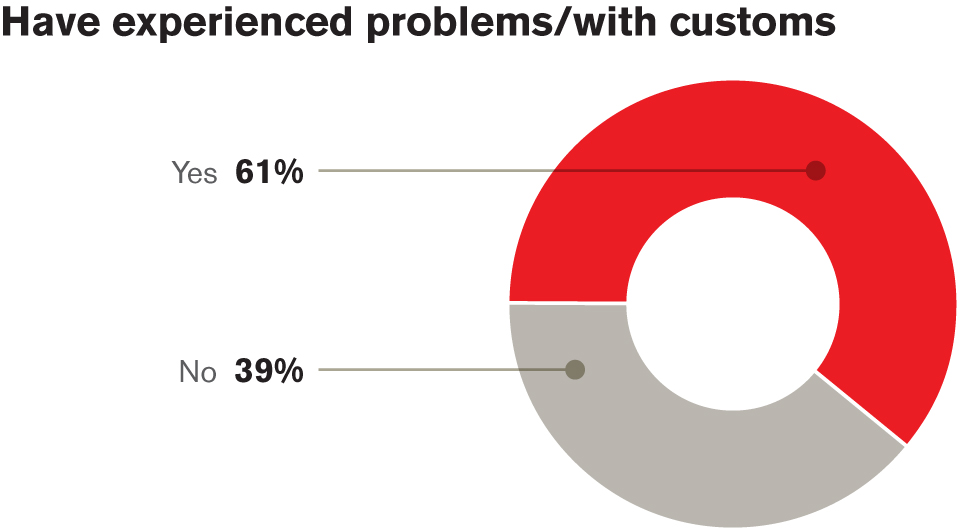 When transporting their goods over international borders, shippers often face shipment delays and customs documentation challenges. A deeper dig into the research shows that even companies dealing with Canada, our closest trade partner, has been problematic.  More than one half of those (53%) importing to or exporting from Canada have experienced border delays. Filing the right paperwork can be a complicated process, for example, and can result in the filing of incomplete or incorrect customs forms. A lack of visibility when tracking shipments, unexpected increased costs, and prolonged delivery timelines can also severely hamper a company's global supply chain. (Figure 4)
Problems such as these can spark serious consequences, with partner relationships (both supplier and customer) being particularly prone to such issues. Border snags can also lead to added freight expenses, reparations, lost revenues, and cancelled orders. This, in turn, can create customer service issues that directly impact a shipper's bottom line (e.g., dissatisfied customers, loss of repeat business, lost cross-sell and upsell opportunities, etc.).  (Figure 5)