Manufacturers' Efficiency Revolution Must Extend to Logistics Solutions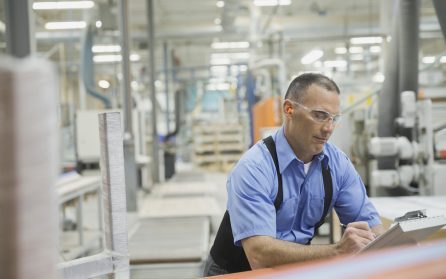 When PriceWaterhouse Coopers released its list of industrial manufacturing trends, it cited a "technological renaissance" taking place in America's factories, "that is transforming the look, systems and processes of the modern factory."
Technology has become integral to U.S. manufacturing, with research by the National Center for the Middle Market finding nearly half of "middle market" (companies with annual revenue between $10 million and $1 billion) companies rely on some degree of advanced manufacturing techniques including automation and robotics.  Of those companies that do not currently employ any advanced manufacturing capabilities, 78 percent expect to do so within the next 3-to-5 years.
Manufacturers that have successfully transitioned to automated, highly-efficient processes certainly did not make these investments without giving careful thought to their supply chains, and their ability to seamlessly move both supplies and finished goods.  How, for example, would increased automation affect the speed at which supplies were needed?  Would additional parts inventory be needed and if so, at what cost?  And what if a piece of machinery broke down?  What would be the plan for quickly having a replacement part available, to avert any production delays?
Fortunately, at the same time America's factories were undergoing a technology revolution, so too were many of the country's logistics providers.  As a result, logistics solutions are available today – and in place in manufacturing facilities around the country – that were unthinkable a few years ago.
For example, one Texas manufacturer was pleasantly surprised that its logistics provider's ground solution could deliver its products to the Canadian market faster than most providers' air solutions!  This expedited – yet cost efficient – solution allows the manufacturer to meet delivery promises to its customers without having to incur excessive costs.
A new white paper from Purolator International, "Preparing your Logistics Strategy for Today's Advanced Manufacturing Practices," delves into changes afoot in manufacturing practices, and the importance of strategic logistics solutions.  For businesses that have invested heavily in technology, ensuring the right logistics plan is in place is the natural next step.
Click here to download a complimentary copy of Purolator's new white paper.