How to Properly Label Products Being Shipped to Canada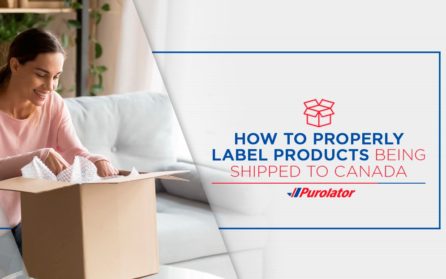 Many U.S. retailers are realizing the benefits of expanding their presence in Canada and looking forward to the potential rewards. However, shipping from the U.S. to Canada is an opportunity that requires a strategy to avoid mistakes. 
There are a variety of factors a shipper needs to consider, including proper shipping labels and labeling of individual products. Understanding labeling and other issues is key to succeeding in cross-border shipping. Without it, accurate and timely tracking of shipments is virtually impossible.
Common Mistakes When Shipping to Canada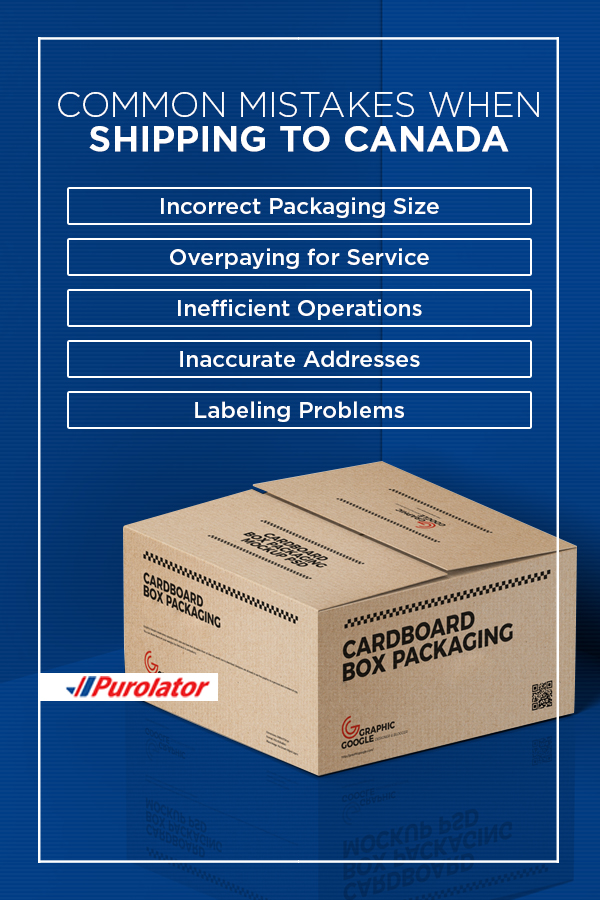 While many things can go wrong when you ship to Canada, some mistakes are more common than others, like: 
Incorrect Packaging Size
While larger packaging offers more protection for the items you're shipping, it costs more to purchase and ship. If the box is too large for the items, customers can become frustrated. Even a size difference of one centimeter can make a large difference in cost over time. Your packaging solutions should be carefully selected to be lightweight and fit the size of the items you are shipping in order to minimize your material costs over time.
Overpaying for Service
Everyone loves free shipping, and many businesses find this option improves their conversion rates from cart to checkout. However, your success depends on making sure each order can cover the associated free shipping costs while still turning a profit. 
Your carrier should be able to provide a clear explanation of the costs you are paying and be able to offer you a variety of shipping speeds so that you are not locked in to a single option. Ideally, a staggered or tiered system will offer multiple options, such as free, economy, expedited or overnight shipping, along with size or weight requirements for each. 
Inefficient Operations
Today's businesses are facing stiff competition, especially when it comes to shipping speed. To shorten delivery windows, partnering with a third-party logistics, or 3PL, vendor can fill any gaps in your processes that are leading to issues with the shipping and delivery process. Working with a 3PL helps you streamline shipping without having to invest in transport equipment, infrastructure or fulfillment staff.  
Automated shipping solutions allow you to manage tracking, reporting and billing as efficiently as possible, which is crucial to your customers' satisfaction.
Inaccurate Addresses
Incorrectly typed addresses happen more frequently than you might think, and they're a big issue with shipping labels to Canada. When a customer gets even one letter or number wrong, it may result in the sale failing to go through. If the sale is completed despite the mistake, your carrier may not be able to complete the delivery, resulting in the package being returned to you – a scenario that leaves you with extra expense and unsatisfied customers. 
Customers don't like waiting longer for their packages, even if the mistake was on their end. To ensure you process the order correctly the first time, it's crucial to use an address verification system. The address verification system checks customer information for accuracy before orders are completed, so deliveries are properly addressed and make it to the correct destination on the first try. 
With an address verification system, you can eliminate the issue of creating invalid shipping labels to Canada. 
Labeling Problems
Gone are the days of hand-writing your shipping labels. Today, labels contain much more than just the end delivery information. A label can be printed from your computer in seconds after you fill in the required information, and as long as you fill in the correct fields, your products can be shipped immediately. 
However, there are some issues that can still occur. For instance, the barcode on your packaging label must be scanned at various points during shipping and delivery. If the barcode can't be automatically scanned, you can incur extra fees and void any service delivery guarantees you may have in place. 
Likewise, placing a label in the wrong place or affixing it poorly can affect tracking and stall your deliveries. When applying shipping labels to Canada, ensure that the label:
Is attached to the largest side of the box so the automatic scanners can easily see the barcode.
Isn't obscured by packing tape or folded along the edge of the package. 
Can be placed into a plastic pouch to protect from the elements.
Has a clear, crisp barcode free of smudges.
Is affixed in a completely flat position so as not to cause wrinkles in the barcode. 
You may be able to automate the process of shipping label production with tools offered through various carriers — this helps with reducing the work required to prepare your shipping labels as well as your manifests.  
Parts of a Canadian Shipping Label
The logistics of Canadian shipping labels can be confusing. In order to get your shipping label printed correctly, you need to be familiar with all the parts of the label. The four essential parts to get right are the name, the street address, the city, the province or postal code and the country. These fields may seem basic, but getting any one of them wrong can result in an issue when a package is delayed or returned due to inaccuracies. 

1. Recipient Name
Having the recipient's first, middle and last name is not always a requirement, but having their full name as listed on their government-issued I.D. is ideal, no matter what country they're in. Some customers don't like giving out their actual information, but sending and receiving international orders under a seemingly fake name can raise flags at customs or even at the post office. 
Address verification software often has a feature that allows you to flag orders where the billing name is significantly different from the name on the shipping address. You can then use your best judgment to decide if you need to contact the recipient to get an accurate name that will match the I.D. in case they need to pick the item up at the customs office or post office. 
Addresses that contain company names can be added to the label. Be mindful of any character limits on address lines, as you don't want to have any partial information that may be confusing. 
2. The Address
The next section on shipping labels to Canada is the recipient's street address. The Canada Post offers these tips on addressing Canadian mail:
Use uppercase letters.
Put information like title or floor above the street address.
Place hyphens between the unit, suite or apartment number and the street number. 
Don't use the "#" symbol. 
Abbreviate the street type

 

— 

for example, put "AVE" for Avenue.
Abbreviate the street direction 

— for example, put

 "S.E." for Southeast.
Following these guidelines as closely as possible is key to a smooth shipping process, and helps avoid any issues related to character limits on labels. Each carrier has their own character limits for addresses, so if you ever use more than one company to ship, abbreviating appropriately gives you one less thing to worry about. 
3. City, Postal Code and Province
Leaving off the province is a surprisingly common Canadian shipping label problem. Not all countries require the province, but if you leave it off when shipping to Canada, your package will definitely be returned. 
When filling in the postal code, separate the first and last three elements with a space rather than a hyphen. Place one space between city and province, and two spaces between the province and the postal code to ensure compliance. 
4. Destination Country
Perhaps the simplest part of the Canadian shipping label is the country at the end — yet, it's more complicated than most people realize. When adding this last component, ensure that:
"Canada" is bolded.
"Canada" is uppercase.
You write the entire name of the country 

— 

don't abbreviate.
You double-check your spelling.
You put it on the final line.
Messing up any of these can invalidate the address and result in a failed delivery, costing you time and customer satisfaction.
5. Product Information
Multiple sections on the label must contain information about the product being shipped, including:
A detailed description of the contents
Item quantity
Item weight
Item value in U.S. dollars
Tariff number (if applicable)
Country of origin
Insured value
Insured fee
Accuracy is of paramount importance here, as you can get in trouble with customs if you misrepresent the item itself, the weight or quantity. 

Canada Customs Documents
Canadian shipping documents and labels must all be present for products and freight to be cleared through customs and reach the final phase of shipping — these include:
Bill of Lading (BOL) 
The bill of lading contains all the vital information about the shipping and receiving parties, including:
Names and complete addresses of shipper and receiver. 
Special account numbers or P.O. used for order tracking between businesses. 
Any special delivery instructions necessary for prompt delivery. 
Shipment date.
Number of shipping units. 
Type of packaging, such as cartons, skids, drums or pallets.
When applicable, a note indicating that a commodity is listed as a hazardous material. 
Description of the items being shipped, which should include the manufacturing material and name of the items. 
Freight classification for the shipped items.
The exact weight of each commodity in the shipment. 
The declared value of the shipped goods. 
Canada Customs Invoice (CCI)

This document informs Canadian customs of specific information needed for cross-border shipments. A CCI includes:
Name and address of the vendor.
Date of direct shipment to Canada.
Name and address of the consignee.
Name and address of the purchaser.
Country of transshipment and country of origin of goods.
Condition of sale and terms of payment. 
Currency of settlement. 
Number of packages
The CCI also includes information like quantity and unit price. It is similar to a BOL, and one copy goes with the shipment while the second is attached to the BOL. 
Commercial Invoice
This document is more basic than the CCI and contains much of the same information. It serves as proof that the buyer or importer has paid the vendor or exporter. Again, one copy accompanies the shipment, and the other goes with the BOL.
Proof of Delivery (POD) 
This lists that goods have been received as intended, and includes the date and time of the delivery.
Certificate of Origin
If your products are produced or substantially manufactured in a USMCA member country, the certificate of origin is necessary. 
Ensuring Product Labeling Compliance
It's not just your shipping label that has to be correct in order to ship to Canada successfully. For your products to make it through customs, they must adhere to the Consumer Packaging and Labelling Act. The relevant sections are as follows:
Section 6:

 

Forbids a dealer from importing or selling any pre-packaged product that doesn't meet the packaging requirements listed in the following regulations.
Subsection 4-1:

 

Unless the net quantity

 has been declared, dealers cannot sell, import or advertise a pre-packaged product.

Subsection 4-2:

 

The declaration of net quantity has to be visible on the product's main display panel. It must be clear, prominent, legible and create distinct visual contrast to the other information and representations on the label. Any pre-packaged product with a net quantity declaration must also convey an account of the identity of the product. It can be its function, generic name or 

common name. 

Subsection 7-1:

 

Dealers cannot sell, import or advertise products that have labels that contain misleading

 or 

false

 representations about a product. 

Subsection 7-2:

 

Packages cannot have words, depictions, symbols, expressions, figures, descriptions or illustrations that could be considered misleading or 

false representations.

Subsection 7-3:

 

Packages cannot have less product than the declared quantity indicates, within certain prescribed tolerances.
Subsection 9-1:

 

Dealers cannot sell, import or advertise products in any container that is made, filled or labeled in a way that can mislead consumers in terms of the quantity or quality of the product being sold. 
Easy Delivery to Canada With PuroPost
Shipping to Canada should be quick and easy. With PuroPost, you can enjoy seamless and efficient cross-border services for U.S. businesses shipping products to Canada. Your customers can receive cost-effective deliveries in just two to eight days with our guarantee. We generate your shipping label quickly and accurately, so your products get where they need to be.
We offer regular pickups across the United States, as well as final package delivery through Canada Post. With over 16 million addresses in our scope, you can ship to parcel lockers, P.O. boxes, community mailboxes and out-of-the-way locations with confidence. To learn more about PuroPost and the variety of services Purolator International has to offer, call us at 1.888.511.4811 to speak with a knowledgeable representative.