Top 7 Customs Issues When Shipping From the U.S. to Canada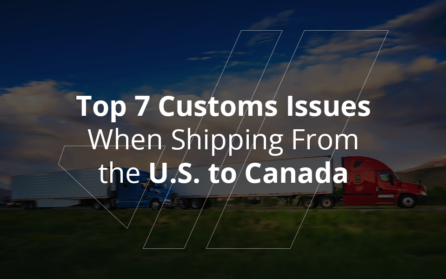 With the goods and services market between the United States and Canada totaling over 700 billion U.S. dollars in 2019, it's no wonder companies continue to ship products across country borders, especially with neighboring countries. Shipping products across country borders differs significantly from shipping products across state borders. When doing cross-border shipping to Canada, shippers must understand both countries' regulation standards and comply with them. Due to the complexity of the various customs regulations, shipping companies often experience border delivery issues, leading to delays, increased costs and other inconveniences that negatively affect the efficiency of business operations. Businesses shipping products to Canada must understand their customs process to minimize problems. Here are the top seven customs issues when shipping from the U.S. to Canada.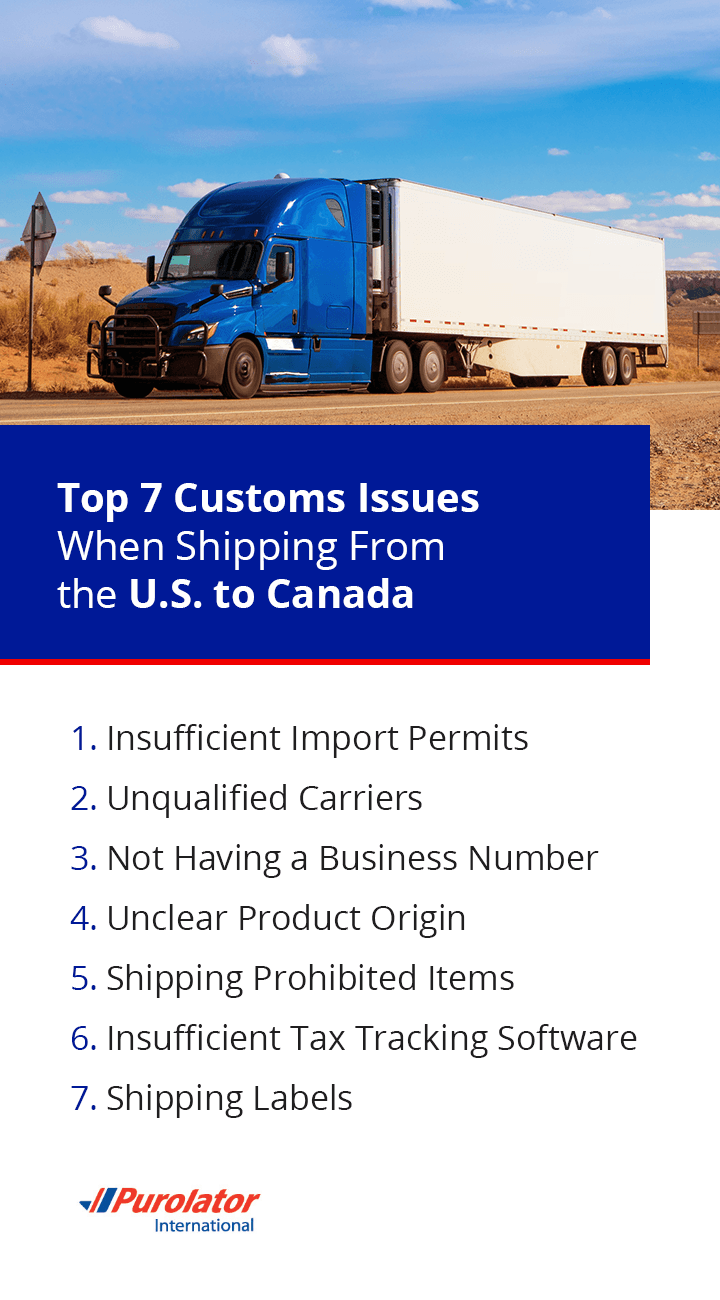 1. Insufficient Import Permits
The Canada Border Services Agency (CBSA) and other government departments regulate import permits to ensure customs compliance of the importing products. Like many countries, Canada imposes regulations on products to ensure the safety of its people. One of these regulations requires permits to import certain products, ranging from chemicals and weapons to fabric and apparel. View the most up-to-date Import Control List to understand the various products regulated through CBSA. Without the necessary completed paperwork and permits, shipments face significant delays. Customs officials will not allow shipments to cross the border until the paperwork is completed and approved.
After understanding which goods are controlled via permits, companies that want to ship their products across Canada's border must obtain import permits and all the necessary paperwork by applying for them through a customs broker. Getting approved for import permits is usually a lengthy process, so businesses should ensure they apply for the permit early in the exporting process so it's in place when it's needed to avoid any cross-border logistics delays. Some important notes of the application process to be aware of include the following:
There is a fee for each permit.
Each shipment must have its own individual permit.
These permits are typically valid for 30 days.
2. Unqualified Carriers
The freight in the shipment isn't the only thing that must be pre-approved to cross the border. When companies ship goods by truck, the drivers must be able to cross the border, as well. Ensure the shipment drivers can lawfully cross Canada's border with sufficient forms of ID, a passport and a clean criminal record. If the driver does not already have a passport, the process of getting one can take several weeks to months through the U.S. Department of State, especially if it is their first time applying for a passport. Additionally, Canadian customs may turn a driver with a criminal record away without the freight ever crossing the country border.
The trucking industry has long faced a retention problem with drivers, leaving shipment companies vulnerable to hiring drivers not qualified to cross country borders. For cross-border shipping companies, having qualified drivers is essential to transporting goods from one country to another, so ensure the carriers are qualified to transport the goods from the U.S. to Canada.
3. Not Having a Business Number
When doing business across country borders, shipping companies have to deal with U.S. taxes on their goods and taxes to the country they are exporting to. Paying business taxes in Canada requires a Canadian Business Number, also known as the tax ID number. Companies register this number with the Canada Revenue Agency (CRA). A business number is required for any company shipping goods worth over 30,000 Canadian dollars into Canada in four consecutive quarters.
Once a company has registered a business number, it does not have to be registered again. The business number is used to track all of the products coming into the country for collecting taxes sold on Canadian territory. Obtaining a business number is relatively simple. Companies can request a business number online through the Government of Canada's services or by phone. Any company shipping goods into Canada must always use this business number on products to ensure taxes on these goods are dealt with properly.
4. Unclear Product Origin
For 25 years, the North American Free Trade Agreement (NAFTA) regulated trade between the U.S. and Canada. In July 2020, the United States-Mexico-Canada Agreement (USMCA) took effect, replacing NAFTA. The new trade agreement put some new and updated cross-border freight regulations in place, and Rules of Origin (ROO) shifted for certain products, so companies shipping from the U.S. to Canada need to understand these changes.
ROO is part of the international trade agreement and qualifies certain goods as exempt from duties. For example, if the product itself was entirely produced or manufactured in one country in the agreement, it might be exempt from duty taxes. However, this can be a rather complicated determination if the product has many components, like a cell phone, compared to a product with one component, like a carrot.
Since this trade agreement is fairly new, it's a good idea to reevaluate the specific products being exported to Canada before shipping them to ensure they follow the new ROO. Not knowing which goods qualify in the ROO can slow down shipment into Canada as Canadian customs would not be sure which items do and do not qualify for a duty exemption, leading to a tariff issue. Companies can speed up this process for their shipments by reevaluating the goods they are shipping according to USMCA's new ROO guidelines.
Whether the goods qualify for ROO or not, Canada still requires all goods to have proper documentation on the country of origin. Canada uses this information to determine the rate of duty, ensuring the products abide by antidumping laws and are eligible to cross into Canada. As noted previously, properly documenting the country of origin can be a rather complicated process if products have multiple components from various countries.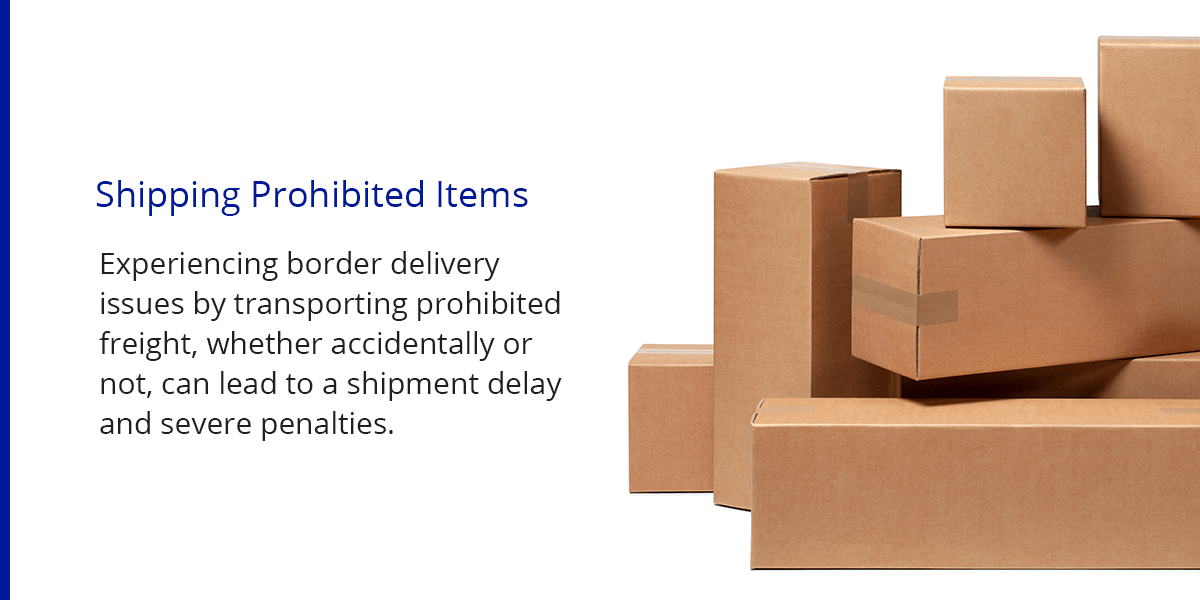 5. Shipping Prohibited Items
Even with import permits, some goods are still prohibited from entering Canada. The freight must be clear of any items prohibited by Canada, such as used mattresses or goods produced by forced labor. The list changes periodically, so always ensure all of the goods being shipped are allowed to cross into Canada. Experiencing border delivery issues by transporting prohibited freight, whether accidentally or not, can lead to a shipment delay and severe penalties. Avoid these penalties and time delays by being informed of the customs regulations on prohibited importations.
6. Insufficient Tax Tracking Software
When shipping products internationally, tax rates are variable and change from state to state, providence to providence and country to country. This can be quite daunting and difficult to manage, which is why many shipping companies use accounting software. Good software can handle taxes for every state in the U.S. and every providence in Canada. Having accounting software is one step, but ensuring it works in Canada, as well, is the next step. By having sufficient tracking software that covers both countries' sales tax, shipping companies avoid hefty fines due to inaccurate tax calculations.
7. Shipping Labels
To get goods cleared through Canada's customs, Canada requires full and accurate information about the products in the shipment. Companies need to have several important documents, including the following:
Bill of Lading (BOL)
Canada Customs Invoice (CCI)
Commercial Invoice
Proof of Delivery (POD)
Certificate of Origin
These documents are necessary so customs can verify accurate information about the freight, such as the correct name of the shipper and receiver, the type of packages, exact weights, the value of the products and other important information. Missing or inaccurate information can cause delays at the customs clearance, so companies must label their shipments properly before they arrive at customs.
In addition to the labels required for the shipment as a whole, individual products being shipped into Canada must also abide by Canada's shipping label requirements. Having the proper labels ensures that the goods are eligible to be sold in Canada. For instance, all of the packaging labels must be written in both English and French. Some other requirements include:
The product name or function
Net weights and measurements displayed in metric units
Product origin
The name of the dealer and place of business
Canada's Consumer Packaging and Labeling Act also has label requirements on what is not allowed. Avoid any false or misleading information on the package. Any incorrect information, such as incorrect weights or specifications, is considered a false representation. This act allows Canada to ensure the products being delivered to its people are accurate. Products' shipping labels must adhere to the requirements of this act to reduce the chance of border delivery issues with the freight.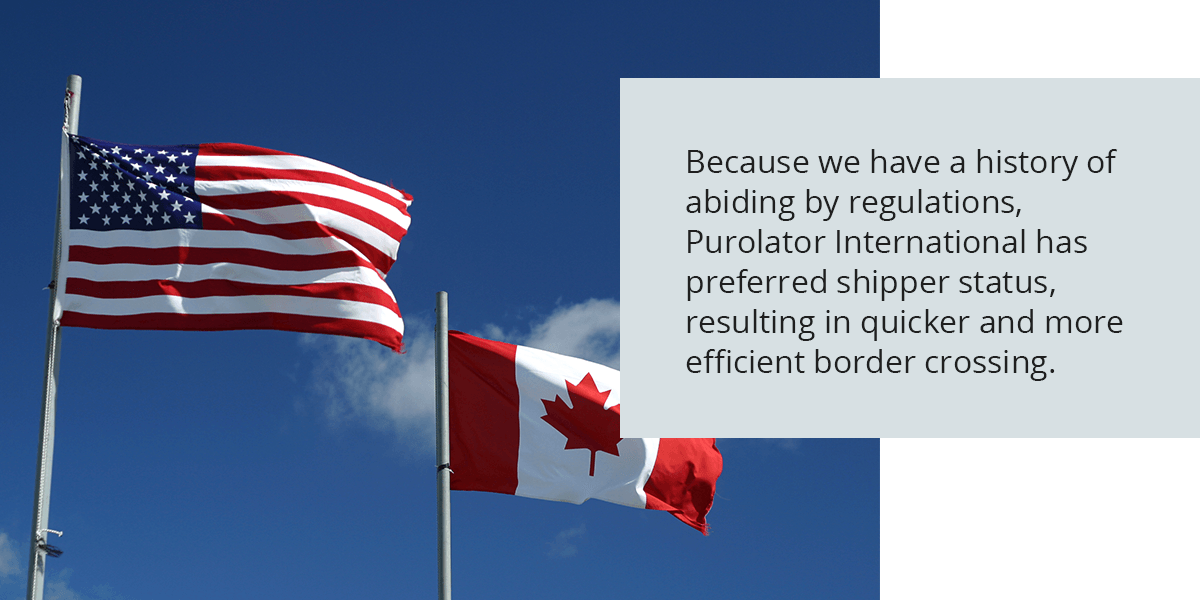 Hire a Trusted Customs Brokerage
With challenges and difficulties in international transportation from the U.S. to Canada, it can be rather easy to make errors leading to delays or issues with customs. Expanding business to Canada can be a significant source of increased revenue, but complying with Canadian import regulations is essential to avoid problems with business operations. Companies shipping goods internationally can do it themselves. However, many businesses find it more convenient and overall efficient to hire a customs brokerage.
Hiring a customs brokerage helps companies avoid any potential customs issues when importing goods into Canada. They are trained to understand customs and regulations on a company's behalf. Partnering with a trusted customs brokerage can ensure businesses don't make any costly mistakes during the exporting process, especially with the constant updates to policies. A brokerage creates a seamless process for the cross-border transportation of goods, allowing goods to arrive on time as scheduled and avoiding unnecessary penalties and fines from not understanding Canada's customs policies.
Our customs experts know the ins and outs of Canadian and U.S. customs. We have the expertise to comply fully with all Canada's border clearance requirements. Regulations continually change and adapt, and we stay on top of these changes so our clients never have to worry about missing new standards. By working with Purolator International, your company can enjoy:
Accurate and ensured compliance with all U.S. and Canada's border requirements
Early arrival of shipments for preclearance
Accurate recordkeeping of all transactions and paperwork
Preferred shipping status for quicker and smoother transportation across the border
Our customs brokerage has a strong relationship with U.S. and Canadian customs. Because we have a history of abiding by regulations, Purolator International has preferred shipper status, resulting in quicker and more efficient border crossing. Our freight is a top priority through customs, allowing for even quicker transit of freight. Our shipments can arrive at Canada's border ahead of time, allowing customs to preclear any goods that may have caused a delay. We have cross-border supply chain solutions that provide you with smooth customs clearance.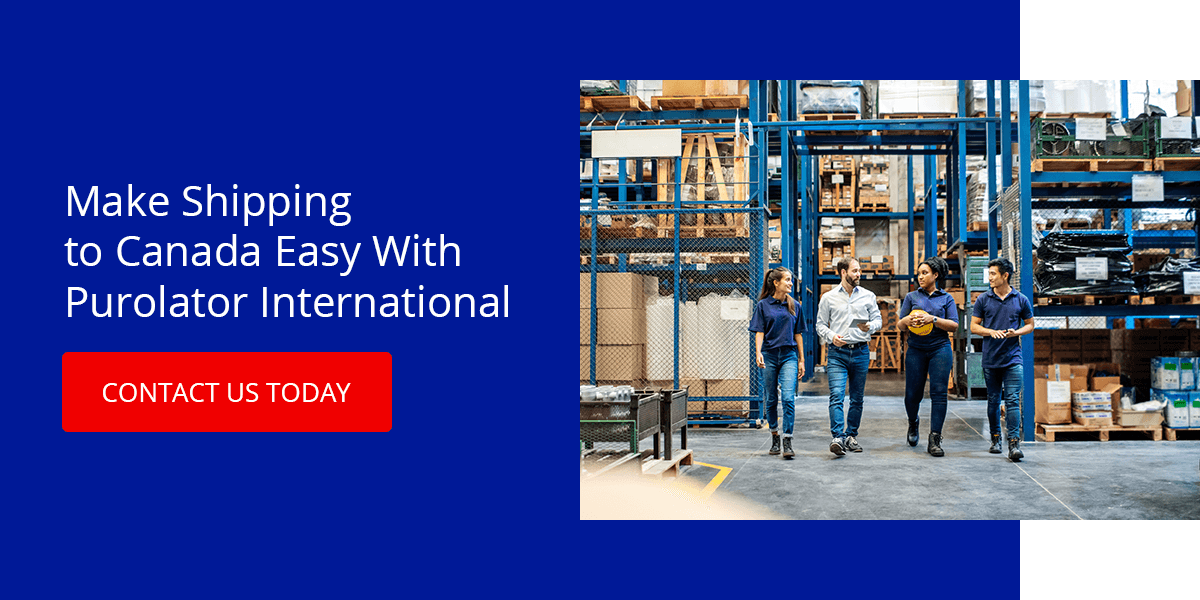 Make Shipping to Canada Easy With Purolator International
Shipping companies face many issues when shipping internationally, especially from the U.S. to Canada. The top issues involve unqualified drivers, insufficient or inaccurate paperwork and changes to the Rules of Origin under USMCA.
Whatever the problem may be, any issue with customs can be costly. Issues can result in time lost, fines and penalties or shipment rejection. Businesses must know the current customs regulations before starting the exporting process to Canada. Though they are a neighboring country, their rules and regulations differ significantly from U.S. policies.
Easily avoid any mishap and cross-border logistics delays by partnering with a customs brokerage. Purolator International helps create a seamless exporting process for shipping products and goods to Canada. Make the international shipping process easier, and contact us today!