Your Guide to Canadian Shipping Restrictions
As the second largest trading partner to the United States, Canada has a significant potential to reach and capitalize on a broader customer base. In 2022, Canada generated $67 billion in U.S. revenue from eCommerce businesses — a figure that is expected to grow to over $103 billion in 2025. So, if you're looking to expand your customer base, your neighbor to the north could be the market you're looking for.
Whether you've just set up shop or are looking to expand your business into new territories, shipping to Canada comes with many restrictions and regulations you must stay up to date with. This guide will help you stay informed on Canadian import restrictions, illegal shipping items and required documents to ensure a streamlined and successful shipping experience.
What Shipping Items are Illegal to Export to Canada?
Canada, like most countries, has created a list of prohibited goods that cannot be shipped across their country's borders. As a business, you must understand what items are outlawed from being dispatched. Canadian customs maintains the right to seize and destroy any prohibited item, so it's your responsibility to remain current on regulations to avoid delays or losses in revenue.
Before you start fulfilling orders in Canada, be aware of what items Canada deems to be illegal, including:
Live animals
Goods manufactured in prison
Currency
Second hand cars
Goods consisting of hate speech or sedition
White phosphorous matches
Counterfeit goods
Obscene or pornographic material
Items that misrepresent their country of origin
Firearms, weapons or ammunition
Explosives
Animal furs
While carriers follow the rules and regulations set forth by a country, they may also maintain a list of their own prohibited items. Make sure to read up on their guidelines before your first shipment. Review the Canada Border Services Agency (CBSA) website to learn more about prohibited items.
What Items Does Canada Restrict?
Canada also maintains a list of items they restrict or control. Restricted items require shipments to meet courier requirements while following all federal, regional and local laws. They can come to fruition in various manners, limiting entry ports, barring certain routes or requiring specific labeling practices. Controls are typically placed on commodities that could affect the economy, impact the well-being of Canadian residents or interfere with the environment.
If your company is interested in shipping restricted items into Canada, you'll need to obtain the proper licenses, permits and certificates beforehand. Simultaneously, it's essential to understand which items require these documents to ensure you submit the correct paperwork on time. Some of the items restricted for export into Canada include:
Alcoholic beverages
Flowers
Perishable goods
Pharmaceuticals
Plants
Lithium batteries
Tobacco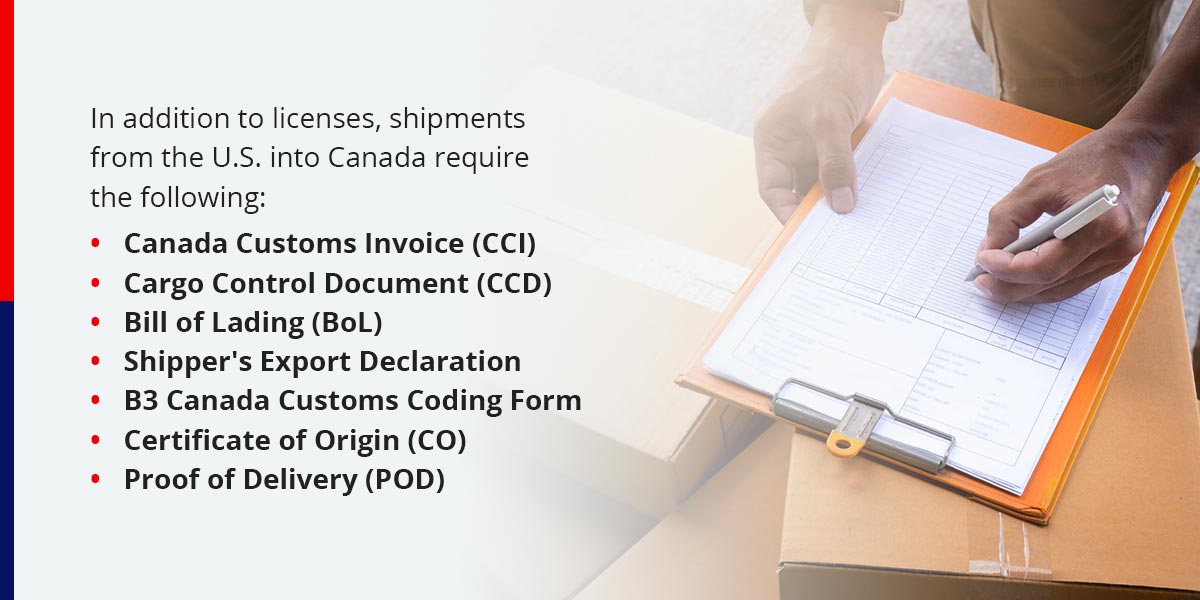 What Documents Are Required to Ship to Canada?
The Canadian Border places additional shipping restrictions regarding the documents and paperwork it requires from exporters. You must complete the proper steps to export your goods proficiently across the border. Still, before anything else, you'll need to obtain a Business Number (BN) for an import/export account from the Canada Revenue Agency, which will allow you to operate legally. This account is relatively straightforward to acquire, often completed within minutes.
All commercial shipments must submit the proper documentation and acquire suitable permits and certifications. For your convenience, they can either be submitted in person or online. Submitting the correct documents on time will save your company valuable time and money, which is essential to preserving the quality of your supply chain.
In addition to licenses, shipments from the U.S. into Canada require the following:
Canada Customs Invoice (CCI): A CCI includes more information than a general commercial invoice, providing the Canadian Customs officials with crucial information regarding the shipment, vendor and consignee. It aids exporters in collecting their payments and importers in clearing their goods.
Cargo Control Document (CCD): A manifest that records the shipments entering or exiting Canada. It lists everything in your shipment, including the shipping address, broker's transaction number, clearance location and weight. Typically, you'll need two copies — one to report your cargo to the CBSA and another to confirm the arrival of your goods.
Bill of Lading (BoL): This legal document is given to shippers by a carrier and outlines the kind and amount of the goods while also identifying the destination. A BoL acts in many capacities, serving as a receipt for shipped goods, evidence of a contract between exporter and carrier and a title document.
Shipper's Export Declaration: A report that is required for most exports from the United States, used to keep a record of all shipments and to compile trade statistics.
B3 Canada Customs Coding Form: An accounting form that will assist you in paying duties and taxes.
Certificate of Origin (CO): This document certifies the nationality of a product, or parts of a product, signifying where it was obtained, manufactured or processed. It is used to determine the tariffs and duties placed on a shipment.
Proof of Delivery (POD): A document to establish that the recipient has received the correct shipment in proper condition.
Work With a Shipping Company You Can Trust
Shipping up north can be a lucrative and successful venture for your business, provided you comply with all of Canada's import restrictions. However, stepping into new territory can be overwhelming and confusing, which may lead to delays or customs issues. While you can take on this process yourself, many companies enlist the assistance of a dedicated customs brokerage.
As a known Canadian cross-border shipping leader, Purolator International can transport your cargo efficiently and swiftly. Our organization has a unique relationship with the U.S. and Canadian borders thanks to our long-standing history of complying with all restrictions. This affiliation has provided us with a preferred shipping status, helping us speed up deliveries and effortlessly move them over the border.
When you choose Purolator International, you'll work with a dedicated team of professionals offering reliable solutions your business can rely on. We commit ourselves to offering high-quality, customizable services that meet your company's needs to minimize delays and expedite your shipments. Purolator International is the partner you need to optimize your supply chain.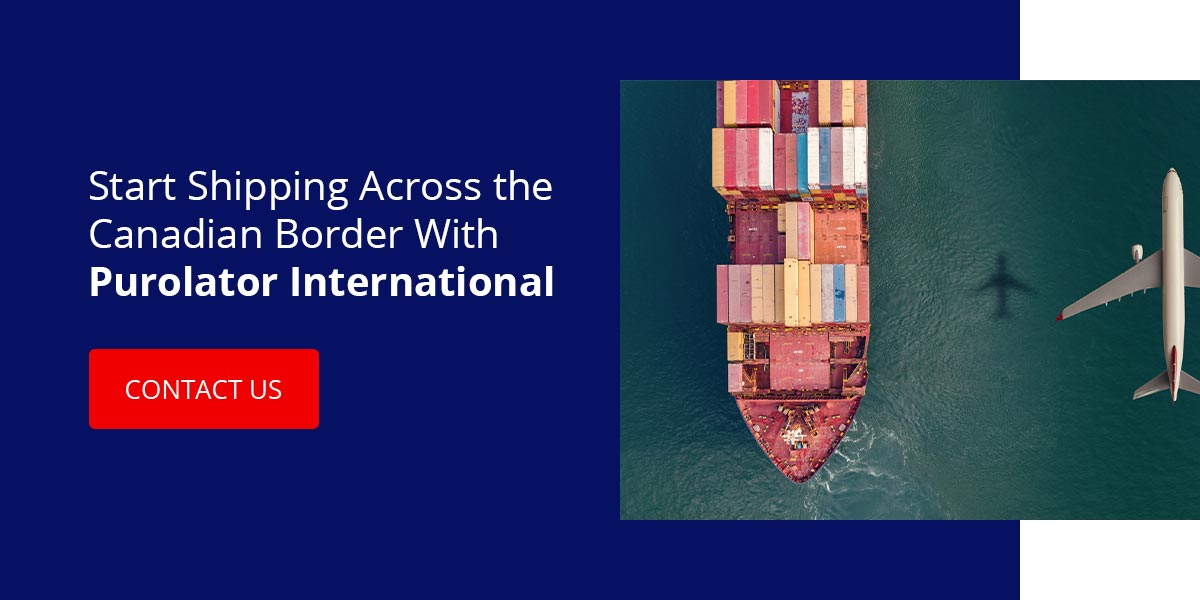 Start Shipping Across the Canadian Border With Purolator International
Shipping across the Canadian border can pose significant complications without taking the right precautions and following the proper protocols. These challenges can result in shipments being stopped or rejected at the border, penalties, fines and unhappy customers.
No matter what your business does, Purolator International can help you get your products where they need to be. We'll ensure you avoid shipping illegal items to Canada, complete the proper paperwork and keep your cargo on schedule. Our team will create an enjoyable experience to keep your business running smoothly.
Contact us online and start preparing your shipments to Canada today!