Required Documents for International Shipping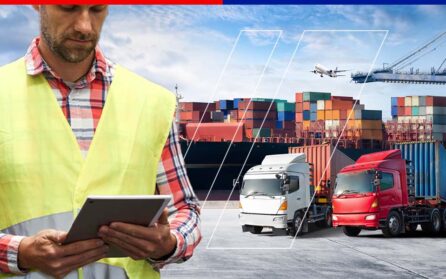 Shipping internationally can be daunting due to the extensive document requirements. In many cases, forgetting one document could set you back in both time and money. Knowing exactly what you need to provide and all the relevant supporting documents will improve your overall shipping experience.
Here are the compulsory and critical documents for shipping cargo to Canada and elsewhere. In addition, it's important to understand stakeholder expectations, customs procedures and regulatory requirements.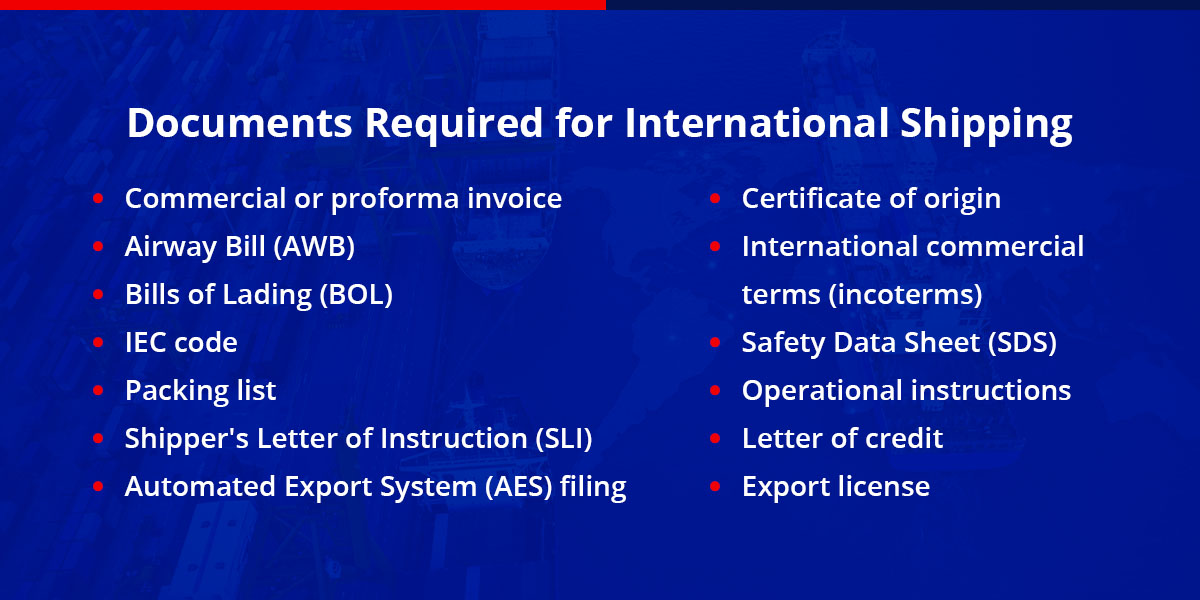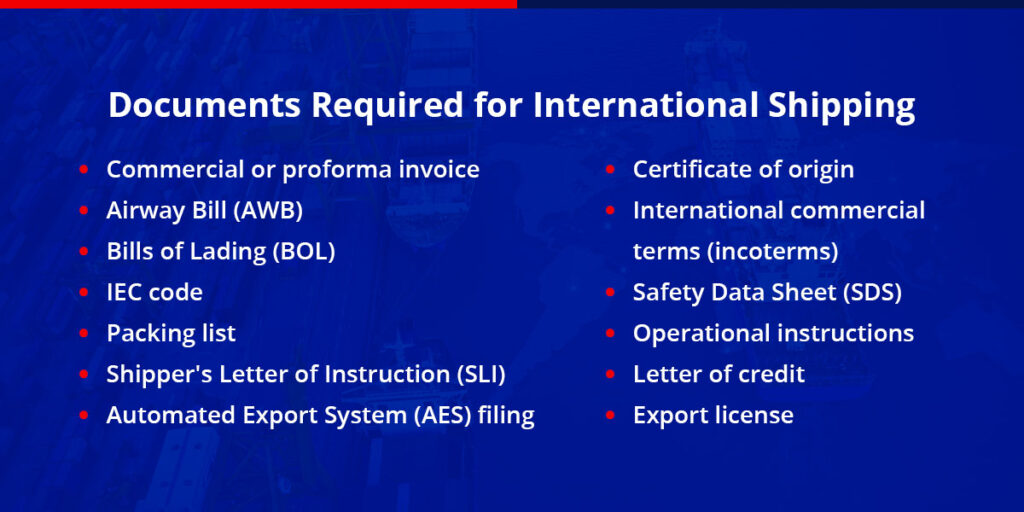 Documents Required for International Shipping
At any point in time, you may be asked to provide all of the following international shipping documents. Most are compulsory while others are specific to a function or requirement. Review the following list of required documents:
Commercial or proforma invoice: This document proves the agreement to transport goods as confirmed by the importer and exporter. It shows the cargo value for the shipment intended to be moved and is generally used by customs to calculate taxes and import duties.
Airway Bill (AWB): This form of receipt is issued by the freight forwarder for both shipper and carrier as proof of the goods in transit. It confirms everything about the source of origin, shipping destination and what is being shipped.
Bills of Lading (BOL): Bills of lading serve as a formal agreement between the carrier and shipper and specify the shipment mode and route. They differ for land, ocean, seaway and airway shipments. These records show exactly who the exporter is, who the importer is and what goods are being shipped internationally.
IEC code: Importers and exporters are assigned these codes needed for customs clearance. This helps the government monitor shipping activity by regulating the import and export industries.
Packing list: This list details the requirements of the shipment, such as what it contains, the shipping destination and the dimensions and weight of the cargo. These details assist with verifying goods and providing accurate recording during handling.
Shipper's Letter of Instruction (SLI): This specific instructional letter includes the final destination, who is carrying the shipment and the exporter responsible. Additionally, it contains information about the goods and their value.
Automated Export System (AES) filing: This online filing method requires a few imperative details from the shipper, such as their tax ID number, the cargo value and Harmonized System (HS) code.
Certificate of origin: The exporter issues this document and verifies that the cargo goods come from the country they are being shipped from and are locally manufactured there. This influences the eligibility for import duty rates and taxes determined by the destination country.
International commercial terms (incoterms): This guideline outlines the universal rules that apply to international trade and highlights the roles of the shipper and carrier. It distinguishes the clear responsibilities of each party in terms of payment requirements, necessary paperwork and other duties during the entire transaction.
Safety Data Sheet (SDS): Potentially hazardous goods must be declared, which is what the SDS records along with handling and storage instructions. Goods must be labeled correctly to ensure visibility for all involved in the shipping process.
Operational instructions: These shipping instructions relate to the way cargo must be handled in transit. It may be in the form of a document but is generally an understanding between shipper and carrier, especially if fragile goods are transported.
Letter of credit: To abide by the rules of international trading, the buyer's bank issues a letter of credit, which guarantees the goods that will be shipped without any issues. This gives the buyer and seller peace of mind that they will receive their respective goods and payment upon delivery.
Export license: This document may be required for hazardous and other fragile goods. Failure to provide this documentation could lead to delays or confiscation.
Crucial Documents
These documents are always part of international shipping requirements:
Commercial or proforma invoice
BOL
IEC code
AWB
Packing list
Export license
Certificate of origin
Incoterms
Understanding Stakeholders and Their Expectations
Stakeholders include all the individual and collective parties involved in the shipping industry. Each plays a role in ensuring the shipment is successfully sent and received by the intended sender and recipient. Stakeholders are categorized by their involvement, as listed:
Levels: Regional, national and international stakeholders, including sellers, suppliers, carriers and authorities.
Customer: Also referred to as the buyer, importer, recipient, consignee, shipper or payor. This is the entity or person buying and receiving goods from an international destination to their country.
Supplier: Otherwise known as the seller, exporter, sender, consignor or payee. This entity or person sends goods internationally, intended for the customer to receive.
Intermediary: These third parties are sometimes the carriers and include bodies like the freight forwarder, logistics companies, transport service and insurance providers, brokers, and customs and commission agents. They act as the middleman for the customer and supplier by physically transporting the goods.
Authority: These stakeholders sign off on legislation and regulations associated with shipping and other industries. They include Customs, relevant shipping ports, the Chamber of Commerce, and environmental and agricultural boards.
Marine industry: Key stakeholders in the shipping industry include ship, ferry and tour boat owners and operators, ports and stevedores or terminal operators, shipping agencies and brokers, fuel distributors, and other marine service stakeholders.
As an example, let's say the customer and supplier use an intermediary to have their shipment sent from point A to point B, after an authority clears the consignment. The appropriate BOL is issued to ensure both parties adhere to the contract. For each role to be executed efficiently, the expectations must be understood and met through clear lines of communication and adherence.
Customs Procedures and Regulatory Requirements
To comply with international shipping regulations, there are stringent procedures for customs control and clearance. These steps must be adhered to by the exporter and importer for hassle-free shipment:
Required documents: As the exporter, all documents needed for specific cargo requirements must be completed and ready.
Attach documents: Print the documents and attach them to your shipment using the intermediary or broker of your choice or submit your documents electronically. They should all match in detail and be accurate, legible and true to avoid possible customs delays.
Customs clearance: The broker will ensure your shipment makes it to its destination safely and assists with the customs clearance processes for imports and exports.
Delivery: The carrier or intermediary will collect and deliver the goods to the importer.
Ensuring Compliance and Mitigating Challenges
With each mode of transport, compliance regulations must be met. These requirements include documentation around what and how much is being transported, who is involved, from which country it is being shipped and its final destination.
Consequences of non-compliance may include:
Fines and fees
Reputational damage
Confiscation of goods
Evoked trading license and permits
Potential jail time
You can help mitigate the challenges of ensuring compliance by taking the following steps:
Have thorough document inspections completed at the various checkpoints in transit.
Gain access to real-time data related to compliance and regulations across the board to stay in the loop.
Understand and comply with country-specific shipping regulations, such as label language requirements specific to the country of destination.
Where possible, access an online central database that has all the required information to save time.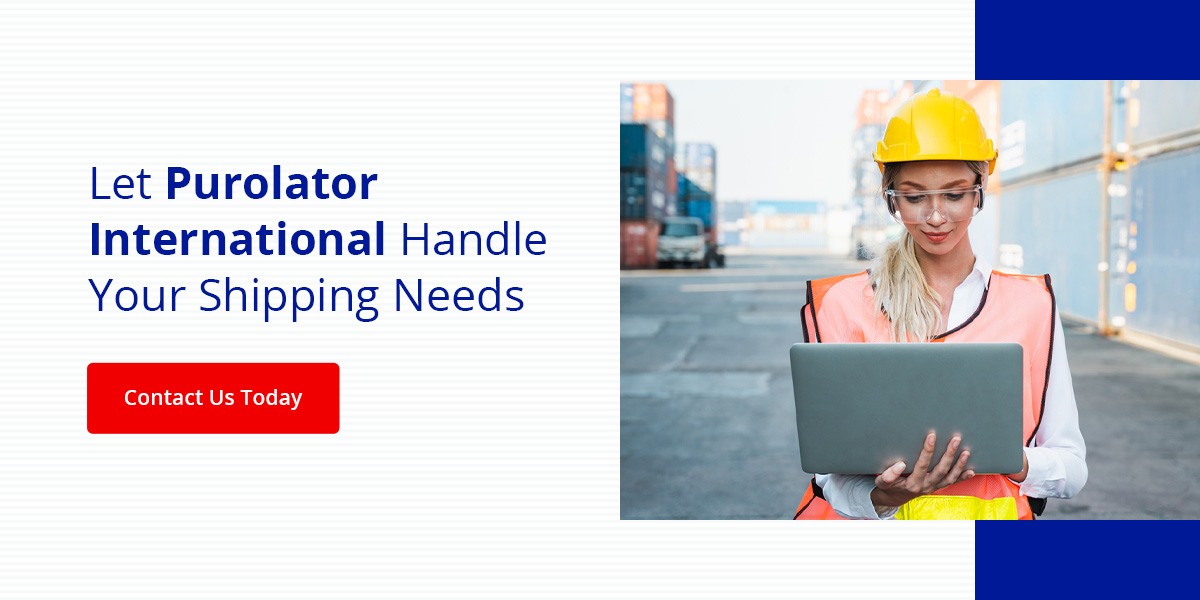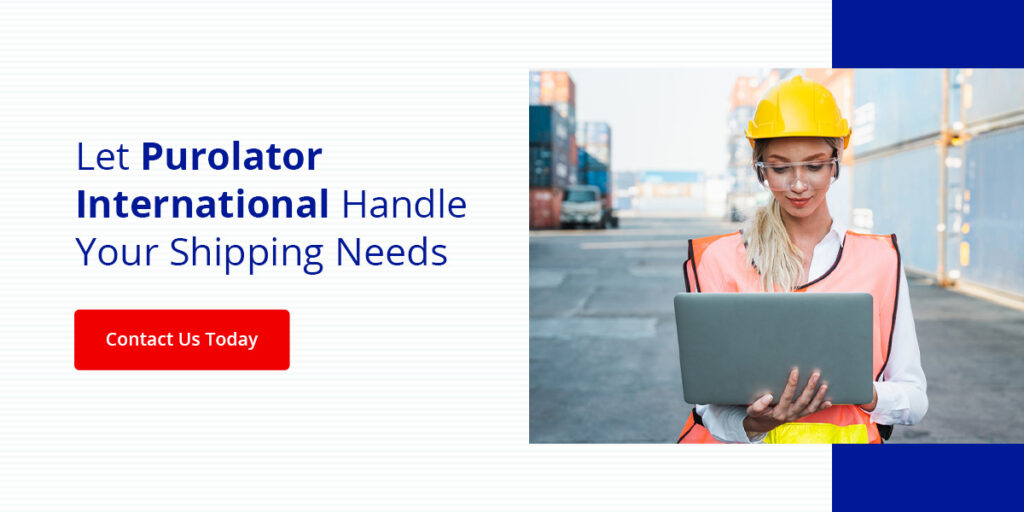 Let Purolator International Handle Your Shipping Needs
At Purolator International, we help you ship internationally without the headaches and roadblocks. By understanding which crucial documents are required from the start, you gain peace of mind knowing we will take care of the rest of your shipping requirements. We deliver any size from parcels to pallets using your preferred shipment method and within your specified timeline.
Contact us with your shipping request details today.