Choosing the Right Logistics Provider: Asset- or Non-Asset-Based?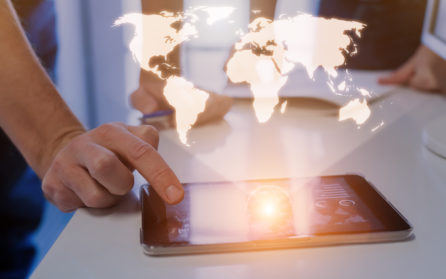 When Walmart announced it was increasing the threshold for supplier on-time deliveries from 75 percent to 85 percent, it essentially put suppliers on notice that avoiding empty shelves and dissatisfied customers were the retailer's top priorities. As reported by The Wall Street Journal, large suppliers that miss their on-time performance target will be fined 3 percent of the cost of the delayed goods. Smaller suppliers will be penalized for shipments that arrive late more than 50 percent of the time, up from 33 percent.
"This is not a 'Hey, let's see how unreasonable we can be,'" Walmart Chief Merchandising Officer Steve Bratspies said in announcing the new policy. "We need the product that the customer wants when they want it."
Walmart's action is reflective of consumer-driven demands being placed on retailers with regard to on-time deliveries, availability of inventory, and convenient purchasing options. In short, today's consumers are very much in the driver's seat when it comes to directing retail experiences and will vote with their feet – or their mouse or thumbs – if a retailer does not meet expectations.
The stakes are only going to get higher, with expectations increasing for faster and more creative delivery options. Amazon is currently testing deliveries to customers' locked homes and car trunks, while research by Zebra Technologies predicts half of all online orders will be delivered within two hours by 2028.
Retailers unable to compete will get left behind, as consumers turn to competitors that have successfully upgraded their logistics strategies to meet changing expectations. For many, this has meant a fundamental top-to-bottom review of existing supply chain processes and asking tough questions about their existing modus operandi.
As a result, retailers are evaluating tried-and-true logistics processes and questioning if there aren't more efficient options. A retailer that has depended on a transportation provider's fleet of trucks and network of distribution centers, for example, might be surprised to learn that other options are available through a third-party logistics provider (3PL) that does not maintain its own fleet but instead relies on access to a network of carriers.
Whether to choose an asset-based or non-asset-based provider depends on a business's unique needs. There is no right or wrong answer. But, since technology has enabled so many innovative logistics solutions, every retailer needs to do its due diligence and ensure its logistics provider is taking advantage of current options.
The following discussion will help inform retailers about those options, specifically with regard to capabilities of non-asset-based and asset-based providers. Many businesses have no idea of the changes that have taken place within the logistics industry, so the following information should help either validate a retailer's existing logistics choice or ring the alarm that a better solution might be available.
Before delving into the characteristics of asset-and non-asset-based 3PLs, it's helpful to understand what exactly is meant by a 3PL. A good place to look for a definition is the Council of Supply Chain Management Professionals Glossary of Supply Chain Terms, which is considered the unofficial "bible" of supply chain terms. But according to Professor Kate Vitasek of the University of Tennessee's Center for Executive Education and the official "keeper" of the glossary, the current 3PL definition needs a bit of explanation.
Traditional Definitions
According to Professor Vitasek, the official CSCMP definition has traditionally been: "A firm which provides multiple logistics services for use by customers. Preferably, these services are integrated or 'bundled' together by the provider. These firms facilitate the movement of parts and materials from suppliers to manufacturers, and finished products from manufacturers to distributors and retailers. Among the services which they provide are transportation, warehousing, cross-docking, inventory management, packaging, and freight forwarding."
What Is a 3PL?
However, the U.S. Congress intervened in 2008 and included a revised 3PL definition as part of an update to the Consumer Product Safety Act. The new legal definition defines a 3PL as: "a person who solely receives, holds, or otherwise transports a consumer product in the ordinary course of business but who does not take title to the product."
Although CSCMP still includes its own definition in its industry-standard glossary, Professor Vitasek acknowledges the significance of a legal term having been enacted by the U.S. Congress and signed by the President of the United States. "To say that something related to good old logistics is getting on the president's desk is pretty powerful," she noted.
Within the confines of the "official" definition, 3PLs perform a wide variety of logistics-related services based on a shipper's precise needs. A manufacturer of component parts, for example, might require kiting services and an expedited delivery solution, whereas an eCommerce retailer might need help with inventory management and fulfillment.
Wide Range of Services 
This broad scope of service is a key reason businesses outsource to a third party. In 2017 research by supply chain consultants Armstrong & Associates found 90 percent of Fortune 500 companies operating within the United States outsourced to at least one 3PL. This finding marked a near doubling from 2001, when 46 percent indicated use of a 3PL.
And what services are 3PLs performing? The "2017 Third-Party Logistics Study," sponsored by Capgemini Consulting, found shippers relied on 3PLs for a diverse range of functions, including:
Domestic transportation – 85 percent
Warehousing – 66 percent
International transportation – 60 percent
Freight forwarding – 44 percent
Customs brokerage – 42 percent
Transportation management and planning – 36 percent
Cross-docking – 34 percent
Freight bill auditing and payment – 32 percent
Inventory management – 24 percent
Order management – 24 percent
Reverse logistics – 23 percent
Not surprisingly, technology and data management have become critical "must-haves" for today's successful 3PLs. Technology-based management systems will allow visibility across an entire supply chain, ensure that shipments are traveling via the most efficient route, and provide accurate recordkeeping and customer tracking capabilities.
But beyond ensuring process efficiency, shippers also look to their 3PL for performance efficiency through strategic use of operational analytics. [Note: Operational analytics are different from customer behavioral analytics, which help with the marketing and sales sides of business operations.] As noted by the Capgemini report: "Collecting and analyzing data can help providers work with shippers on demand planning, forecasting, consolidation, and distribution points to create a comprehensive strategy that removes inefficiencies and alleviates potential disruptions."
Analytics also help shippers determine their best transportation mode, with 62 percent of 3PLs in the Capgemini Consulting survey noting increased interest among their customers in changing their use of various transportation modes.
While shippers may have different reasons for enlisting a 3PL, the expected outcomes are the same – enhanced supply chain efficiency and on-time deliveries to end customers. But as the following discussion will make clear, no two 3PLs are exactly the same, with each having its own strengths and limitations. A shipper must do its due diligence to ensure a 3PL has the requisite experience and capabilities, which include a long list of satisfied customers.
Asset-Based and Non-Asset-Based 3PLs
Among the many decisions a shipper will have to make is whether to enlist an asset-based or non-asset-based third-party logistics provider. There are pros and cons for each, and the ultimate determination will be based on a shipper's precise requirements and expectations.
Asset-Based 3PLs
An asset-based 3PL typically owns the equipment and materials required to meet clients' supply chain needs. These assets include trucks, trailers, warehouses, and distribution centers, among other items.
An asset-based 3PL will use its arsenal of equipment to address customer needs and typically offers comprehensive services for all supply chain needs. This single-source solution can ensure a high degree of visibility, efficiency throughout the supply chain process, and accountability should something go awry during any stage of the process.
In addition, the comprehensive handling of all supply chain needs helps solidify relationships between the 3PL and its customers. At the account level, shipper representatives come to know their 3PL contacts and often have a name and direct contact information. At the operations level, drivers, warehouse workers, and other 3PL employees may become accustomed to a business's shipments and gain an understanding of any special handling needs.
Asset-based providers are often cited for their stability. Because the 3PL owns its equipment and facilities, the provider would presumably "be in it for the long haul" and able to guarantee access to trucks and routes. Similarly, 3PLs with their own assets can mitigate the risk of contracting with a carrier or warehouse operator that suddenly declares bankruptcy or proves unable to make good on promised services.
However, since the asset-based provider is locked in to using its own equipment, it does not have the flexibility to utilize out-of-network options that might actually be more appropriate for a specific customer's needs. As a result, shippers are sometimes forced to adapt to the 3PL's pickup and delivery schedules, which may not be ideal solutions.
Non-Asset-Based 3PLs
A non-asset-based 3PL, on the other hand, does not own its own equipment or facilities, and instead it relies on networks of relationships with transportation providers, warehouses, and distribution centers. A non-asset-based provider will negotiate with the owners of these assets and provide each customer with a customized solution.
Since a non-asset-based 3PL is not restricted to using only its own assets, it generally has greater flexibility in building solutions. A non-asset-based provider can take a big picture view of all possible solutions – across multiple asset owners and carriers – and determine the best course to fit a particular shipper's needs. In some instances, this may include combining services from multiple operators or an intermodal solution that includes a rail or air component.
This flexibility helps with pricing since companies can use their extensive networks to shop around and select options that meet a shipper's specific needs and price point.
As described by IndustryWeek: "A non-asset-based 3PL offers its expertise in negotiating contracts with warehouses, trucking companies, and distribution centers in order to manage your supply chain at the lowest possible cost to your business. Non-asset-based 3PLs realize that clients have different priorities for their logistics operations, and since they do not need to utilize an inventory of assets to remain profitable, non-asset-based 3PLs exhibit a flexibility in supply chain solutions that asset-based 3PLs do not."
Choosing a Third Party Logistics Provider
Choosing a third party logistics provider should involve a few important factors, including the evaluation of the capabilities of the company, efficiency, ability to customize and more.
At Purolator International, we are proud to be a comprehensive 3PL solution provider that offer custom logistics solutions, a wide range of service options and a customer-oriented approach.
When you partner with Purolator International, you will be able to take advantage of our experience and innovation in logistics and shipping solutions. Contact us today to learn more about Purolator International and our services!