Top Logistics Challenges of AOG Shipping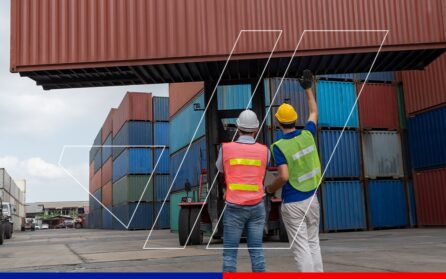 Aircraft on Ground (AOG) shipping refers to the urgent transportation of critical aircraft parts, equipment or components required to address unscheduled maintenance or repair issues that render an aircraft non-operational. When an aircraft is grounded due to a mechanical failure, damage or other unforeseen circumstances, AOG shipping becomes crucial in ensuring a swift resolution and minimizing costly downtime.
The process of AOG shipping involves several key steps. When an AOG aviation event occurs, the airline or maintenance, repair and overhaul (MRO) provider initiates the request for the required part. This request is typically accompanied by specific details, including the aircraft type, part description, part number and location of the grounded aircraft.
Upon receiving the request, the AOG shipping team or the logistics provider goes into action. They coordinate with various stakeholders, suppliers, carriers and customs authorities to secure the necessary part and arrange its transportation. The logistics team must ensure the part is shipped quickly, often via air freight, to reach the destination within the shortest possible time frame.
Your Shipments and AOG
As a discerning buyer operating in the fast-paced aviation industry, AOG occurrences can abruptly interrupt your meticulously planned logistics operations, resulting in costly delays, compromised schedules and dissatisfied customers.
When an AOG event transpires, signaling that an aircraft is non-operational due to unforeseen mechanical failures, AOG shipping takes precedence, disrupting the regular flow of cargo and passenger flights. Limited aircraft availability for freight transportation can lead to reduced cargo capacity and heightened competition for limited resources, resulting in delayed deliveries and potential financial losses.
As commercial airlines strive to resolve AOG situations promptly, they prioritize transporting aircraft parts, components or equipment to restore grounded aircraft's functionality. This allocation of resources can lead to disruptions in the regular cargo and passenger flight schedules, affecting your shipment logistics and potentially causing delays.
Mitigating the Impact of AOG on Shipments
To minimize the effects of AOG on your shipments, align your logistics operations with reputable air freight providers with the expertise and capability to handle AOG situations efficiently. Partnering with such providers ensures your shipments receive priority and expedited transportation when faced with AOG-related challenges.
Maintaining open lines of communication with your logistics partners allows you to get regular updates on AOG situations. Revised delivery timelines enable you to manage customer expectations proactively. You can promptly communicate any changes to stakeholders and devise contingency plans to minimize disruption by staying informed.
Anticipating potential AOG scenarios and establishing alternative transportation options provide you flexibility when faced with unexpected disruptions. Diversifying shipping routes and exploring multimodal transportation alternatives can minimize the effects of AOG on your shipment.
Advanced tracking technologies and real-time supply chain visibility solutions empower you to monitor the status and location of your shipments. This transparency enables you to proactively address any issues. You can make informed decisions to minimize the impact on your supply chain.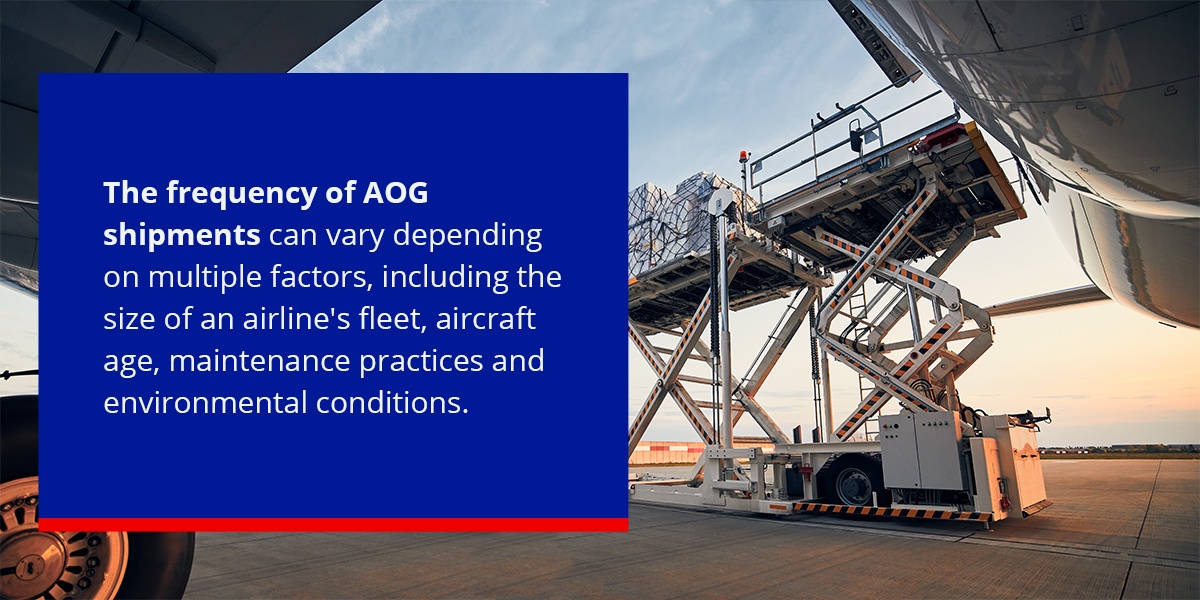 How Often Do AOG Shipments Happen?
The frequency of AOG shipments can vary depending on multiple factors, including the size of an airline's fleet, aircraft age, maintenance practices and environmental conditions. Providing an exact number or percentage of AOG occurrences is challenging since they are unpredictable. However, AOG situations are relatively common in the aviation industry, given the number of aircraft in operation globally and the complexity of their mechanical systems.
Airlines and MRO providers face the ongoing challenge of mitigating AOG incidents. They invest significant resources in preventive maintenance, regular inspections and stringent quality control measures to minimize the likelihood of AOG situations. Despite these efforts, unexpected failures and unforeseen circumstances can still lead to aircraft grounding and needing AOG shipments.
Challenges Faced by Air Freight Suppliers
Addressing these challenges requires a combination of industry expertise and efficient operational processes. Air freight suppliers that can effectively overcome these hurdles are better positioned to provide reliable and timely AOG shipping solutions to their customers. They support the swift resolution of aircraft maintenance issues and minimize costly downtime for airlines and passengers.
Here are the challenges air freight suppliers may face:
Time sensitivity and expedited delivery: AOG situations demand immediate action, and air freight suppliers must be equipped to handle time-sensitive shipments. Meeting stringent turnaround times and minimizing transit durations require efficient logistics coordination and effective communication with all stakeholders.
Documentation and compliance: AOG shipments often involve aircraft parts that may have specific documentation and compliance requirements. Air freight suppliers must navigate the complexities of customs procedures, regulatory compliance and safety regulations associated with these specialized parts. 
Urgent capacity and resources: The sudden surge in demand for expedited transportation of critical parts may exceed available capacity, especially during peak periods or when multiple AOG incidents coincide. Air freight suppliers must tackle these urgent capacity constraints by optimizing existing resources, collaborating with additional carriers and leveraging their industry connections to secure the necessary transportation capacity and expedite AOG shipments.
Maintaining efficiency and reliability: Timely communication with customers and high service quality, even under time pressure and in demanding circumstances, is a continuous challenge air freight suppliers must navigate.
What to Expect When Shipping AOG Cargo
By clearly anticipating what current shipping issues are present when managing AOG cargo, you can better collaborate with your logistics provider, plan for potential contingencies and ensure a smooth delivery of critical aircraft parts. 
When shipping AOG cargo, the primary expectation is expedited transportation. Every effort is made to ensure the swift delivery of critical parts to where the grounded aircraft is located. Expect a dedicated team of logistics professionals to prioritize your shipment, coordinating with various stakeholders to expedite its movement and minimize any delays.
Expect regular updates from your logistics provider regarding your shipment's status, location and estimated delivery time. Advanced tracking technologies and supply chain visibility solutions enable real-time monitoring of your cargo, ensuring you are informed of any potential delays or disruptions. Proactive communication allows you to make informed decisions, manage customer expectations and plan accordingly to minimize the impact of any unforeseen circumstances.
Expect your logistics provider to have contingency plans to address potential challenges while transporting your AOG cargo. Flexibility in adapting to changing situations, alternative routing options and quick decision-making are critical factors that can help overcome any obstacles and ensure the successful delivery of your cargo, even in the face of unexpected events.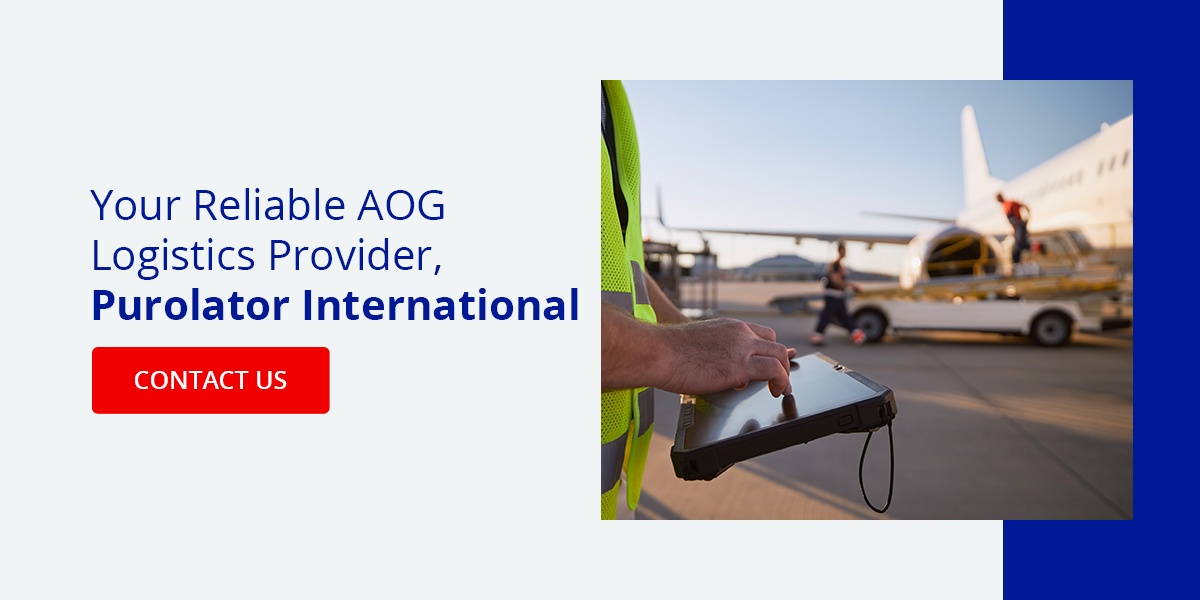 Your Reliable AOG Logistics Provider, Purolator International 
Purolator International, a Canadian shipping specialist, offers hassle-free and on-time express, freight and parcel shipping solutions from the U.S. to Canada. Our expertise lies in creating custom solutions for businesses, catering to their unique logistics requirements. While we can ship to 220 countries worldwide, our primary focus is shipments to, from and within Canada and the U.S.
Gain a collaborative approach to AOG transport by partnering with Purolator International. Our knowledgeable, dedicated AOG team understands the intricacies of the aviation industry and the specific demands of AOG situations. We work closely with suppliers, carriers and other stakeholders to ensure seamless coordination, proactive communication and efficient handling of your critical aircraft parts.
Contact Purolator International today to discuss your AOG freight needs and experience our hassle-free and on-time shipping solutions.