8 Tips to Minimize Supply Chain Disruption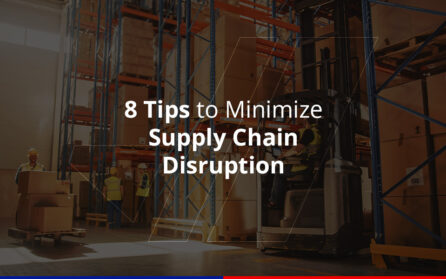 Supply chain disruption can come from many sources, and recent events have put significant pressure on businesses to better manage supply chain disruptions. In 2020, a whopping 90% of supply-chain executives said they aimed to make their supply chains more flexible, agile and resilient — a promise the vast majority of them made good on.
Still, supply chain issues continue to plague many businesses. If yours is one of them, it's time to develop a supply chain disruption mitigation strategy.
What Is Supply Chain Disruption?
A supply chain is made up of a large network of organizations and processes that help a product reach its end user, such as the manufacturer that makes it, the distributor that ships it and the retailer that sells it. Disruptions occur whenever a sudden change negatively impacts that process.
Because supply chains are interconnected, a problem at one stage affects all of the stages downstream. If a lumber mill is facing a labor shortage and can't meet its typical quota, customers won't receive their orders as usual. One of those customers, a manufacturer, is unable to make products to meet orders, affecting the brick-and-mortar retailer that can't meet demand.
Everyone is affected — unless they take certain steps. The manufacturer, for example, could source lumber from another provider, while the retailer could procure a similar product from another manufacturer. These steps increase supply chain resiliency.
Types of Supply Chain Disruptions
Different types of supply chain disruptions call for varying responses. Businesses must stay aware of these possibilities and consider them when considering how to solve supply chain problems.
Many supply chain disruptions affect businesses globally:
Economic recessions: As prices and demand vary, members of the supply chain face fluctuation in product movements. Responding to these changes can be disruptive.
Pandemics: The wide-reaching effects of a global pandemic or even smaller disease outbreaks can severely limit the capabilities of supply chains.
Global interruptions: Unpredictable incidents can also occur, like the Suez Canal blockage in 2021 or political upheaval.
Other issues affect supply chains on a regional or local level:
Natural disasters: Various natural disasters can quickly take supply chain components out of commission.
Weather: Severe weather can also bring transportation to a halt, grounding flights and keeping trucks off the road.
Local economies: On a local level, economic fluctuations can affect demand and product movement.
Labor issues: Staffing problems and protests, such as the recent trucker convoys in North America, can also hamper the supply chain's success.
How to Overcome Supply Chain Disruptions
Here are some strategies you can use to reduce supply chain risk:
1. Expect Disruption
Plan for the inevitable. It isn't a matter of if your supply chain gets disrupted, but when. In one study, three-quarters of respondents said they encountered problems with production and distribution. In the food and consumer goods industries, that number jumped to 100%. Expect the unexpected, so you can respond to disruptions at any level.
2. Update Your Plans Regularly 
Over time, you'll need to make sure your plan still works. Perform evaluations with test runs. Say a tornado destroys a manufacturing plant. Your backup plan may involve sourcing from another location or company. Contact that second supplier and see if they'd be capable of producing a hypothetical order.
3. Expand Communication Channels
When disruption strikes, you need to be able to communicate with your partners and track inventory in real time. Revisit your communication channels and see if there's anywhere you can improve visibility.
You may implement real-time messaging tools for your team or invest in artificial intelligence (AI) or Internet of Things (IoT) devices to better monitor and track assets across their journeys in the supply chain. If a bottleneck appears during transit, for instance, you could catch the issue and divert your next shipment to another route.
A McKinsey study tells us that modern digital tools go hand in hand with good planning. Successful companies were 2.5 times more likely to have preexisting advanced analytics capabilities in place than struggling organizations.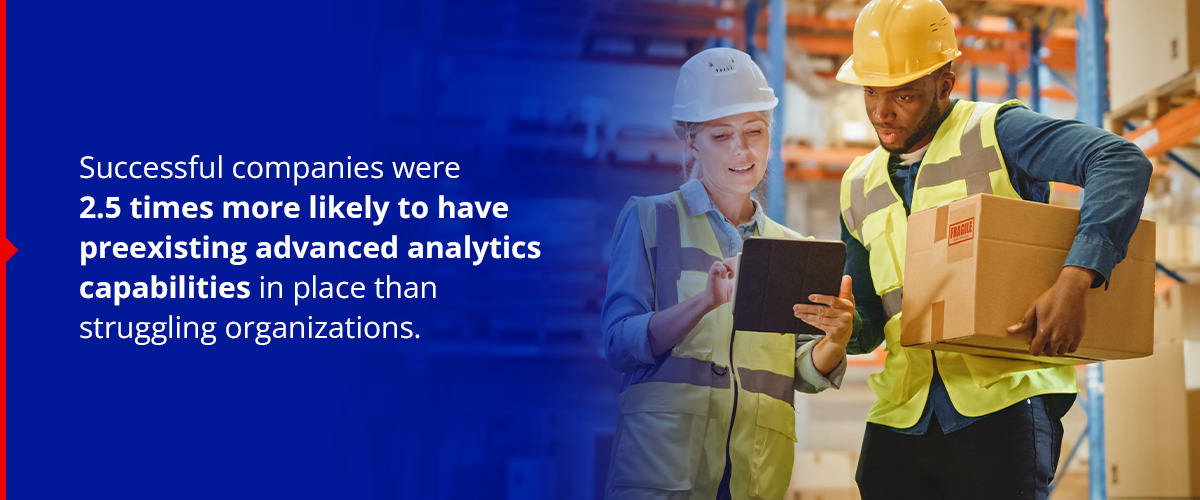 4. Stay Ahead of the Curve
Minimize the effects of disruptions by keeping an eye on industry and consumer behaviors. Holidays, busy seasons, viral online trends — all of it can cause buyers and suppliers to deviate from typical activities. Keep an eye on these trends so you can adjust operations as needed.
5. Stockpile Some Essentials
Managing supply chain disruptions means investing in essentials to keep you operable when disruptions occur. Build up your inventory with the supplies you need to stay operational for a few months of supply chain disruption. You can stay in business even if a global or regional supply chain issue hits any of your suppliers.
6. Diversify Your Suppliers
You don't want to put all of your eggs in one basket. Try to avoid single-source suppliers. If you solely rely on one supplier and they go out of commission, you could be stuck losing business. Have options in place for sourcing products from different locations or providers or getting different products altogether if needed.
7. Conduct a Vulnerability Audit
A supply chain vulnerability audit is a form of risk analysis that can help you identify weak links and areas where you could strengthen your supply contingency plan. According to research, the most significant factors that contribute to vulnerability include your critical part supplier, the location of the supplier and long supply chain lead times. Review your organization's position in these and other areas to identify potential improvement opportunities.
8. Empower Your Team
Ensure your management team is capable of making decisions and has the resources to do so. They should be able to compare priorities and tradeoffs by evaluating conditions and predicting trends. Consider setting up multiple levels of contingency that call for different responses, such as sourcing from a different location before jumping to a replacement product.
Work With a Flexible Shipping and Logistics Provider
A key part of any supply chain is logistics. At Purolator International, we deliver a range of international shipping services across and within Canada and the United States. We have a comprehensive, flexible network of drivers and services throughout these countries to mitigate the effects of supply chain disruptions on regional and global levels.
From less-than-truckload (LTL) services to expedited forwarding and courier service, our extensive capabilities have made Purolator International the go-to source for companies of all types. Your partners are a critical part of your supply chain, and Purolator International takes great strides to withstand disruptions.
Contact us today to learn more about how Purolator International can help you stay resilient in an unpredictable landscape.