A Guide to Shipping Perishables Across Borders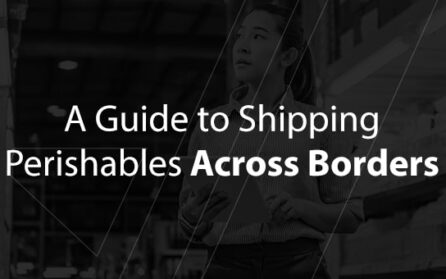 Shipping perishable items across national borders can be a difficult process if companies do not take the proper steps to prepare their products. When packages fall short of customs regulations, shipments are likely to be delayed or returned, which can lead to products spoiling in transit.
By definition, a perishable item is one that can spoil or become unsafe for consumption in environments that are too warm. Many times, the word "perishable" refers specifically to food products such as dairy, eggs and fresh produce.
This guide will explain the process of shipping food to Canada from the USA, from shipment planning to delivery to the end customer. 
Can You Ship Food to Canada?
While you can send food to Canada in many cases, you cannot send eggs or poultry products across the border unless they are commercially sterile and fully cooked. Some other products containing eggs or poultry, such as raw pet foods, may be subject to restrictions as well, so be sure to double-check before you offer international shipping to Canadian customers. 
The United States Department of Agriculture (USDA) and Canadian Food Inspection Agency (CFIA) provide detailed information about what foods you can ship to Canada on their respective websites. 
How to Ship Food to Canada
Any company considering shipping perishable food products in Canada should take the following steps to ensure a smooth border crossing.
1. Use Appropriate Perishable Food Packaging
Using the correct packaging for refrigerated products is key to protecting your shipments from being damaged or spoiling during transit. You'll need an insulated container to hold your product, a cold source to keep it cool and a sturdy outer box to hold everything together.
Commonly used examples of coolants include:
Frozen gel packs: Gel packs are ideal for items that must be kept cold, but not frozen. You can use gel packs in the form of soft bags or hard bricks, depending on your preference and available space. 
Dry ice: You'll want to use dry ice for frozen items like ice cream or produce. However, dry ice is considered a dangerous item when shipping via air — make sure you follow all applicable rules and regulations to prevent issues from arising.
You'll also want to use containers made from sturdy materials like foam or heavy corrugated cardboard — if you're using a coolant that could sweat, like a gel pack, these materials will be less likely to weaken if they come into contact with moisture. 
That's why dry ice can be advantageous for certain ground shipments. Dry ice is solidified carbon dioxide, which does not melt at room temperature like other substances. Instead, it sublimes, or transforms directly into a vapor without becoming a liquid. Essentially, this property means dry ice does not produce condensation, which keeps surrounding materials dry.
2. Clearly Label Your Package 
A Canadian shipping label should include the following pieces of information:
Recipient name
Recipient address
Destination city, postal code and province
Destination country
Product information
You'll also need to pay attention to formatting and spelling, as incorrectly writing any of the above information can cause issues.
Labeling is especially important when it comes to shipping refrigerated items because you need to ensure your carrier is aware of what they are handling. Without the right label, your items may end up in a hot warehouse for hours before being delivered to the customer, who may end up with a melted or spoiled product. 
Properly labeling your shipment is also critical for ensuring compliance with restrictions like the International Air Transport Association (IATA)'s dangerous goods regulations. For example, if you need to ship a package containing dry ice by air, you'll need to include specific information on your label to gain safe passage. 
Similarly, your label should be placed correctly on your package — loosely attached or improperly placed labels can prevent scanners from being able to read barcodes, resulting in delayed deliveries. 
3. Ship at the Right Time
You may think that the day on which you send your shipments is unimportant. On the contrary — if you ship too late in the week, your package could get stuck in a holding facility over the weekend and potentially spoil. To solve this problem, make sure to thoroughly research which shipping services are available to you.
Shipping perishable products early in the week increases the chances that your products will be delivered before the weekend. Opting for overnight or express shipping services will be the better choice in most cases. Look for a carrier that offers day-definite delivery so your customers know exactly when to expect your package. 
However, even if you're using a faster shipping option, you'll want to avoid shipping on Thursday or Friday unless your carrier continues operations through the weekend. Keep in mind that carriers who remain open all week may charge more for Saturday and Sunday delivery, which can raise costs for both your company and your customers. 
4. Communicate With Your Customers 
Make sure you include your shipping parameters on your site. Place this information on pages customers are most likely to visit, such as individual product pages or your about page. Word your shipping and returns policies simply and clearly so they are as easy to understand as possible. 
Additionally, you should consider whether you will require a signature upon delivery. While some customers may see this as an inconvenience, requiring signatures provides peace of mind that your package isn't stuck sitting on the customer's hot porch while they're out.
If you do choose to require a signature, make sure your customer knows to expect it. Incorporate this information on the check-out page so they can't miss it — better yet, require the customer to acknowledge it with a mandatory checkbox before they can complete the transaction.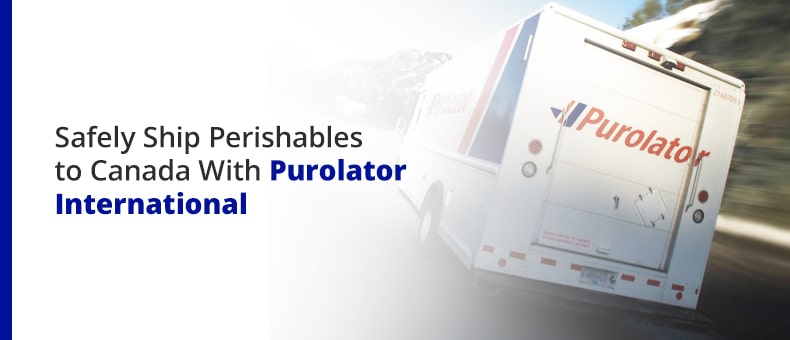 Safely Ship Perishables to Canada With Purolator International
If you're looking for a reliable international shipping and logistics partner, Purolator International is here for you. U.S.-based companies across diverse industries rely on us to provide excellent shipping and logistics services for their Canadian shipments, such as courier, parcel, expedited, white glove delivery and other supply chain services.
Our preferred shipper status means your products are cleared for entry before they even reach the border, so you can depend on us for smooth and efficient deliveries anywhere in Canada.
We offer a range of shipping and freight forwarding options for businesses across many different industries, from life sciences to aviation and food and beverage. Contact us online today for more information about how we can help you ship your perishables and other food products to Canada.