The Best International Freight Solutions for the Life Sciences Industry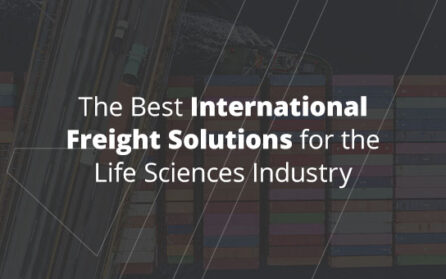 Transporting goods for the life sciences industry is more critical than ever, meaning fast, reliable shipping is crucial. Whether you're shipping to hospitals or research labs, time and care should always be your top priorities. 
Choose shipping methods to boost your international life science logistics strategy and provide enough flexibility at an affordable cost. When choosing a healthcare logistics service, pay close attention to the methods used to transport products and the speed at which you ship them out.
Shipping Methods for the Life Sciences Industry
Nailing the logistics of your pharmaceutical supply chain is crucial to the success of both your operation and the recipients you're shipping to. The life sciences industry requires highly specialized shipping solutions to ensure that materials reach their destinations in the proper condition by the right time. 
Temperature-controlled transport 
Temperature-sensitive products like vaccines must remain in a tightly controlled climate to keep them from spoiling. Even a change of a few degrees can render a shipment useless. It's crucial to find a carrier familiar with transporting highly sensitive products to ensure they take proper care of your goods. Find a service with a proven reputation in the life sciences industry and work with them.
Timely Delivery
Even with the highest environmental control, pharmaceutical products are incredibly time-sensitive. Certain medications, including vaccines, radioactive therapeutics, and other treatments, can expire if not used on time, which can have devastating consequences.
With new technology, Purolator International can optimize transport routes to ensure the shortest delivery times possible. Depending on the shipment circumstances, including the weight and destination, more care may need to be taken in the shipment. Either way, you'll have peace of mind knowing your products will arrive on time.
Customs Clearances 
Some countries, including Canada, have tight border regulations for commercial life sciences products. To start, your product must meet Canadian Food and Drugs Act (FDA) requirements. It must meet the standards outlined in the Medical Devices Regulations (MDR) if it is a medical device.
When shipping internationally, you want to work with a customs broker specializing in moving goods to your intended country. It's especially advantageous if they're based in the country you're shipping to because they will be most familiar with the rules they're working around, so you know your shipment won't be delayed or halted at the border.
White-Glove Service
Fragile or extra-valuable shipments like medical or laboratory equipment often require the extra level of care involved in a "white-glove" delivery service. In fact, many hospitals require deliveries to arrive using a white-glove service.
White-glove services are impressive to customers because they provide an element of personal care that many other shipping methods lack. Workers handling white-glove shipments are dedicated and professional in their work, arriving on time with the utmost care. 
Many white-glove services also offer the option to add additional services, like assembly and installation, for an extra price.
Freight Forwarding
Working with a freight forwarder is a must for any company shipping pharmaceutical products across borders. Because they are directly involved with coordinating how goods move across country borders, they can ensure your shipments are traveling at an appropriate speed. 
A non-asset-based expedited freight forwarder like Purolator International has a wide degree of freedom to move your goods across the border. Unlike asset-based companies that use their own fleets and fixed schedules, a non-asset-based forwarder can choose the carrier they use and the schedule they operate on to provide their customers with the highest degree of flexibility.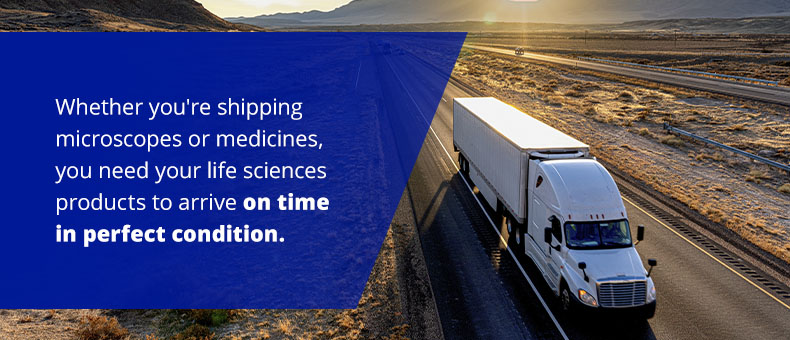 Life Sciences Shipping Solutions
Whether you're shipping microscopes or medicines, you need your life sciences products to arrive on time in perfect condition. The most common shipping methods companies offer include the following:
Expedited Forwarding
Thanks to services like Amazon that ship products within two days or less, expedited forwarding has evolved from an expensive emergency service to a standard practice in logistics. 
For U.S.-based companies that need day-definite overnight delivery to Canada, expedited forwarding is usually the best choice. It works by optimizing your shipment's route to ensure cost-effectiveness and reducing the number of stops the carrier takes while en route. These steps provide speedy transport with intense attention to detail. 
Expedited forwarding is still slightly more expensive than standard shipping, but it's significantly cheaper than it was several decades ago. 
Express Shipping
Whether you're shipping by ground or by air, a good express shipping service must get your items to their destination on time. Express shipping is similar to expedited shipping but is faster, sometimes with speeds as fast as one business day. Generally, this means air travel, but some companies also offer ground express shipping as an alternative option.
Express shipping is a viable option for high-value, hazardous, fragile and oversized goods as well. If you find your company makes a lot of emergency shipments, it's worth working with a service that offers both expedited and express shipping. On-time delivery will not only impress your customers – it could even be the difference between life and death within the life sciences industry. 
Standard Shipping
It can take anywhere from days to more than a week for products to reach their destinations when using standard shipping. That's why it's usually the cheapest option. 
Standard shipping usually is too slow for most life sciences products. However, for non-critical goods like lab equipment, it can be a viable choice. Standard shipping can also work well for companies shipping B2C. Businesses shipping non-urgent products like certain medications and vitamins can benefit from offering standard shipping to their customers. Customers often look for the most affordable option, so providing an even more cost-effective choice is a good idea for customer satisfaction.
Less Than Truckload
Less Than Truckload (LTL) shipping is an option for small freight or when the contents of a shipment are too small or too few to fill a trailer. If you frequently send small batches or urgent shipments, this service may be one that can help you save money. 
When you use LTL shipping, you only pay for the amount of space your cargo takes up. In other words, you're not paying for a whole truck to carry only half its typical shipment. Your shipments will arrive on time, and you'll be able to account for your money more accurately.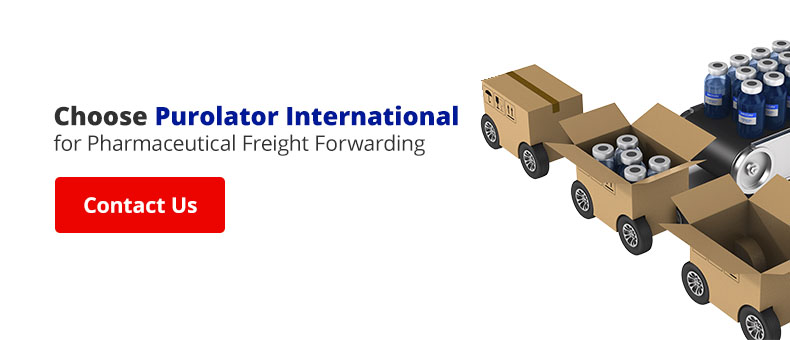 Choose Purolator International for Pharmaceutical Freight Forwarding
If you're looking for a reliable partner, Purolator International is here for you. With over two decades of expertise in cross-border shipping between the U.S. and Canada, you could say we're experts in Canadian-U.S. shipping. Every shipment you make with us comes with PuroTouch, your dedicated Client Relationship Representative (CRR) for your account. Your CRR will get to know you and your business, meaning you'll receive top-notch customer service.
Contact us today to learn more about how to streamline your Canadian shipments and give you the peace of mind you deserve.