What You Need to Know About Life Science Supply Chain Management
Life sciences products like vaccines, pharmaceuticals and other life-saving therapies require high standards in production, storage, shipping and delivery. Because these products are so critical, having dependable supply chain management strategies in place is essential to your company's mission. Effective end-to-end supply chain strategizing can transform a business's successes and profits while promoting public health and saving lives. 
What are some of the best things to know about life science supply chain management? The guide below will advise you about how to manage supply chain operations in the life science industry and provide a set of questions to consider and best practices to follow along the way. 
Why Is Supply Chain Management Crucial in the Life Science Sector?
Adequate management of the life sciences supply chain is essential for many reasons, including:
Quality control: Quality control is critical in the life sciences. Supply chain management gives life science companies greater visibility and control over their products by coordinating departments and vendors. It also often helps by putting technological platforms in place to make inventory oversight more manageable. 
Timeliness: Timely transportation and delivery are also vital with many sensitive products. Effective supply chain management strategies allow companies to ensure timely shipments and reduce waste of spoiled items. 
Operational consistency: Having one supply chain management strategy that covers all departments and third-party vendors helps ensure consistency in a company's processes.
Client satisfaction: All these advantages ultimately add up to increased client satisfaction. Clients can feel more confident working with a reliable business that can provide quality life science products while meeting strict deadlines and regulatory requirements. 
What Happens Without an Advanced Supply Chain Management Structure in the Life Sciences?
Without an advanced supply chain management structure, a life science company may struggle in several key areas. 
Errors and delays: Supply chain management strategies reduce errors and delays. Without them, employees may struggle with accurate order fulfillment, and sensitive shipments may spend time lost in a holding facility or stuck in transit. 
Poor accountability: In the absence of a workable supply chain management strategy, accountability may be low. Companies may experience inadequate communication and limited oversight of the third-party vendors they rely on for order completion. For instance, a 2017 Deloitte report indicates that only 7.7% of life science respondents had confidence in third-party monitoring and managing systems. Effective, thought-out supply chain management bolsters communication and oversight to increase external accountability. It helps give companies peace of mind about the reliability of their partners. 
Decreased regulatory compliance: The life sciences generally receive stringent regulatory oversight. Over the past several years, the applicable rules have also evolved from regionally focused requirements to more extensive, globally focused regulations that have required substantial alterations and integration across different regions. Ineffective supply chain management strategies are likely to mean disorganized processes, which in turn create more areas for standards to slip or requirements to fall through the cracks. Companies may then become vulnerable to fines and other sanctions.
Lost revenue: A company that struggles to maintain basic supply chain management protocols may end up bringing in less revenue or losing money. Because quality and timeliness are so critical in the life sciences, if clients lose faith in a disorganized company, they are highly likely to take their business elsewhere.
What Are Some of the Advantages of Effective Life Science Industry Supply Chain Management?
A robust supply chain management strategy provides advantages for companies attempting to solidify their reputations in the competitive life sciences market. Below are some of the benefits of supply chain management in the life science industry: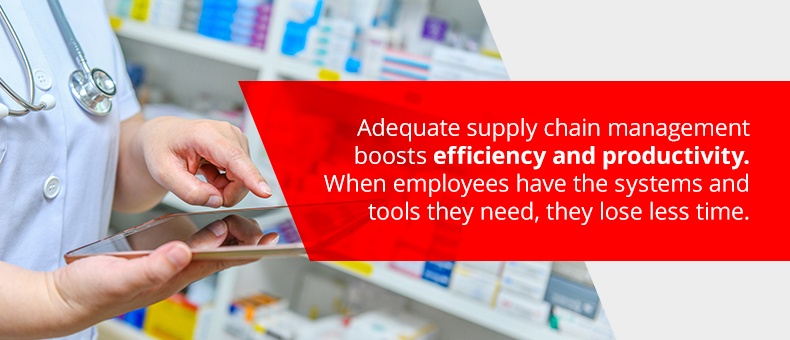 1. Enhanced Efficiency 
Adequate supply chain management boosts efficiency and productivity. When employees have the systems and tools they need, they lose less time. They'll likely have advanced software platforms that make managing inventory quick and easy. They also have external systems and vendors they can rely on for quality performance when they hand products over for order fulfillment.
2. Improved Organizational Focus and Unity
Supply chain management also helps improve organizational cohesiveness by putting consistent systems and protocols in place. One of the primary benefits of a comprehensive supply chain management strategy is the coordination it allows between different departments in a company and between the company and its external vendors. That coordination allows for articulating clear goals and benchmarks that give everyone the same focus. 
3. Bolstered Supporting Organizational Infrastructure
A strong supply chain strategy in life sciences can give your business the robust organizational infrastructure it needs for success. This infrastructure might be digital, like new software platforms, or it might include physical infrastructure, like more efficient production lines. It might even take the form of more enhanced lines of communications between supply partners.
Things to Consider Before Implementing New Life Science Supply Chain Management Strategies
Before putting a new supply chain management strategy in place, lay the groundwork by asking a few essential questions: 
1. What Core Processes Will You Focus On?
Part of implementing strong supply chain management involves defining and separating your core processes from the support processes you will largely outsource. You'll likely want to focus your management efforts on critical processes like the following: 
Demand forecasting: Demand forecasting should rely on data from statistical modeling and analysis and market sales departments. Ideally, it will consider factors like market trends, seasonal fluctuations, customer activity and changes to competitor products. Life sciences companies rely on accurate demand forecasting to determine the potential market for their goods in the months ahead, so the models will generally require continual assessment and fine-tuning. 
Raw materials inventory planning: Raw materials inventory planning generally falls to production facility managers or centralized inventory managers. In the life sciences, this planning should always consider the expiration dates and required storage conditions of sensitive materials. It should also consider any regulatory requirements for completed products.
Production planning: Production planning typically happens at production sites. It requires coordination across all departments to ensure consistency between different work plans and the overall facility plan. 
Procurement planning: Procurement planning involves sourcing raw materials, often from third-party suppliers. It requires detailed attention to the inventory plans and demand forecasts to ensure correct material quality and adequate quantities.
Sales and operations: Sales and operations strategizing involves evaluating any gaps between company production and anticipated customer demand. It should also create a communications pathway that allows top executives to receive immediate notification as soon as unexpected issues arise. 
Of course, you'll need to focus some of your strategies on support processes like transportation. However, funneling the bulk of your resources into your core processes will give you a solid foundation for your other partnerships.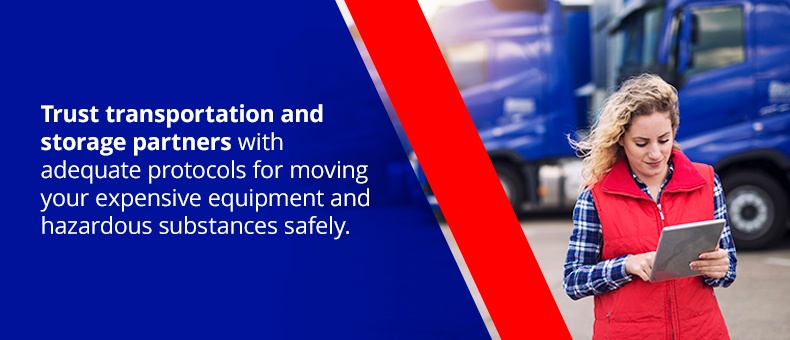 2. How Will You Accommodate Specialized Shipping Needs? 
Many essential items require specialized handling and shipping, often with requirements like:
Temperature control
Hazardous goods clearances
Other security precautions 
Yet worldwide, companies ship billions of dollars worth of pharmaceuticals at improper temperatures or delay them past their shelf lives. 
You don't want to trust fragile equipment or flammable chemicals to carriers that don't have experience working with them. And you don't want to ship products that require cold storage to facilities that are unequipped to keep them at the proper temperatures. You'll need trusted transportation and storage partners with adequate protocols for moving your expensive equipment and hazardous substances safely. 
3. How Will You Meet Exacting Shipment Deadlines?
Products in the life sciences aren't like a box of clothes or shoes that can sit in a warehouse for two weeks with no ill effects. Vaccines and medicines often need to reach their destination as soon as possible, either so they don't break down in transit or so that labs, hospitals and other clients can use them right away. It's critical for your company to work with its transportation partners to ensure rapid delivery of time-sensitive products.
4. What Key Performance Indicators (KPIs) Will You Use?
In managing your life sciences supply chain, you'll need a set of reliable metrics that can inform you of your company's performance in different operational areas. By tracking and analyzing your KPIs, you can refine your sense of where and how to improve your processes. For instance, you might develop KPIs to track your production facility's commitment accuracy — that is, how often the quantity and timeliness of your orders match the stated targets. Or you might develop KPIs for your back orders to determine where lack of inventory is contributing to delayed order fulfillment.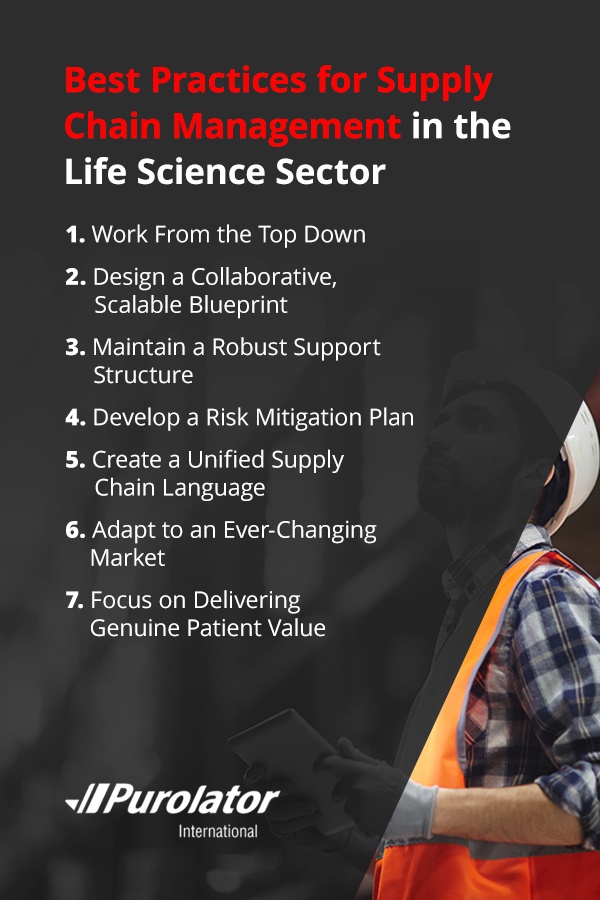 Best Practices for Supply Chain Management in the Life Science Sector
Below are some best practices to adhere to as you implement your new supply chain management strategies:
1. Work From the Top Down
One of the best ways to implement new supply chain management structures is to get your executive leadership involved first. Your business should consider designating a specific person or creating a team of department executives to design and implement supply chain management strategies. Assigning clear responsibilities this way provides guidance, fosters leadership engagement and drives positive change and results.
2. Design a Collaborative, Scalable Blueprint
Your plans for supply chain management should be collaborative, pulling in insight and generating accountability across your company's various departments and partners. It should also be flexible enough to grow with your business and adapt to increasing demand. 
3. Maintain a Robust Support Structure
Effective supply chain management in the life sciences extends far beyond your core operations. You also need an adequate, well-aligned support structure to ensure productivity and smooth operations at every stage of the process. This support structure will often include knowledgeable supply chain representatives at key points along the chain. It should also include experienced leadership teams to provide guidance and oversight, as well as trusted third-party vendors to assist with production, storage and distribution.
4. Develop a Risk Mitigation Plan
A risk mitigation plan is essential in life sciences applications, especially those with razor-thin margins for error. A risk mitigation plan can, for instance, ensure that a business uses several regulator-approved production vendors or several reliable transportation companies. If a problem arises with one of the vendors, the company can lean more heavily on the others to avoid downtime, delays and the hassle of finding and approving new partners.
5. Create a Unified Supply Chain Language
Creating a cohesive supply chain language means finding structural ways to get everyone on the same page. You align all parties so they can use the same concrete tools to work toward the same overarching goals. 
For instance, you might standardize all reports submitted throughout the supply chain so everyone is working with a familiar format and can read and understand the data at a glance. You might also develop KPIs that allow your business to evaluate all aspects of your operations using the same informative metrics. Or you might implement a basic, standardized sales and operations routine that facilitates effective communications between different departments and vendors. 
6. Adapt to an Ever-Changing Market
The life sciences are continually changing. New technologies emerge, new trends come to the forefront and novel health challenges arise. You can position your business for success if you establish a supply chain management strategy with enough flexibility to adapt to these challenges. 
You can do this by creating a diverse leadership team with a wide array of managerial and technical skills, investing in software platforms with useful capabilities and working with your transportation provider to ensure the ability to make adjustments or upgrades in your service as needed.
7. Focus on Delivering Genuine Patient Value
In strategizing, it's sometimes easy for companies to lose focus on their efforts' true goal — giving people helpful medical solutions. All logistical maneuvering and assessment of performance metrics should support this effort. Fortunately, working toward accurate order fulfillment and timely shipments is often an excellent way to provide people the care they need.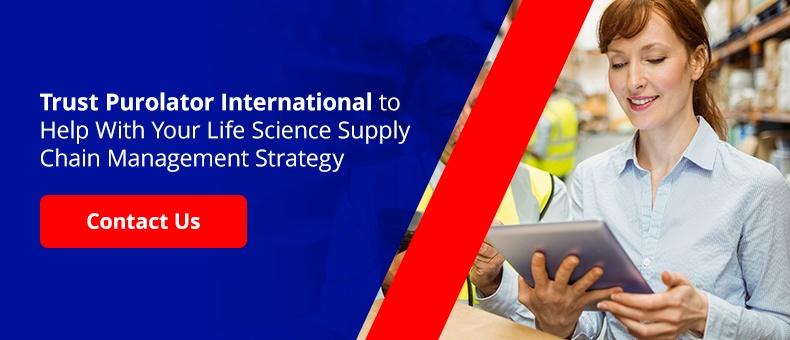 Trust Purolator International to Help With Your Life Science Supply Chain Management Strategy
To make efficient, dependable transportation services part of your life sciences supply chain management strategy, contact Purolator International. We offer flexible, proactive solutions designed to meet our customers' unique shipping needs. 
Working with us means gaining a range of invaluable benefits for your product shipping, including on-time performance, broad coverage, friendly customer service, and low loss and damage ratios. Partnering with Purolator International also connects your business with expert customs brokerage, so your shipments can clear customs quickly and get on their way to the people depending on them. 
When time is of the essence, you can invest in expedited forwarding to get your products to their destination as quickly as possible. And when swift delivery times are particularly critical or extend beyond the United States and Canada, you can entrust your sensitive products to Purolator Express. 
This elite-level service ensures your shipment will arrive quickly and take the optimal route to its destination, reducing transit time and minimizing delays. This service also includes time-definite delivery options and end-to-end tracking, so you can gain peace of mind of knowing where your critical shipments are at each stage of transit. Contact us today to schedule transportation services or learn more.