Reducing Risk in Your Logistics Strategy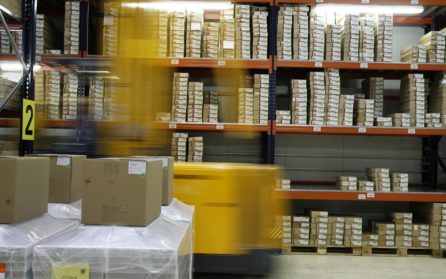 Every day as many as 10,000 commercial trucks cross the U.S./Canadian border via the Ambassador Bridge, which links Detroit, MI with Windsor, Ontario. As much as 25 percent of all cross border trade clears the border via this privately-owned crossing, causing some to refer to it as "the single most important piece of infrastructure" between the U.S. and Canada.
But what if the bridge was suddenly out of commission? After all, the structure is 86-years old and as recently as late 2015 had wooden planking installed underneath after falling debris caused the closing of several nearby streets. While bridge officials say the planking was installed out of an abundance of caution, it does draw attention both to the bridge's age and desperate need for an upgrade, and to the tremendous disruption that would occur trucks could no longer move between Detroit and Windsor.
A new bridge, a joint venture between the United States and Canada, is scheduled to open in 2020. The new bridge will be located a few miles from the existing crossing, and has been the subject of years of debate and controversy, including intense U.S.-Canadian negotiations over cost. For drivers who depend on a delay-free crossing, the new bridge can't come soon enough. "It's certainly been a long time coming," Ontario Trucking Association President David Bradley said when details of the new bridge were announced. "We are hopeful the political wrangling that has delayed progress on this most important infrastructure project is finally over," he added.
This Ambassador Bridge example illustrates the deteriorating infrastructure in both the U.S. and Canada, which is affecting the timely movement of shipments between the two countries. By some estimates, as much as $400 billion is needed to address Canada's crumbling or outdated bridges and roads, while more than $4 trillion is needed to fix and upgrade U.S. bridges, ports and roadways.
According to Infrastructure Canada, poor infrastructure "tends to drive away foreign investment more so than quality infrastructure attracts private investment." The federal agency estimates that infrastructure-caused congestion costs Canadian businesses almost CAN $4 billion annually in lost time and wasted fuel.
Inferior infrastructure, unfortunately, is not the only "logistics plan buster" that threatens well-planned shipping strategies. Weather can have a debilitating effect, as can fire, a supplier bankruptcy or an unexpected labor action. The 2015 labor slowdown that essentially shut down all U.S. West Coast ports cost the U.S. economy as much as $2 billion per day, and took months from which to recover. U.S./Canadian shipments are highly affected by global disruptions, since many products traveling between the U.S. and Canada include parts sourced from overseas suppliers.
Business must also contend with the possibility  of a shipment arriving damaged, or becoming  lost in transit, or even stolen. The Federal Bureau of Investigation estimates North American shipment theft totals as much as $30 billion each year, the vast majority from trucking losses.
Clearly there are a number of external factors affecting shipments traveling between the United States and Canada. Understanding these risks, and having a proactive strategy in place to deal with an unplanned disruption can minimize
the impact.
To download a complimentary copy of Purolator International's new white paper, please click here.