What Are Customs Brokerage Services?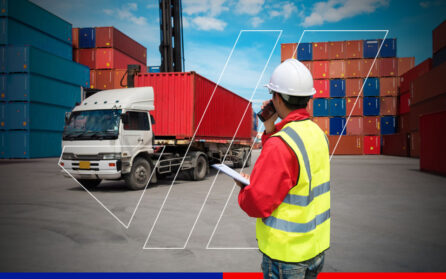 Customs brokerage services bridge the gap between your product and foreign marketplaces. Business owners and managers are experts on their products, but they are probably less familiar with the rules, regulations and requirements for importing goods to different countries. Customs brokers handle these bureaucratic issues, so business owners can focus on what they do best. 
What Is a Customs Brokerage?
International expansion can increase revenue, expand your consumer base and grow your business. To expand to other countries, like from the U.S. to Canada, your goods need to successfully and efficiently go through customs. 
A customs brokerage assists in this process and ensures your products successfully move through customs at international borders. Customs brokers work on their client's behalf to communicate with border services and ensure shipments efficiently and effectively pass through customs. Customs brokerages do this by:
Classifying your goods for tax and duty purposes
Ensuring all cargo meets import and export requirements
Preparing information that may be necessary at customs, such as origin, routing and suppliers
Ensuring all commercial documents are accurate and compliant with border clearance requirements
Making customs payments on your behalf
U.S. Customs and Border Protection empowers professional customs brokerages based in the U.S. These brokerages must pass an exam and obtain an official license.
Customs Broker vs. Freight Forwarder
Freight forwarders and customs brokers work with different parts of the international shipping process. As previously established, customs brokerage services deal with bureaucratic issues such as document completion and accuracy. A customs broker will deal directly with government agencies such as U.S. Customs and Border Protection, the Consumer Product Safety Commission, the Department of Agriculture and the FDA.
Meanwhile, freight forwarders handle the logistics of the physical shipping process. Freight forwarders work closely with carriers to determine shipping routes, estimate freight costs and determine modes of transportation, such as ocean, air or rail travel.
Often, customs brokerages and freight forwarders will work together to ensure a smooth shipping process. Some freight forwarders may also offer customs brokerage services, but it is not always a guarantee. 
Do I Need to Use a Customs Brokerage?
Businesses do not legally have to use a customs broker. However, customs brokerage services are a highly recommended asset. Customs brokers are skilled and experienced in resolving different customs concerns. Handling many potential import issues in-house can lead to extensive shipment delays.
Common customs issues include:
Paperwork errors
Inaccurate tariff calculations
Missing or incorrect information
Language barriers
Customs violations
When you use a professional customs brokerage, the chances of these problems arising are significantly lower. If these issues come up, the brokerage can efficiently resolve them to get your shipment back on track.
Customs brokerages have the resources and staff to make any border issues a top priority. If your business opts to handle these issues in-house, you may not have the necessary information or staff to quickly resolve them. Delayed shipments can lead to lost revenue and angry customers, so working with a customs broker is also cost-efficient.
Customs regulations and mandates can continue to change. If your business does not have an in-house team dedicated to following various customs updates, it's likely you'll run into import concerns. With a customs broker, you can always feel confident your shipment will reach its destination. Brokers stay abreast of industry trends and changes to provide the most streamlined shipping process.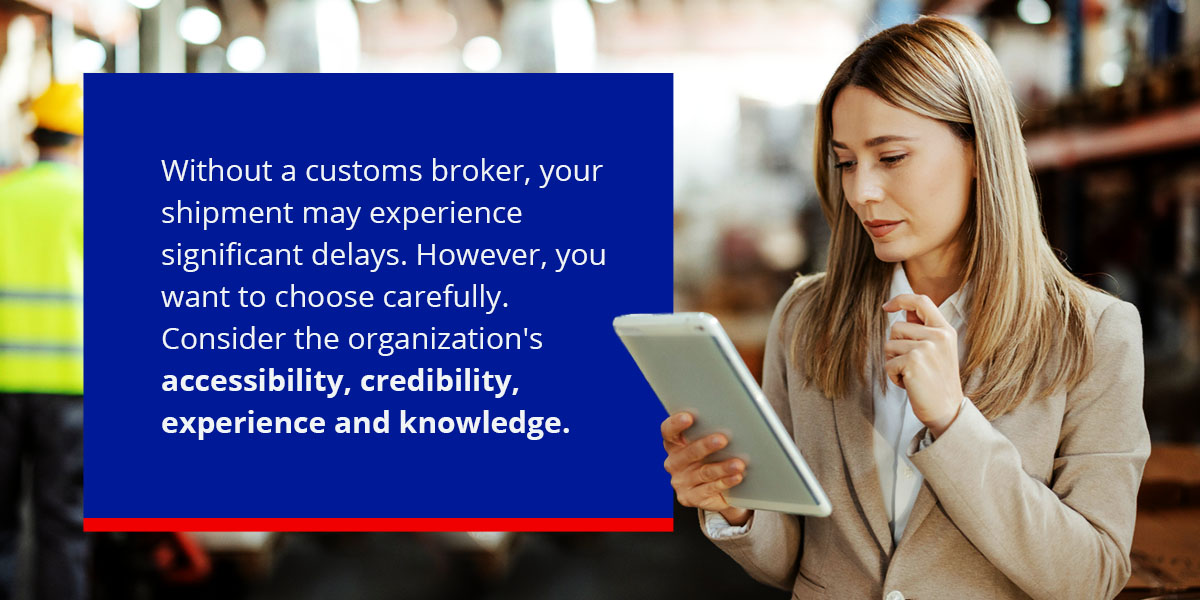 How to Choose a Customs Broker
Without a customs broker, your shipment may experience significant delays. However, you want to choose carefully. Consider the organization's accessibility, credibility, experience and knowledge.
Accessibility
Preferably, you'll want a brokerage that works 365 days a year or close to it. A brokerage that is often closed can lead to customs processing delays. If an issue arises, you want to feel confident your customs broker will be ready to handle it immediately. 
You should also consider how accessible staff members are. Does the brokerage have support available and ready to answer any questions or concerns? Is this support center automated, or can you speak to a live person?
Credibility
First and foremost, a customs broker must have the appropriate licensure. U.S.-based businesses can find licensed customs brokerages on the CBP website. In addition to proper licensing, take your time to research the company and read news articles or reviews related to the brokerage. These can give you further insight into the company's operations and credibility. 
Experience
Some customs brokerages may work closely with certain countries or types of goods. If you can, it's best to find a brokerage that is familiar with your industry and has experience with the customs process for the countries you plan to ship to. For example, if you're looking for a Canadian customs broker, consider Purolator International because we specialize in Canadian-U.S. import and export.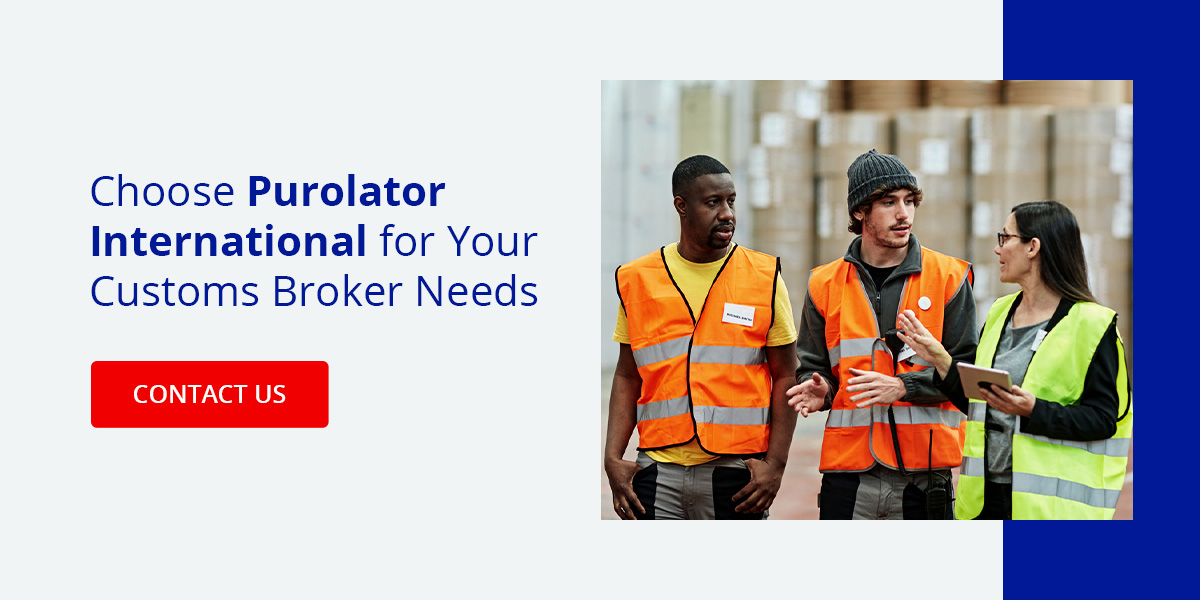 Choose Purolator International for Your Customs Broker Needs
Do you need a U.S.-to-Canada customs broker? Purolator International is the ideal candidate. We have extensive knowledge and established relationships regarding Canadian and U.S. goods import. As Canada and the U.S. reported nearly $1.3 trillion in bilateral trade in 2022, you'll want to use the best customs brokerage to get your products into international supply chains.
Benefits of using Purolator International as your customs broker include:
We maintain Trusted Shipper status with critical Canadian and U.S. trade programs. 
We have an extensive distribution network, even in remote regions.
We have experience with Canadian customs compliances and border clearance requirements.
We offer consolidated shipping services for more cost-efficient and faster movement.
We provide a local perspective into the Canadian market, which ensures quality customer service.
Our team knows the ins and outs of all mandates that affect cross-border trade.
As an established customs brokerage, we also benefit from perks such as preferred shipper status and minimal wait times. What does this mean for you? If you are a Purolator International client, your shipments will arrive at the border pre-cleared for entry, with all fees and duties paid in advance. Our streamlined process allows shipments to reach their final destination on time. 
Our team is ready and eager to help you efficiently and legally transport your goods to Canada. Contact us online today to see how Purolator International can help with all your Canada-bound shipment needs.