Shipper's Guide to International Freight Shipping Logistics
International shipping is the movement of freight across international borders. There are two methods of shipping — air and ocean. How successful your international shipping ventures go depends on your freight shipping strategies. With that in mind, let's take a look at international freight shipping services in general, U.S. to Canada freight shipping services and freight shipping strategies. 
International Freight Shipping Services
The following are a list of freight shipping services you can take advantage of:
Less than truckload (LTL):

 This shipping service is designed for shipments larger than a parcel but not as big as to need the space of a full truckload trailer. Shipments between 150 and 15,000 pounds typically use an LTL shipping service.

Full truckload:

 A full truckload shipping service typically moves bulk or pallet loads large enough for the use of a semi-trailer. Typically, these shipments are more than 15,000 pounds. This shipping service can be cost-effective, and it can reduce freight damage because there is less handling involved than in less than truckload shipping. 

Full truckload can be more cost-effective if you're shipping a lot of goods.

Partial truckload:

 With this shipping service, you have the option to split the cost of a truck among other shippers. This is a good shipping option if your shipment is 5,000 pounds or over. 

Intermodal:

 Intermodal shipping usually refers to shipping that involves rail and truck. However, ships can also be involved in the transportation process. Using rail to help transport your shipment can result in less fuel use and lower costs. 

Expedited:

 You can use this shipping service for time-sensitive shipments. These shipments are usually transported by air or truck. Shipments that use an expedited shipping service and are transported on an air carrier can reach just almost any border in the world in anywhere from 

one day to three days

.
U.S. to Canada Freight Shipping
When shipping from the U.S. to Canada, you'll have to consider customs paperwork and duty restrictions. When it comes to the paperwork and other detailed matters, your freight agent can help you. For example, your shipment must be prepared for a border inspection service when it gets to a land port of entry. 
You can decrease wait times at the border for your shipment if you have already dealt with all of the customs paperwork and declarations that are required. 
Shipping from the U.S. to Canada requires you to work with a credible and reliable shipping provider. Professional international freight shipping services will know the paperwork you need to complete for your shipment. Providers become a single point of contact for your cross-border shipments, offering other services like:
Custom routing solutions

The maintaining of an extensive network throughout Canada

Fast international shipping

Excellent customer service
Freight Shipping Strategies
Arranging for internal shipping can be a challenge, but there are ways you can improve your freight shipping logistics. The following are tips to shipping your freight internationally:
Shipment Information
If you want to complete your international freight shipping endeavor, you must collect all the information for your shipment and write it on the correct forms. A single error on one of these forms can result in your shipment being delayed or rejects, so you must check over them several times after they're finished.
Customs
Your shipment clearing customs is essential when shipping internationally. It may be helpful to hire a customs broker with expertise in arranging international freight shipments. They will collect the proper paperwork for you and correctly finish the customs clearance process. 
If you use a freight forwarding company, they may provide a customs broker or suggest that you hire one. 
Tracking 
After your shipment has cleared customs, you should make sure you're able to track it to its final location. Real-time tracking is important for shipments sent internationally, as it helps you maximize efficiency and meet customer demands. Choose a partner in transportation that you are confident will provide you with fast updates on your shipment so you can use that data to streamline shipping. 
General Tips 
Improve your freight shipping logistics with these additional tips:
Understand international addresses: To begin, you must have an origin address and a destination address for international freight shipping. Depending on where you are shipping to, the format your destination address is in may not be familiar to you. 


Fill out forms carefully: 

Customs forms tend to have many pages, so make sure you have filled out each one correctly.

Protect your shipment: Y

our shipment will be more exposed to varying temperatures with ocean freight. If the products in your shipment are sensitive to extreme temperatures or temperature changes, consider talking to your logistics provider about what you can do to protect your shipment. 

Consider timing: 

Ocean freight tends to take longer than air freight — a month versus a couple of days. Air freight is ideal for time-sensitive shipments. 

Consider what you're shipping: 

If you happen to be shipping small quantities of a product with high-profit margins, it may be useful to have it shipped through expedited air freight. 

If you're shipping large quantities of a product with low-profit margins, it may be helpful to have it sent through ocean freight. 

Understand customs requirements:

 Customs requirements differ from country to country. Luckily, there's a standardized guide used across the world to identify goods being imported. This guide is referred to as the Harmonized System. In this guide, you will find the tariff code you'll need to write on your customs forms. Not having this code could delay your shipment or cause it to be rejected.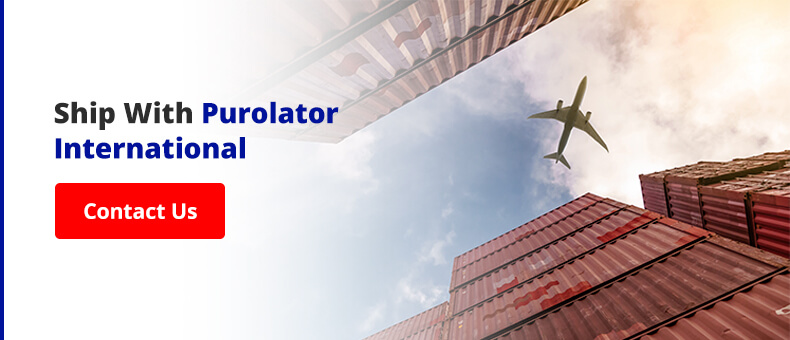 Ship With Purolator International 
At Purolator International, we provide our clients with on-time express, freight and parcel shipping solutions primarily from the U.S. to Canada. We also provide our services for shipments going from Canada to the U.S. and worldwide options.
We are an expedited forwarder, and we can offer you the following:
Broad coverage

Fast transit times

Competitive pricing 

Analysis of your operations 

Building of custom logistics solutions 

Efficiencies that will save you money

Metrics and tools to refine your shipments

Metrics and tools to adjust your supply chain
If you want to know more about us, check out our website to read some of our success stories or contact us at 1-888-511-4811. If you're a U.S. business looking to ship to, from or within Canada, use our online contact form.