The Importance of Freight Tracking for Business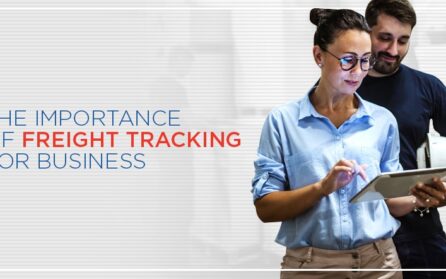 As shipments leave your warehouse and travel by the truckload to your other warehouses or customers, you must know where they are at all times. Freight tracking is critical for business success because of its impact on customer service because even with freight customers demand to know where their packages are and when to expect them. 
Cargo tracking can be complicated to implement. However, once you know how to track your freight shipments, you can improve your delivery speed and reduce your number of missing packages. Help your company stay connected with automated freight tracking by learning the details of this shipping method.
What Is Freight Tracking?
Freight tracking is the ability to see — in real-time — where a cargo shipment is at any given time. Inbound freight tracking lets your company trace and prepare to receive incoming shipments. Outbound freight tracking focuses on your customer shipments. You can track your shipping times and reroute shipments, and your customers can follow their packages. 
A company can use freight tracking for Less than Truckload (LTL) shipping to doorsteps and businesses anywhere in the world. You can use it to track both ground and air shipments. Tracking freights in shipments can be especially useful for international logistics. Complications can often arise at customs or while using various local carriers to send parcels. Alternatively, freight tracking gives you peace of mind. You always know exactly where your shipments are and have up-to-date arrival information at the ready for your buyers.
You have many ways to access freight tracking in the logistics sector. One method is using the bill of landing number (BOL). By plugging this number into your shipping provider's website, you can retrieve the current locations of your outbound shipments. If you don't have a BOL, however, you can use some other numbers to find your shipments. Familiarize yourself with these freight tracking terms related to tracking by numbers:
Transportation management system (TMS): 

The software you use to manage and track your shipments is your TMS

. It stores shipping information and even helps you select a carrier.

The software can find a carrier that will reduce your shipping times and optimize costs, depending on the final destination

.

Bill of landing number (BOL): Your BOL is a crucial piece of data for all parts of the LTL shipping process. It serves as a receipt when goods change hands between the freight carrier and shipper. Shipper's store a significant amount of vital data within a BOL. It encompasses sender and receiver names and addresses, the purchase order (PO) or account numbers, special instructions, units and dimensions, and packaging types, as well as a description of goods and their declared value.
Pro number: The carrier assigns the pro number to identify a shipment once it's been picked up — this is generally considered the standard industry tracking number.
PO number: The purchaser assigns the PO number as a reference for a shipment. A PO number simplifies paperwork and communications about an order, including payment information.
Shipment reference number: 

The shipper establishes a reference number or clarifying phrase to identify a shipment

. Shipment reference numbers could be a BOL number, an order number or a customer number. It can also be a company name or an identifying phrase such as "client gifts" or "office furniture."
The Benefits of Tracking Shipments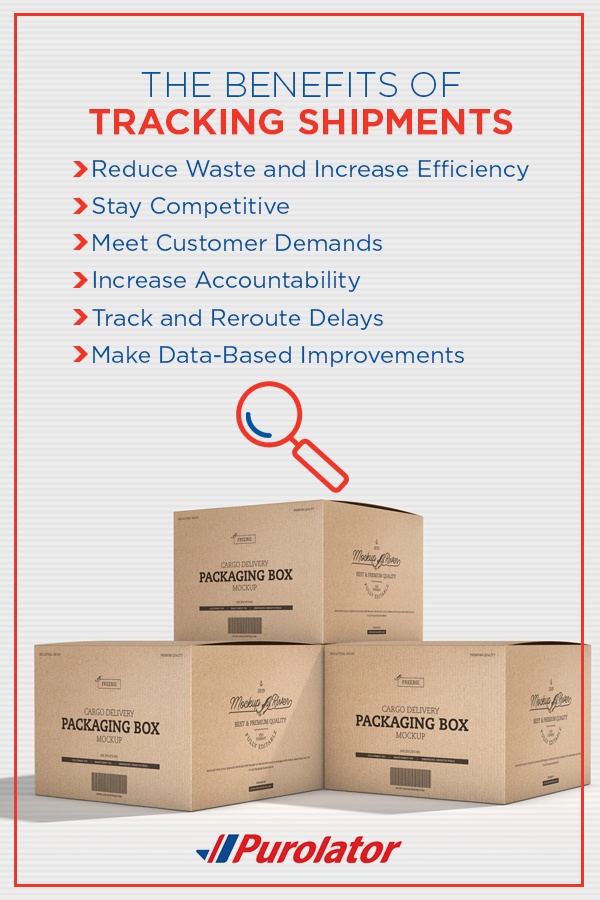 Knowing where your freight is at any given point is critical to your business' success. This knowledge helps you make better transportation decisions that reduce costs and improve your services. It also lets you offer top-notch customer service and gives them the tracking ability they expect from their orders. With freight tracking, you can provide faster deliveries with accurate arrival dates. Freight tracking is needed because it allows you to:
1. Reduce Waste and Increase Efficiency
Optimizing transportation costs and efficiency is essential to staying competitive. The total value of U.S. exports to Canada has increased by over 20% between 2000 and 2017. As the cost and demand for shipping increases, we're also seeing a deficit of drivers. The American Trucking Association estimates the logistics sector will see a shortage of 100,000 drivers within five years. At the same time, Canada will be short 25,000 truck drivers by 2023.
Moving forward, logistics managers need ways to meet increased shipment demands and keep costs low, despite the lack of drivers. Through automated shipping and tracking solutions, shippers can find optimal routes for their cargo. Tracking can reduce fuel costs and create more efficient ways to consolidate exports at customs. When every shipment takes a faster, fuel-efficient route, this saves on transportation significantly.
2. Stay Competitive
Logistics and supply chain management is beefing up its tracking technology tenfold. In 2019, 71% of distribution centers used barcode scanners, while 32% used GPS technology, and 23% used RFID readers. Those that aren't currently using tracking technology plan to implement it soon. 
Companies that use tracking technology have increased efficiency and a customer-centric approach. Those that can provide accurate shipping information to customers, even when packages cross international borders, are coming out on top. With so many companies investing in tracking technology, it's vital to stay ahead of the curve.
3. Meet Customer Demands
Delivery tracking technology has gone from nice-to-have to must-have. Amazon completely transformed end-user expectations for logistics. In a few clicks, customers can see when a package is in transit and where it's headed next. 
Once, customers could be content with knowing a package was coming in five to seven days. Now, recipients want to know if cargo will be out for delivery in the morning or the afternoon. Whether a company needs extra staff to receive a large shipment or a consumer wants to know when to check the mail, tracking shipments is convenient and informative. If a package gets delayed, they want to know ahead of time, so they can adjust their schedules.
Businesses can also meet customer demands by improving the delivery process. When your client pays for overnight shipping or needs a guaranteed delivery date, it's up to you to achieve that expectation. With accurate tracking data, your team can ensure shipments arrive on time. By detecting missing packages early and catching delays before they impact arrival, you can keep your promises.
4. Increase Accountability
One of the benefits of tracking your freight is increased accountability. What happens when a shipment goes missing or gets delayed? With shipment tracking, there's no question. You can tell precisely when a package arrives at a location and even who signs for it. 
With GPS tracking, your team can spot right away when a shipment veers off course. You can also contact the driver in real-time to recover loads. Automated package tracking can pick up where a carrier leaves off. After delivery is marked "received," monitoring ensures it reaches the recipient.
5. Track and Reroute Delays
Are you concerned about unexpected traffic jams, vehicle breakdowns or driver errors? Electronic tracking detects delays and helps you reroute shipments automatically. This process works when your tracking system detects that a package has deviated from its predefined route. The system then alerts the shipper to the issue. The tracking team can then reach out to the driver and find out what happened and discuss a solution.
Automated tracking can help you find delayed shipments and get them on new trucks early enough to get them back on track. This technology can send drivers on new routes to avoid major traffic jams. If an issue results in a delay, your company can alert the customer right away. Early detection allows your team to provide better customer service. It also gives customers enough lead time to adjust their plans to accommodate a new delivery date.
Another tool provided by automated tracking software is a visual overview of a freight's intended route. The course you take can have a considerable impact on arrival times, and the optimal path is continuously shifting. Crashes and construction can cause a major delay on a stretch of highway that's usually clear.
For shipments crossing the border into Canada, freights face delays at customs. According to the Bureau of Transportation Statistics, it can take a freight as little as 2.1 minutes to travel one mile at Canadian customs or as long as 5.5 minutes per mile, depending on the entry point. With a high-level view of your routes and potential delays, you can improve delivery speed. You can see potential driver shortages, congested distribution centers, traffic jams and detours before they happen.
6. Make Data-Based Improvements
Your transportation management system, which handles all your automated tracking, can provide you with detailed insights into recurring patterns with your freight shipments. You can see which routes you use most frequently and which carriers you employ. Analyze what couriers you use for your heaviest loads and which carriers you spend the most money with. All this data can give you better-negotiating power and optimize your carrier selection for each freight.
Best Methods for Tracking Shipments
A shipment tracking system works no matter which carrier you use. The best way to consolidate your tracking method is to use a TMS. The software will act as a hub to provide you with all the shipping data you need. You program the software with a tracking method, and the system automatically populates with information from carriers as it updates. When a carrier scans in delivery, your TMS automatically logs this information. You can use several methods for tracking packages in conjunction with your TMS.
1. Electronic Logging Devices
Both the U.S. and Canada have mandates requiring the use of electronic logging devices (ELDs) to follow shipments. These are physical devices that track drivers in real-time. While some businesses meet exemption requirements, chances are, your carriers are using ELDs. 
An ELD is a GPS-enabled device attached to a shipping truck's engine. It travels with the shipping truck, not your shipment. The ELDs outfitted on various vehicles are not all created equal. Some have limited capabilities that won't integrate with your other tracking systems. While ELDs are reliable, automatic, and long-lasting, you should expect to combine them with another tracking device.
2. Barcodes
One of the most common methods for tracking shipments is using barcodes and barcode readers. Carriers employ them for their internal shipment tracking, and you can use them for your end-to-end shipment tracking, too. 
Whenever you send a freight out for shipment, you print and affix a unique barcode to the order. Drivers scan the barcode at each checkpoint along the shipping route, and you can access information on when the barcode was last scanned. The barcode scan acts as a receipt stating that the shipment landed at each location successfully. 
However, as a shipment changes hands, carriers often add new labels to the package. Your barcode label can get covered up by one of these other tags. Other issues can occur if a carrier or delivery driver forgets to scan a barcode or logs the incorrect one. Still, this system is a popular and practical choice for freight tracking.
3. RFID Tracking Technology
RFID, which stands for radio-frequency identification, is a promising way to track freight shipments throughout their route. Like ELDs, RFID tags are placed on trucks in transit. RFIDs are a form of short-range wireless tracking. They cost less money to implement than other technologies, such as GPS crate tracking, but they are also more complicated. One notable advantage is that they work faster and have a more extensive range than barcodes. While barcodes are single-use, you can reuse RFIDs.
4. GPS Crate Tracking
With this tracking method, you affix a GPS device directly to the shipping crate. This technology serves as an off-the-shelf tracking solution that can attach to a container and follow it wherever it goes. While no additional infrastructure is necessary to use crate tracking, you can integrate it with other tracking systems and your TMS. GPS tracking has a high degree of accuracy, though it needs access to the open sky to send a signal.
How Freight Tracking Can Differ When Shipments Cross a Border
The great part about end-to-end freight tracking is that it won't be interrupted when your shipment crosses an international border. Often, cross-border shipping makes tracking even more crucial. When shipping to Canada, for example, freight tracking speeds up the customs process. A carrier must inform the Canadian customs broker of when and where the shipment will cross the border. Freight tracking gives carriers an accurate way to estimate arrivals, and route optimization allows you to know which port to use far in advance.
There are a few ways a Canadian border crossing may influence freight tracking:
Pre-Arrival Review System (PARS): Most LTL freights clear the Canadian border under PARS. This process allows the Canada Border Services Agency (CBSA) to review a freight before it arrives at the border. It speeds up the customs process and creates fewer slowdowns at the border. You'll receive a PARS number, also called a Cargo Control Number (CCN), which is a four-digit carrier code followed by your tracking number. When you use freight tracking, you'll be able to check your PARS status just as you would your shipment location.
Pre-Arrival Processing System (PAPS): The U.S. equivalent of PARS, PAPS pre-screens Canadian shipments crossing to the U.S.
Transit time: While there are some delays at the border due to increased congestion, these typically don't translate into delays in arrival. Cross-border shipping takes the same amount of time as a shipment traveling the same mileage within one country. You can speed up border crossings by getting a Free and Secure Trade (FAST) certification. Either way, shipment tracking can update you when your shipment successfully passes the border.
Advance Commercial Information (ACI): The CBSA requires that all commercial cargo entering Canada be registered electronically. The program is used to track your package and detect any risks before they arrive at the border.
Automated Commercial Environment (ACE): 

Like ACI, ACE allows the U.S. Customs and Border Protection agency to track shipments and access data about your supply chain to intercept risks

. Carriers have the option to file

electronically

for faster entry into the U.S.
Get Real-Time Tracking in Canada From Purolator International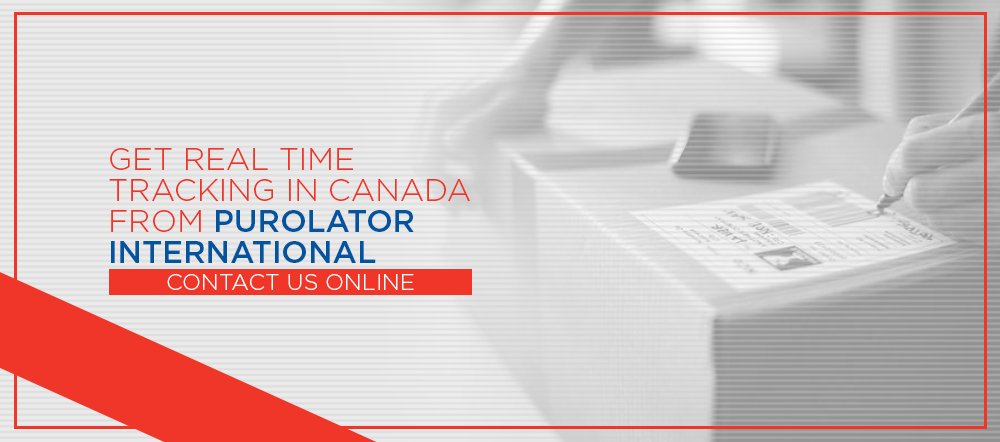 End-to-end freight tracking is of utmost importance to any business that relies on fast, dependable shipping. If you frequently ship to Canada, you want to ensure you can tap into freight tracking technology even when shipments cross the border. With Purolator International's automated shipping services, you can get real-time tracking on all your deliveries in Canada. 
Our easy-to-use client portal gives you access to tracking technology, while our system automatically emails tracking information to your customers. We also offer full data integration with your TMS, as well as your warehouse management system and shipping system.
As experts on Canadian customs checkpoints and carriers in every province, we also optimize your Canadian cargo transportation. Our technology pinpoints the optimal routes and carriers for your shipments to find you the most cost-effective way of sending deliveries. Reach out to us today to start shipping all across Canada.