New White Paper Helps Businesses with Canadian Supply Chain Efficiency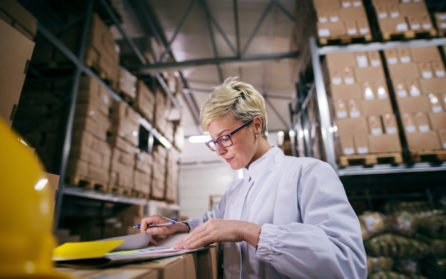 The U.S. Department of State publishes a series of "Guides to Doing Business" that provide detailed analysis for businesses considering expanding operations to a specific foreign nation.  Not surprisingly, the Department's "Guide to Doing Business in Canada," is among the most frequently requested.
Most businesses that choose to test the waters of international business tend to start locally, with sales to either Mexico or Canada.  In Canada especially, businesses assume that selling to Canadian consumers will closely mirror transactions within the United States.  But that assumption is terribly mistaken, and has gotten many businesses in trouble.  In fact, the State Department publication clearly states "Doing business in Canada is not the same as doing business in the United States.  Canada customs documentation, bilingual labeling, packaging requirements, ITAR (International Traffic in Arms Regulations), and Canadian federal and provincial sales tax accounting can be surprisingly challenging."
Supply chain management could also be added to this list.  Many U.S. businesses have learned the hard way that the same transportation and logistics process that works so well in the U.S., simply cannot be transferred to Canada.  And there are lots of reasons for this.
For one thing, Canada has its own infrastructure that requires different accommodations than in the U.S.  While 80 percent of the Canadian population lives near urban areas, a business must be able to reach customers residing in some of the country's more remote provinces.  In addition, more than 20 percent of the Canadian population are French-speakers, and there are very strict federal and provincial mandates for bi-lingual labeling and packaging.
Customs compliance is another factor.  Clearing shipments through the U.S./Canadian border process is a very exacting and time-consuming process.  If not handled properly, businesses face unexpected delays, additional fees and punitive penalties.  At least one major U.S. online retailer was forced to cease operating in Canada, citing  customs inefficiencies as one of the key reasons.
Fortunately, help is available.  A new white paper from Purolator International, "Finding Efficiencies in your Canadian Supply Chain," offers detailed analysis for building a Canadian-based supply chain that is highly efficient and cost effective.
A key recommendation is to enlist the services of a logistics provider with deep Canadian experience.  Find a provider that truly understands the Canadian market, offers a distribution network that can address your unique needs, and offers a range of service options that allows for flexibility and scalability.
Customs expertise is another area where U.S. businesses are often ill advised.  A qualified Canadian provider can help ensure a hassle free border clearance by participating in U.S. and Canadian "trusted trader" programs, by ensuring that shipments pay no more in duties than absolutely necessary, and by taking advantage of free trade agreements and other government programs that help minimize duty obligations.
Don't be fooled into thinking that just because a logistics provider has a big brand name, that they have the expertise you need.  Dig deep and do your homework! Make sure you are entrusting your vital shipping needs to the best possible logistics provider.  And if you make a mistake, don't be afraid to make a change.