Making Sure Your Supply Chain Keeps Pace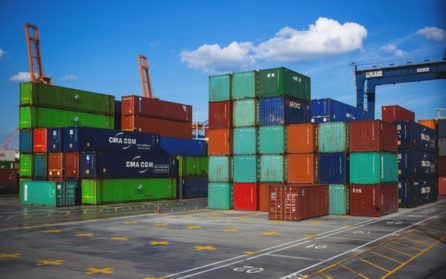 Manufacturers that have successfully transitioned to automated, highly-efficient processes certainly did not make these investments without giving careful thought to their supply chains and their ability to seamlessly move both supplies and finished goods. How, for example, would increased automation affect the speed at which supplies were needed? Would additional parts inventory be needed, and if so, at what cost? And what if a piece of machinery broke down? What would be the plan for quickly having a replacement part available to avert any production delays?
As manufacturers modernize production processes, a range of supply chain issues must be addressed.  Those issues include:
Process Visibility/Inventory Management
A manufacturer that has invested in automating equipment and production processes must extend that same appreciation for technology to its supply chain. And its most important investment will be in an integrated system that connects every phase of the process – warehouse/inventory, distribution, transportation, and back office functions – as a way to gain supply chain visibility.
Supply chain visibility provides businesses with realtime – and accurate – information on all components involved in the production process, including manufacture, shipping, storage, and sales. An obvious and immediate benefit of supply chain visibility is awareness of the exact location of any raw material or finished product. In addition, manufacturers can avoid maintaining excess inventory and
the associated cost and storage issues.
Capturing and Maximizing Pertinent Data
Today's technology-driven world allows manufacturers seemingly infinite access to data points about virtually every aspect of the manufacturing process, consumer behavior,  product design, marketing trends, weather patterns, and any other factor that could remotely affect sales. The trick is to zero in on those data points that are most relevant and drill down to the underlying messages the data holds.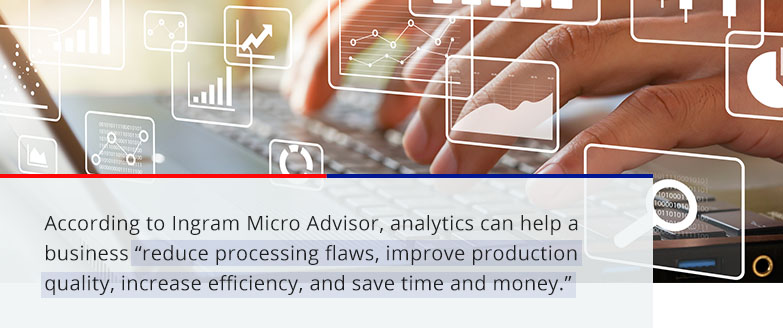 According to Ingram Micro Advisor, analytics can help a business "reduce processing flaws, improve production quality, increase efficiency, and save time and money." Further, Tata Consultancy Services asked manufacturers to use a scale of one to five to assess big data benefits to their companies:
• Product quality and defects tracking – 3.37
• Supply planning – 3.34
• Manufacturing process defect tracking – 3.32
• Supplier, components, and parts defect tracking — 3.11
• Supplier performance data to inform contract negotiations — 3.08
• Output forecasting — 3.03
• Increasing energy efficiency — 2.97
The sky is essentially the limit with regard to what data analysis can teach a business. The difficulty for most businesses is determining the precise metrics that will help them better understand their strengths,
weaknesses, and opportunities.
Speed to Market
In certain industries – electronics and semiconductors, for example – manufacturers are under constant pressure to shave days – months – from their lead times. Manufacturers unable to keep pace are getting left behind. As analysis by Accenture consulting notes, "…chip companies that can deliver on materially shorter lead times will command higher average selling prices than their potentially technically superior competitors, because early market share capture of consumer devices is exceptionally valuable." For these industries, speed to market is not only a competitive issue but also an economic necessity, since products in these categories generally become obsolete quickly, as "better/faster" products are routinely introduced.
As a result, a growing number of manufacturers are turning to expedited services as their preferred logistics solution. Whereas expedited service was once reserved only for extremely urgent or fragile shipments because of its higher costs, today's manufacturers are finding the higher levels of service and customer satisfaction more than justify the cost.
An expedited solution will address the need for improved speed to market in several ways:
• Streamlined solution in which all supply chain services are performed – or managed – by the same logistics provider
• Personalized attention to detail through which logistics personnel will develop a customized solution to achieve specific manufacturing and distribution needs. Those same individuals will then manage the project, ensure all deadlines are met, and keep all key players informed
• High degree of flexibility to adapt to changing market conditions and unanticipated challenges
• Integration of technology and automation to improve visibility, thereby reducing risk of disruption
• Full suite of transportation options ranging from "next flight out" to charter services to expedited ground solutions
• Globalization/Customs Issues. U.S. manufacturers are engaged with international partners and buyers, and they must have seamless, efficient processes both for receiving imported supplies and for shipping finished goods to international markets.
To illustrate this point, the New York Times referred to Apple's iPhone as "a collection of intricate parts that are made around the world and assembled in China." The same can be said about a multitude of products manufactured in the United States. Production of a Ford F-150 pickup truck, for example, relies on Mexico for 15 percent of its parts, while Chevrolet's Silverado relies on foreign suppliers for more than half of its parts, including, as CNN reports, a Mexican-built engine.
Manufacturers must have full confidence that imported parts will arrive on time, with no unexpected border delays, and that exported shipments will arrive as promised, regardless of their international destination.
Navigating the complexities of international shipping is another capability increasingly entrusted to an expedited logistics provider. A qualified provider will ensure that a shipment arrives at a customs checkpoint with all paperwork ready to go and, where possible, already pre-filed. All taxes/duties/fees will be paid in advance, and the shipment will be in compliance with all security and "other government
department" mandates.
Supplier Management
The Boeing 737 is assembled just outside of Seattle, Washington, where hundreds of suppliers provide the 367,000 parts necessary to make each aircraft. Not surprisingly, the manufacturer places enormous pressure on its suppliers for precision-like deliveries to reduce costs and for continuous product innovation. With that many parts to manage, Boeing ensures production efficiency by relying on preassembled "kits" to guide workers through their day.
According to NBC News, "Instead of spending an hour or two assembling the equipment they need for the day, Boeing factory workers now arrive at work to find a kit containing all the screws, hammers, and other instruments they will need to get their specific jobs done." But ensuring that every kit has the necessary components can require herculean efforts. If one supplier misses a delivery and a stock out occurs, the impact can reverberate throughout the entire assembly line. For example, the Financial Times reported that United Technologies, owner of aircraft engine manufacturer Pratt & Whitney, has stated that roughly 44 percent of its suppliers do not deliver on time.
Manufacturers are increasingly taking themselves out of the business of receiving deliveries, opening cartons, identifying contents, and funneling those parts to the right place by delegating the process to their logistics partner.An experienced partner will take delivery of a manufacturer's shipments and assemble "parts kits" prior to the start of each shift. The logistics provider receives and processes the
inventory at a facility located near the manufacturing facility, disposes of all packaging, and ensures that each worker has the precise tools – presented in the exact order in which they will be needed – to perform that day's work.
eCommerce/OmniChannel Capability
Many manufacturers have heeded customer expectations and added eCommerce and omni-channel capabilities. The "2016 Manufacturing & Distribution Sales and Technology Survey," sponsored by Handshake technology provider, found 44 percent of manufacturers and distributors surveyed already have an eCommerce platform in place to allow online ordering. Of those, 63 percent also allow orders from a mobile device, and 21 percent say more than a quarter of their B2B revenue is generated via online channels.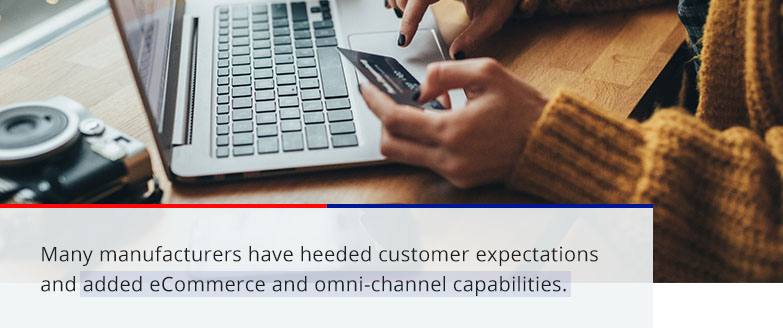 Of those companies that have yet to implement eCommerce capability, 50 percent are in the planning stage and expect to offer eCommerce functionality within the next 12 months. Important to note, today's B2B transactions increasingly resemble B2C purchases, with business buyers expecting the same "all of the above" choices for purchasing and delivery options, inventory availability, and convenience when
making personal purchases.
Successful manufacturers have taken the time to carefully research their customers' eCommerce expectations and have built platforms that provide high-quality transactions. This, of course, involves consideration of inventory, fulfillment, technology, distribution, returns management, and transportation issues beyond the manufacturers' existing scope of activity.
Most manufacturers turn to their logistics partner for the expertise necessary to offer a seamless online experience. Specifically, a single-source provider will have the capability to manage all aspects of a manufacturer's omni-channel supply chain, including order management, inventory management, warehousing, kitting, picking, labeling/shipment preparation, transportation, delivery, and all
backend functions such as recordkeeping and compliance.
A comprehensive provider will also implement a reverse logistics strategy to process the roughly 8 percent of sales that will be returned.
Transportation Optimization
When athletic footwear manufacturer Adidas announced plans to open its first U.S. production facility in metro Atlanta, GA, the company cited the region's strong transportation infrastructure as one of the determining factors. As that city's regional economic development commission points out, businesses located in the Atlanta area benefit from proximity to Hartsfield Jackson International Airport, three major interstate highway systems, an extensive rail system, and proximity to the Port of Savannah.
Proximity to first-rate transportation venues is certainly a critical priority for manufacturers but so is the ability to develop innovative solutions based on those assets. A growing number of manufacturers are relying on innovative transportation-based solutions that include:
Route Optimization. Among the many positive contributions technology has made to the freight/logistics industry, the concept of route optimization has been among the most beneficial. Route optimization software helps companies better manage their distribution networks through the use of advanced algorithms. The process calculates the most efficient service option, maps out direct routes, and matches available trucks and drivers to make the delivery. In doing so, delivery routes become much more streamlined, meaning reduced mileage and lower fuel costs.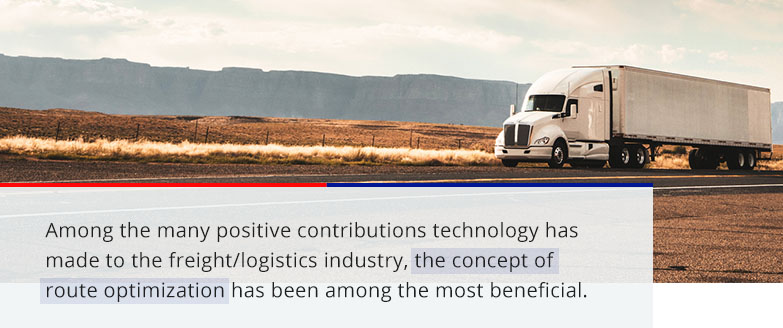 Consider the benefits achieved by Coca-Cola Enterprises when it employed route optimization software to help manage delivery of more than 1.5 billion cases of CocaCola beverage products throughout North America and parts of Europe. By developing advanced algorithms that took into account everything from local traffic patterns, driver working hours, infrastructure, and fleet availability, the company was able to achieve $45 million in annual cost savings.
While most businesses do not operate on the same scale as Coca-Cola, the concept of technology-driven route optimization applies to businesses of all sizes.
Distribution Center Bypass (DC Bypass). Until recently a 2- to 3-day stopover was "baked in" to a standard distribution plan, regardless of whether or not it was needed. According to Supply Chain Digest, in some cases, a shipment was required to travel thousands of miles out of the way to make a distribution center stopover, only to make a return trip back to the vicinity of its starting point.
In recent years, businesses and logistics providers have realized the enormous waste in this arrangement. Instead, companies have opted to open regional distribution centers to accommodate local needs or have streamlined routes so that shipments can travel directly to their end destination. DC bypass can eliminate 7-14 days from the supply chain, which represents a significant amount of inventory that can be taken out of the system. The shortened distribution cycle is a lifeline for businesses trying to rush products to market and for those simply trying to control costs and better manage transportation spend.
Consolidation. Consolidation is a highly efficient way to control transportation costs – and costs associated with any international border clearances. By consolidating smaller shipments into one larger unit, more favorable rate terms may apply. Essentially more expensive less-than-truckload shipments are converted to full truckloads, and in the process, a company can reduce costs and provide better service to end customers.
Horizontal Collaboration. Supply Chain Management Review described horizontal collaboration as companies sharing supply chain assets for mutual benefits. Businesses in the same industry, that often have the same customers and same logistics needs, are prime candidates for horizontal collaboration. A current "highprofile" example involves two competitive chocolate manufacturers, the Hershey Co. and The Ferrero Group in North America. The two companies entered into an alliance to share warehousing, transportation, and distribution processes and assets.
Other "competitors" sharing logistics processes include and Ocean Spray, as well as Pennsylvaniabased
Just Born confectioner (best known for "Peeps" marshmallow candies) and an alliance of five other candy companies. In an interview with American Shipper magazine, Joel Sutherland, managing director at the University of San Diego's Supply Chain Management Institute, explained, "Just Born increased the amount of freight shipped out of its distribution center by including other confectionery shippers to form a collaboration of 'like' shippers delivering product to 'like' customers."
The impact? Sutherland says that the collaboration will save the companies "about 25 percent of their total transportation costs per year." Businesses interested in integrating horizontal collaboration solutions into their supply chains should be forewarned though. It's not for everyone, and it's hard work. According to the "North American Horizontal Collaboration in the Supply Chain Report," produced by supply chain research group Eyefortransport, top concerns for businesses include:
• Fear of information disclosure
• Lack of clarity over who's in charge
• Lack of widespread acceptance of ideas
• Difficulty finding appropriate partners
• Difficulty starting trusting relationships
An Innovative Logistics Provider is Integral to Success
To meet the challenges of 21st century manufacturing, companies are turning to their logistics providers as never before to assume greater responsibility and develop increasingly out-of-the box, innovative solutions. Today more than ever, logistics partners have a seat at the table and a voice in helping businesses address their supply chain challenges.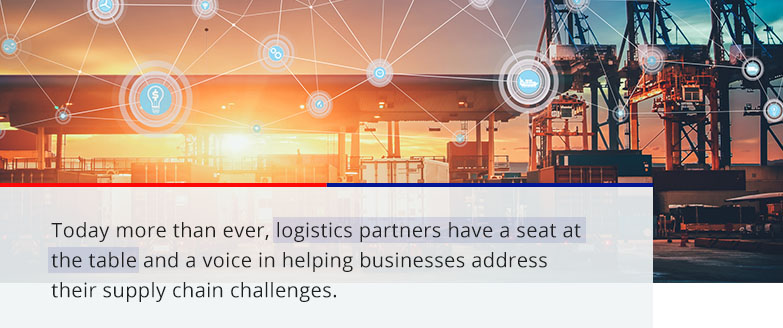 The first step though is identifying the right provider. A fair amount of research will be necessary to ensure that a logistics partner has the required capability and experience. Key considerations to keep in mind when choosing a qualified logistics provider include:
• Technology-Based. Technology has changed EVERYTHING when it comes to logistics and transportation solutions. As a result, providers are able to offer solutions that were unthinkable a few years ago. Make sure any potential logistics provider has not only invested in technology – and in regular upgrades – but that it has technology-savvy staff who understand the system and can ensure maximum benefit.
• Wide Scope of Solutions. Are you aware that it is possible to have a ground shipment delivered to Canada faster than some transportation providers' air solutions? This is one example of how innovative logistics providers are thinking out of the box and developing innovative solutions. Today, it is possible to have a "customized-like" solution for almost every shipment. Long gone are the days when a transportation company would offer a single "take it or leave it" approach. Choose a carrier with a menu full of options and a "sky's the limit" approach to helping address your company's precise needs.
• Distribution Network. Make sure your provider has a distribution network in place that meets your entire coverage needs. If your supply chain includes suppliers or customers in Canada, for example, make sure your provider offers coverage to the more remote regions of that vast country. Or, if your shipments would benefit from an intermodal rail/ground solution, make sure your carrier has
access to the right equipment.
• Flexibility. You will also want a logistics partner that can be flexible and will adjust service to meet your business's specific needs. If your business is seasonal, make sure your logistics provider will allow you to ramp up service during your peak periods and seamlessly draw down during
slower months.
• Continual Improvement. You will want a partner that constantly monitors your account and looks for new and better service options. Too many logistics partners forget about their customers after the contract is signed, and businesses find themselves locked in to certain service levels, even if a better option becomes available. You want a partner that is invested in your success and offers
ongoing recommendations for service improvements.
• Customs Expertise. With so many U.S. manufacturers dependent on international suppliers and customers, a company cannot afford to have a shipment held at the border because of missing documentation or due to some other mistake. Make certain your logistics partner has a proven track record managing the international customs process. A truly experienced provider will ensure shipments
arrive at the border with all documentation pre-filed, the correct tariff classification assigned, all duties and taxes paid, and a determination of any free trade  benefit eligibility.
• Customer Service. Your logistics provider must take seriously your commitment to your customers. A good logistics provider will have staff dedicated to your business, who understands your objectives, and who can advise how best to meet those goals. Equally important, a customer service representative must be easily accessible should something go awry or a last-minute change become necessary.
Choose Purolator International for Innovative Solutions
When toolmaker Stanley Black & Decker announced plans in early 2017 to build a new $35 million manufacturing facility in the United States, CEO James Loree said the move was
consistent with the company's philosophy to "make where we sell wherever possible." And in an apparent reference to statements from President Donald Trump in support of import taxes on products made overseas by U.S. companies, Loree added, "It's going to be advisable to have more manufacturing in the U.S."
Black&Decker is certainly not alone. Other companies that have announced plans to expand in the U.S. include Ford, Carrier, Apple, General Motors, and Walmart. In addition, non-U.S. companies including Hyundai, Kia, and Foxconn have announced plans to invest in U.S. facilities. Whatever the reason, U.S. manufacturing – and the economy overall – are poised to benefit. This investment comes at a time when U.S. manufacturing output is strong, with more than 50 percent of existing companies telling the Institute for Supply Management they were expanding instead of shrinking.
But integral to this new investment and growth is the fact that U.S. manufacturing looks very different today than it did before technological innovation took hold. This change has reverberated throughout each manufacturer's supply chain and affected the way in which products are made, stored, sold, and transported.
U.S. manufacturers have invested heavily in technology-based, efficiency-driven facilities. It's essential then to entrust that investment to a high-quality, experienced logistics provider. Otherwise, today's precision-like manufacturing processes will be one late shipment away from a serious breakdown.
For the best in innovation and collaboration, choose Purolator International. We're the experts in supply chain solutions, and we have the technology to meet the modern needs of manufacturing. Contact us today to discuss our future partnership – we look forward to hearing from you!