How to Cut Costs in Logistics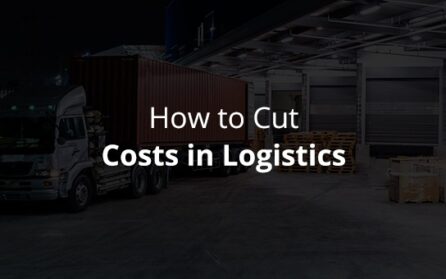 Logistics accounts for a significant portion of operating costs for almost any business. Therefore, it's essential to make every dollar you spend on logistics worth the investment. There are several logistics cost reduction techniques you can use to improve efficiency, consolidate shipments, cut shipping spending and more. Reducing your expenditures in this area can enhance your profit margins, even if your sales remain the same.
Best Methods of Logistics Cost Management
While business boomed in 2018, the cost of logistics rose due to higher demand and lower availability of transportation options. Companies spent 11.4% more on logistics in 2018 compared to the year before. Several factors contributed to the increase in costs, including:
Low unemployment: Trucking companies had a harder time finding qualified drivers.
High usage of shipping trucks: High demand for shipping trucks had many vehicles at capacity, increasing shipping prices.
Increase in e-commerce: Between 2017 and 2018, online sales rose 14.2%. Companies that sold online needed to use smaller, more expensive fulfillment centers located in urban areas to satisfy their online orders.
Government trucker regulations: Small, independent trucking companies went out of business or sold out to larger companies partly due to regulations on the number of hours truckers could operate their rigs.
Many of these factors are outside the control of business owners looking for ways to reduce freight costs. However, understanding these factors can help you to know why some methods work for saving money.
Here are some of the best ways you can manage the cost of logistics for your business:
1. Learn How to Reduce Transportation Costs
Knowing how to optimize transportation costs and reduce spending without cutting down on shipments is key to lowering the amount you spend to transport goods. However, you must always balance transit time with the cost. For instance, shipping via the ocean costs less than shipping by air, but ocean-going vessels take longer to reach their destinations. When sending goods over land, rail generally beats the price of using either planes or trucks. 
When possible, use the slowest transit method to save money. In situations that require speedy delivery, use express shipping for only the selected orders to cut down on your total costs. Sometimes, the need to use expedited shipping comes from a lack of organization and sending the order too late to use standard delivery methods. Keeping organized with orders and shipments can prevent the need for the more costly method.
Finding ways to lower transportation costs is not the only way to reduce the amount your company spends on logistics. You must use a multi-faceted approach to decrease your spending.
2. Use Technology to Improve Efficiency
Technology can improve efficiency if used correctly. A lack of organization can cost you money, so be sure to keep track of your orders and shipments with technological innovations that allow you to better manage your products.
Technological innovations to add to your business may include Enterprise Resource Planning (ERP) Systems. These systems replace the need for paper records in your facility. They allow you to save time and avoid lost revenue because you don't have to track down documents in a filing cabinet. Your company's inventory, supply chain partners, vendors and lead times are all in a database. Anything your company does to track inventory can happen within the ERP software, including order taking, inventory counting, receiving, tracking shipments and scheduling. 
Like ERP systems, blockchain technology can also track deliveries and shipments to and from your company. However, while only those in your company can access ERP systems, anyone in the supply chain can access blockchain data. The setup of blockchain makes it a more secure method of tracking your products because it prohibits unauthorized changes. While ERP helps with locating your goods within your facilities, blockchain helps to keep track of incoming and outgoing deliveries at every step of the manufacturing process.
One small-batch beer maker in California called Alpha Acid Brewing chose to use a blockchain application in its operations. By tracking their supplies and beer processing, the company could improve both their beer formula and manufacturing processes. Studies indicate that using blockchain to track supplies can reduce dispute costs by 30% to 50%. If your company has a long list of suppliers or multiple tiers that the supplies move through, you may benefit more from using blockchain applications to track your materials.
To make the most of blockchain applications, even if you are not ready to embrace it in your supply chain, you need an ERP system to plan your operations. Getting your facility organized through ERP systems will make it easier for you to integrate the information from a blockchain application into your shipping and delivery planning. For example, when you see that your supplies have shipped based on information from the blockchain, the connected ERP can adapt scheduling to receive those goods.
Connecting blockchain tracking to your company's ERP also makes tracking product recalls easier. With blockchain tracing, you can find which of your products falls under the recall, where they originated and where they were shipped. By using both technologies, you can give your customers insight into the exact origins of every part used in your products. For example, Walmart uses this combination to trace the specific tree on which a mango grew through the supply chain to its store shelves.
3. Consolidate Loads
Consolidating loads in warehouses and on delivery trucks can reduce shipping costs and damage. By having goods packed more tightly onto shipping trucks, the packages have a lower likelihood of falling or moving when the truck turns, decreasing the cost of lost or damaged products.
Waiting to fill a truck with your goods can help reduce the cost of sending orders because most carriers offer discounted rates for full truckloads. However, in some cases, you may not have enough products to create a full truckload. In those instances, you may choose less than truckload (LTL).
For this option, you only pay for the amount of the truckload that your products fill. Additionally, the National Motor Freight Traffic Association (NMFTA) regulates pricing for LTL shipping, so you don't need to worry about market volatility affecting the cost of your shipment. Your products travel to a distribution center near your customers — then, from there, workers fill another truck with your products and others before delivering them to those in the area.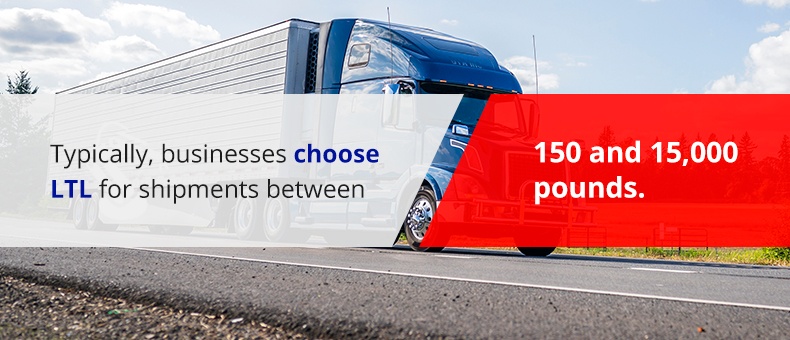 Typically, businesses choose LTL for shipments between 150 and 15,000 pounds. Lower amounts often ship via parcel post, while higher amounts can fill an entire truck. Although it's cheaper than sending all your products via a parcel delivery service, LTL is not perfect. Delivery can take longer with LTL. LTL carriers combine shipments from several different companies. The time required to gather and deliver those products may take more time than a full truckload of only your goods going to your customers.
When using LTL, you also spend less money. If you have a third-party logistics company negotiate your LTL shipping, you can save even more. You will spend less choosing LTL because your goods do not take up an entire truck, but you can also save an added 18% to 25% on top of that when using the negotiating powers of a third party logistics company.
4. Stay Up-To-Date on News
In 2019, the trucking industry experienced a downturn, with 1,000 carriers going out of business. The most vulnerable businesses are independent trucking companies with six or fewer vehicles, which make up 90% of the industry. A loss of these carriers could require shippers to pay more for space on the trucks left or find other means of shipping their goods. However, not all areas have suffered. In fact, e-commerce has seen 81% higher sales during the first week of March 2020 compared to the same time the previous year. 
You must be aware of variables that affect the shipping industry and be prepared to reduce their impact on your shipment. Keep updated with the news and factors that may affect the cost of your business. Use this news to inform your decisions on finding the best, most cost-effective shipping method.
5. Get Help With Trade Compliance
Sending goods from the United States into Canada does not happen easily. Unlike interstate commerce, international shipping comes with a variety of regulations that your goods must meet. If you fail to have the correct paperwork, your shipment will experience significant delays at the border.
For example, if you want to ship goods across the Canadian border yourself, you must take the following steps:
Get a business number for import/export from the Canadian Revenue Agency.
Determine the duty rate, 10-digit tariff class number, additional tax qualifications and whether the Canadian Borders Services Agency (CBSA) regulates or prohibits them.
Collect certificates of origin, invoices and other required paperwork, depending on the origin and destination of the goods.
Calculate the duty value.
Ship the goods and await confirmation.
Send taxes and CBSA documents to release your goods from the border.
The above requirements may include additional steps, depending on the Canadian province you ship to. Each province has specific import rules and taxes. For example, goods sent to Quebec must have French labeling.
Instead of devoting your time and effort to working through the Canadian import system, find a partner that can expedite the process. Having assistance with trade compliance speeds your deliveries through customs and prevents delays caused by incorrect paperwork.
Working with another company to assist in trade compliance is commonplace. In fact, 85% of businesses choose to outsource at least one part of their supply chain. The top outsourced services include transport and warehousing.
6. Communicate With Customers
A survey conducted in April 2020 of 1,000 consumers found that 94% of respondents understood the need for additional time to make deliveries. However, 70% expected the seller to openly communicate with them, especially about delays. In fact, having an estimated delivery date on product pages encouraged 75% of respondents to buy the item. However, if not informed of delays, 70% of consumers would not return to the retailer in the future.
Keeping communications open with your customers is vital if you want to make sales and have customers return. While consumers will allow for some extra time for delivery, they must know exactly where their orders are.
Part of keeping consumers informed involves tracking orders and conveying that data to your buyers. Even if you don't sell to consumers but rather to other businesses, maintaining open records of where the goods are will help you to maintain customer relationships. As with many aspects of sales, value and logistics costs depend on customer satisfaction.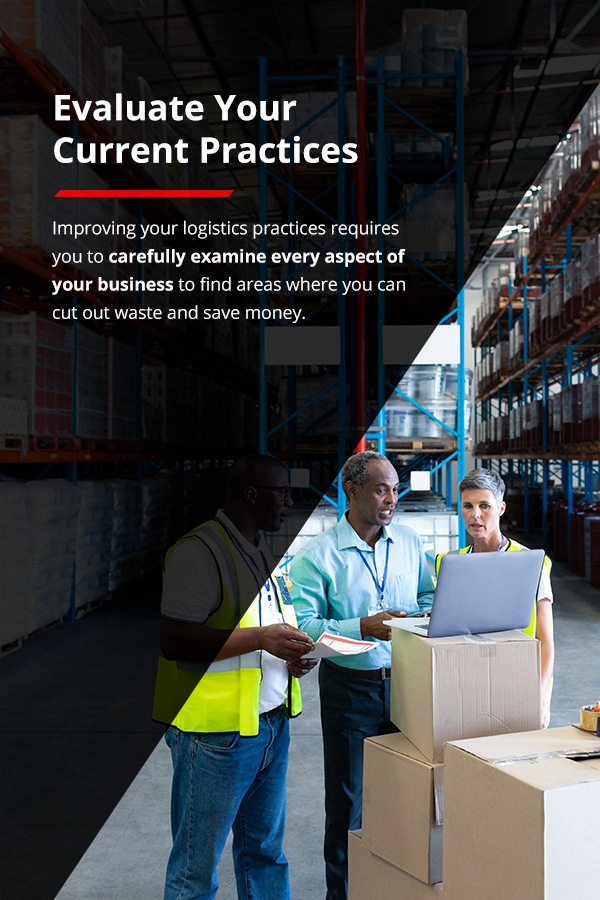 7. Evaluate Your Current Practices
Improving your logistics practices requires you to carefully examine every aspect of your business to find areas where you can cut out waste and save money. Through standardizing processes, consolidating shipments or taking other measures to improve your logistics operations, you could see significant savings.
However, to do so, you may need to run several simulations in cost comparisons. For instance, you may want to calculate the costs of using different warehouses or shipping companies. Also, find ways to reduce the number of times your goods change hands during the delivery. The more people who handle your products, the higher the chances of goods being lost or damaged. Extra handling of your goods may also increase the costs, especially if the products change hands several times throughout shipping.
You may get assistance with your analysis through your company's ERP. This software can also optimize your productivity and operations. When you cut waste at every level of production and shipping, you improve your profits.
Partner With Purolator International for Logistics Cost Savings
Businesses in the United States with regular shipments to Canada don't have to work through logistics alone. At Purolator International, our business is shipping. By partnering with us, you access freight transport via air, ground or sea. With our network of delivery services in Canada through our parent company Purolator, we can get your goods delivered quickly and at a cost-efficient price. 
Because we have ties in Canada, we know the local shipping laws. By getting pre-approval for clearance to send your products into the country, we reduce delays. For more information about our offerings, including our unparalleled PuroTouch service, contact us at Purolator International. Let us be your partner for regular shipments from the United States to Canada.