Free Trade Agreements Drive Export Opportunities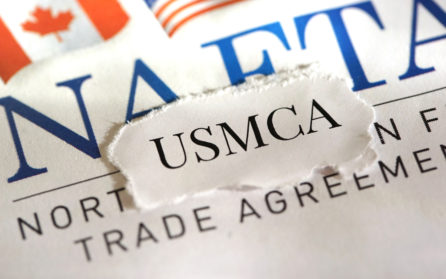 A mid-2018 public opinion survey conducted by Pew Research found almost 60 percent of Americans believe free trade agreements (FTAs) between the United States and other countries are generally a "good thing." This raises the question: Why then do the overwhelming majority of businesses not take advantage of the agreements, which, after all, are intended to facilitate export activity?
A survey of trade specialists by Thomson Reuters/KPMG found 70 percent of companies do not fully utilize FTAs, "which means they are likely paying more than necessary in tariffs and duties," the accompanying analysis noted. Subsequent Thomson Reuters/KPMG research drilled down to determine why the rate of usage is so low and found top concerns that include:
Almost 80 percent cited the complexity of rules of origin, which are the terms outlined in the FTA to determine whether or not a specific product is eligible for benefits. Respondents also cited difficulty in gathering required documentation.
Respondents listed proper tariff classification, documentation, and licensing as the trade-related activities that carried the greatest risk of penalties or increased operational costs.
Businesses cited the significant "drain on their time and resources" associated with FTA compliance.
Also cited was the difficulty understanding rules from one country to the next, changing compliance requirements, and dealing with antiquated processes.
While these may certainly be legitimate concerns, each can be fairly easily addressed, thus clearing the way for a business to benefit from any of the 14 free trade agreements the United States currently has in place that involve 20 different countries.
A U.S. business that decides to enter a foreign market with an FTA in place will find significant resources available to help navigate the confusing compliance process. This ranges from U.S. government agencies, to online "compliance tools," to experienced third parties with extensive FTA expertise. Businesses are often pleasantly surprised by both the range of resources available and the commitment of government trade specialists to securing their success.
The following discussion will provide a snapshot overview of current U.S. free trade agreements along with information about how to begin the process of receiving trade benefits for which your business may be legally entitled. The FTA compliance process can be difficult, but as this discussion will make clear, the benefits almost always outweigh the inconvenience.
A Brief History of U.S. Free Trade Agreements
The United States has not always prioritized bilateral or multilateral trade agreements with foreign countries, although the past few administrations have put free trade agreements squarely at the center of their trade policies. This, in turn, has created the current impression that the U.S. has "always" relied on free trade agreements when a quick look back reveals this not to be the case. In fact, the first U.S. free trade agreement was not signed until 1985 when, as a show of solidarity, the U.S. entered into a free trade agreement with Israel.
Following is a brief overview of significant U.S. policies that have guided U.S. trade policy:
Smoot-Hawley Tariff Act of 1930: Today seen as a textbook example of the negative consequences of tariffs, the Smoot-Hawley legislation was enacted in the aftermath of the stock market crash of 1929 in response to demands for increased protection from foreign imports. According to the International Trade Commission, the legislation was originally intended to protect domestic agricultural and manufacturing interests but escalated into a series of more than 800 tariff increases. International retaliatory moves moved to a dramatic decline in the volume of world trade, the ITC noted, such that "two years after the Smoot-Hawley Act, the volume of both U.S. exports and imports had fallen by approximately 41 percent."
Reciprocal Trade Agreements Act of 1934 (RTAA): This legislation was enacted by Congress in the midst of the Great Depression to authorize President Franklin Roosevelt to pursue "bilateral, reciprocal trade agreements" as a way to reduce tariffs. The U.S. would agree to reduce tariffs but only in exchange for partner nations reducing theirs, as noted by the Harvard Business Review. By 1940, RTAA resulted in the signing of agreements with 21 countries, representing approximately 60 percent of total U.S. trade.
General Agreement on Tariffs and Trade (GATT): Following World War II, as the United States and its allies sought to rebuild the post-war economy, the U.S. advocated for a multilateral "General Agreement on Tariffs and Trade." The GATT took effect in 1948 and was a multilateral agreement among the United States and as many as 153 additional countries. GATT functioned de facto as an organization and oversaw seven separate rounds of talks:
1949: Annecy Round – Held in the French city of Annecy, 13 GATT members agreed to 5,000 tariff concessions.
1950 – 1951: Torquay Round – Meetings took place in a southwestern England town called Torquay. It was attended by 38 GATT members who agreed to tariff concessions that reduced tariffs by 25 percent from 1948 levels.
1956: Geneva Round – This round generated $2.5 billion in tariff reductions among the 26 participating countries.
1960 – 1962: Dillon Round – Named after U.S. Undersecretary of State Douglas Dillon, who proposed the talks, this round included 26 countries and took place in Geneva. Talks focused on harmonizing concessions within the new European Economic Community.
1964 – 1967: Kennedy Round – Named after the late U.S. president, this round was also held in Geneva and included 62 participating countries. As reported by Reuters, this round "dramatically increased the scope of GATT agreements" and achieved concessions valued at an estimated $40 billion.
1973 – 1979: Tokyo Round – This round actually took place in Geneva and involved 109 countries. Final agreements included tariff reductions and binding pledges not to raise tariff levels on goods covering more than $300 billion in trade.
1986 – 1994: The Uruguay Round – Referred to as the "last and biggest GATT round," the Uruguay talks involved 115 countries and took place over more than seven years. According to the World Trade Organization reference library, the final agreement was 23,000 pages long, the bulk of which consisted of individual countries' commitments to lower trade barriers. The most consequential outcome of the Uruguay Round though was the creation of the World Trade Organization.
World Trade Organization (WTO): This organizations was established by the GATT Uruguay Round to provide a forum for negotiating and settling trade disputes and supporting a global system of trade rules. The WTO remains the foremost international trade body, and it includes 164 members that represent 98 percent of world trade.
Trade Act of 1974: Similar to the 1934 RTAA, this legislation reinstated the U.S. president's authority to negotiate tariff reductions (which had expired in 1962) and granted fast-track authority, which provides an up-or-down vote, with no amendments permitted, for trade agreement legislation submitted by the president.
1988 Omnibus Trade and Competitiveness Act: Through this legislation, the U.S. Congress authorized U.S. negotiating objectives for the planned GATT Uruguay Round and established "Section 301" of the Trade Act of 1974. According to the International Trade Commission, Section 301 "enables a company to seek a remedy against foreign trade barriers." The scope of Section 301 was expanded in 1979 to include trade-related services, government procurement, and import licensing. Section 301 has been in the news during 2018, as the Trump administration has cited this provision as justification for calls on tariffs on specific imports from China.
As noted by the International Trade Commission, since 1989 U.S. trade policy has been marked by prioritization of bilateral and regional agreements. Agreements currently in effect are listed below.
Current U.S. Free Trade Agreements
As of 2018, the United States maintains 14 free trade agreements with 20 countries and is negotiating regional FTAs with several additional countries. FTAs currently in place include:
U.S. – Australia Free Trade Agreement (USAFTA): The agreement was signed by President George W. Bush and took effect on January 1, 2005. USAFTA eliminates duties on exports of essentially all manufactured goods to Australia.
U.S. – Bahrain Free Trade Agreement (USBFTA): This agreement, which took effect on August 1, 2006, marked the first FTA partner on the Arabian Peninsula and the third FTA partner among Arab countries (Jordan and Morocco are also FTA partners). Key provisions for U.S. exporters include elimination of duties on all consumer and industrial products, and on 80 percent of agricultural products.
Canada and Mexico – North American Free Trade Agreement (USMCA): The North American Free Trade Agreement is a tri-country agreement signed by the United States, Canada, and Mexico. USMCA took effect in 1994 and effectively created the world's largest free trade area. Terms of the agreement were phased in, but by 2008, tariffs were eliminated on eligible goods traded between the partner countries. On October 1, 2018, President Donald Trump announced the replacement of USMCA with a new agreement, the United States- Mexico-Canada Agreement (USMCA). The new agreement is expected to be considered by the three countries' legislatures, including the U.S. Congress, in early 2019.
Dominican Republic-Central America – United States Free Trade Agreement (CAFTA-DR): This agreement includes the United States, Costa Rica, the Dominican Republic, El Salvador, Guatemala, Honduras, and Nicaragua. Depending on the country, implementation dates ranged from March 1, 2006, through January 1, 2009. The agreement will be fully implemented in January 2025.
Under the agreement, 100 percent of U.S. consumer and industrial goods exports to CAFTA-DR countries are not subject to duties. Tariffs on nearly all U.S. agricultural exports will be phased out by 2020.
U.S. – Chile Free Trade Agreement: This agreement took effect in 2004, and following a multi-year phase-in period, 100 percent of U.S. consumer and industrial products exported to Chile are exempt from duties.
U.S. – Colombia Trade Promotion Agreement: This bilateral trade agreement became effective on May 15, 2012, following approval by President Barack Obama and passage by the U.S. Congress. Under the terms of the agreement, 80 percent of duties were immediately eliminated on U.S. consumer and industrial product exports, with all remaining duties to be eliminated 10 years after implementation.
U.S. – Israel Free Trade Area Agreement (FTAA): The first free trade agreement entered into by the United States, the U.S.-Israel FTAA took effect in 1985. The agreement eliminated duties on U.S. manufactured goods. In May 2017, the two governments signed an agreement to no longer require certificates of origin in order to claim trade agreement benefits. Instead, a written declaration can be submitted, "completed by the producer or exporter on the invoice, delivery note, or on any other commercial document."
U.S. – Jordan Free Trade Agreement: This agreement, America's third FTA, and first ever with an Arab state, took effect on December 17, 2001. The agreement eliminates "all tariff and non-tariff barriers to bilateral trade in virtually all industrial goods and agricultural products," according to the White House statement that announced the agreement.
U.S. – Korea Free Trade Agreement: The bilateral agreement took effect in 2012 and was subsequently amended in 2018. According to CNN, recent modifications include changes to provisions for automobiles, steel, and aluminum. Modifications were also made to protect against potential currency devaluation by either party.
U.S. – Morocco Free Trade Agreement: Since taking effect in January 2006, this agreement has eliminated duties on 95 percent of consumer and industrial products exported to Morocco. That figure will increase to 100 percent by 2024.
U.S. – Oman Free Trade Agreement: This agreement took effect on January 1, 2009, and eliminates duties on most consumer and industrial goods, and 87 percent of agricultural goods. According to Export.gov, the agreement called for the tariffs on "remaining eligible goods" to be phased out within 10 years.
U.S. – Panama Trade Promotion Agreement: The U.S. – Panama TPA entered into force on October 31, 2012, and eliminated tariffs on 87 percent of U.S. industrial goods exports, including information technology equipment, agricultural and construction equipment, aircraft and parts, medical and scientific equipment, environmental products, pharmaceuticals, fertilizers, and agro-chemicals.
U.S. – Peru Trade Promotion Agreement: The U.S. – Peru TPA took effect on February 1, 2009, and according to Export.gov, eliminated tariffs on 80 percent of U.S. consumer and industrial goods exports. Tariffs on the rest of those products will be phased out by 2019. For agricultural products, tariffs are eliminated on almost 90 percent of U.S. exports, with remaining tariffs phased out by 2026.
U.S. – Singapore Free Trade Agreement: This agreement was implemented beginning January 1, 2004, and according to the Office of the U.S. Trade Representative, "guarantees zero tariffs immediately on all U.S. goods."
Key Free Trade Agreement Benefits
While the terms of each trade agreement are unique, all FTAs offer U.S. businesses the opportunity to expand to new markets with a helping hand from the U.S. government. Key FTA benefits include:
Access to new international markets
Opportunities to expand existing export operations
Removal of barriers that previously blocked entry to a specific market
Access to new investment opportunities
Access to new business partners and foreign government contacts
A 2017 report released by the International Trade Commission detailed the impact FTAs have had on U.S. export activity. Among the report's findings:
Two-way merchandise trade between the U.S. and its FTA partners was $1.5 trillion during 2017, which accounted for 39 percent of total U.S. merchandise trade.
With the exception of Israel, U.S. exports increased to all FTA-partner countries during 2017. The value of U.S. exports to FTA partners totaled $720.5 billion, a 6.6 increase from $675.8 billion in 2016.
U.S. trade with USMCA partners Canada and Mexico accounted for 75 percent of total U.S. trade with FTA partners.
During 2017, the value of exports to Canada and Mexico rose 5.8 percent, while imports increased by 7.4 percent.
Logistics Providers Should Prioritize Free Trade Agreement Benefits
For U.S. businesses that export, taking advantage of Free Trade Agreement benefits should be top-of-mind. With the opportunities and advantages that complement these benefits, businesses should strive to partner with a logistics partner who understands the importance and requirements of FTA eligibility.
At Purolator International, we have an in-depth knowledge of trade agreements and have the experience necessary to assist businesses that are looking into FTA eligibility.  
To learn more about FTA eligibility and how Purolator International can help your business with international exports, contact us today!