Does Your Apparel Supply Chain Need a Logistics Makeover?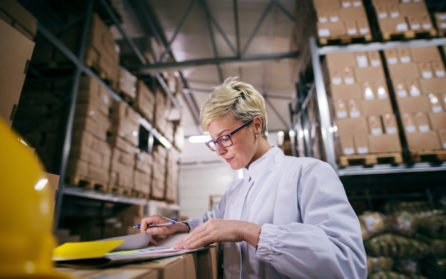 When then J.Crew Chief Executive Officer Mickey Drexler was asked to describe his apparel company's typical customer, he responded with: "She's loyal as hell until we go wrong. Then she wants it on sale."
Drexler's simple, albeit blunt, observation would seem to describe consumer attitudes across the entire apparel and accessories market. Today's consumers have heightened expectations about virtually every aspect of their apparel-buying experiences:
They want to be continually impressed with new selections.
They expect sizes, preferred styles, and colors to be in stock, or easily accessible.
They have come to expect deep discounts, and will not hesitate to either wait until an item goes on sale, or turn to a competitor for less expensive options.
And they expect to be able to shop across channels, with high expectations for personalized online experiences that include fast, flexible – and preferably free – delivery.
These changing expectations are driven largely by the increasing role of eCommerce and, specifically, the tremendous impact amazon.com is having on the apparel industry. Financial services firm Cowen and Company expects Amazon to overtake Macy's as the largest U.S. apparel retailer by the end of the 2018, with consumers increasingly turning to Amazon as a "go-to" source for basics including T-shirts, jeans and underwear. In fact, Amazon's top-selling apparel items during 2017 included ASICS men's running shoes, Levi's men's regular fit jeans, and UGG women's boots.
Customers have grown accustomed to the ease and convenience of online shopping, and they expect apparel retailers to do whatever it takes to meet those expectations.
Easier said than done. These changing expectations come at a time when apparel companies' supply chains are more globally sourced than ever, with 60 percent of companies sourcing materials from more than 10 countries or regions. For most apparel makers, this includes suppliers located in China as well as Vietnam. Sprawling supply chains have helped create long lead times – currently it takes as long as 15 months to bring a new concept to market.
An added concern includes threats of increased trade restrictions between the United States, China, and other nations. Both China and the United States have proposed new tariffs on goods traveling between the two countries, which could significantly drive up the cost of fabrics and other apparel-related materials. The threat of trade barriers has become so significant that the U.S. Fashion Industry Association's 2017 industry benchmark study saw "protectionist trade policy agenda in the United States" jump from the 10th "top business concern" during 2016 to the number one concern in 2017.
Today's manufacturers face seemingly competing challenges to (a) meet customer expectations for fresh inventory offered via multiple platforms while (b) relying on increasingly global supplier networks.
Meeting these challenges can be done of course. Look at Zaro. The Spain-based fast-fashion innovator has seemingly mastered the art of rapid production and distribution to become the world's largest fashion retailer, with sales of $17.2 billion during 2017. Zaro turns out an estimated 10,000 different products each year, which keeps customers returning to its stores. According to Forbes, "it takes the company only 10 to 15 days to go from the design stage to the sales floor." Roughly 60 percent of all products are made in Spain and nearby countries. Merchandise is shipped from distribution centers located in Spain, and stores receive new shipments twice a week.
While most retailers aren't looking to mimic Zaro's "fast-fashion" strategy, many analysts believe the "sweet spot" lies somewhere in between. The key is striking the right balance between current processes that work, those that don't, and innovative new options. A retailer that commits to finding that balance will benefit from greater efficiencies including shortened distribution cycles and better customer service.
The following discussion provides an overview of top trends and challenges affecting today's apparel industry along with discussion about how savvy logistics solutions are helping to solve those problems. At a time when "item out of stock" have become the four most dreaded words in a retailer's lexicon, smart logistics have taken on a new urgency, with apparel managers realizing the value of a customized, innovative logistics strategy.
A Global Supply Chain That Is Becoming More Global
Clearly, the industry has changed dramatically. But something that has not changed is the critical need for apparel makers to have the latest fashion trends delivered to stores as quickly as possible – no easy task given that products arriving at the local mall are usually coming from China, Vietnam, or India.
During 2017, the U.S. apparel market was valued at $267 billion, second only to China's $284 billion market. To put the size of these two markets in context, consider that the world's third-largest apparel market, India, was valued at $50 billion.
Also important to keep in mind are the apparel markets of North American Free Trade Agreement (USMCA) partners Canada and Mexico. During 2017, those markets were valued at $26 billion and $14 billion, respectively.
During 2017, China accounted for 33.7 percent of U.S. apparel market share, which was actually down from 34.6 percent during 2016. Vietnam's share of the U.S. market increased from 13.4 percent in 2016, to 14.4 percent in 2017 And the third-largest source of U.S. apparel products is Bangladesh, which accounted for 6.3 percent of the market during 2017.
The U.S. Fashion Industry Association's 2017 benchmarking survey found China to be the most frequently used sourcing base, with 91 percent of respondents indicating that they source in China. Important to note, that figure is down from 100 percent, which the survey reported in each of the three previous years.
Top sourcing bases, as cited by survey respondents, include:
China – 91 percent
Vietnam – 88 percent
India – 76 percent
Indonesia – 73 percent
United States – 70 percent
Cambodia – 64 percent
Bangladesh – 61 percent
Assistant Professor Sheng Lu of the University of Delaware's Department of Fashion & Apparel Studies collaborated on the study and draws three important conclusions about global sourcing trends.
While China is in no danger of losing its prominence as a U.S. supplier, there are indications that demand for faster speed to market is causing companies to rethink their China-based sourcing strategies. It is possible that the days of companies "chasing the cheapest needle," are coming to an end.
The slight shift away from China may be benefiting Western Hemisphere-based suppliers. The study reports a noticeable increase in sourcing from the United States, Guatemala, El Salvador, and Haiti. In addition, the study notes, 50 percent and 21 percent of respondents, respectively, source from Mexico and Canada, confirming the significance of USMCA as an important sourcing base for U.S. fashion companies.
U.S. apparel companies tend to source from multiple foreign countries. Almost 60 percent source from more than 10 different countries or regions and say they expect their sourcing bases will expand in coming years.
Challenges of Today's Global Supply Chain
U.S. apparel companies benefit financially from sourcing production in low-cost developing countries, but this strategy is not without its drawbacks. Key considerations include:
Faster lead times. A McKinsey & Company report describes the "typical" process followed by U.S. apparel companies: "A shirt is manufactured in a faraway country based on a months-old design and then shipped for weeks across the ocean before reaching a retailer. A consumer might eventually buy it at half price in an end-of-season sale – a routine event in an industry whose long lead times and big batches give it little flexibility to adapt production to shifting consumer demand." Given the complexity of the process, it's not surprising that the typical retailer needs six months to bring a conceptualized product to market. At Ralph Lauren, a plan is underway to reduce lead time from 15 months to 9 months.
The emergence of "fast fashion" and eCommerce has exposed the inefficiency of this model, with Zara able to bring a product to market in just three weeks. Zara's drastically shortened lead time is possible because of multiple factors, including:
In-house design and production teams
Reliance on limited selection of fabrics and materials
Inventory forecasting models linked directly to consumer feedback
Reliance on just-in-time manufacturing methods in which small batches of inventory are manufactured and quickly shipped to stores
Linear management model in which store managers can provide feedback directly to designers (This model bypasses the multiple levels of personnel in place at most traditional companies)
Streamlined manufacturing and distribution processes confined to Spain with suppliers located in close proximity (Suppliers deliver within five days of an order being placed, with most deliveries via truck)
Materials sourcing and finishing services (sewing, cutting) located close to production facilities
While traditional apparel companies can certainly take note of the Zara model, few are in a position to uproot their globally based supply chains and start over. Instead, companies are looking to reduce lead times by integrating any number of innovative approaches and using technology to help weed out inefficiencies.
Product Life Cycle Management (PLM). These technology solutions can be quite effective at helping companies reduce lead times – by an average of 25 to 30 percent. PLM has been referred to as a "cradle-to-grave" approach since every stage of a product's life cycle is monitored and linked. According to Apparel News, PLM technology was originally developed as a tool for the automotive and aerospace industries. But its benefits quickly became apparent to other industries, including apparel. Mark Burstein of NGC Software explained the benefits a PLM system can have for an apparel company: "Internal teams, design development, suppliers – they know what fabrics are being used, what colors were approved, the status of production and the exact location of containers that are in shipment."
A 2017 survey conducted by Gartner found PLM solutions are having a significant impact among apparel companies:
38 percent have reduced product development time
19 percent have improved overall margin
29 percent have reduced total lead time
24 percent have achieved faster time to market
29 percent have reduced inventory
Visibility/Supplier Collaboration. Former Ralph Lauren CEO Stefan Larsson, in citing his company's goal of reducing lead times from 15 months to nine months, stressed the need to strengthen the collaboration with its supplier base in Asia. "The suppliers are really advanced and have a lot of knowledge. We have to get even closer to them and leverage that knowledge," Larsson said in a discussion with analysts. But how can a business accomplish this with dozens of suppliers located in as many as 15 different countries? The short answer is to establish visibility across the entire organization so that managers have insight into all parts of the design, production, and distribution processes. But for most companies, this is easier said than done. This is where technology comes in. By adopting "the right" technology solution – selected from the dozens of apparel industry-specific solutions currently on the market – a company can have a bird's-eye view into parts of its business that may be underperforming, anticipate potential production or shipping delays, and establish critical communication links between different parts of its organization. The more stakeholders "in the loop," the greater the likelihood for collaboration and efficiency. But that collaboration will come with increased exposure to risk. Finding the right balance is key. An experienced logistics provider can help a determined business identify the right solution for adding visibility to its unique supply chain.
Pre-production Efficiency. In 2016, Kohl's challenged its suppliers to dramatically improve production times and indicated an openness to new ideas and processes. One partner, Li & Fung, has been able to cut lead times in half by focusing on product pre-production. As reported by the St. Louis Post-Dispatch, Kohl's had traditionally followed a process in which U.S.-based designers would wait for samples to arrive from Asia. After modifications were made and transmitted back to Asia, a final run of products would eventually be shipped by sea.
Li & Fung was able to overhaul that process by introducing three-dimensional digital designs instead of physical samples. Now designers in the United States can "see" modifications throughout the product development process and collaborate through an integrated system with the Asian production team. This has trimmed a process that routinely took six months down to a few days.
Fabric Platforming. Fortune reports that some manufacturers, including Gap Inc, are taking advantage of efficiencies achieved by purchasing large amounts of particular fabrics and then creating designs for that fabric, rather than the other way around. This is a practice that has been instrumental to Zara's fast-fashion delays.
Minimizing Customs Delays
Few industries experience the repercussions of customs bottlenecks more than apparel companies. For one thing, since 97 percent of apparel sold in the U.S. is made elsewhere, virtually every article of clothing must comply with all applicable customs mandates and regulations, and undergo a strenuous customs examination. In addition, since the bulk of products are made in developing countries, there is a strong likelihood that a customs experience will be less than efficient.
Consider a men's three-piece suit that is assembled in China but depends on fabric from Vietnam and zippers and buttons made in India. Each component – the fabric, zippers, and buttons – will need to comply with Vietnamese and Indian export protocols as well as with Chinese import requirements. Once completed, all documentation must be compiled in accordance with strict U.S. import requirements.
The World Bank maintains an annual "Logistics Performance Index," which benchmarks countries' overall customs management performance in key areas including customs efficiency. During 2016, among countries with the highest concentrations of apparel suppliers, scores for customs efficiency included: China (3.66/5.0), Vietnam (2.98/5.0), and Bangladesh (2.66/5.0). The United States was rated (3.99/5.0) and USMCA partners Canada and Mexico scored (3.93/5.0), and (3.11/5.0) respectively.
International customs complexities are further exacerbated by the fact that customs requirements can be very fluid. A company believing it has finally become an expert in a certain country's customs requirements may find those regulations have changed dramatically – sometimes with no warning.
To manage this uncertainty – and minimize the risk of shipment delay – apparel companies are increasingly turning to experienced logistics providers for "on the ground" customs expertise. A capable provider will offer access to a network of local providers who will have complete awareness and expertise with domestic customs requirements, who will ensure that a time-sensitive shipment has all necessary paperwork completed and filed, and who will make sure all necessary duties and fees paid prior to the shipment's arrival at the border.
In addition, a local customs expert will understand the nuances of that country's customs process. This could include knowing which clearance points tend to have delays, which are generally most efficient, and an understanding of any trade facilitation programs that could expedite the process.
Tariffs and Free Trade Agreements
While the U.S. and China continue to debate possible apparel tariff increases, American companies have the opportunity to take advantage of several existing opportunities to minimize tariff obligations.
First, and something applicable to all imports, not just those from China, is the importance of a correct tariff classification code. Every product entering the United States must be assigned a 10-digit code from the Harmonized Tariff Schedule of the U.S., maintained by the U.S. International Trade Commission. The classification code is used to determine a product's rate of duty and eligibility for free trade agreement benefits.
With tens of thousands of codes to choose from, and sometimes just slight differences between codes, it is not uncommon for an incorrect code to be assigned. The Auditor General of Canada, for example, reported that 20 percent of shipments arriving in that country are misclassified. Improper tariff classifications can result in tariff overpayments and in a failure to obtain applicable free trade benefits. Although most apparel products originate in countries with which the U.S. does not have a free trade agreement in place – the International Trade Association's Office of Textiles and Apparel (OTEXA) reports 85.7 percent of textiles and apparel imports came from non- FTA regions during 2016 – FTAs can be a source of tremendous savings.
But of those imports that do come from countries with which a free trade agreement is in place, a significant number are missing out on FTA benefits for which they are eligible. As reported by the University of Delaware's Professor Sheng Lu, "in 2016 about 29.9% of U.S. textile and apparel imports from South Korea, 24.3% from CAFTA-DR [Dominican Republic-Central American Free Trade Agreement], 16.3% from USMCA, and 12.9% from Columbia did not enjoy the duty-free treatment granted by the respective FTAs."
Professor Lu noted that companies may not be applying for these FTA benefits because of the complex process for proving eligibility. Each trade agreement includes detailed "rules of origin" that a business must meet in order to be eligible for benefits, and those rules are very precise.
Many companies entrust the FTA-application process – as well as the entire customs compliance process – to a customs broker or logistics provider. A knowledgeable third party will have experience with tariff classification, FTA benefits eligibility, and all other aspects of the complicated global customs process.
Optimize Your Apparel Supply Chain with Purolator International
As consumers are looking for more faster deliveries and more accessible channels for online shopping, it's important for retailers to adapt to those needs in an effort to remain competitive.  
At Purolator International, we are proud to offer logistical innovations and modern technology that help our partners succeed in the retail space.
When you partner with us, you can count on expedited services, returns management solutions, dependable customer service and more. Contact us today to learn more about our apparel shipping solutions.