New Opportunities for Canadian eCommerce | Purolator News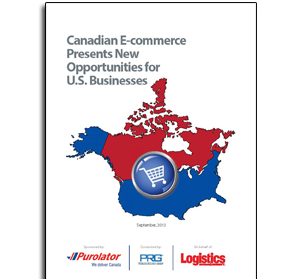 Canada is far and away the largest trading partner of the United States. That makes economic, political, and geographic sense, given the longstanding history of free trade, political stability, and friendly relations between the two North American allies. The U.S. Census Bureau reports that in 2012, $292 billion in goods were exported to Canada from the U.S.
A common misconception is that the Canadian logistics market is simply an extension of the U.S. market. It isn't; and believing Canada is a simple "extension" is the root cause of most mistakes made in cross-border shipping. Moving shipments into Canada can be a challenge. Or, more accurately, it can be a series of challenges.
The rise in B2C, as well as B2B e-commerce, has brought those challenges to an increasing number of U.S. businesses exporting products to Canada. These operational challenges are familiar to businesses currently exporting to Canada, but can now be viewed as new challenges for e-commerce businesses based in the "lower 48." These include transit times that can be difficult to measure in days, much less hours; lengthy delays at the border due to incomplete or incorrect customs paperwork, and multiple handoffs among carriers are not uncommon.
To investigate how U.S. businesses are tackling some of these challenges, a study was recently conducted by Peerless Research Group (PRG) on behalf of Logistics Management for Purolator International to better understand the challenges and how U.S. shippers are addressing them as they relate to cross-border hurdles, population density, working with multiple carriers, etc.
This brief identifies opportunities available to U.S. businesses for resolving Canadian logistics issues.
You must have javascript enabled in your browser to receive the whitepaper successfully