Canada Offers Tremendous Opportunity for US Online Retailers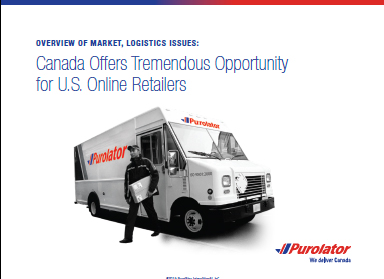 This presents a tremendous opportunity for U.S. retailers, especially since almost 70% of Canadian consumers say they have made a purchase from a non-Canadian site.  A new white paper from Purolator International, "Canada offers Tremendous Opportunities for U.S. Online Retailers," highlights some important considerations – customs, demographics, customer preferences — for a business to keep in mind as it considers expanding to Canada.
When a Wisconsin-based manufacturer of hunting apparel decided to expand its customer base, Canada seemed like a natural fit for its heavy-duty, high quality products.  The company took the time to research the Canadian market, enlisted an experienced logistics partner, and developed a Canadian version of its website.  Soon, orders started rolling in and today Canadian consumers account for a growing share of the business's revenue.
Stories like this are a common occurrence as U.S. online retailers increasingly realize the tremendous opportunity within the Canadian market.  Canadian consumers are among the world's most prolific online shoppers, and both the U.S. and Canadian governments are committed to encouraging cross border sales and improving the customs clearance process.
Canadian shoppers spend roughly US$27 billion annually on online sales, and e-commerce has experienced double-digit growth in each year since 2010.  In fact, eMarketer forecasts Canadian online spending will see double digit increases through 2019, reaching US$40 billion.
You must have javascript enabled in your browser to receive the whitepaper successfully