When to Use Air, Sea or Ground When Shipping From the U.S. to Canada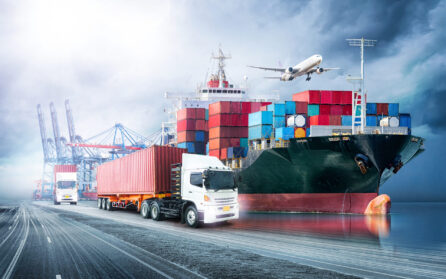 When considering how to ship from the United States to Canada, there are many different options that you can choose from. Air, sea and ground freight each offer their own benefits and costs when it comes to shipping your goods internationally. Whether you are looking for an international shipping solution that can bring products right to your consumer's door or to move bulk items to your Canadian warehouses efficiently, there is a freight method that will fit your company's needs. 
As one of the top ground and air freight companies in Canada, Purolator International aims to meet all of your ground, sea and air freight needs. 
Air Freight Shipping From the U.S. to Canada 
Air freight, or air cargo, makes up a large portion of international shipping. On a global scale, air freight constitutes more than 35% of international trade and ships around $6 trillion in goods. As a reliable and fast source of shipping, air freight allows companies to ship fragile and perishable goods internationally, reaching broader markets. 
Further, air freight is a dependable method of transportation. Thanks to the growth of eCommerce and international shipping, air freight shipped more than 66 million metric tons in 2021, and experts expect this rate to continue rising. With a variety of benefits and applicable industries, air shipping is a great way to ship your goods across the border between the U.S. and Canada. 
Types of Air Freight 
Depending on what you need to ship and how, there are multiple different options for air freight. 
General cargo:

 

General cargo is the primary type of air freight that covers the majority of products and industries. Here, anything that needs the high-quality care and security that accompanies air freight will fall under this category. 
Special cargo:

 

Special cargo qualifies as any air freight that requires special delivery conditions, including temperature control, special packaging materials and access to air. Industries that need to ship livestock often opt for this type of air freight to ensure the safety and care of the animals throughout their journey. 

Air charter services: 

Air freight also comes with different types of services depending on the circumstances of the delivery. Air charter services aid in emergencies or special situations where places need a lot of resources quickly. For example, hospitals requesting more supplies to accommodate their patients can benefit from pharmaceuticals using air charters. 
Air onboarding services:

 

This service allow for extremely safe and secure passages with fewer stops so that cargo can arrive even quicker. It typically caters to those trying to ship very valuable items or confidential materials. 
Advantages of Air Freight 
Air freight offers a lot of advantages for those interested in shipping their goods internationally. Air freight services offer incredible care with your products. Because of the high-security measures enlisted at airports, you can ensure that your cargo will be safe from damages and theft throughout its journey. 
Flights and airplanes are easy shipping methods to track for both manufacturers and customers. Because air traffic control documents all flights as they come and go, you will have frequent updates at every step of the way about the status of your package, and you can carefully watch it as it moves towards its destination.  
Because air freight is not limited to roads or ports, you can deliver to more remote locations with air freight. With eCommerce allowing your business to reach customers in small towns, air freight allows your goods to reach faraway customers efficiently and safely. Further, airplanes and efficient airport infrastructures allow customers to receive their products quickly, so you can continue to promise same-day shipping. 
To ensure the safety of air freight and loading crews, airlines have strict weight requirements when shipping cargo. Because of this, air cargo uses less packaging as it moves from place to place while still ensuring careful safety and security when transporting your goods.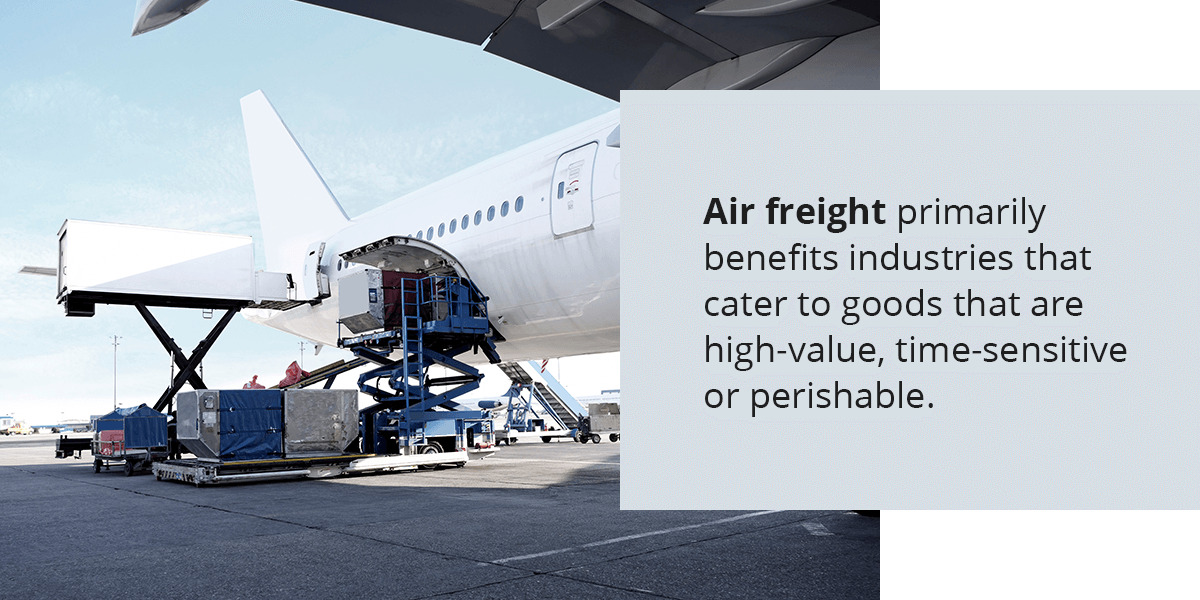 Relevant Industries for Air Freight 
The convenience and simplicity allow for any industry to use air freight. Further, air carriers can provide a variety of services that allow for companies to ship many different kinds of products around the globe. Air freight primarily benefits industries that cater to goods that are high-value, time-sensitive or perishable. Specific industries that typically utilize air freight include: 
Pharmaceutical companies.  
Aerospace and automotive technology fields.
Electronics manufacturers for computers and cellphones.
Military equipment providers.
Sea Freight Shipping From the U.S. to Canada 
Like air freight, a large portion of international trade takes place on the water. Ocean trade accounts for 80% of all internationally delivered goods, and sea freight contributes to 60% of sea trade. While slower than air travel, ocean freight offers unique and important benefits to companies looking to ship their goods internationally. 
Sea freight has many benefits of delivering goods to a nation like Canada, which has long coastlines and several islands that can receive boat deliveries. Overall, Canada hosts more than 550 seaports, ensuring that you will be able to ship your goods from the U.S. to Canada via sea freight.  
Advantages of Sea Freight 
While air freight has size limits due to flight procedures and policies, sea freight is best for those looking to ship in bulk or need to send heavier materials. Many pieces of equipment and materials for transport vehicles or construction projects are heavy and require a lot of space, making them ideal for ocean freight. Ships determine their size by the ton, giving companies the ability to ship their larger cargo. 
Ocean cargo continues to offer a lot of freedom to choose how much you want to ship. Full container loads (FCL) allow for you to fill entire containers with your goods to transport at a flat rate, and you have the freedom to fill them as much as you need. 
If you don't need the space that FCLs provide, ships also offer less than container load (LCL), which combines your goods with those of other companies to fill an entire container, which ships organize by box and pallet. 
Bulk goods can ship not in trailer (NIT), where goods instead travel as they are without the need to load them into containers. This allows for more oversized items to travel to their destination safely so that they can arrive in the best condition.  
In addition to transporting large portions of goods, sea freight is a great way to ship hazardous materials. Oil and chemical tankers incorporate specified designs to best transport these materials while preventing the risk of leaks or spills. While air freight can also ship dangerous materials, oil and chemical tankers allow for large quantities to move internationally.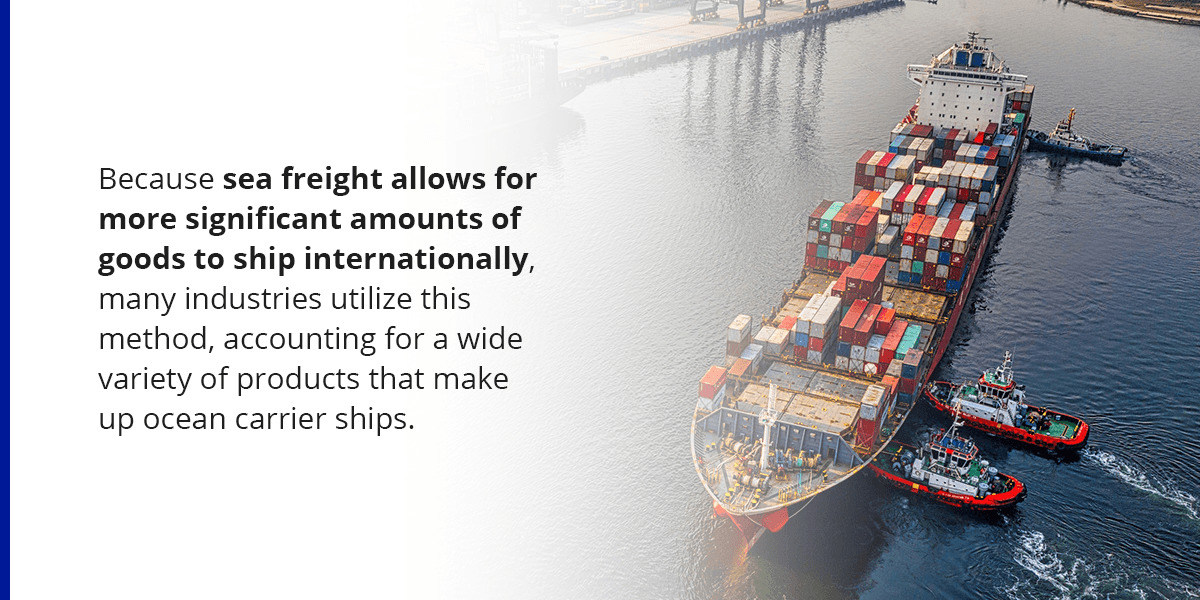 Relevant Industries for Sea Freight 
Because sea freight allows for more significant amounts of goods to ship internationally, many industries utilize this method, accounting for a wide variety of products that make up ocean carrier ships. Further, ships offer the capability to transport many different materials and forms of goods. Examples of industries that use sea freight transportation include: 
Oil and gas industry. 
Raw material producers, including coal and grain. 
Equipment and car companies. 
Cloth and clothing manufacturers. 
Ground Freight Shipping From the U.S. to Canada 
Also known as overland freight, ground freight shipping transports goods across solid land through trucks, shuttles and railroads. Trucking is an important American industry with more than 947,000 truck drivers employed in the U.S. in 2019. When needing to ship between bordering countries like the U.S. and Canada, overland freight offers a convenient service you can use to transport your products. 
Types of Overland Freight
Like sea freight, ground freight comes in a variety of sizes to choose the best option for your shipping needs. Full truckload (FTL) allows you to reserve the entire bay of a truck for your products. If you don't need so much space, ground freight is flexible and also offers less than truckload (LTL) options, where you only occupy a portion of the truck space and share the rest with other companies shipping their goods. 
While overland freight offers services that make them a suitable choice by themselves, you can also use them in tandem with other freight methods to best optimize your business and reach your consumer base with intermodal shipping. Pairing overland freight with another freight service can allow you to reap the benefits of more than one mode of transportation. 
Advantages of Ground Freight 
Overland freight shipping allows for you to reach a wide audience through a vast network of roads and railroads connecting different areas. Routes are easy to personalize to your shipping needs and can adjust to account for changes in weather or construction. Whereas air and ocean freight need ports, ground freight offers some freedom in your transport path. 
Road and rail transport also allows for you to reach more rural areas of your customer base, where road access might be the only way to reach them. You can make delivery convenient for them by bringing your goods closer to them than sea or air freight. 
Additionally, ground freight gives businesses the option to deliver right to the consumer's door or to a warehouse for further storage. Door-to-door gives your customers personalized care, while warehouses allow you to keep track of your products as you move them around. 
Because trucks and trains occupy the majority of overland freight, service can continue as expected under a variety of weather forecasts. While airports close during thunderstorms, you will experience few delays due to weather for overland shipping. 
Much of what makes overland freight a good choice is how trucks and trains come in a variety of sizes and styles to best accommodate your goods. In addition to choosing the size, trucks and train cars offer freezer or refrigerator services, making them ideal for food and pharmaceutical industries. 
Relevant Industries for Ground Freight 
Due to the flexibility of ground freight, several industries find using this mode of transport beneficial. Because it has the capacity to hold larger items and provide a more personalized shipping experience, both producers and their customers appreciate the services overland freight offers. The more popular industries that use ground freight include: 
Art production industry.
Food and produce shippers.
Furniture companies.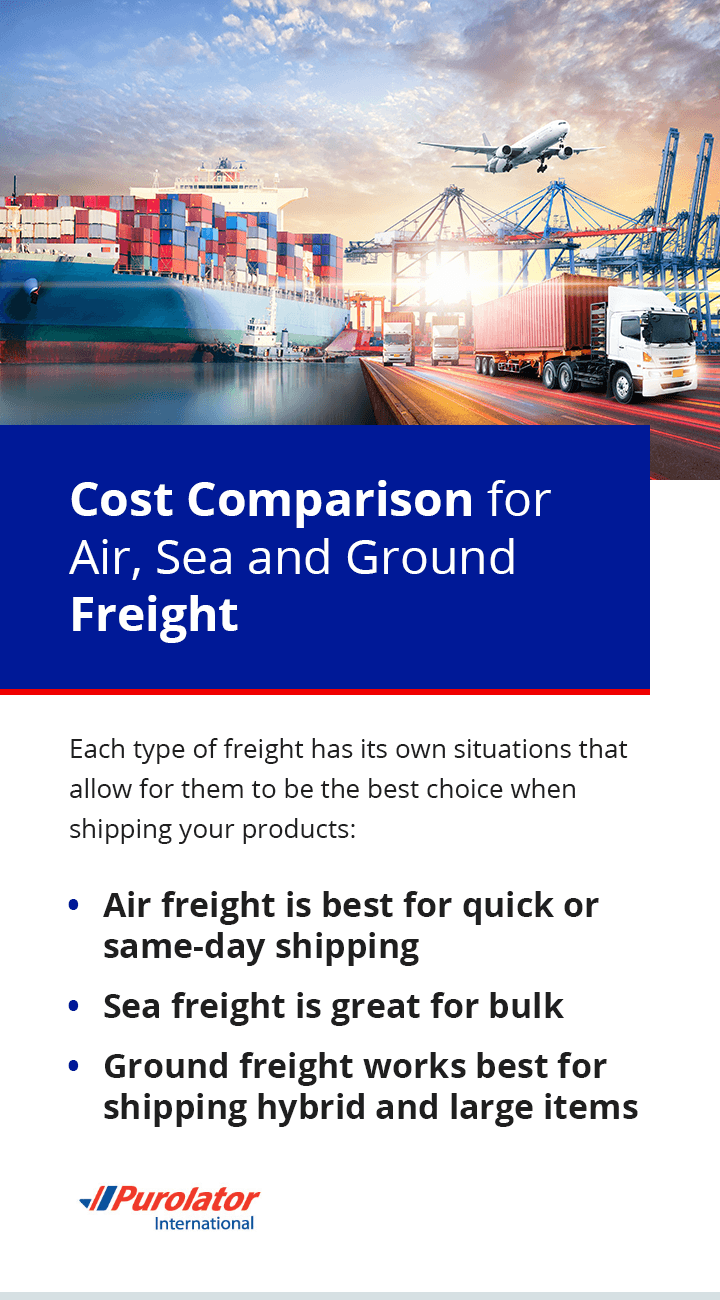 Cost Comparison for Air, Sea and Ground Freight 
How much does air freight cost? And how does it compare to sea and ground freight? As each freight method has its benefits, you can use the different shipping methods to obtain cost-effective transport of your products. Each type of freight has its own situations that allow for them to be the best choice when shipping your products: 
Air freight is best for quick or same-day shipping. Air freight does cost a bit more, but you are paying for fast services that will transport your goods rapidly from you to your customer. Further, charging consumers more for same-day shipping can help level the costs. 
Sea freight is great for bulk. Because of the large capacity of sea shipping containers, you can ship large quantities for the best price in comparison to the other methods. The amount of space your products occupy and your container method will determine the price. 
Ground freight works best for shipping hybrid and large items. With the flexibility between size and its ability to pair with other shipping methods, ground freight can function best for shipping larger items that are too big for planes but too small for ships. 
For both sea and ground freight, you pay depending on the amount of space you occupy. Full load prices tend to offer a flat rate that remains the same no matter how much you fill them, making them ideal for shipping bulk and for transporting items that need more space to ensure a safe delivery. Less than full loads have fluctuating prices determined by how much space in the container you occupy. If you have less to ship, this can be more cost-effective. 
Because of the efficiency and reliability of air freight, you can expect lower packaging and insurance costs. Air freight prices depend on the size and weight of the package, which has a higher importance to airlines because of their safety measures. Because of this, smaller items and packages that need quick and efficient shipping work best. 
Ship Your Goods From the U.S. to Canada With Purolator International 
No matter what shipping method you choose, Purolator International will handle all of the logistics. When you partner with Purolator International for shipping products from the U.S. to Canada, we use our extensive network of delivery routes to pair you with the best fit for your needs. 
Whether you need regular ground shipping to Canada or air deliveries, we have methods of reaching almost everywhere. With our personalized approach, we can arrange ferries and alternative shipping methods to ensure your products reach their destination. Our knowledge and understanding of Canadian law and policies will help make your journey across the border more efficient so that your goods can reach your customers quicker. 
When it comes to international shipping to Canada from the U.S., Purolator International will provide you with quality care at every step of the way. With our PuroTouch services, you can track your goods as they move towards their destination. Partner with Purolator International for quality care for your United States to Canada shipping.