What to Know Before Exporting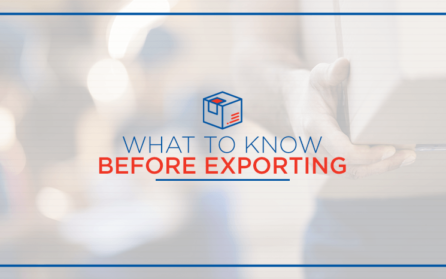 The possibility of international brand recognition and serving customers around the globe is exciting for most businesses. If you run a small business with a domestic supply chain, exporting could be new territory for you. You might be surprised to learn how many small businesses ship their products internationally. The barrier to entry isn't as hindering as you might think, especially when you export to countries that enjoy free trade with the U.S. Here's what you need to know before exporting products.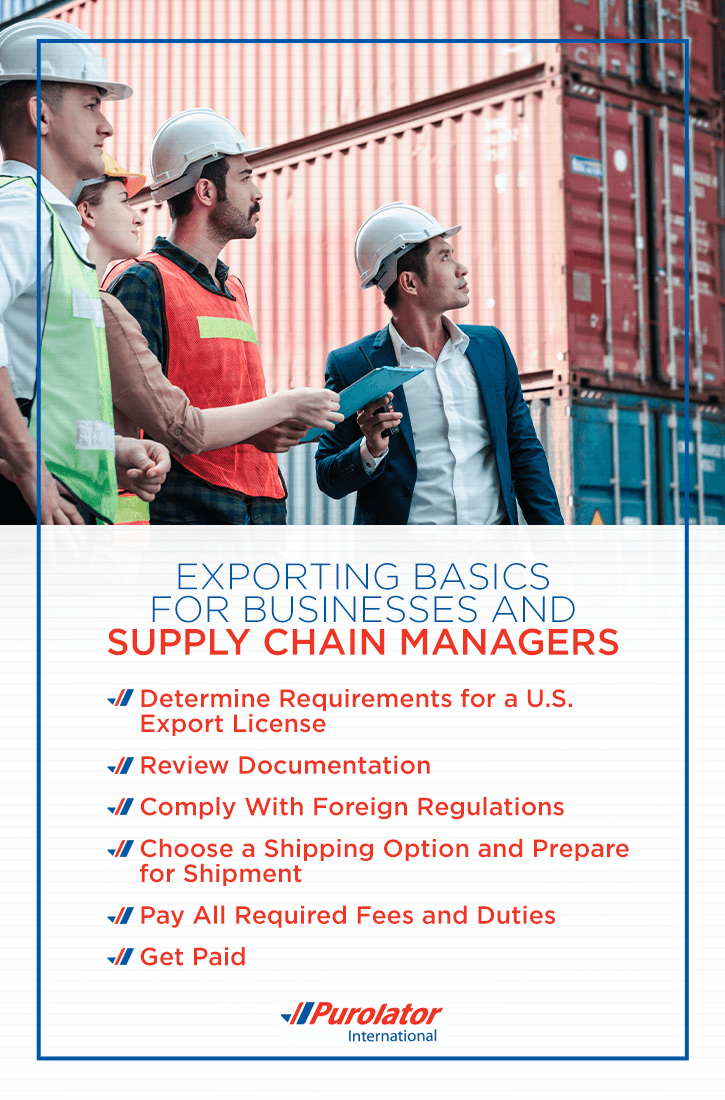 Exporting Basics for Businesses and Supply Chain Managers
What should you know about the U.S. export process? Exporting involves finding buyers and developing an international marketing strategy. It also involves many logistical concerns regarding U.S. export regulations and your chosen destination country's customs process. The logistical side of the export process breaks down into six steps:
1. Determine Requirements for a U.S. Export License
According to the International Trade Administration, about 95% of U.S. exports ship without an export license. While most businesses don't need a license, you might if you meet specific U.S. export requirements. It always falls on you, the exporter, to determine if your items require a permit.
Many government agencies have jurisdiction over various goods for export. For example, military goods need a license from the Directorate of Defense Trade Controls (DDTC). Most other export items fall under the jurisdiction of the Bureau of Industry and Security (BIS). They require licenses for items categorized on their Commerce Control List (CCL). All other items, usually low-tech consumer goods, are considered EAR99. While EAR99 items generally don't need an export license, they do when the items ship:
To an embargoed country.
To an end-user of concern.
To support a prohibited end-use.
If you need a license, the first step to getting an export license from BIS involves filling out an online application. How much does an export license cost? If you need a BIS license, you'll pay no fee when submitting your application. If your goods fall under the DDTC, you'll pay $2,250 per new license, and $2,750 per renewal or additional license up to 10. If you need more than 10, you'll pay an additional $250 for each one beyond your 10th.
2. Review Documentation
When you're exporting items, they must first clear U.S. Customs and customs in the country where they arrive. Although the documentation is reasonably standardized, requirements may vary by country. For example, let's look at the documents required when exporting products from the U.S. to Canada:
Canada Customs Invoice:

 

You'll usually need to provide a Canada Customs Invoice. They are required when your shipment is worth over 2,500 CAD or is not classified under the Harmonized Tariff schedule (HTUSA) Chapter 9810. Any shipment subject to duties and sales taxes also needs a Canada Customs Invoice. Otherwise, you'll need your proforma invoice or commercial invoice.
Customs declaration:

 

The customs declaration form will also list details about the goods. It serves as a record of the export and determines regulations associated with exportation.
Bill of lading:

 

As with domestic shipments, your shipment needs a bill of lading. It acts as a contract between you and the carrier shipping your goods. Your buyer will also need the bill of lading to assume ownership of the goods upon arrival.
Certification of origin:

 

A certificate of origin is necessary for free trade. Goods shipping between the U.S. and Canada need a United States-Mexico-Canada Agreement (USMCA) certificate of origin. While you once needed an official form, now, any document that includes the necessary information will work.
Packing list:

 

The list will include the seller, buyer, shipper, carrier, invoice number, date of shipment and transportation mode. Information about the products will also include quantities, descriptions, type and quantity of packages, dimensions and net and gross weight.
International sales contract:

 

When sales pass between buyers and sellers from different countries, their contracts must align with United Nations Conventions on Contract for the International Sale of Goods (CISG).
Export credit insurance (ECI):

 

To protect yourself in the international market, an ECI protects you as the exporter from buyer nonpayment.
3. Comply With Foreign Regulations
Just as the U.S. has regulations to export goods, other countries have requirements to import goods. You'll have to clear customs with all the required import documentation from the receiving country's side. Your product may need specific certifications or labeling to be eligible for legal sale in a foreign market.
4. Choose a Shipping Option and Prepare for Shipment
As an exporter, you'll arrange transportation through a carrier. Not all carriers have the resources and certifications to handle customs and international shipping, so you'll need an experienced freight forwarder. They manage all your carrier partnerships to ensure you get the best shipping rates for your destination. They can even act as your customs broker to streamline border crossings. Look for a freight forwarder licensed with the government to handle the U.S. customs clearance process.
When you're ready to ship your goods, ensure you use the right packaging. Some package materials are regulated or restricted by some countries. You need your items to stay secure and protected throughout their journey.
While preparing for shipment, review the appropriate Incoterms with the parties involved. The International Chamber of Commerce determines which parties are responsible for various parts of the export process, including fees and documentation. Create a written agreement with your buyer that defines responsibilities in line with Incoterms 2020.
5. Pay All Required Fees and Duties
When exporting goods, you'll need to pay the required duties, taxes and insurance bonds. New exporters should consider working with countries with free trade agreements to enjoy lower tariff fees. The receiving government will set the required duties and tariffs and collect them at the foreign port. Most countries have a publicly available tariff schedule you can use to understand your obligations. Your freight forwarder can assist you here, too.
6. Get Paid
Perhaps the most crucial aspect of exporting is how you get paid for your goods. You may either ask for pre-payment from your buyer or negotiate terms. It's a good idea to perform a background check and ask for bank references from your buyer before shipping your goods.
You'll need an international banking partner to facilitate the transaction. A trustworthy international banking institution can help you choose the best payment method. Typical options include
Consignment
Open account
Letters of credit
Cash-in-advance
Documentary collections
How to Begin Exporting Successfully: Develop an Export Strategy
A written export plan is essential when expanding your business globally. Before you begin exporting, assess your company's export readiness and flesh out your strategy. A comprehensive plan will cover:
Market research:

 

Shipping to a foreign market is a big decision. When sending products abroad, you'll notice many changes. The first step to successful exporting is understanding the market you're shipping to. Determine if the demand for your product is the same in the foreign market. Understand what cultural differences you may need to account for in marketing. Can the local economy support your product, or is the market already saturated?

Prepare for a new market:

 

Learn if your product is subject to any industry regulations, registrations or licenses

. 

Certain products, especially food and cosmetics, need government approval to ensure they meet safety standards

. 

Once you're sure you can find business success in your chosen market, you can start searching for buyers

.

Choose a route to market:

 Some businesses can export their products directly to consumers. This is one possible route if you focus on e-commerce in your local market. Often, when you enter a foreign market, you need help from a local business in some capacity. For example, wholesalers and distributors who don't manufacture their own goods may want to use you as a supplier. Another option is to create a joint venture with a local company in your industry. You can find buyers at trade shows and through government-sponsored business matchmaking services.

Understand cost estimates and profit margins:

 

Determine a pricing system that makes sense in your new market. Your products will likely sell for higher than domestically produced items because your price will account for duties, taxes and shipping. You'll also have to account for your marketing budget in the local area.
Find financing and resources:

 

You may need funding for your first exportation endeavors. You might find these from your local bank, the government or private lenders. You might also look for help finding buyers, legal advice and freight forwarding partners.
Pros and Cons of Exporting Goods for Your Business
Exporting your products is good for business and good for the economy as a whole. You can enjoy many benefits that lead to growth and success for your company. While you'll undoubtedly have to leap some hurdles, many resources can help you overcome them.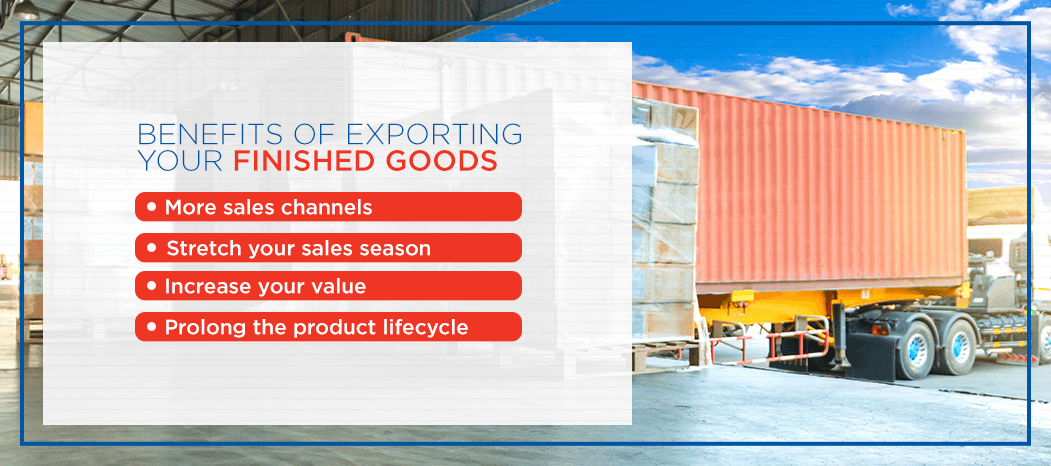 Benefits of Exporting Your Finished Goods
In a globalized world, many businesses choose to expand into foreign markets. One study of exporters revealed 60% of small businesses and 44% of medium companies derive 20% of their annual sales from exports.
More sales channels:

 

The key to expanding your business is finding new buyers. If your domestic market is saturated, you can find new customers through foreign expansion.
Stretch your sales season:

 

If you sell seasonal products, such as winter hats, you have a limited window for sales opportunities in the U.S. One way to boost sales in your shoulder seasons is to sell to countries in different climates. Exporting products to Canada could help your business extend its yearly sales cycle by a few weeks or months. It can also give you more security. If the U.S. has a particularly mild winter, you might still be able to count on Canadian customers.
Increase your value:

 

A company with buyers all over the world has more value. Whether you're hoping to license your product or sell your company, exportation can raise your brand's value.
Prolong the product lifecycle:

 

If a product is ending its lifecycle in your own market, it's not the end of the line yet. A foreign market where the product is still emerging can allow you to extend its life.
Cons of Exporting Your Finished Goods
Exporting goods brings many new challenges. You'll contend with duties, tariffs and international differences. Knowing all the points to consider before exporting and developing a thorough plan can help you account for issues such as:
Competition:

 

Your goods will likely be priced higher than your local competitors' due to shipping costs and tariffs. Also, some consumers will have a natural preference for locally produced goods. It's helpful to partner with local retailers or distributors to introduce products to those markets.
Product modification:

 

From printing labels in new languages to creating packaging with new measurements, it can be costly to reproduce a product for foreign consumption. Other countries have different restrictions, such as banned ingredients or materials. You must meet the safety and security requirements before exporting your products.
More complex logistics:

 

Cross-border shipping is more complicated than domestic transportation. There are more documents and fees to manage. Parsing through international codes and all the regulations for your origin and destination is an added headache. Smooth the process by working with an experienced freight forwarder.
Cultural and Economic Factors to Consider When Exporting Goods
Navigating a foreign country and economy adds new challenges for your business. Whenever you partner with businesses in other countries or market to foreign consumers, consider these factors:
Provincial regulations:

 

This consideration is especially important when exporting to Canada, and is often unfamiliar to U.S. businesses. In Canada, the regulations on your goods can change from province to province. Research and comply with the specific rules in your products' destination, wherever you plan to sell them.
Language barriers:

 

When you partner with a local business as part of your global expansion, you need constant contact. Language barriers and differences in communication styles can cause bumps in the road. Before entering a foreign market, ensure you have a plan for handling communications. Study your target market's culture carefully. In addition to communicating with your partner, marketing your product requires local language skills. For example, in Canada, most products must have bilingual labeling in both French and English.
Currency differences: Regardless of the economy, exchange rates are always going up and down. When you sell to a foreign buyer, you do so at a fixed price. How much you receive in U.S. dollars depends on the exact moment your buyer submits payment. As the foreign currency gains strength, you earn less. As it weakens, you make more. The best way to compensate for currency loss is to time selling periods with the local economy.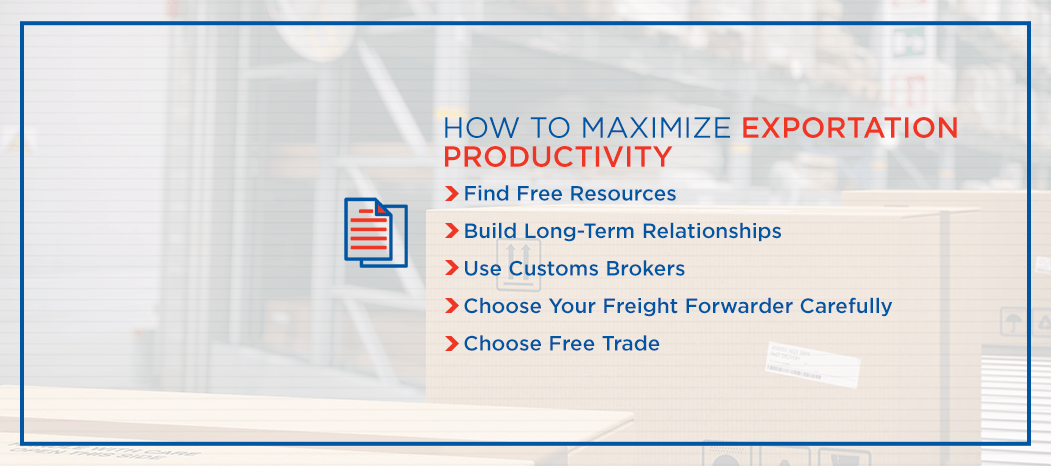 How to Maximize Exportation Productivity
When you export goods, you and your buyer agree on a delivery date. Delays in the exportation process impact your ability to follow through. Long delays are unacceptable and can limit your ability to attract new customers. Expanding your business to new markets and exporting goods offers many benefits. Understanding how to successfully export goods to maximize productivity can help grow your business.
1. Find Free Resources
Exporting is good for the U.S. economy. The government offers many resources to help small-to-medium enterprises (SMEs) expand into foreign markets. Your target country may also provide support to encourage foreign business activity.
The U.S. government offers free market research you can use to plan your market entry. It also provides buyer matchmaking services to help you find customers. The Small Business Administration (SBA) can help you find financing. Contact your local U.S Department of Commerce to speak with an international trade expert who can provide you with in-depth export counseling and connect you with other resources, including U.S. embassies in foreign countries.
2. Build Long-Term Relationships
Businesses that export most successfully have a long-term export strategy and regular buyers. When you export regularly rather than case-by-case, you can do so more efficiently. When you find key partnerships, work to develop a lasting relationship. Study cultural differences to avoid offending your partners and foster a fruitful relationship.
3. Use Customs Brokers
Navigating customs is complicated. You need to classify your products correctly to avoid penalties and keep meticulous documentation. You or your importer needs someone on-site to submit documents and collect cleared goods from customs. A customs broker can handle this process for you. Purolator International has customs brokers on-site at the U.S.-Canadian border ready to assist you.
4. Choose Your Freight Forwarder Carefully
Some freight forwarders handle carrier and transportation logistics alone. Others can act as a strategic partner for your business, taking care of your end-to-end shipping needs so you don't miss a beat.
Purolator International has a strong presence in both the U.S. and Canada. We're experts at getting your products to any Canadian address in the country. We can arrange transportation from your business to the border, guide your shipment through customs and make sure a carrier is there on the Canadian side to pick up and deliver your products.
5. Choose Free Trade
If you're new to exporting, the easiest way to begin is in countries with free trade agreements. There's a lower barrier to entry thanks to lower tariffs and a smoother export process in general. A prominent free trade agreement in our area is the USMCA, called CUSMA in Canada. This agreement, which replaced the North American Free Trade Agreement (NAFTA), removes trade barriers between Mexico, North America and Canada. USMCA/CUSMA went into effect in July 2020.
Thanks to USMCA/CUSMA regulations, it's even easier to prepare and submit documentation. It removes most tariffs on trade between the U.S., Mexico and Canada. The reduced burden on exporters and importers makes it easier for businesses to strike international deals.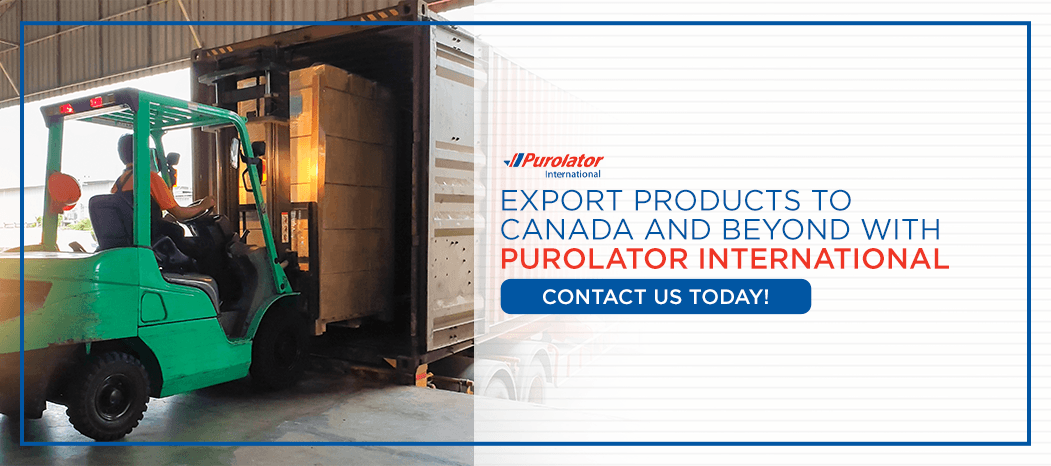 Export Products to Canada and Beyond With Purolator International
At Purolator International, we pride ourselves on being your border-crossing specialists. As a trusted freight forwarder for U.S. businesses exporting to Canada, we can take care of your end-to-end shipping. Our customs brokers and carrier management services can get your products to your Canadian buyers expeditiously. Our extensive carrier network can get your shipment to even the most remote parts of Canada by air, sea or ground.
To simplify your export logistics, contact Purolator International today and let us organize your cross-border shipments.