What You Need to Know About Retail Supply Chain Management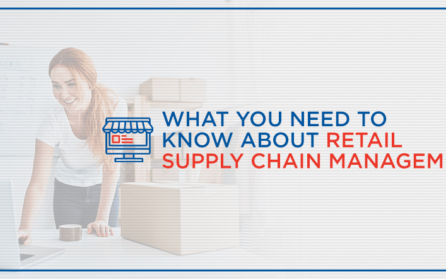 In the retail industry, providing quality customer service is one of the quintessential goals. Offering that professional service generally starts long before the customer makes an in-store purchase or receives an ordered item at home. It involves the entire chain of product creation and transport, from manufacturing to demand forecasting to inventory management to shipping. Supply chain management helps retail companies ensure effective inventory control and timely and accurate product delivery.
What are some of the most important things to know about retail supply chain management? And how can businesses leverage this knowledge and incorporate concrete industry strategies to improve their operations? The guide below will discuss how retail supply chain management works and describe some best practices for how to manage supply chain operations in the retail industry.
Why Is Supply Chain Management Crucial in the Retail Industry?
Effective management of the retail supply chain is essential. It provides capabilities like: 
Ensuring access to the products businesses need to ship at the time they need to ship them. 
Providing a framework for setting goals, boosting productivity and increasing teamwork.
Developing practical protocols for inventory management and order fulfillment.
Offering concrete and actionable methods companies can use to evaluate their procedures.
Ensuring quality service and customer satisfaction.
Without an advanced supply chain management structure, a company can experience an array of difficulties:
Disorganized employees: Without the proper supply chain management structures, employees may not have a clear idea of what your company expects from them. They may lack clear deadlines or struggle to get shipments packed and sent out quickly and efficiently. The absence of clear goals can also lead to downturns in engagement and motivation, which may lead to further declines in productivity. 
Fulfillment issues: The absence of a reliable supply chain management structure often leads to fulfillment issues. Without a comprehensive system for processing and tracking orders, a company will likely experience difficulties with timely and accurate fulfillment. Some orders may get lost in a large, disorganized warehouse. Or employees might grab the wrong items or forget a certain product on a busy day and have no checks to guard against errors.
Shipping delays: Fulfillment issues often come in the form of shipping delays. Items might sit for days in the warehouse because employees can't track or expedite the fulfillment process. If customers expect their items within a specific time frame, the delays associated with poor supply chain management can leave them frustrated and confused. 
Customs delays: Customs delays are also common if a company doesn't have a dependable supply chain management structure. Without an overarching system to coordinate orders, shipments may show up at customs in 20 different packages rather than as one more manageable order. This disarray can lead to extended processing times and delays.
Overall customer dissatisfaction: All the issues above add up to low customer satisfaction rates. Customers who receive partial, incorrect or delayed orders will feel inconvenienced and unhappy. They may become less loyal to your business — either shopping less frequently or turning to companies that can better meet their needs. 
Revenue loss: Unhappy customers tend to mean fewer profits. If your clients stop placing orders, you'll end up with warehouses full of products you can't sell. That means you'll have no way to recoup the money you spend on making, handling, storing and transporting the inventory. Your profits will be lower, and you'll have less money to invest in future improvements.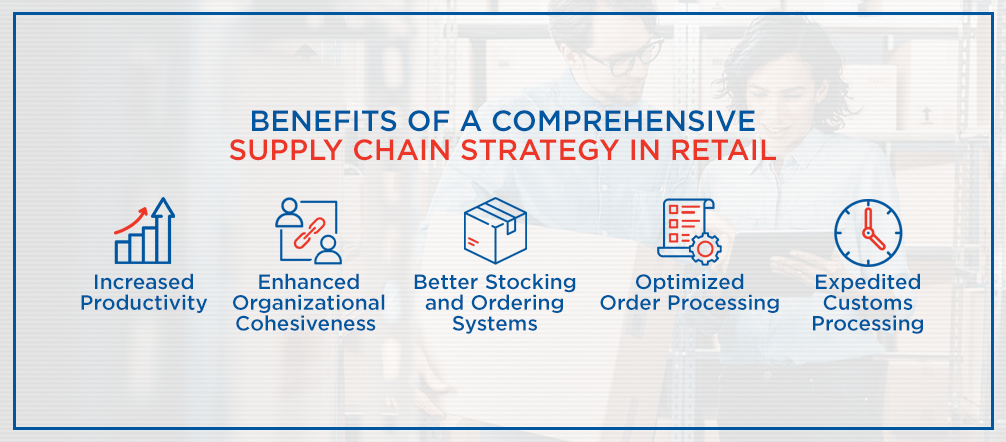 Benefits of a Comprehensive Supply Chain Strategy in Retail
A robust supply chain strategy provides a slew of advantages for any retail business looking to bolster its standing in a competitive market. Below are some of the benefits of supply chain management in the retail industry:
1. Increased Productivity
A comprehensive supply chain management strategy makes employees more productive and efficient. Without effective management, clear goals and the tools to accomplish them, employees often flounder. They may not have the physical or digital infrastructure they need to manage their workloads effectively. So they may not be able to ensure correct and timely order fulfillment. 
A thorough supply chain management strategy gives employees clearer goals and the tools they need to achieve them. It helps them spend less time figuring out what to do and more time getting customers the retail products they're waiting for.
2. Enhanced Organizational Cohesiveness 
A comprehensive supply chain strategy also gets everyone on the same page. It promotes cohesion, unity and a sense of purpose in your business. Without a defined strategy, your company is likely to see some employees prioritizing certain aspects of the work while others devalue those goals and set their sights on other accomplishments. Supply chain management policies and infrastructure get everyone working together by providing a reliable framework through which employees can view and perform their jobs. 
3. Better Stocking and Ordering Systems
Optimal supply chain management can streamline your stocking and ordering systems. For instance, say your management strategy embraces new software and platforms to make tracking your inventory more straightforward. Then, your employees will be able to tell at a glance what items you have in stock and when you'll need to order more to avoid running out. 
Or say you use a new modeling tool to forecast future orders and better predict the inventory you'll need. In that case, your orders will rely less on guesswork and more on dependable data. You'll be confident you can keep your stock high while avoiding unwanted surpluses. 
4. Optimized Order Processing
Effective supply chain management often means implementing advanced order processing methodologies. These techniques streamline communications between manufacturer and supplier and reduce processing times and costs. The consulting company McKinsey estimates retailers that take on the responsibility of developing supply chain management strategies can increase their warehouse throughput by up to 40%. 
If your supply chain management also focuses on reliable transportation that takes the quickest routes from point to point, you'll gain the peace of mind of knowing you're optimizing your transit strategy for the greatest efficiency and shortest fulfillment times. 
5. Expedited Customs Processing
Orders that arrive at customs in well-managed, compact shipments will receive more efficient processing. They may be less likely to encounter bureaucratic holdups and have a better chance of reaching your customers on or before the expected delivery date. Consequently, your customers will likely value your service more highly.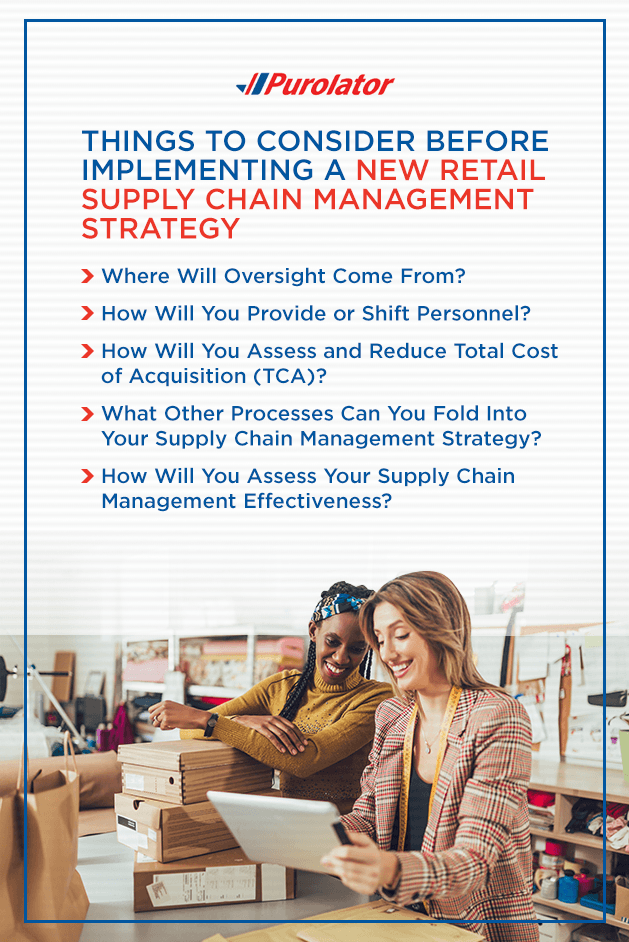 Things to Consider Before Implementing a New Retail Supply Chain Management Strategy
Before implementing a new supply chain management strategy, you'll need to ask yourself a few questions about its logistics.
1. Where Will Oversight Come From?
Management implies effective oversight. If you don't already have strong leadership governing your retail supply chain, you'll need to put some in place. Creating oversight is likely to mean designating a specific team to develop and implement strategies and track their performance. 
2. How Will You Provide or Shift Personnel?
A supply chain management strategy needs a core team of personnel to drive it. How will you put that team in place? Will you hire and train additional staff members to provide support? Will you integrate any new requirements into your existing team's workflow? Will you have software that can automate certain operations so your dedicated support staff can focus on the essential on-the-ground labor? Knowing what kind of personnel changes, if any, you will need to make can help you hit the ground running with your new strategies. 
3. How Will You Assess and Reduce Total Cost of Acquisition (TCA)? 
Companies sometimes assume the cost of providing retail goods is equal to the cost of making them. However, manufacturing costs often account for only a small fraction of the total cost of managing the items. Many different expenses contribute to the overall cost of producing and selling each item — including warehousing costs, order processing costs, employee wages, transportation fees and any other charges you incur in getting your goods to your customers. 
Other factors like product life cycles and order minimums also contribute. You'll need to take all these expenses into account to create a realistic supply chain management strategy. 
4. What Other Processes Can You Fold Into Your Supply Chain Management Strategy?
If your retail supply chain management processes are robust and reliable, one of their great strengths is their flexibility. They'll expand to accommodate many existing tasks and make them more efficient and manageable. So it's a good idea to take a look at your processes and think about what would benefit from more rigorous management strategies. 
Contract management, for instance, is an integral element of the retail industry. You can make the process easier by making it part of your overall supply chain management strategy. Once you finish establishing contracts with suppliers, you likely store them in folders somewhere and never look at them again. A better strategy would be to keep your contracts in a central location and review them frequently to make sure both parties are adhering to their terms. If your overarching supply chain management strategy includes a periodic contract review, you'll be in a better position to ensure your partnerships are meeting your business needs. 
5. How Will You Assess Your Supply Chain Management Effectiveness?
Once you have your supply chain management strategy in place, you'll need to know how to evaluate its success. For example, do you want to decrease your fulfillment times by 10%? Do you want to reduce the total cost of acquisition? Or do you want to focus on broader goals like organizational productivity? What metrics will you use? Figuring out ahead of time what achievements you want to prioritize can help you measure success.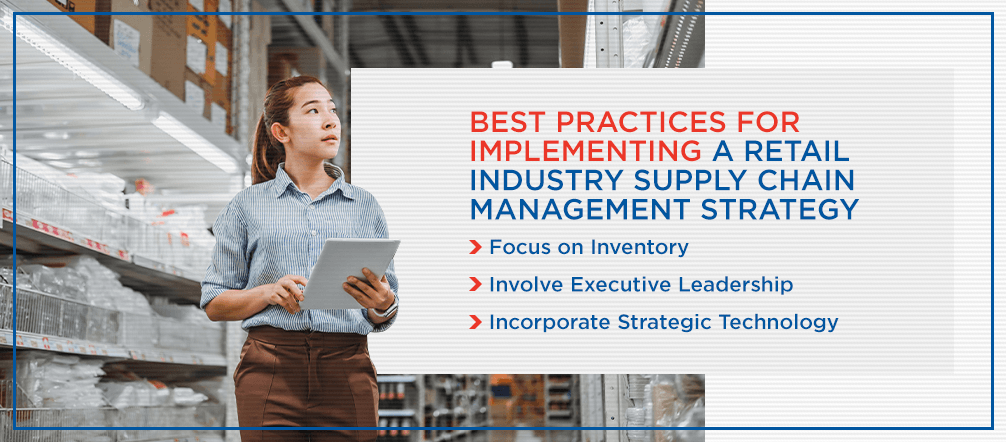 Best Practices for Implementing a Retail Industry Supply Chain Management Strategy
When you're developing and using a new strategy, it's important for the rollout to go smoothly so you can continue to provide excellent services for your customers. It's also essential to make the transition a positive one for your employees — that way, they'll understand the benefits of the new methods and become invested in using them. Below are a few best practices to follow as you implement a new retail supply chain management strategy. 
1. Focus on Inventory
Your retail inventory is the centerpiece around which all your operations revolve. Too little, and you'll cause your customers unnecessary frustrations if the products they need are out of stock. Too much, and you'll lose money because your shelves will be full of dormant or obsolete inventory. In fact, supply chain management can decrease markdowns 10% to 15% by handling inventory so precisely it doesn't require price cuts to sell. 
So how can you use retail supply chain management to optimize your inventory levels? Arrange your new management strategies to focus on demand planning and forecasting. You can also put monitoring and reordering systems in place so you'll know you have the right inventory levels for your business needs and can correct course if necessary.
2. Involve Executive Leadership
Giving your leaders clear roles in supply chain management provides a reliable anchor for your new strategies. For instance, you might designate someone from each of your departments to form part of your supply chain management oversight team. These people can work together to put clear protocols and guidelines in place. They can also ensure consistent communication across departments and down the management chain. 
3. Incorporate Strategic Technology
Retail supply chain management is a complicated business. You can simplify it by investing in technological platforms that streamline your processes. Over the past decade, the value of the global market for supply chain management software increased by almost 2 1/2 times its original value, so it's clear that platforms like these are becoming indispensable in the industry. 
The right supply chain management software can make your employees' lives easier. It helps integrate payments, saves you time and allows you to boost your performance to keep customers happy.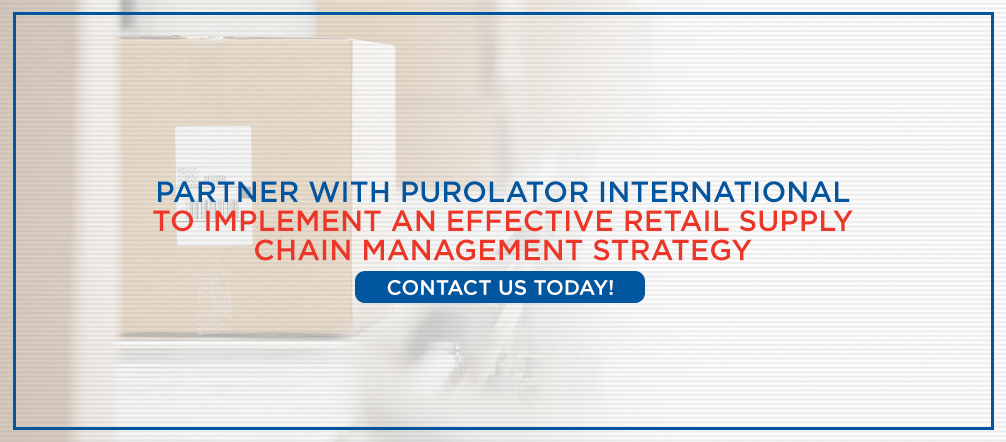 Partner With Purolator International to Implement an Effective Retail Supply Chain Management Strategy
To see the benefits of boosting your retail supply chain strategy by improving your transportation services, work with Purolator International. As a logistics solutions provider, Purolator International offers convenient, timely shipping services to more than 220 countries, focusing primarily on transit between Canada and the United States. Our Canadian roots and focus on cross-border shipping give us an ideal industry position to help retail businesses find practical, reliable solutions for their international transportation needs. 
We have more than 20 years of experience shipping goods from the United States to Canada and the number one air and ground distribution network in Canada. We're more than happy to tailor our approach to our customers' unique requirements in the fashion and apparel or eCommerce businesses. Our teams can build a custom logistics solution using the optimal shipping routes from within our extensive distribution network. 
We offer express, freight and parcel shipping with three levels of fast delivery speeds, and we handle your shipments with care so they'll arrive in the same excellent condition they started in. Our competitive pricing allows you to make strategic budget choices with your logistical support. Our extensive experience with customs brokerage also gives us an advantage in getting products across the border. We use consolidation services, or assembled distribution, to consolidate shipments and save time and money. 
Contact us today to schedule shipments and get started with better retail supply chain management.