What You Need to Know About eCommerce Supply Chain Management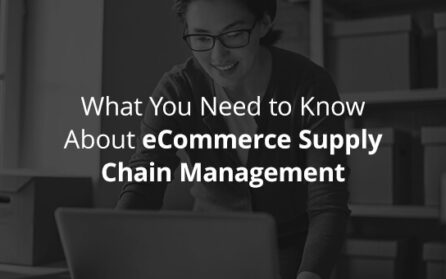 To succeed as an eCommerce merchant or manager, you need more than an amazing website and a large product catalog. You need a system that enables you to get your products to your customers as ordered, in record time and at minimal cost, without compromising quality or integrity. This is where eCommerce supply chain management (SCM) comes in.
Due to the mass movement of physical stores and manufacturers online, eCommerce has become a very competitive landscape. To thrive, you need to meet your customers' ever-changing expectations while remaining profitable.
Your customers now have more buying options and alternatives than ever before. You need an established, proactive and effective supply chain management strategy to set your eCommerce brand apart, retain a sizable portion of your market, increase profitability and improve the customer experience.
These days, 56% of young consumers and 80% of all shoppers expect same-day delivery for their online purchases. You can't meet these expectations without a fail-proof and advanced supply chain system that ensures you have the needed inventory and logistics.
This article covers the things to know about eCommerce supply chain management, including how it works, its benefits, how to optimize your eCommerce supply chain strategy, and eCommerce supply chain management best practices.
What Is eCommerce Supply Chain Management?
eCommerce supply chain management includes managing the flow of information, resources and funds among the different entities and stages of the eCommerce supply chain, from the supply of raw materials to the delivery of finished products to the buyer.
The entities in the supply chain include the suppliers, producers, vendors, warehouses, logistics and transportation companies, distribution and fulfillment centers and the end buyer. Each entity controls a particular link in the supply chain and contributes to your overall success or failure in meeting your customers' expectations.
So how do you manage supply chain operations in the eCommerce industry?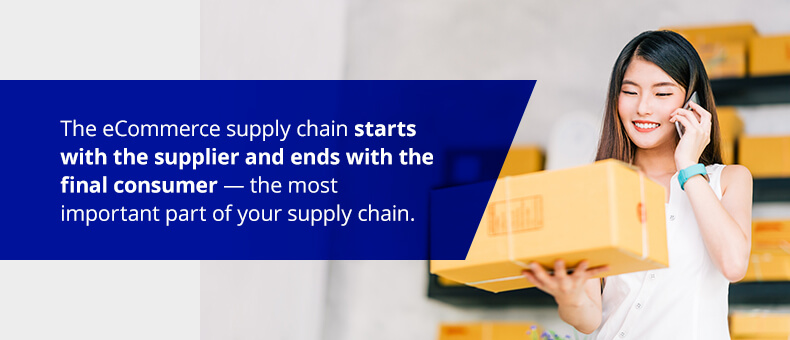 How eCommerce Supply Chain Management Works
The eCommerce supply chain starts with the supplier and ends with the final consumer — the most important part of your supply chain.
Here's how the eCommerce supply chain works. Along the value chain, product flows from the supplier to the end consumer. Cash flows from the end consumer to the supplier, and information flows in both directions. The manufacturer converts the raw materials from the supplier to the finished product, which is transported to the warehouse, fulfillment centers and finally to the end consumer who placed an order.
Supply chain management systems have evolved from manual and traditional SCM systems to integrated systems using enterprise resource planning (ERP) software solutions and artificial intelligence to improve efficiency and speed at every stage of the supply chain.
The Five Stages of eCommerce Supply Chain Management
There are five stages in eCommerce supply chain management.
Planning: In the planning stage, you collect data on your supply chain to determine the inventory needed to meet your customers' and market demands.
Sourcing: In this stage, you search for vendors, suppliers and manufacturers that can provide the inventory needed to meet your customers' demands.
Making: This stage involves converting raw materials into finished products then testing, packaging and storing them for delivery to the end customers.
Delivering: This stage is also called logistics. It involves every form of movement of goods along the chain to the end consumer.
Handling returns: Also known as reverse logistics, this stage involves processing returned goods from your customers and returning defective and expired products from your warehouse to your supplier.
Each stage of the supply chain management system contributes to the overall efficiency of the supply chain. An improvement or dysfunction in one stage ripples through the entire chain.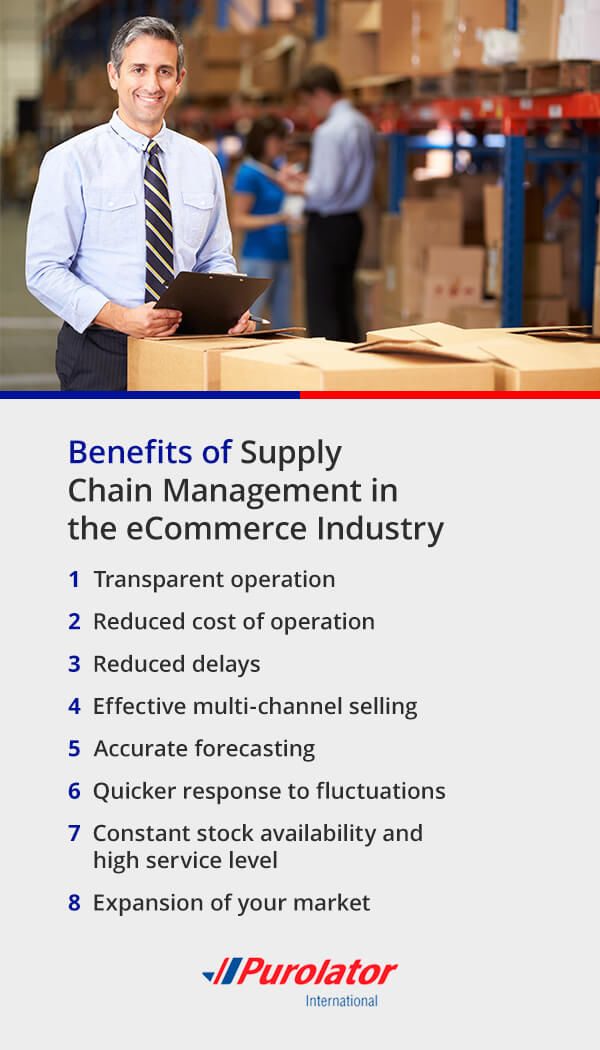 Benefits of Supply Chain Management in the eCommerce Industry
Here are eight benefits for optimizing your supply chain management system:
Transparent operation:An optimized SCM system provides visibility and real-time data on your entire supply chain, making it easy to identify the cracks and bottlenecks in your supply chain.
Reduced cost of operation: An efficient SCM system ensures the accurate product gets to your customers. This reduces the cost incurred in processing returns and the loss of sales that it may lead to.
Reduced delays: Especially in logistics, an efficient supply chain system ensures strategic positioning of vendors and warehouses to provide quick response and delivery to your customers. This increases your customers' trust and satisfaction in your brand and leads to more revenue for your business.
Effective multi-channel selling: With visibility into your supply chain, you can sell to customers where they already are and effectively combine different vendors, warehouses and fulfillment centers.
Accurate forecasting: Transparency provides real-time data on your customers' needs, your warehouse's capacity, product life cycles and the capacity of your logistics. This data enables more accurate forecasting of your customers' demands so you can proactively procure the inventory needed to meet these demands. Without loss of revenue due to understocking or wastage due to overstocking. A phenomenon called the bullwhip effect.
Quicker response to fluctuations: Efficient supply chain management establishes a clear line of communication between entities in the supply chain. This transparent communication between vendors, manufacturers, dealers, producers and suppliers enables proactive responses to fluctuations and changes in demand.
Constant stock availability and high service level: An effective eCommerce supply chain ensures you always have the inventory to meet your customers' demands and maintain a high service level.
Expansion of your market: A well-established SCM system makes entering into a new market seamless and easy.
On the flip side, the absence of an established eCommerce supply chain system presents a lot of challenges to your business. For example, the lack of visibility, clear communication and accurate forecasting can lead to a loss in revenue, reduced customer satisfaction due to delayed or inaccurate fulfillment of orders, unavailability of inventory to meet increasing customer demands and inefficient multi-channel selling and order fulfillment.
How can you design an efficient supply chain management system for your eCommerce business? Here are 10 questions you should ask to start with.
10 Questions to Help You Design an Efficient eCommerce Supply Chain
Your eCommerce business needs a supply chain customized for your specific business and customer needs. Your answers to these questions can help you design the perfect supply chain management system for your eCommerce business.
Where in your supply chain can you spend less on labor?
How can you optimize inventory control to ensure you always have products to fulfill your customers' orders?
What can you do to cut down the delivery time and cost?
How can you optimize your inventory to reduce warehouse backorders and improve your warehouse capacity to store more products?
Do you manufacture or resell products?
How will you manage inventory?
Will you get involved in packaging and shipping and how much control will you have over these processes?
What volume of product can you handle?
What is the shelf life of your products?
Is the product demand curve going up, plateauing or declining?
Your answers to these questions can help you determine which stage of your supply chain system you can improve.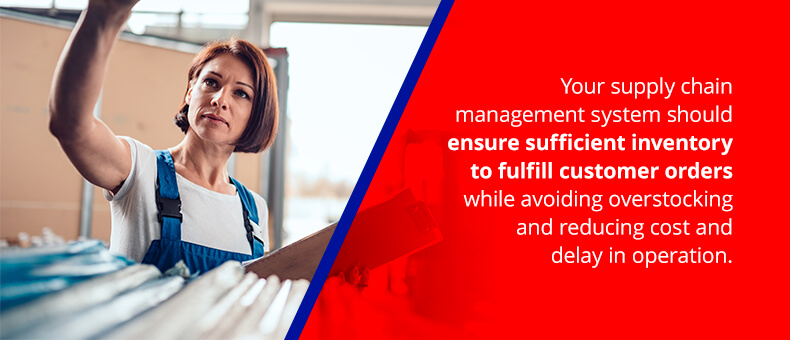 How to Optimize Your eCommerce Supply Chain
Your supply chain management system should ensure sufficient inventory to fulfill customer orders while avoiding overstocking and reducing cost and delay in operation.
Here are four strategies to optimize your eCommerce supply chain management.
1. Assess the Current State of Your Supply Chain
Audit your supply chain to understand the current state of product, information and cash flow. Also, look for inefficiencies in your processes, operations and spending. The best place to start is your suppliers and fulfillment centers.
2. Track the Right Things
Key performance indicators (KPIs) provide a lot of insight into your supply chain's performance. Here are five KPIs you should track for your supply chain:
Fill rate: Your supply chain fill rate represents the percentage of your customers' orders that you can meet through your available stock, without back orders or losing the sale. This KPI helps you understand how to place orders to ensure you always have inventory without waste. To calculate your supply chain fill rate, divide the total number of customer orders shipped in full by the number of customer orders placed, and multiply by 100.
Inventory turnover: This metric is how many times you sold your complete inventory in a specific time period. Inventory turnover reflects your supply chain's efficiency. Low turnover means poor inventory management and lost sales to defecting customers. To calculate inventory turnover, divide the cost of goods sold by average inventory.
Supply chain cycle time:This shows how long it will take to fulfill an order at zero inventory. It represents the true speed of your supply chain, and how flexible you are to change. To calculate supply chain cycle time, add up the longest lead time in each stage of the supply chain cycle.
Cash-to-cash time: C2C time depicts the time it takes for you to send cash to your suppliers and the time it takes for customers to send money to you.
Perfect order index: Perfect order index represents the overall performance of your supply chain. Calculate the perfect order index by multiplying the percentage of orders delivered on time by the percentage of orders complete by the percentage of orders that are damage-free by the percentage of orders with accurate documentation by 100.
Create strategies to improve each KPI. For example, a low perfect order index indicates low customer satisfaction. Reducing order delivery time can increase your perfect order index and improve your customers' experience.
3. Create a Strategy of Action
From your assessment, draw out strategies to improve each KPI and reduce labor and logistics costs while maintaining customer satisfaction. Here are seven supply chain optimization strategies you can implement:
Build for your customers: Understand your customers' behavior and provide inventory that will meet their needs while avoiding overstocking your warehouse. You can do this through surveys, watching what your competitors are offering, A/B testing and studying your sales trends.
Establish complete supply chain visibility: Use barcodes to keep proper inventory across your warehouse. Integrate your inventory management system with your order and supply management system to have complete insight on inbound and outbound logistics.
Forecast market behavior accurately: Combine the right software forecasting tools and proper communication along the supply chain to predict customer demand.
Make your inbound and outbound supply chain more efficient: Reduce cost and delay in your inbound and outbound supply chain.
Use drop-shipping: Outsource inventory and order fulfillment to a third-party wholesaler or manufacturer. This frees you from the hassles of inventory management, delivery and reverse logistics and helps you focus on finding the right partners to deliver the best experience to your customers.
Create room for flexibility: Build an SCM system that enables easy and quick response and adaptation to changes in your market.
4. Use the Right Software Tools
Invest in the best ERP and inventory management software to automate bulky and repetitive processing in inventory and warehouse management and logistics. This will increase your efficiency and speed of delivery as well as reduce waste.
eCommerce Industry Supply Chain Management Best Practices
Here are eight supply chain management best practices to build an effective eCommerce supply chain management system that ensures customer satisfaction and profitability.
Integrate software tools: ERP software enables better inventory management and tracking. As well as more accurate and reliable forecasting.
Establish open communication: Enable easy communication among entities in your supply chain. This provides the transparency and real-time data needed to make accurate decisions.
Respond quickly: Always respond quickly to your customers' needs and changes in the market. Make certain your SCM system ensures the quickest and fastest shipping and delivery time.
Set clear ground rules: Set clear expectations and rules between you and your vendors and manufacturers.
Increase the capacity of your existing warehouse: Optimize the space in your warehouse to store more products.
Implement barcode technology: Barcodes provide clear insight into the when, where and who of your products, increasing your paperwork accuracy and reducing processing time and cost.
Act proactively and stay flexible: Remain proactive, dynamic and flexible to changing customer expectations and demand in your market.
Partner with a reliable logistics company: Partnering with a reliable logistics company with a wide delivery network cuts down on your last-mile delivery time, ensures products get to your customers in time and shape and lets you focus on other aspects of your business like marketing and product development.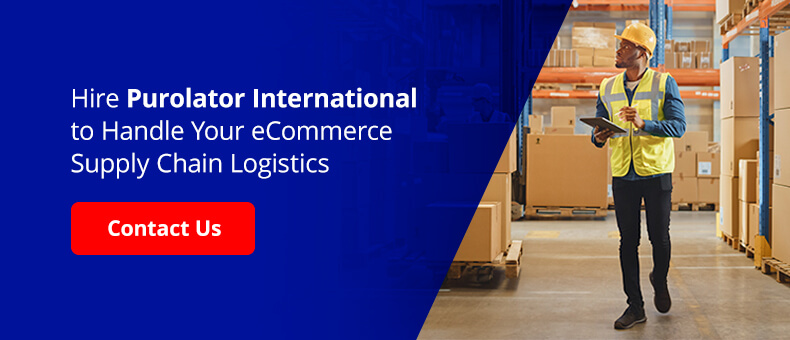 Hire Purolator International to Handle Your eCommerce Supply Chain Logistics
Increase your eCommerce revenue, brand loyalty, customer satisfaction and retention through our safe, reliable and secure shipping services. Let Purolator International handle your product distribution and order fulfillment so you can focus on the aspects of your business only you can do.
We analyze your operations and supply chain to build a custom logistics plan that provides long-term benefits and cost savings for both domestic and international shipments. Our services are safe, reliable and secure with a loss and damage claim rate of less than 1%. Working with us gives you access to our wide ground and air distribution network, providing a fast transit time at a competitive price. You'll have a dedicated representative responsible for managing your logistics strategy.
Contact us today to learn more about our freight and logistics services and how we can help you.