What Is the Optimal Inbound Logistics Organization?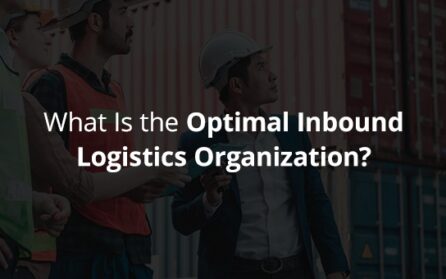 When it comes to optimizing logistics, many companies focus on outbound logistics first. Outbound logistics are customer-facing and, therefore, central to customer satisfaction. Customers don't have a window into the inbound logistics of getting raw materials or finished products to a warehouse, so companies don't always focus on making this process as efficient as can be. However, optimal inbound logistics management is crucial for effective, lean inventory management, so you can save money and keep products in-stock and ready to ship.
The potential to increase your competitiveness through inbound logistics is often overlooked. A recent 2019 study found a company's inbound logistics capabilities have a measurable impact on a company's return on assets, cost savings and productivity.
Benefits of Optimizing Your Inbound Logistics
Any supply chain manager can benefit from optimizing their inbound logistics process. When inbound logistics is held to a standard of continuous improvement or completely overhauled from an inefficient, outdated system, the whole company reaps the rewards, like: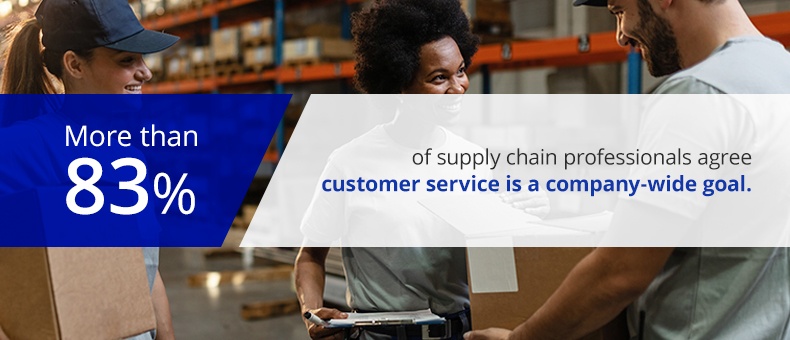 Improved Customer Service
More than 83% of supply chain professionals agree customer service is a company-wide goal. Most businesses associate their outbound logistics with customer service more than their inbound logistics. One of the primary differences in inbound and outbound logistics is that outbound logistics ships items to customers, while inbound logistics ships them within your supply chain.
Outbound shipping is what your customers experience first-hand. When they place an order, they get constant updates when their package enters a carrier's hands and whenever it gets scanned in at a new location. They can see, via live email alerts, where their order is and when it will arrive.
Since inbound logistics focuses on shipments from your suppliers to you, or from one branch of your business to another, the customers do not see the inner workings of this process. However, even if customers are unaware, they are better off when a company has an optimized inbound logistics process. Why? In one way or another, they ultimately absorb the cost of shipping. While optimizing outbound shipping can undoubtedly lower the cost, it can only ever be half the battle. High inbound shipping costs ultimately raise your costs of raw materials, which impacts your products' retail price.
If your customers demand two-day shipping, you can't afford to wait for an inbound shipment to fulfill the order. Your products need to be in-stock and ready to ship, with the inbound shipments already received and shelved. If items fall out of stock, you must let your customer know about the delivery delay or cancel the order. Your customers will quickly abandon you for a company that has items ready to ship. By making transportation more streamlined on the back end, you can deliver products more rapidly on the front end and have the inventory on hand necessary to offer the wide selection your customers crave.
One side of inbound logistics your customers experience directly is your returns management. A smooth reverse logistics process ensures your customers are willing to shop with you again. An efficient returns process makes it easy to ship the products back to you and delivers a prompt refund or replacement as soon as you receive the return.
Increased Efficiency
As one of the behind-the-scenes processes that make your business tick, effective inbound logistics helps your organization be more productive. In an inefficient inbound logistics process, your receiving team might scramble to accommodate shipments when they don't know when to expect them. You can also experience variation in delivery times when some deliveries show up in three days and others in two weeks. Likewise, carrier rates can fluctuate, leaving you with a larger bill than you should be paying.
Whether you're shipping products to your warehouse or raw materials into your production facility, optimized inbound logistics ensures you have what you need when you need it. It's in sync with your production schedule and your sales forecasts. It gives your receiving department the foresight to handle the incoming shipments. You'll also prevent bottlenecks at the loading dock due to many deliveries showing up at once.
Boosted Sales
Keeping items in stock allows a company to make more sales. One aspect of optimizing your inbound logistics is scheduling your delivery times to replenish inventory as soon as it's needed. You won't lose out on sales opportunities due to items being out-of-stock when they're in high demand. An efficient receiving process ensures items are tracked and accounted for once they arrive in your warehouse. They will be stored in the correct location, allowing them to be easily picked, packed and shipped out when a customer places an order.
You can also avoid overstocking, which can eat into your profit margins by storing products you can't unload. By working closely with vendors and inbound transportation providers to ensure items only get shipped to you when you need them, you can maximize your profits alongside your sales.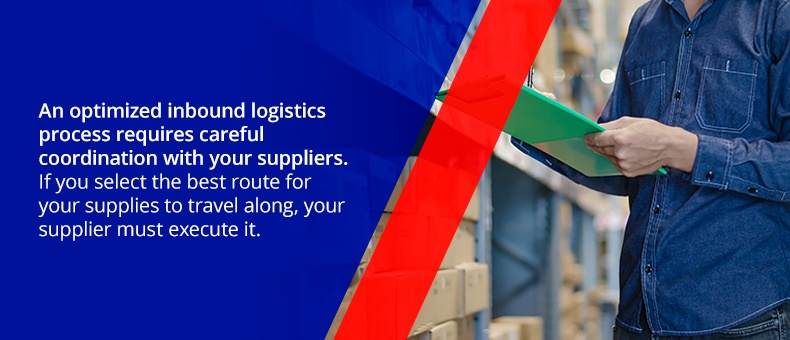 Better Supplier Relationships
An optimized inbound logistics process requires careful coordination with your suppliers. If you select the best route for your supplies to travel along, your supplier must execute it. Many companies handle this process by developing a routing guide and Vendor Inbound Compliance Standards (VICS). Both of these documents seek to streamline supplier relations, so you experience fewer issues and unexpected costs. They lay out rules for various scenarios, so suppliers know your expectations and their responsibilities.
For example, a routing guide will lay out the modes and carriers to use in different situations and the rate and service requirements. It ensures your suppliers never ship goods via nonauthorized carriers or using an unexpectedly steep rate. Going further than a routing guide, your VICS sets specific compliance standards to ensure your suppliers do not engage in any behavior that hinders your logistics processes. It reinforces positive behavior and establishes penalties for non-compliant conduct.
With both of these documents, your suppliers have clear guidelines informing them on how to meet your requirements. They don't have to guess what rates or carriers you're comfortable with or pay the price of guessing wrong. You enjoy higher levels of supplier compliance and less risk, leading to better supplier relationships for all parties.
Finding Your Organization's Focus
The optimal inbound logistics organizational framework looks different for every business. Knowing what to improve depends on your organization's internal priorities. If you need higher profit margins, your goal will probably be to reduce transportation and operational costs. And that goal can take different forms for many businesses. Some organizations can wait longer for incoming shipments to bring down freight costs. For a company operating on a tight inventory turnover schedule, that's not an option.
It's also crucial to consider what your customers' priorities are. While inbound logistics are more removed from the customer experience, they play a large role in maintaining satisfaction. If your customers are always asking when items will be back in stock, you need to prioritize supplier relationships and coordinate transportation so you won't run out of products.
If your customers are willing to pay more for faster delivery, you may be able to pay more for shipping on the inbound side. If your shoppers are price-conscious and willing to wait longer for free shipping, you might need to rank low carrier costs over delivery speed.
Your organizational goals and your customers' needs can shift tomorrow, so know your inbound strategy needs to be flexible and always improving.
Ways to Optimize Your Inbound Logistics
Once you determine your goals for your inbound logistics process, you can look at the strategies needed to accomplish them. While the tactics you use will depend on your organization, there are many best practices for a stable inbound system. Follow these inbound supply management tips to increase efficiency and reduce costs:
Manage Inbound Shipping Costs
When you optimize supply chain management using the just-in-time approach, you save money within the warehouse. By keeping a small amount of stock in a steady supply, you reduce your warehouse storage costs. You can stock more types of goods and operate out of a smaller facility. Still, shipping small quantities rather than in bulk means you pay for more deliveries. Your inbound transportation provider makes more frequent trips to accommodate your high turnover rate, which results in higher fuel costs and more mileage.
Transportation costs are on the rise between energy and personnel needs. Between 2017 and 2018, logistics transportation costs rose 10.4%, and those costs make up the most significant proportion of supply chain spending. It's crucial to keep these inbound transportation costs from overtaking your business.
Control your inbound shipping costs rather than leaving it in the hands of suppliers. If you work in higher shipping volumes than your vendors, you can negotiate more favorable shipping rates with carriers than they can individually. Adding your inbound shipments to your current volume of outbound shipments increases your total volume, giving you even more negotiation leverage.
Also, by combining the two, your carriers can get a window into your entire shipping network, creating the opportunity for combined inbound and outbound shipments. When you control your inbound shipping costs, you can break out your suppliers' materials costs from the transportation costs. Thanks to that increased transparency, you can better negotiate material costs with your suppliers.
With this strategy, you can employ many cost-saving initiatives more effectively. For example, you can consolidate shipments. If several suppliers are shipping to your location across a border, you can merge them into one shipment to streamline the customs process and save money. You can also calculate and enforce optimal shipping routes among your transportation network. By tracking rates for long-haul, short-haul, low-volume and high-volume deliveries among all your providers, you can always find the optimal prices for every shipment type.
Upgrade Your Loading Dock Management
When you manage your inbound shipments, it becomes much easier to predict precisely when delivery trucks will arrive. Long wait times at the loading dock and other efficiencies in receiving cost you money.
A warehouse management system allows you to schedule deliveries and book loading docks and staging areas. By using a receiving schedule, you gain more precision over the process. The software can even be integrated so the transportation companies themselves can sign up for a time slot convenient for them and know they have full access to the loading dock when they arrive. If a time slot gets missed due to weather delays or traffic jams, the software will provide an alert, allowing your receiving team to plan for later arrival at the loading dock.
Streamline Your Inbound Customs Process
If your inbound transportation route crosses an international border, your logistics gets much more complicated. An inefficient border crossing slows down your inbound logistics significantly. When items get stopped at customs due to regulatory issues or a missed step in the process, your organization must spend time and resources getting the goods back. Even under a customs process that goes smoothly, you need to coordinate all the paperwork carefully and ensure a representative is there to pick up your items at the border when they are released.
Working with a customs broker can streamline import logistics. For example, Purolator International's customs brokers have preferred status at the U.S./Canadian border, letting you save time and clear customs faster. We ensure your imports meet regulatory compliance, handle the meticulous documentation and keep your inbound logistics chain running smoothly.
How Your Third-Party Logistics Provider Can Help
Purolator International is a third-party logistics provider known for our ability to get outbound shipments to Canada quickly and efficiently. We offer border crossing and last-mile delivery options to even the most remote parts of the country. We can also assist you with inbound logistics from your suppliers or your locations across the U.S. and Canada.
Some of the advantages we offer include:
Data Tracking
Like most organizational challenges, improving logistics management requires measurable insights. At Purolator International, we provide critical metrics into the shipping process, allowing you to optimize your inbound logistics. You can track up-to-the-minute carrier rates, allowing you to calculate accurate shipping estimates and always select the most affordable option for your delivery. You can also track cost metrics over time and begin to understand patterns. You'll see who provides better rates for certain types of shipments.
Along with cost, you can also track transportation performance metrics, like their percentage of on-time deliveries and how often they lose or damage shipments. With this data, you can always make an informed decision about which carriers to trust with your inbound deliveries.
Transportation and Shipping Management Technology
As a freight forwarding company, we have advanced transportation management software available to all our customers. If you have your own software in place, we'll work with your platform. Otherwise, you can access ours, which offers automated route optimization. We eliminate unnecessary handoffs between carriers, so your freight takes the fastest, most fuel-efficient route every time. Our technology helps you streamline many aspects of shipping and transportation management, allowing you to focus on other things.
Freight Consolidation and Favorable Shipping Rates
As a third-party logistics provider with a vast network of carriers and customers, we can offer some of the best shipping rates. Just by joining our client list, you can lower your rates with your existing transportation carriers. Since we work with a large volume of shipments, we have more negotiation leverage with carriers and can suggest cost-efficient carriers for your needs. We also offer freight consolidation, allowing multiple less-than-truckload shipments to travel on the same truck, saving shipping costs for all involved.
Streamlined Inbound Logistics Management
Every Purolator International customer gains access to our proactive transportation management service, PuroTouch. You get one point of contact for all your Canadian shipments for the highest level of customer service and a streamlined inbound solution.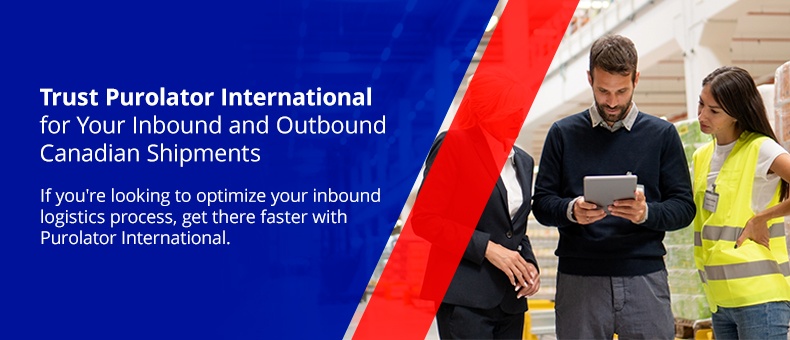 Trust Purolator International for Your Inbound and Outbound Canadian Shipments
Whether delivering to your Canadian warehouse or Canadian customers, Purolator International strives to provide excellent on-time performance, low loss and damage ratios, flexibility and cost optimization for all inbound and outbound shipments to Canada. If you're looking to optimize your inbound logistics process, get there faster with Purolator International. Your PuroTouch representative will know you and all the intricacies of your business and tailor our range of shipping services to meet your needs.
For fast, efficient shipping to, from or within Canada, contact Purolator International and begin optimizing your international inbound logistics today.