Time for an AOG Efficiency Check Up?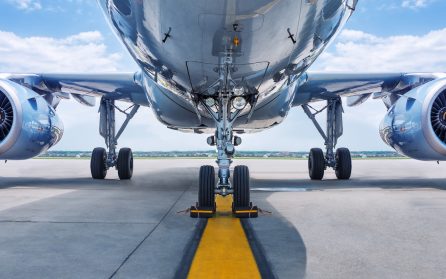 Boeing estimates the cost of a grounded aircraft to be as high as $150,000 for a one-to-two hour delay. That figures represents the cost to the airline of not having its plane in the air, generating revenue. It does not though, include the high costs of customer angst. Customers who are inconvenienced by sudden disruptions — flight cancellations, long delays, even a gate change – can have a lasting impact on a carrier's reputation.
It's no wonder then, that "aircraft on ground (AOG)" repair services generally have a "do whatever it takes" mentality toward fixing whatever problem has grounded a plane. For most AOG operations managers, by the time a problem is escalated to their level, it's understood that every available resource should be marshaled to have the right part on site as quickly as possible.
But "do whatever it takes" no longer has to automatically mean uber-expedited services that come at an eye-popping cost.
This is because technology and innovation have taken hold, and smart managers are availing themselves of opportunities for greater efficiency. In some instances, managers are finding new ways to expedite parts by turning to increasingly innovative, out-of-the-box options. And along the way, managers are uncovering better ways to manage processes they didn't necessarily realize were in need of improvement.
This is especially critical given the global scope of aviation and today's required AOG services. No longer is a European or Asian-based repair job the exception. This means a U.S.-based AOG coordination center must have "best in class" solutions available to meet the challenge of expedited international services.
With so much at stake, the AOG sector has much to gain from a Logistics Checkup – a top to bottom review of existing practices, in order to determine better solutions going forward. At a minimum, a business may find validation that it has the right partners and strategies in place. Other businesses though, can find opportunities for improvement in critical areas including:
• Inventory Management. In a perfect world, every airport would have a complete inventory of replacement parts, readily available when needed. Since that's not realistic, the next best thing is to have a good idea of where replacement parts are located at any given time. Many carriers traditionally relied on a Required Spare Provisioning List (RSPL) to help prioritize parts inventories, including provisions for critically-needed no-go items, which can automatically ground a plane if they become inoperable. The RSPL lets carriers know which parts it should stock, and lays out instructions for quickly obtaining a non-stocked item when the need arises.
In fact though, RSPLs are not uniformly embraced by airline material organizations and AOG desks, and to a large extent, have been minimized by advances in technology. Carriers are implementing forecasting and inventory planning systems that go well beyond traditional RSPLs. Technology allows a manager to know precisely where a part is located at any given time, and in many instances, to develop web-based inventory systems that can be easily accessed throughout the organization.
However, research by Oliver Wyman found a surprising number of airlines are not keeping pace with technology advancements. Fewer than 10 percent of respondents said they plan to invest in "building or improving inventory management systems."
• New Generation Aircraft – different needs. As airlines upgrade their fleets with manufacturers' latest high performance, fuel efficient and technology-based aircraft, AOG services will undergo changes to support the next generation of aircraft. Service managers better be aware of the required changes, and plan accordingly. Although each new class of aircraft is intended as an improvement over the preceding generation, any change will require aviation maintenance technicians (AMTs) to be trained and intimately familiar with the new aircraft and their systems. For example, one MRO analyst referred to Swiss Air's introduction of Bombardier's C Series as a replacement for its Avro RJ 110 as a "game changer," because of the C Series' introduction of advanced avionics, composite materials and new generation of geared turbofan engines. In addition, advanced aircraft health monitoring systems (AHMS) will provide real time data to AMTs, so that part failures can be diagnosed immediately. This means parts and repair personnel can be at the gate when a plane lands. The key though, is to have parts for the next generation aircraft easily available.
• Transit Times and Modes. In the world of AOG repairs, timing truly is everything. A call comes in to a carrier's operational control center, and the clock starts ticking. Many AOG desks find comfort in relying on the same tried and trusted transportation providers they have used for years. But improved transit times and creative options are taking hold within the industry, and an AOG manager needs to keep abreast of developments.
o Expedited Ground Solutions. For AOG repairs within the U.S. and Canada, it is possible to have a part delivered within the same time frame as – sometimes faster than – an air solution. How is this possible? For one thing, route optimization software helps ensure that a highly efficient route is selected. And a two-person driving team will ensure that a shipment remains in constant motion, since one person can rest (per U.S. driver "hours of service" regulations) while the other one drives. Many industries – industrial machinery, automotive, semiconductor – rely on expedited ground solutions to meet "just-in-time" manufacturing requirements, and appreciate the lower price point and guaranteed on-time service.
o Hybrid Air-Ground Solutions. In some instances, the ideal solution may be a combination of air and ground services. In this situation, an AOG shipment would rely on ground service for direct delivery to a scheduled air charter. Once on the ground, the part would be picked up planeside and brought directly to the waiting aircraft. In this scenario the part is essentially in constant motion. Clearly this can be an ideal solution, but requires a high degree of visibility and coordination by a logistics provider. Only a provider with access to the necessary ground and air assets can offer such a highly-synchronized, seamless solution.
o Air Charter. AOG managers who rely on air solutions know too well about the time wasted with flight tender and recovery times. Charter flights are an obvious way to avert this wasted time, since cargo is loaded directly onto a plane, or removed immediately upon arrival. Charters traditionally come at a premium price point, but a resourceful AOG manager can minimize those costs by taking advantage of "regularly scheduled" charters that offer direct service to certain locations.
o Mitigate Borrowing Pool Costs. While a regional charter may not be an ideal solution for emergencies, it can help address the high costs that ensue when a part is borrowed. AOG managers understand that the short-term benefit of using a loaner part from a competitor comes with a hefty price tag. The meter literally starts running the moment a part is borrowed, and it doesn't stop until the part is returned. In many instances, a logistics provider may be able to use their regional charter network to expedite a part's return to the loaner's home base. For example, a part that is borrowed in New York, and then removed in Chicago, could be retrieved by a Chicago logistics partner and returned to New York, usually in a fraction of the time generally associated with traditional integrators and their processes.
• Customs Clearance Efficiency. Today's global AOG services mean unavoidable trips through an international customs process – sometimes multiple processes. At a minimum, a part leaving the United States must meet U.S. export requirements which, depending on the nature of the part, could trigger "dangerous goods" paperwork requirements. And depending on the country to which the part is headed, a customs experience will have varying degrees of complexity. But handled properly by a qualified logistics partner, the process can be hassle-free, and essentially a non-issue.
An AOG manager must ensure a potential third party supplier has experience. At a minimum, a qualified provider will ensure that a shipment arrives at a customs checkpoint with all paperwork ready to go, and where possible already pre-cleared at wheels-up. All taxes/duties/fees will also be paid in advance, and the shipment will be in compliance with all security and "other government department" mandates.
A truly exceptional logistics provider, will go beyond this, and offer innovative services that may include:
o Use of regional airports. Extremely busy airports can be avoided by rerouting a shipment to travel via a less-busy alternative.
o Maximal use of "customs-friendly" countries. Some countries are notoriously inefficient at clearing shipments through customs, while others can move shipments quickly. A savvy logistics provider will be able to plan a logistics route that avoids likely-difficult customs procedures.
o Local couriers. A qualified provider will have local personnel on the ground ready to oversee the proper handling of a shipment. Local personnel will speak the local language, be fully aware of airport logistics, customs processes and even local ground options. In some instances, the local agent will accompany the shipment to its final destination.
Experienced AOG managers know that uncertainty and contingency planning are the rules of the road in responding to repair requests. A manager literally never knows what the next phone call may bring. The key to success though, is to make sure an AOG service has the best tools and resources in its tool box. And as this discussion makes clear, those tools and resources are improving on a regular basis.