The State of 2023 Global Supply Chains Post-Pandemic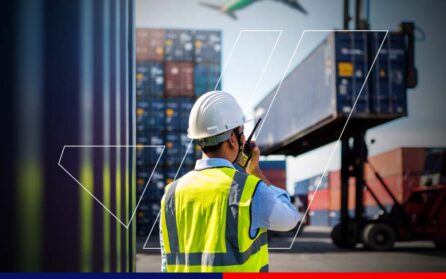 When COVID-19 first hit the headlines in early 2020, no one knew how it would develop on a global scale. Businesses braced for potential change, but no one could have predicted what would happen next. Global lockdowns, stay-at-home mandates and massive disruptions of worldwide supply chains ensued. The world suddenly looked different than it did a few short months prior. 
A few years have passed since those early days of COVID-19, and it seems like the worst days could be behind us. But there are still supply chain issues today that companies are dealing with, and you need to know what to expect in the months and years ahead. Discover what to expect regarding the 2023 supply chain to ensure your company is resilient and successful in the future. 
Impacts of COVID on the Supply Chain Today
Companies are still facing the long-lasting effects of COVID-19 on the supply chain. Here are some of the ongoing issues that have been hurting companies since the earliest days of the pandemic. 
Logistics Disruption
Major logistics disruptions have created a ripple effect on the global supply chain. Restrictions and shutdowns of airports and ports cause products to spend an increased amount of time in transit, which is especially detrimental for perishable goods. 
It can be challenging for businesses to predict and navigate changing protocols as different countries have different rules regarding importing and exporting goods. As a result, shelves remain empty and certain products can be hard to obtain, leading to higher prices of goods and the need for increased delivery time estimates when shipping your company's products. 
Production Delays
Since the early days of the pandemic, production delays have made headline news. Companies have been unable to consistently acquire the materials and components they need to manufacture their products. Delays can lead to shortages of finished products and various items needed to create finished products. 
While production delays ultimately lead to empty store shelves, they can also make it difficult to fulfill online orders and preorders. Companies experience backorders as a result, contributing to dissatisfaction among customers and lower profit margins for businesses. 
Poor Trading Relationships
COVID-19 showed businesses which of their trade partners were reliable and which had room for improvement. Many logistics partners were unprepared for the major changes that COVID-19 would bring, which contributed to financial losses for businesses throughout the supply chain. Today's businesses are still looking for the best logistics partners with which to forge lasting, successful trading relationships. 
Visibility Issues
When companies faced major supply chain issues during the pandemic, customers and clients began to worry about where their delivery was at any given time. The issue of visibility continues to persist today. Customers want to know when they should expect their delivery to arrive. A lack of visibility can cause them to lose faith in the businesses they're buying from. Companies quickly learned that increased visibility via technology was and continues to be essential for giving customers open insight into the state of their delivery. 
Commodity Pricing
With COVID-19 came major supply chain issues, production delays and unpredictable shipments. These and other factors, like increased demand for everyday commodities, caused prices to skyrocket. Combined with consumers losing their jobs and facing an economic recession, you have a situation where prices are going beyond consumers' budgets. Shaky pricing situations continue to influence businesses today, with customers and businesses alike hoping for more equilibrium and affordability in the markets. 
Workforce and Labor Issues
Another result of COVID-19 that continues to affect the supply chain is a lack of laborers in the workforce. People began dropping out of the workforce, leaving positions in many businesses around the world vacant. Without workers, businesses had to slow production, which negatively impacted the availability of items on the market. A lack of workers in the trucking and shipping industry also heavily affected the supply chain. Today, drivers are in high demand as businesses seek to get back to normal numbers and delivery times. 
Post-Pandemic Supply Chain: Predictions for the Next Decade
Now that you understand many of the key issues that continue to affect businesses as a result of COVID-19, it's important to understand what the next several years could have in store. The markets and supply chains are going to look a lot different as the pandemic continues to subside. Here are a few of our main predictions for the supply chain over the next decade to help you plan for these changes accordingly.
Preparing for the Next Crises
It's good to prepare your business for another crisis that will be similar yet different to the COVID-19 pandemic. Many experts are predicting a recession in the United States, with the true effects to begin over the course of the next several months. It could be quite some time before the economy returns to normal should a recession take place. 
There is also the possibility of another pandemic in the coming years. Plus, tensions between nations are continuing to come to a head, as seen in Russia and Ukraine. With all these crises posing a possible continued threat to the supply chain, wise businesses will start preparing now.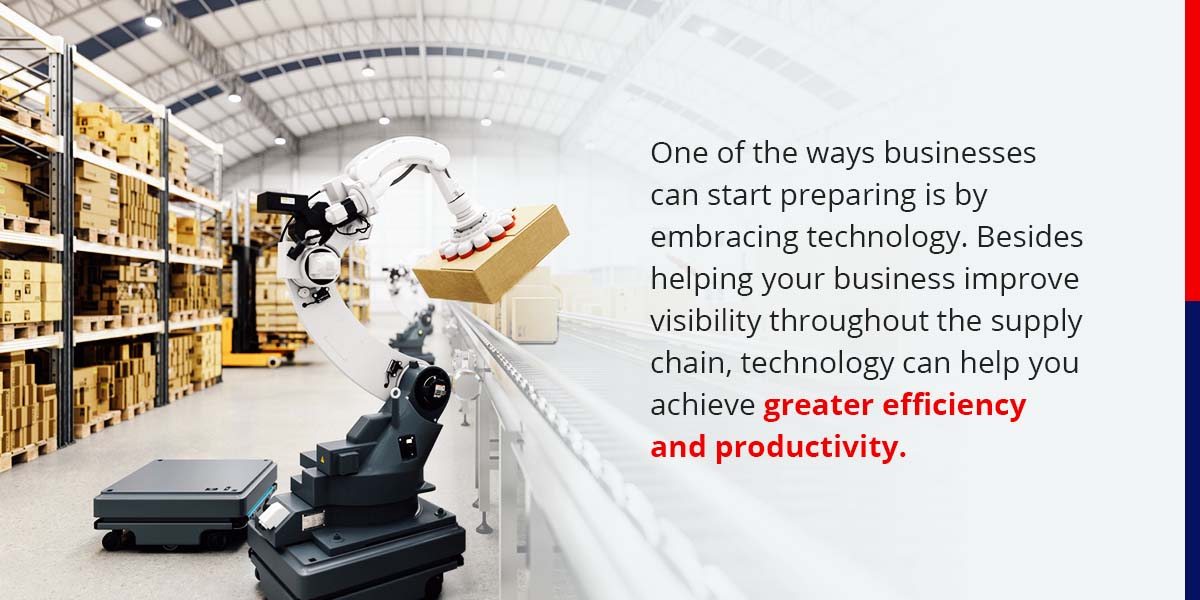 Embracing Technology
One of the ways businesses can start preparing is by embracing technology. Besides helping your business improve visibility throughout the supply chain, technology can help you achieve greater efficiency and productivity. You'll gain valuable insight into your process and receive actionable data you can use to see what's working and what needs improvement. We predict that these types of logistics technologies will only become more crucial to a business's success over the next decade. 
Identifying and Managing Risks
If the pandemic taught businesses anything, it's that they need to identify risks before disaster strikes. Risk management is essential to a business's survival in hard times, as we saw during the COVID-19 pandemic. With the potential for hard times on the horizon, you must start identifying and managing your business's unique risks so the next 10 years are ones of proactive growth rather than reactive shrinking. 
Investing in Stable, Flexible Supply Chains
The best trading, shipping and logistics partners are the ones that can adapt to change and remain flexible in the face of unexpected circumstances. Businesses need to forge the right trading relationships with third-party providers who can give them the consistency and service they need to be successful. 
As the aftermath of COVID-19 continues to affect businesses, establishing these good trading relationships is more critical than ever for regaining consistency in the years ahead. When your company invests in stable, flexible supply chains, you'll be better able to withstand any other crises that might arise.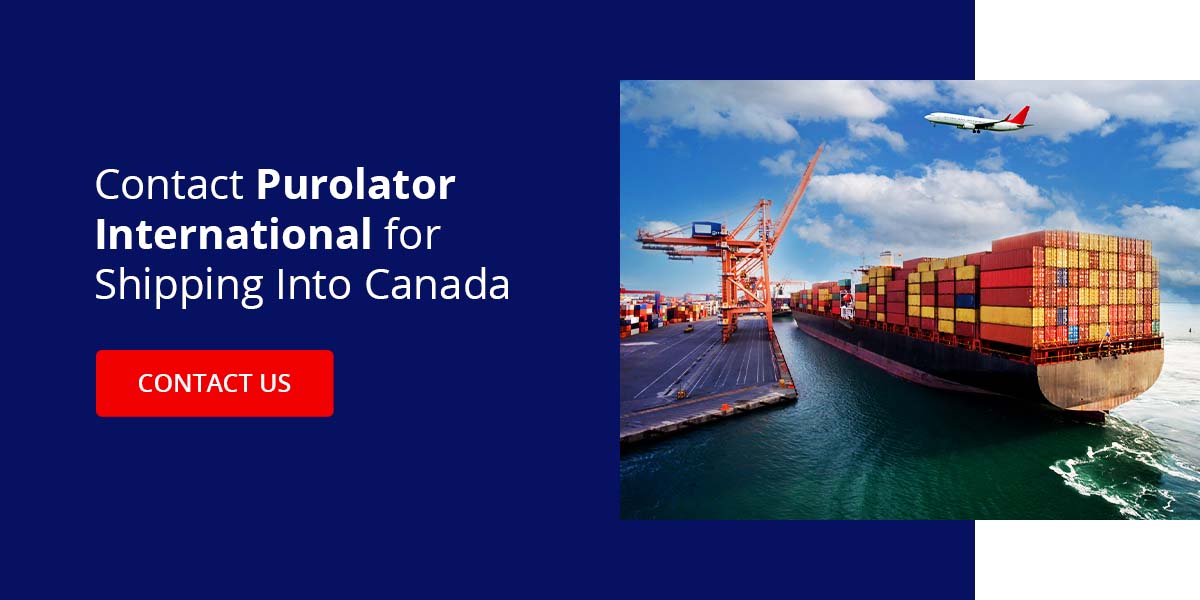 Contact Purolator International for Shipping Into Canada
At Purolator International, we have supply chain solutions to help your business achieve success today and in the decade to come. We serve a wide variety of industries, making us the specialists you've been looking for in your corner of the market. We know the supply chain can be unpredictable. Let us help your business experience greater predictability and progress toward your goals. Contact us today to learn more!