The Rise of eCommerce and Its Impact on Shipping Technology
Once upon a time, traditional brick-and-mortar business was king. That is, it was until e-commerce disrupted everything in the late 2010s. And eCommerce is set to continue growing — projections show global e-commerce sales exceeding USD $8 billion by 2026.
This rapid shift in consumer behavior has had a profound impact on innovation in shipping and supply chain management, which in turn improves eCommerce consumer experiences. As technology continues to advance, the eCommerce landscape is set to transform over the coming years.
The Changing Landscape of eCommerce
Although the early days of eCommerce were rough, speed and convenience are the name of the game for online shopping today.
As a result, the rise of eCommerce has spurred rapid innovation in web-based technology. Here are just a few examples of the technologies revolutionizing the eCommerce sector:
Social media: Shopping integrations in popular social media platforms like Facebook, Instagram and Pinterest provide incredible convenience by allowing customers to purchase items directly within the app.
Augmented and virtual reality (AR/VR): AR/VR technology allows customers to digitally try products before they buy — for example, you can try on clothing items in virtual dressing rooms or see how furniture looks in your living room.
Subscription services: From meal kits to murder mystery games, subscription-based eCommerce has exploded in popularity in recent years. Customers enjoy the convenience and personalization these services offer, and they'll pay high premiums to get it.
Artificial intelligence (AI): Customers expect personalization now more than ever before. AI algorithms can analyze each shopper's individual behaviors to create personalized product recommendations.
Of course, innovation isn't limited to just the shopping part of the process. The popularity of eCommerce has also triggered shipping and logistics providers to find new solutions to their most pressing challenges.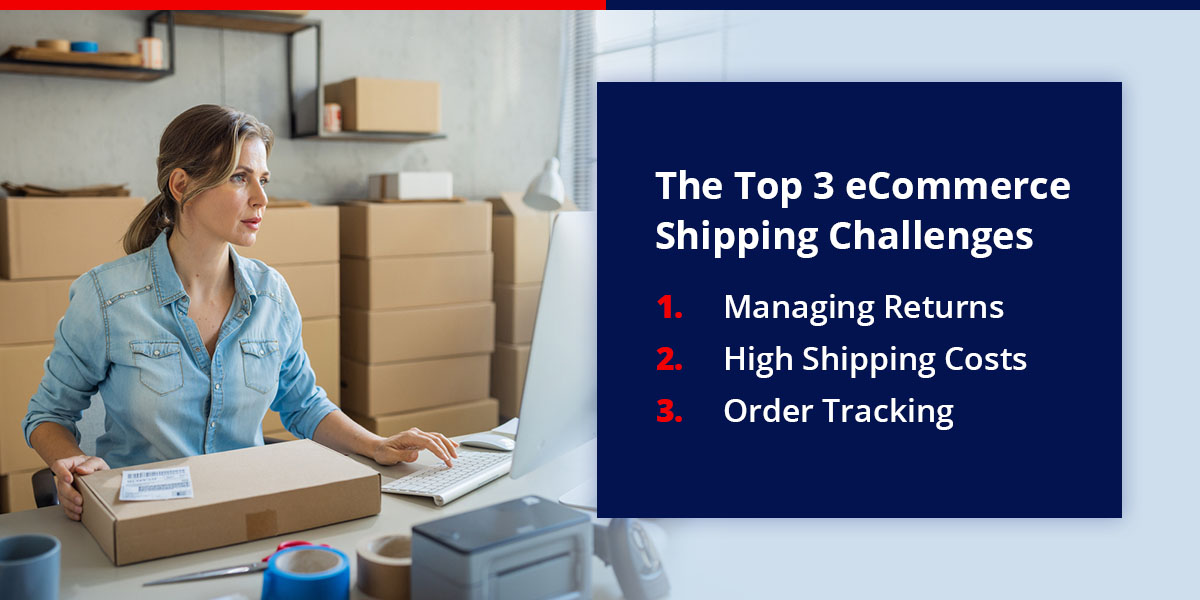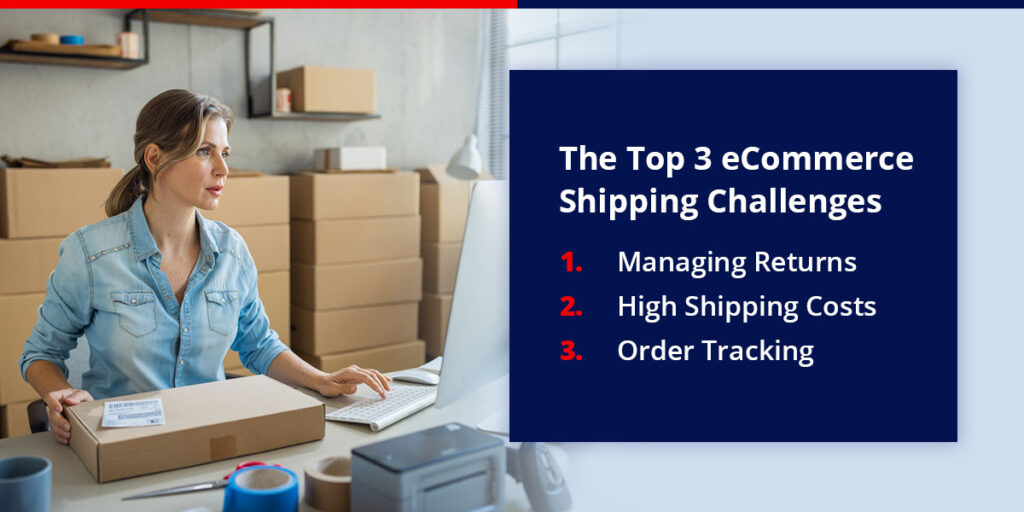 The Top 3 eCommerce Shipping Challenges
Regardless of specifics like industry or company size, nearly every eCommerce company has faced these supply chain obstacles at some point.
1. Managing Returns
Your company could provide the best customer service and the highest-quality products on the market, but returns will always be part of the business. And returns cost a lot — according to the U.S. National Retail Federation, returns accounted for as much as USD $816 billion in lost revenue in 2022.
So how can you cut down on returns without negatively impacting the overall customer experience? The best course of action is to collect and review as much return data as possible using a digital solution. Advanced returns management solutions can help you identify which products customers return most often and why, which can help you improve your return rate and overall cost savings.
E-return capabilities help to enhance the customer experience even more by enabling you to pre-print or proactively email shipping labels to your customers, simplifying the returns process for all parties.
2. High Shipping Costs
Thanks to eCommerce giants like Amazon and Target, customers expect cheap or free shipping — but that's simply not feasible for most companies.
Either way, offering free shipping can help you boost your sales volume and, potentially, your incoming revenue. These tips can help you make free or reduced shipping available to all your customers:
Minimum purchase thresholds: Customers are willing to buy more products to get free shipping, which can help you offset the costs on your end.
Subscription services: You can charge a premium for a subscription service that includes the cost of shipping.
Sales events: Limit free shipping to major holidays and sales events, when your order volume is going to be high enough to cover shipping costs.
Finding ways to reduce your shipping costs — such as using carrier-provided packaging or shipping in bulk — can also help make offering free shipping more manageable.
3. Order Tracking
When you order something online, you want to make sure it gets to your door safely. Being able to check your order status at the click of a button provides peace of mind, especially when it comes to shipping high-end products.
Implementing an accurate automated order-tracking solution helps alleviate pressure on your customer service team. When they don't have to field the "Where's my order?" question again and again, they can focus on more pressing tasks and improve their productivity.
3 Shipping Technologies Driving eCommerce Growth
While these technologies are still developing, their potential impact on the supply chain makes them worth keeping an eye on.
AI and Automation
Automated technologies will be key for providing the fast, streamlined service customers have come to expect from online shopping. For example, automated warehouses and fulfillment centers allow for continuous operations even with labor shortages and supply chain disruptions, which helps ensure timely deliveries.
Generative AI models — algorithms that create content, like the popular large language model (LLM) ChatGPT — have the potential to make an even bigger impact on supply chain management. Because they can process massive quantities of information, they can use both historical and real-time data inputs to improve forecasting accuracy.
Blockchain
Blockchain technology — one of the building blocks of Web3 — makes carrying out complex shipping operations easier than ever. Smart contracts, for example, are self-executing blockchain "contracts" that automatically trigger actions when certain conditions are met. So you could use a smart contract to release payment when a shipment has safely reached its destination, which can help prevent late payments to shipping providers and improve efficiency.
And once you save a transaction on the blockchain, it's impossible to go back and edit it. This permanence provides transparency to your customers, helping build their confidence in you as a reliable supplier.
Internet of Things (IoT)
The Internet of Things (IoT) is a complex ecosystem of internet-connected devices that are able to wirelessly share information with each other. This connectivity enables you to collect and analyze shipment data in real time, which presents plenty of opportunities for cutting costs and strengthening your supply chain.
Radio frequency identification (RFID) is one such technology. RFID devices use radio waves to wirelessly communicate information, which you can use to monitor and analyze your supply chain in real time. 
For example, shipping vehicles equipped with RFID sensors can provide you with access to location data in real time, which helps improve order tracking accuracy. When linked to alarms, RFID tags can also alert drivers to changing conditions within the vehicle — which can help prevent temperature-sensitive products like pharmaceuticals or food from spoiling.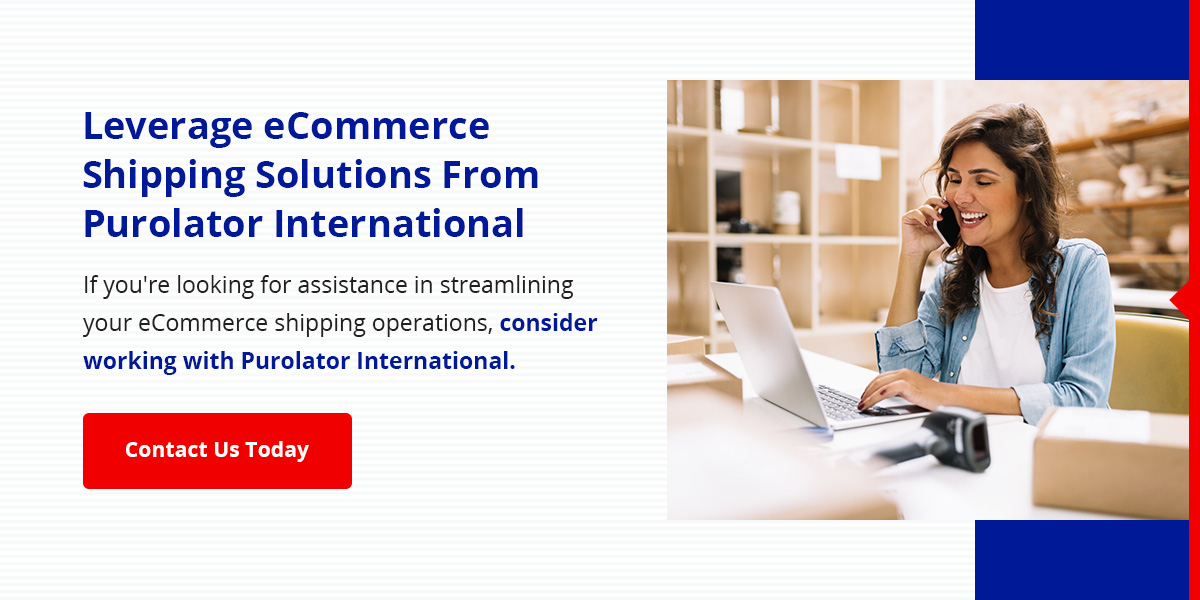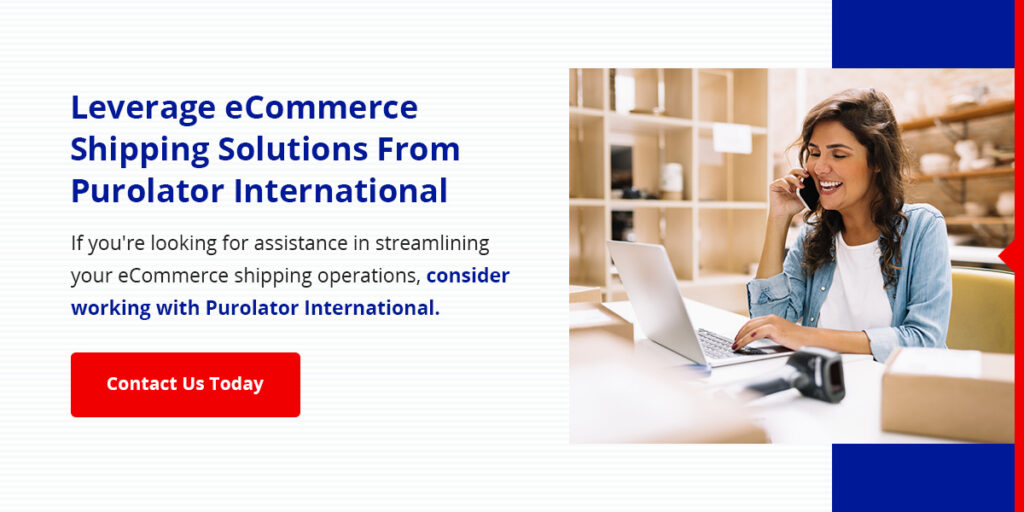 Leverage eCommerce Shipping Solutions From Purolator International
If you're looking for assistance in streamlining your eCommerce shipping operations, consider working with Purolator International. Our extensive network of delivery and pickup locations throughout Canada means we can make fast deliveries and returns in even the most remote areas of the country. And when you work with us, you'll be assigned a dedicated Client Relationship Representative who will proactively manage your account to ensure attentive customer service — that's the PuroTouch advantage.
Boost your eCommerce strategy with proactive shipping solutions from Purolator International. Contact us today to speak with a representative.