Purolator International President John Costanzo Named a 2016 "Pro to Know" by Supply & Demand Chain Executive Magazine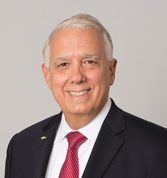 Costanzo Honored Two Consecutive Years for His Strategic Vision to Support Omni Channel
JERICHO, NY – February 17, 2016 – Purolator International, the leading provider of cross-border logistics between the U.S. and Canada, is pleased to announce that its president, John Costanzo has been named a 2016 Pro to Know by Supply & Demand Chain Executive magazine. This is the second consecutive year that Costanzo has been given this honor for his leadership and strategic vision in helping customers adapt their supply chains to face the challenges of today's business climate.
Costanzo was recognized for his efforts to ensure Purolator International is well positioned to support today's onmi channel approach to offer a unified customer experience across all shopping mediums – in store, online, catalog and site to store. Purolator's regional ground network is perfect for U.S. based organizations looking to deliver orders cost effectively in Canada through multiple channels of order fulfillment. Purolator's courier services provide effective direct to store, store to store, office, and distribution center (DC) delivery; and PuroPostTM enables cost effective residential/home delivery, timely service, and retail center pickup.
PuroLogistics offers a unique solution to optimize the supply chain every step of the way – including import services, customs clearance, port recovery and inland U.S. and Canadian forwarding and delivery, transportation management, as well as inventory and seasonal demand management, consolidation services, and returns processing. The full service solution is customized for each user, with all the data integrated into a customer's existing IT platform. A key advantage of PuroLogistics is the regional multi-client warehouses that allow customers to reduce distribution center and transportation costs. Customers only pay for the warehouse space used, while being closer to the customer, allowing them to reduce order-to-delivery time and provide an improved customer experience.
"Supply chains are the key to making a company more flexible and adaptable to customer demands. In the past, having one type of product with a long life cycle was the norm. Today, customers are driving the supply chain with their demands for regularly updated/new products, delivery and fulfillment options, and transparency of shipment information," said Costanzo. "Whether in a B2B or B2C environment, Purolator can help U.S. based businesses reduce time to market and save money on their shipping and logistics costs."
Over the past 10 years, Purolator International has grown to have a presence in 30 U.S. markets, consistently doubles its business every 3-5 years, and employs more than 200 nationwide. The company recently announced it has expanded its national headquarters on Long Island to accommodate this rapid growth, and has plans to continuing hiring additional employees over the next 10 years.
Costanzo has been leading organizations in the supply chain and logistics industry for more than 25 years. He currently serves on the board of the Long Island Association, and recently chaired the LIA's Global NY Work Group, which focused on growth of Long Island's economy and promotes development of manufacturing and exports.
The full list of the Supply & Demand Chain Executive 2016 Pros to Know Award winners will be published in the March issue. The list includes the Provider Pros to Know, individuals offering products or services to help their supply chain clients or the supply chain community, as well as Practitioner Pros to Know, who do the same within their own companies. More than 350 individual nominations were submitted for the 2016 Pros to Know Awards. For more information on this listing, or to see the list of winners, visit: www.SDCExec.com.
About Purolator International
Purolator International is a subsidiary of Purolator Inc., Canada's largest integrated freight, parcel and logistics solutions provider. Purolator International specializes in the air and surface forwarding of Express, Freight and Parcel shipments, customs brokerage, and fulfillment and delivery services to, from and within Canada. Purolator International has received numerous industry awards for its superior service and innovative solutions, including "100 Great Supply Chain Projects" by Supply & Demand Chain Executive magazine, "Top 100 Great Supply Chain Partners" list by Supply Chain Brain magazine, "Top 100 3PL Providers" by Inbound Logistics, and Logistics Management's "Quest for Quality Award." In addition to facilities throughout New York, Purolator International has locations in key U.S. markets including Atlanta, Baltimore, Boston, Buffalo, Charlotte, Chicago, Cincinnati, Cleveland, Columbus, Dallas/Ft. Worth, Denver, Detroit, Houston, Indianapolis, Los Angeles, Miami, Milwaukee, Minneapolis, Nashville, Newark, New York, Philadelphia, Phoenix, Pittsburgh, Raleigh/Durham, Salt Lake City, San Diego, San Francisco, Seattle, and Saint Louis.
For more information about Purolator International, visit https://www.purolatorinternational.com
About Supply & Demand Chain Executive
Supply & Demand Chain Executive is the executive's user manual for successful supply and demand chain transformation, utilizing hard-hitting analysis, viewpoints and unbiased case studies to steer executives and supply management professionals through the complicated, yet critical, world of supply and demand chain enablement to gain competitive advantage. Visit us on the web at www.SDCExec.com.