New Purolator White Paper Explores Growing Trend to Move U.S Manufacturing Back to North America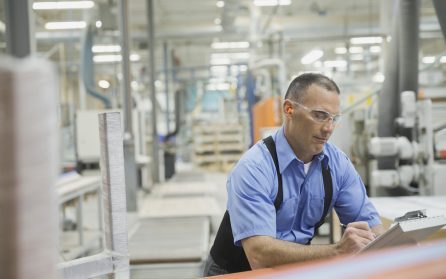 A recent post on BusinessInsider.com, coined the phrase "American Industrial Renaissance," as a way to describe the growth taking place within the U.S. manufacturing sector.  That upward spike, which is occurring on an even grander scale in Mexico is due, at least in part to a growing number of U.S. businesses that are deciding to return manufacturing to North America, and away from China and other low-cost countries.  U.S. businesses returning home are said to be "reshoring," while those relocating nearby to Mexico, Canada or Latin America are "nearshoring."
The exodus from China includes a veritable "who's who" of America's leading companies – General Electric, Apple, General Motors, Ford, Caterpillar, Microsoft and Wal-Mart to name a few – and it seems to be picking up steam.  A 2013 survey by the Boston Consulting Group found that 54 percent of executives at U.S. companies with sales in excess of $1 billion are planning to return production to the U.S.  That figure is a sharp increase from the 37 percent of executives who said they were considering reshoring in a 2012 survey.
A new white paper from Purolator International, "Nearshoring and Reshoring on the Rise as Businesses see Greater Opportunities in Keeping Manufacturing Closer to Home," explores the current trend away from China, and helps businesses understand the potential of a North American-manufacturing strategy for their own companies.
Why the sudden "rediscovery" of North America as a viable source of manufacturing options?  The simplest explanation is that China is no longer the bargain it once was.  Higher labor costs, inflation and increases in transportation costs have helped dim China's star, and instead the spotlight has turned to North America.
According to a 2013 report by Bloomberg, Chinese wages are likely to increase by 10-15 percent during 2014, while U.S. wages will increase by less than two percent.  Or, put another way, a Chinese worker would be earning the equivalent of $46.23 per hour while the American worker's wage would be $19.28 per hour.
At the same time, U.S. businesses have lost their penchant for locating production thousands of miles away from home.  Instead, managers are looking for more "regionalized" approaches, in which production takes place closer to the end customer.
A 2012 report by The New York Times referred to the majestic ships that haul automobiles from their Chinese manufacturing sites across the ocean as the "nautical workhorses of the industrialized world," and described their capacity to haul 8,500 vehicles.  But, the journey across the ocean takes an average of 28 days, while transit from Mexico to the U.S. takes a fraction of the time, and can be 75-80 percent less expensive.
While no experts are predicting the end of China's role as a leading destination for U.S. outsourcing, there is no denying that the decision to move production abroad is no longer as cut-and-dried as it once was.  To download a complimentary copy of Purolator International's new white paper, please click here.