How to Have a Greener Shipping Strategy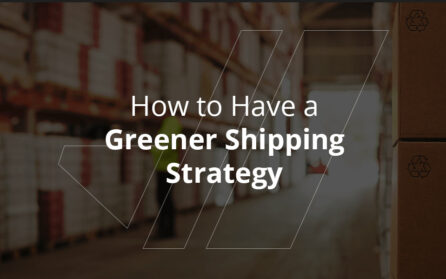 Growing concerns about climate change have caused companies worldwide to rethink their shipping strategies. As consumers become more interested in sustainable options, companies in the supply chain must adapt their processes to meet demands. 
Environmentally friendly shipping methods can assist with customer satisfaction and boost efficiency. Read on to learn more about how you can implement environmentally friendly packaging strategies into your business.
Importance of Green Shipping
Switching to sustainable shipping methods can help companies reduce their environmental impact and improve their brand image. 
Shipping containers and materials make up a significant portion of annual waste. The Environmental Protection Agency (EPA) recently reported that 82.2 million tons of packaging waste accumulated in 2018 alone. By ensuring their customers can dispose of these leftover materials properly, companies can help minimize their packaging's impact on the environment. For example, as plastic packaging breaks down, its remnants — microplastic and nanoplastic particles — can severely impact human and animal health.
In response, companies should strive to make their shipping methods as eco-friendly as possible. Green shipping techniques offer benefits for multiple aspects of company management, such as:
Reduced carbon footprint:

 

With environmentally friendly packaging strategies, you can take a step forward in the fight against climate change. By limiting your packaging or choosing recycled materials to ship items, your company can reduce its production of packaging waste, which benefits the environment.
Improved brand image:

 

New research shows that modern shoppers are increasingly interested in sustainable options, and

 

over half say they'll pay more

 

for sustainability. They want to know what materials companies use to create products and if they source their packaging responsibly. Today's shoppers are also more likely to choose brands with sustainable shipping methods and products. By shifting to environmentally friendly shipping methods, you can present your brand as a forward-thinking, high-quality option.
Lower costs:

 

Green shipping methods like reduced packaging can also lower your overall shipping costs. Many companies aim to improve efficiency as part of environmental strategies, which can boost revenue overall.
Overall, switching to sustainable shipping methods can help you meet current industry demands and cement your brand as an appealing option in the future.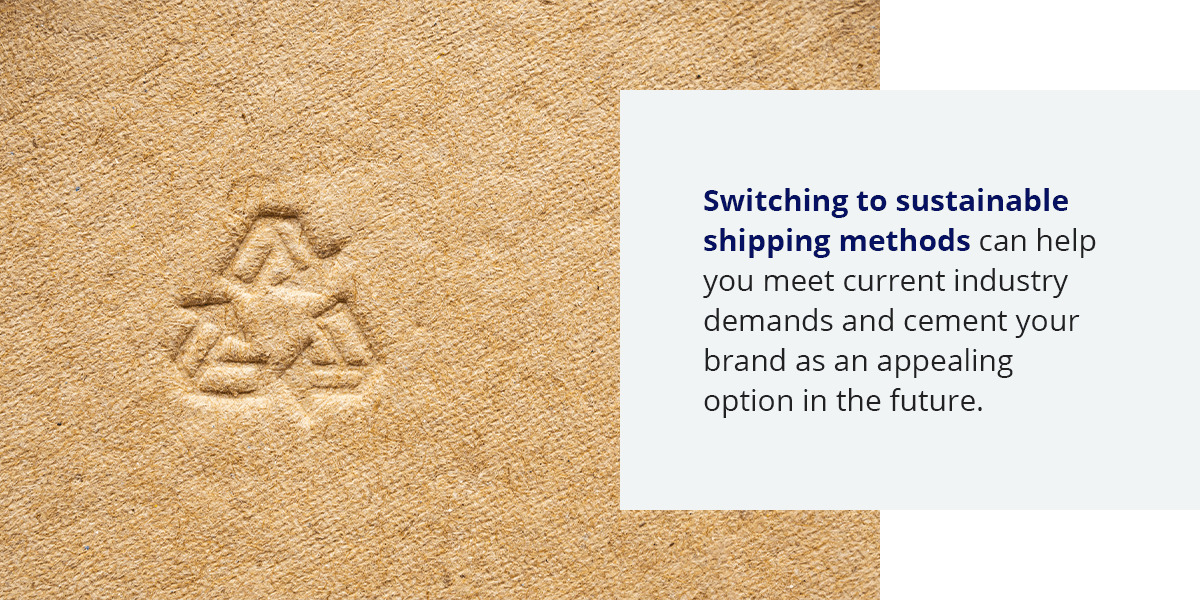 5 Ways Companies Can Reduce Their Shipping's Carbon Footprint
If your organization wants to switch to sustainable shipping methods, it's best to start with concrete goals. By evaluating your current shipping methods, you can identify wasteful areas and create a plan to work more sustainably. For example, you might use excessive plastic packaging to ship certain items. You could limit the plastic packaging or eliminate it to meet a sustainability goal.
To help you get started, here are five ideas your company could use to increase sustainability:
1. Use Eco-Friendly Packaging Materials
One of the best ways to reduce your carbon footprint is by choosing environmentally friendly materials. Many companies use plastic for packaging their products, contributing to the global growth in plastic accumulation. 
Opt for eco-friendly materials where possible. You can look for recycled or biodegradable materials or try reusable options like LimeLoop's vinyl and cotton wrappers. Some manufacturers offer biodegradable packing peanuts, so you can protect items without compromising sustainability.
2. Reduce Packaging
If it's difficult for your company to transform packaging materials, you could also try reducing the number of materials you use. You might ship an item with excessive amounts of bubble wrap, cardboard or other protective materials. While these options are necessary to protect items in transit, using too much can lead to waste. 
Try to evaluate how much packaging you use per product. Use trial and error to find the least amount of material you need to hold and protect the product as it makes its way to the consumer. Some companies, like Ranpak Holdings Corp., offer custom-sized packaging to ensure each product has an exact fit.
Reduced packaging can also help with efficiency — it's easier to ship a slimmer box and it can move more easily through the supply chain.
3. Optimize Your Waste Management Techniques
Businesses should also examine their waste management strategies. Proper disposal of packaging materials is essential for sustainability. For example, you should strive to recycle materials like cardboard and plastic. Properly disposing of them will keep them out of landfills and maintain the availability of recycled packaging options.
Focus on creating the necessary infrastructure by investing in proper waste management methods. For example, packaging frequently uses cardboard. You can lower your overall waste by regularly recycling it, so provide more designated cardboard recycling bins around your company locations. Providing more opportunities to make sustainable choices can help lower your carbon footprint.
4. Eliminate Empty Packages
Next, try to eliminate empty packages. You might place smaller products into large boxes during the packing process, wasting the remaining space. You may accidentally ship other packages that don't contain any items at all. These practices can be highly wasteful, using materials and money on empty packages.
To eliminate this risk, try implementing a more thorough checking process. Ensure each box or container is as full as possible to reduce waste.
5. Focus on Efficiency
Finally, companies in the supply chain can increase sustainability by focusing on ways to improve their efficiency. The faster items move through the supply chain, the fewer resources they use. 
Businesses should strive to process orders and route them to customers as quickly as possible to reduce waste. Companies can reexamine their shipping routes for distributing packages. If they find a more optimized route, drivers can deliver products faster while also reducing carbon emissions. 
Companies can also work with supply chain professionals to find personalized efficiency solutions. Experts can help you resolve productivity losses and get packages to consumers more quickly. In turn, you can raise customer satisfaction and improve sustainability at the same time.
Use Green Shipping With Purolator International Today
Shipping companies continue to face demands for sustainable practices. By transforming your strategies into greener ones, you can meet customer needs and reduce your carbon footprint. Environmentally friendly shipping and packaging are essential for modern businesses.
At Purolator International, we understand the importance of sustainable shipping. We are a leading provider of supply chain solutions within North America. From assistance with physical shipments to customs brokerage help, our excellent customer service can help improve your shipping process.
Our supply chain solutions can help boost your efficiency and assist with sustainability. Whether you need help with inventory management, green packaging or customs clearance, Purolator International can help. Contact us today to learn more.