How to Develop an International Return Management System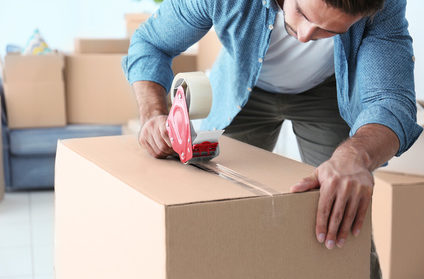 If you are a company that ships between the U.S. and Canada, it is essential to consider returns management best practices for your business. Returns are a key part of providing quality care and service to your customers. Creating an efficient and thorough international returns management process helps meet the needs of your company and your customers. 
Smooth Restrictions and Regulations 
As you review American and Canadian requirements, create a system that helps mark products requiring special care when moving them across the border to make the process easier for your company. 
When you understand international border requirements and regulations, you can better adapt your returns system to fit your products.
American International Customs
As you prepare to move your goods back into the U.S., you must meet U.S. standards and qualifications for crossing the border. The U.S. has strict restrictions about what can pass through the border, including various licenses and permits for shipping items like petroleum products or biodegradable goods.
Border authorities can charge fees as much as 40% of your good's value for negligence in paperwork and policies at the border. Your company can create an international return management process to help ensure a quick and efficient process at the border that meets all American standards and helps you avoid hefty fees or fines.
Canadian International Customs
Like importing to the U.S., exporting goods from Canada requires the correct paperwork and knowledge about the process. However, because the U.S. and Canada are bordering countries, Canada has looser restrictions for companies shipping goods to the U.S., which is helpful for American companies trying to return goods.
When companies move restricted goods from Canada to the U.S., they do not need to issue a formal export declaration, easing the process for American companies. However, these goods still require a license or permit issued by the Canadian government to ship these items.
Because many items require a declaration to prove you can legally ship items, you also need to know when to make declarations. These times vary depending on the mode of transportation. For example, air and train freight must submit declarations and licenses at least two hours before loading goods onto their craft. Sea freight requires declaration a minimum of 48 hours before loading. Trucks only need to declare at the border.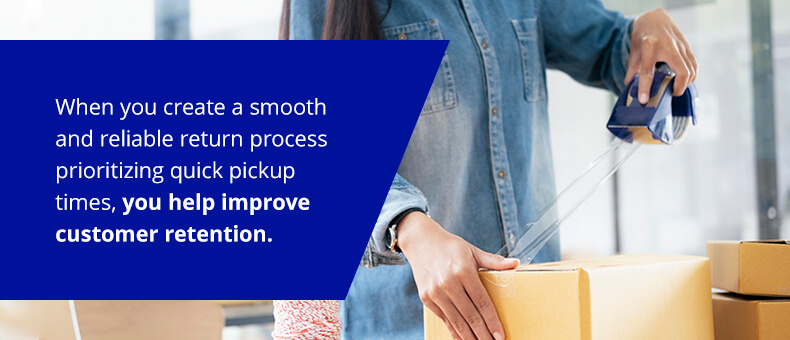 Ensure a Dependable Returns Process 
Creating a trustworthy and dependable returns process for your customers can help improve their overall satisfaction and experience with your company, especially with international orders. With strong international product returns management, you can best carry out your international returns process and receive the benefits.
To ensure a dependable returns process, determine how you will reach your customers to pick up returns and how you will return those goods to you. With an efficient pickup procedure, you can ensure customer satisfaction for your current clients. When you create a smooth and reliable return process prioritizing quick pickup times, you help improve customer retention. 
Incorporate returns into customer service initiatives by introducing processes like: 
Including returns labels with every order.
Allowing customers to track returns.
Outlining returns policies and procedures clearly to customers.
When you consider your consumers at every step of the returns process, you help increase their understanding and confidence in the process you have curated for them.
Cut Costs With International Shipping Management 
When handling international product returns, you can ease the process for your company by learning the restrictions and regulations for international shipping and finding ways to make the process more efficient. Returns processes already require fees and funding for shipping and transportation to retrieve and deliver returned goods, but you also need to consider other areas where you can decrease return spending.
Product returns costs have been drastically increasing in the U.S and reached almost $550 billion in 2020. When managing international returns, reduce costs to efficiently develop your returns process through policies like: 
Consolidating returns:

 

When you receive a request for an international return, it can be expensive to ship each good across the border. Instead, store goods in a warehouse or storage facility in Canada until you reach a certain threshold and move products together to cut shipping costs.
Reselling undamaged goods:

 

Many consumers return their goods for reasons other than damages. Your company can help cut return costs by selling returned goods again on the market as used products. Customers will appreciate the lower price of used products, and you have the opportunity to lessen the effects of international returns.
Policies like this and having an extensive understanding of border control regulations can help your company avoid unnecessary fees or spending when processing international returns from Canada to the U.S.
Returns for Different Transportation Types 
When developing an efficient method of returning goods, each type of transportation has its process and benefits. With many different options to choose from, you can find the right fit for your company and its needs.
Air Returns
Airfreight offers many benefits for companies looking for a quick and efficient way to ship their goods, especially high-priority or small, individual items. When returning items by air, your company continues to benefit from the flexibility and availability to remote areas that airfreight promises. Air returns are great for smaller return shipments or returns due to recalls or damages that need inspections quickly.
Freight Returns
Larger returns for bigger items or bulk goods require more extensive shipping methods, like sea or land freight. Both sea and land freight offer lots of space so you can ensure your goods safely move back to your storage facilities. Some more northern remote areas of Canada are more accessible by sea.
LTL Returns
Less than loads (LTL) are land or sea freight loads that don't fill an entire container. These options allow companies to still ship oversized items or loads while only paying for the portion of the container they occupy, making it a cheaper option than paying for a full container. 
Because many different companies fill LTL containers, return shipping might take longer due to more stops and longer loading times.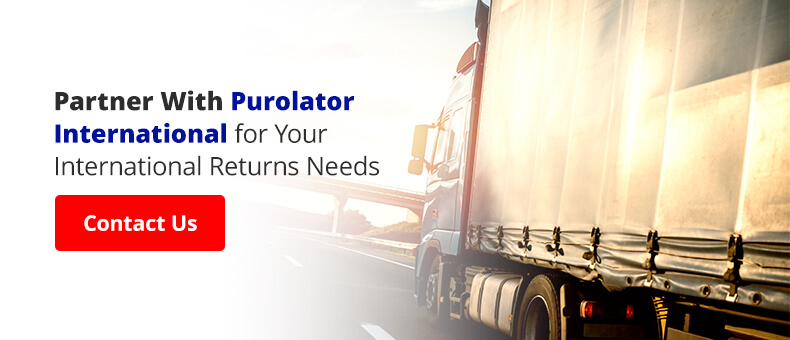 Partner With Purolator International for Your International Returns Needs
An efficient and easy international return management process is essential for. When you partner with Purolator International, you receive top-quality care from a company that is an expert in shipping between the U.S. and Canada, providing you with the right advice and insight you need to successfully move returns. 
Purolator International has a vast network across Canada to successfully and efficiently reach even the most remote customers to provide them with the best care. Our company provides your returns management team with essential insights to help improve shipping and returns processes. 
Contact Purolator International today to see how our Canadian shipping expertise can help your company develop better international return management processes.