How to Avoid Cybersecurity Threats With Your Freight Shipping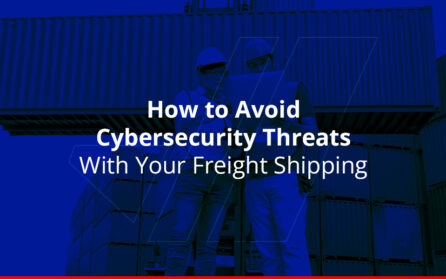 Transportation is a critical industry for United States infrastructure — without it, vital goods cease to reach their destination and essential services stop having the resources they need to continue. That gives logistics organizations big motivation to pay out ransoms and keep their operations moving, making them attractive targets for hackers. They're also heavily dependent on third-party partnerships and connected devices that lack track records for good security.
Cybersecurity in logistics must address the unique technological landscape of the industry to better protect these organizations from hacks and business disruptions.
Cybersecurity in Logistics
While it might not seem like a high-tech industry, logistics involves more digitalization than many people think. These businesses collect real-time data from various sources and tools to provide visibility into where items and trucks are at all times.
This technical environment can affect logistics cybersecurity in several ways:
A need for speed: In some cases, the need for fast, real-time data overshadows the need for security. Transportation companies may rush to implement convenient data collection from devices like tablets and smartphones without considering their security implications.
Self-employed drivers: Since many logistics businesses hire contracted drivers, it can be challenging to ensure they have enough training to follow cybersecurity best practices and establish secure connections.
Large networks of partners: Transportation usually relies on connections with other companies and service providers, each of which creates a potential vulnerability.
The Internet of Things (IoT): Whether in the warehouse or on the road, IoT has expanded the possibilities for many logistics providers. These connected devices are often necessary for linking up equipment with software. They send information to and from equipment, allowing businesses to monitor things like truck locations, climate conditions and maintenance demands. Unfortunately, IoT has its share of security issues that can create vulnerabilities for logistics organizations.
Whatever the cause, cyberattacks on transportation systems are costly. According to IBM, the average total cost of a data breach in transportation is $3.75 million. Most of the money in data breaches goes toward lost business and detection and escalation. They hit large and small businesses alike.
A major cyberattack in 2021 hit Colonial Pipeline, the largest fuel pipeline in the United States, which delivers about 2.5 million barrels of fuel every day between the Gulf Coast and the Eastern Seaboard. Colonial was hacked and shut down for almost a week. It paid attackers $4.4 million.
One trucking company cyberattack involved Bay & Bay Transportation, which was hit twice — once in 2018 and once in 2021. While it paid up the large ransom the first time, it learned from its mistakes and was ready to refuse demands the second time around with almost no business disruption.
While cyberattacks can be severe, logistics organizations can better prevent them and improve their responses with proactive cybersecurity.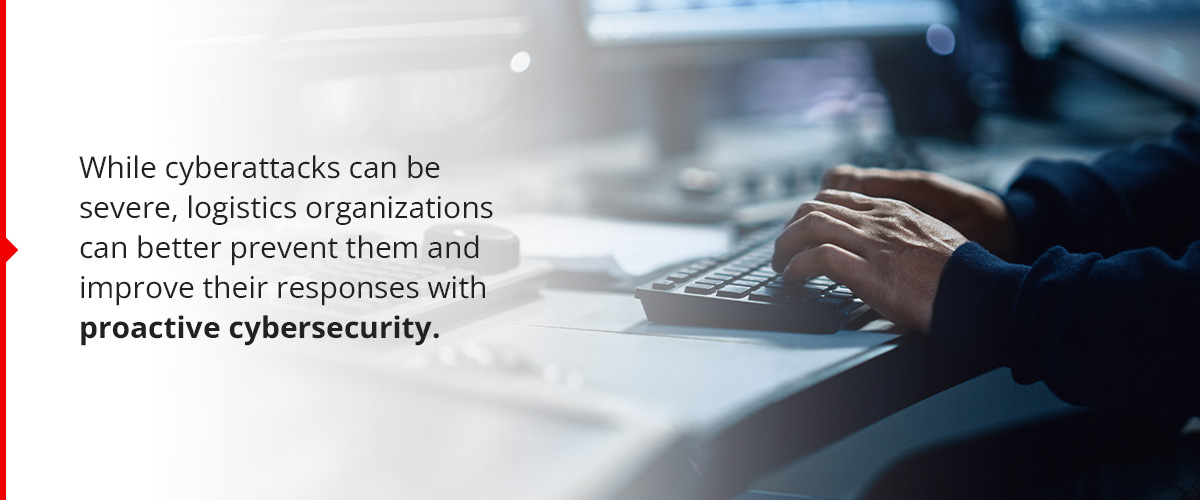 How to Secure Your Supply Chain From Cyberthreats
If you're looking to improve your transportation company's cybersecurity, consider the following strategies:
1. Implement IT Best Practices
All businesses can benefit from a basic level of understanding of IT best practices, including:
Using secure passwords: "Password" isn't good enough. Ensure employees know what makes a strong password and require them to update passwords regularly.
Installing updates immediately: Many hackers target known vulnerabilities that have been patched by software providers but not downloaded by the users. Always install firmware and software updates regularly or as soon as they become available.
Using two-factor authentication: Two-factor authentication (2FA) involves asking users to log in with two pieces of identification, such as a phone number and an email. If a worker's password is compromised, 2FA makes accessing accounts and devices more challenging for hackers.
Backing up your data: In the event of a data breach, having your data backed up to an offline location means you can recover it on your own. You won't need to rely on the hacker's word that they will restore it. Often, they can't or won't.
None of these practices is a silver bullet, but having a comprehensive web of defenses can help you keep various threats at bay.
2. Train Your Employees
In 2021, over 85% of data breaches involved a human element. Even exceptional security infrastructure can't defend against an employee who willingly gives out their password. Make sure your employees know what scams look like and can identify phishing attempts. If you go through a lot of temporary or seasonal employees, this kind of training is crucial.
3. Review Your Third-Party Relationships
Many transportation companies have a wide range of partnerships, each of which can add vulnerability to your network. If your partners don't follow adequate cybersecurity practices, they become liabilities that can cause problems for you. Vet your partners carefully and take a close look at their security policies. Establish a certain level of risk assessment they must abide by. If they don't meet that level, consider looking for a new partner. At a minimum, isolate your partners' access to your systems so a breach on their end doesn't become a threat to you.
4. Make a Plan
If your business comes under fire, you need to respond as fast as possible to minimize downtime and damage. A response plan is critical. Develop a comprehensive plan to address various types of attacks. Identify your most valuable assets and what entry points in the system could lead to them. In the plan, cover elements like data backup and recovery, how you'll communicate the issue to the public and your partners and the chain of command.
Cyberthreats evolve rapidly, so review your plan every quarter to address new technology and trends in the threat landscape.
5. Prioritize Mobile Security
Mobile devices are a boon to the transportation industry, but they can be security risks, too. Thankfully, you don't need to sacrifice convenience and speed for security — you can have both with the proper IT setup. Create clear boundaries for the network that mobile devices can access, so a hack into the device doesn't offer a bridge to the entire backend of the organization.
As they become more popular, remember to keep mobile devices front and center in your IT security policy. They shouldn't be an afterthought.
Working With Secure Transportation Partners
If your current logistics solution has weak links, consider working with a full-service partner with a track record for security and top-quality service. Purolator International is an industry-leading supply chain logistics solutions provider with an array of solutions to get your goods where they need to go throughout North America. Our network of best-in-class transportation providers allows us to offer efficiency and quality across the board — all backed by industry best practices and robust security policies to keep your data and our services safe from disruption.
Explore our services online or reach out to us for more information about how we secure our logistics solutions.