How the Rising Freight Rates Can Affect Cross-Border Shipping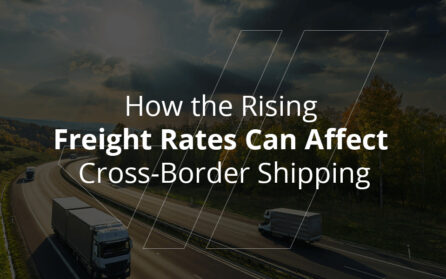 As the market shifts, many merchants have seen a rise in freight rates, influencing shipping costs and leading to potential product inflation. Learn more about why shipping costs are rising and tips to minimize expenses.
Why Are Shipping Costs so High?
Rising shipping costs, especially cross-border shipping costs, can be challenging for both retailers and consumers. Many businesses have noticed freight rates going up to transport their products. Companies worldwide are experiencing a rise in shipping costs, especially when shipping through ocean liners.
While a 40-foot container unit costs approximately $1,300 to ship before 2020, it reached a record high of $11,000 in September 2021. The cost of transporting products affects each level of the supply chain, meaning price increases are common to account for increased shipping costs.
Many businesses cite high shipping costs as the largest contributing factor to product costs and inflation. To be as cost-effective as possible when shipping goods, you need to understand why shipping costs are rising in the first place.
While shipping costs are rising across many transportation modes, price increases are most prominent when companies need to ship equipment via sea. Sea freight prices are increasing because there is more demand for ocean carriers but a limited supply.
During the early months of the COVID-19 pandemic, buyers were less active, meaning there was less demand for products, and industries curbed production to match the market. As buyers became more active after adjusting to the pandemic and governments lifted restrictions, consumption increased.
While buyers increased their consumption rates, businesses now had to try and catch up to meet this demand. The change in buyer habits and rates of production among consumers heavily influenced the market. Another reason why freight rates are so high is that certain policy complications affect trade, immigration and labor.
Ocean carriers continue to raise prices to compensate for various input costs, including higher fuel prices. Because certain resources are scarce, it can be difficult for carriers to respond quickly to increased transportation demands.
How Much Does It Cost to Ship Something to Canada?
United States to Canada shipping costs vary with many factors, including shipping mode, size and location. Some of the most common shipping modes include air and sea. While shipping costs are unique for each company, some of the most common air freight shipping costs (for a 200 kg/1 cbm load) from the United States to Canada include:
Los Angeles to Canada: Around $1,300
New York to Canada: Around $1,200
Houston to Canada: Around $1,300
Because these costs vary based on your location, the service provider and other factors, it's best to speak with a logistics provider to understand specific prices.
How to Save on Freight Shipping Costs
While freight shipping costs continue to rise, especially by ocean carriers, there are certain tips and tricks you can take advantage of to reduce rising costs. Two of the most popular ways to save on shipping costs include:
Use a Multi-Faceted Logistics System
A multi-faceted logistics system can help shippers react quickly to dynamic fulfillment requests and high order volumes. Multi-faceted logistics systems can also manage and lower total shipping costs. To meet changes in the supply chain and product demands, companies need to employ a flexible, reliable shipping solution.
Whether shipping sea, air or ground, logistics software can help you ship your goods, ensuring they arrive as soon as possible to mitigate storage and inventory costs. Multi-faceted logistics systems are essential for large freight that can be expensive to store or valuable freight that has a short shelf life.
These logistics systems also provide additional insight into your shipment's location, status and estimated time of arrival (ETA), allowing you to remain informed on every aspect of the shipment process.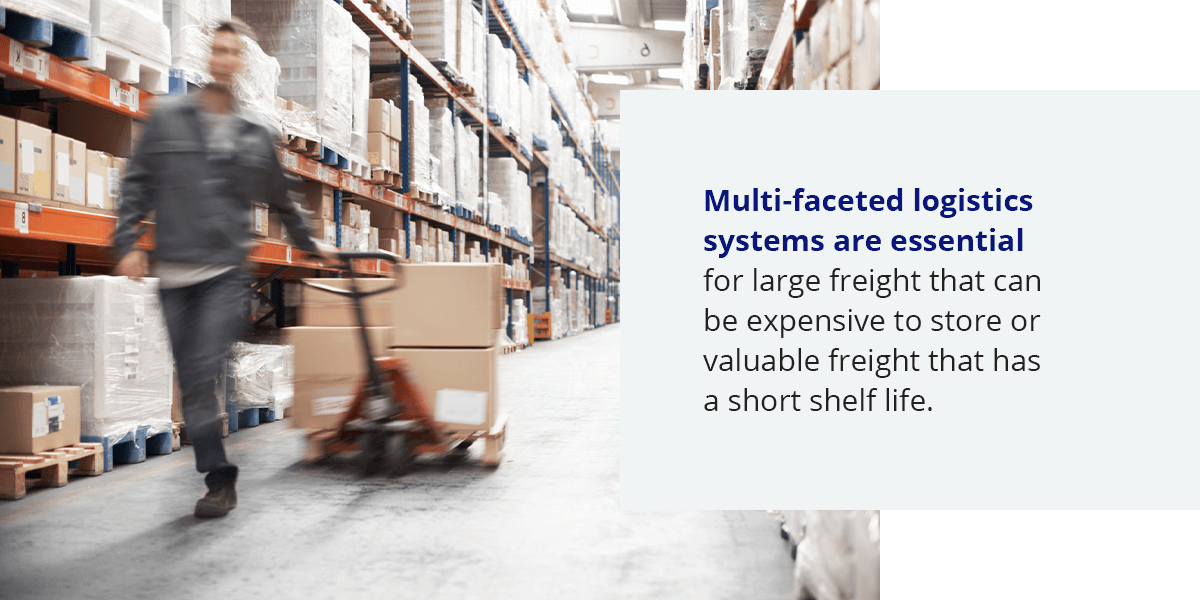 Some of the main benefits of a multi-faceted logistics system include:
Create a customized quote and order in one simple step
Receive insight on shipment profitability margins
Transfer quotes to active pickup orders
Create and process carrier payments
Send shipment history internally or externally
Access shipment information for carrier performance
Companies can take advantage of a multi-faceted logistics system to schedule shipment pickups and deliveries seamlessly. While a logistics system can ensure your company stays up to date with shipping commands, it also helps minimize expensive storage costs, especially for larger goods.
Partner With Logistics Providers
A third-party logistics (3PL) provider allows facilities to partner with an external company to reduce logistical headaches. While 3PLs can benefit any company, they are often most beneficial for facilities using cross-border shipping. Partnering with a 3PL allows merchants to focus on other aspects of their business.
Rather than performing distribution in-house and managing your own warehouses, a merchant can partner with a 3PL, storing goods in the vendor's warehouse. When a customer places an order with a merchant, the items are automatically organized and shipped from the 3PL's warehouse.
Many 3PLs also handle returns, exchanges and retail distribution. Outsourcing your logistics to a 3PL provider ensures your goods are shipped at a lower cost and in the quickest, most effective method, allowing your facility to focus on more important tasks. 
Some of the most popular supply chain solutions include:
Returns management: A returns management program takes on the responsibility of coordinating and processing returns. Returns can be authorized and processed quickly and effectively, ensuring a positive customer experience.
Customs brokerage: A 3PL provider can effectively clear shipments into foreign markets, addressing and correcting any logistical or regulatory hurdles. Customs brokerage allows for smooth border crossings and ensures your parcel arrives at its destination promptly.
Automated shipping solutions: Automated shipping plays a fundamental role in the freight supply chain process, ensuring visibility, increased efficiency and tracking.
Warehousing and inventory management: Warehousing and inventory management can efficiently store and retrieve consumer goods, providing easy-to-use, web-based inventory reporting.
Shipment labeling and manifesting: Shipment labeling and manifesting allow parcels to be packed and labeled for maximum efficiency and safety during delivery. A 3PL provider ensures packages meet all customs requirements and necessary paperwork.
Vendor management: Vendor management services can minimize the risk of premature, failed or late deliveries and their resulting costs, streamlining your deliveries.
Request Premium Freight Forwarding Services From Purolator International
At Purolator International, we are dedicated to offering our clients the highest level of service and supply chain logistics solutions. We specialize in ground and air forwarding of freight shipments, fulfillment and delivery services and customs brokerage. Our team of freight experts is known as a leading logistics solution provider in Canada.
We understand your parcels need to get to their destination safely and promptly without hiccups, so we offer fast, faster and the fastest shipping speeds to meet your needs. We are experts at shipping freight from the United States to Canada. Although these freight shipments are our specialty, we provide the same level of service and dedication to customers shipping to the rest of the world.
Contact us online to learn more about our freight forwarding services.