How E-Commerce Is Changing the Freight Forwarding Industry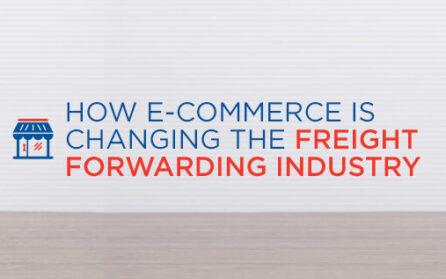 It wasn't long ago when people did their shopping at malls and grocery stores. Now, everyone can get anything they need — from office supplies and clothes to medication and fresh fruit — with the tap of a button. E-commerce has exploded and continues to grow year after year. It's a huge time saver for the consumer, which means more responsibility for logistics and supply chains. The rising demands of e-commerce have transformed the industry, and everything from freight forwarding to warehousing is getting major upgrades as a result.

What Is Freight Forwarding?
A freight forwarder is a company that arranges storage and shipping for merchandise on behalf of merchants and retailers. They specialize in cross-border forwarding to help these companies reach international markets and find effective distribution when shipping outside their home countries. The rise in e-commerce has increased the demand for freight forwarding tremendously. Once, supply chain managers only needed to deal with shipping products in bulk to fixed locations. Now, they need to reliably get individual shipments onto the doorsteps of customers all over the country and internationally. That's where freight forwarders come in.
Freight forwarders can handle a variety of tasks for shippers, including:
Booking cargo space: E-commerce merchants can work with a freight forwarder to select a carrier and book cargo space for individual shipments. The advantage of using a forwarding service is the forwarder's ability to choose the optimal carrier for each load, which will provide the most cost-effective and fastest option every time. Once the carrier is selected, the freight forwarder will take care of booking the cargo space.
Negotiating with carriers: Most shippers can gain better rates from carriers by working through a freight forwarder. Because the forwarder is a large company and serves many shippers, they have more negotiating power. They can bring down shipping rates significantly for e-commerce retailers.
Freight consolidation:A forwarder can consolidate shipments for companies that need to transport less-than-truckload (LTL) freights. As a result, all companies involved receive better carrier rates.
Documentation: Freight forwarders also handle bill of lading and export documentation for shipments. Generating these automatically ensures every party has the information they need.
Warehousing: Just as they can help with carrier selection, forwarders can also assist with storage. They can help shippers get merchandise from factories to warehouses or find optimal third-party warehousing providers for shipments.
Cargo insurance: A freight forwarder can also handle cargo insurance and any related insurance claims on behalf of e-retailers, reducing risk for many companies.
Freight tracking: A freight forwarder has the technology and infrastructure to track freights, allowing e-commerce providers to track their shipments and provide the best information for their customers.
Essentially, freight forwarders allow e-retailers to take advantage of the efficiency and cost benefits of shipping as a large company. As an ideal solution to solve many of the issues e-commerce companies face, freight forwarding has transformed as a result of the growing influence of e-commerce.
The Emergence of E-Commerce
Just decades ago, e-commerce looked nothing like it did today. Ordering online was once a niche market, and deliveries would take weeks rather than days. Since Amazon launched in 1995 as an online storefront for books, it has exploded into an online mega-retailer, setting the standards for e-commerce and shipping.
Before e-commerce, shipping logistics dealt mostly with moving orders to brick-and-mortar stores. Supply chain managers were concerned with getting bulk orders to retail locations, where they would be stocked on shelves and picked up by shoppers. With e-commerce, bulk shipping is no longer an option. Now, supply chains must rely on warehouses to store merchandise, where each item will be inventoried and assigned an SKU. Then, orders will be picked and packed. Once they leave the warehouse, shipments need a way to get to wherever the customer is, whether across the country or international borders.
Logistics managers can no longer rely strictly on set, predictable routes to their retail locations. While e-commerce only makes up 16% of all retail sales, industries like fashion see a considerably higher percentage. E-shopping has substantial growth each year, and 75% of online shoppers make purchases once a month or more. Many consumers subscribe to Amazon Prime.
In the early days of ecommerce, freight shippers used mail and phone calls to communicate with customers. Now, consumers expect email and text updates about their orders and up-to-the-minute tracking. Free shipping was a crucial differentiator in the early days of e-retail, and shoppers continue to expect it.
Retail giants like Amazon and Walmart are setting the pace in e-commerce. For most companies, logistics requires many suppliers, warehouses and sales channels. Without integrated technology, the chances for misplaced orders are high. Customer demands and increased inventory requires retailers to standardize and synchronize operations. They need real-time reporting, inventory management and transportation technology.

The Demand for Fulfillment
How is e-commerce changing the freight forwarding industry? One of the most significant factors is consumer demand. Price and speed are two of the biggest must-haves for online shoppers. Retailers must do a balancing act of optimizing shipping speeds while also minimizing shipping costs. Customers increasingly look for same-day shipping, while others expect a free shipping option. Many consumers want the ability to pick up from stores or pickup lockers and more specific delivery estimates.
Another demand changing the industry is returns. Customers want a frictionless return experience, which calls for an overhaul of the reverse logistics process. Between 15%-40% of all e-commerce purchases get returned, and if a company cannot make the process smooth, they face losing customer loyalty.
All these factors call for new standards and goals for e-commerce freight forwarding, such as:
Improved customer and supply chain communication
Transparency in the supply chain
Ability to handle more inventory
Advanced tracking and order management
Customer satisfaction as the top priority
Cost reduction
Lowered fuel usage
On-time delivery
Fast delivery at prices consumers are willing to pay
Frictionless returns process
How Does E-Commerce Impact Supply Chain Management Strategy?
E-commerce has changed the supply chain itself, adding new links and changing how they connect. With an all-new organizational framework, the industry's strategies and best practices must keep pace.
The New Structure and Demands of the Supply Chain
Businesses seeing a shift towards e-commerce may have to rethink their organization completely. The way merchandise gets into consumers' hands has changed. As a result, the infrastructure of the supply chain is different. How can you prepare your company's supply chain strategy for e-commerce? Here are the essential elements an optimal supply chain should have:
E-fulfillment centers: Warehouses now need the capability to stock merchandise and pick items on an individual-order-level. The retailer or the logistics provider usually operates these centers. With new demand for warehouse inventory, e-fulfillment centers can range 500,000 to 1 million square feet, and they typically operate 24/7.
Parcel hubs and sorting centers: After orders have been picked and packed, they need to be sorted for distribution. With so many final destinations, e-commerce has given rise to specialized sorting centers that sort orders by zip code and deliver to the nearest delivery center.
Last-mile distribution centers: In 2017, last-mile distribution centers took up 73% of the industrial real estate market. These warehouses are the last stop for shipments before they arrive at customers' addresses or collection points. Moving these distribution hubs as close as possible to the delivery location is vital for high-speed operations and lower fuel costs. Usually, this means warehouse real estate is in the highest demand around high-population cities.
Integrated technology: Throughout the supply chain, technology and the Internet of Things (IoT) have become crucial to optimizing efficiency. Transport management software is integral. This technology gives shoppers the exact price quote for shipping and can track orders no matter what transportation mode they travel by. They provide online order status and send confirmations to customers. They can also generate the bill of lading and freight invoice for any order. Their main benefit is the ability to optimize transportation routes and carriers so retailers can always send shipments in the fastest, most affordable way. They also provide data analysis, custom reports and delivery history to help the entire supply chain optimize its operations.
Evolving Best Practices for E-Commerce Supply Chain Strategy and Freight Forwarding
No doubt, the skeleton and strategies of the supply chain are changing. To keep up, new logistical tactics are critical. Solutions and best practices have emerged:
Adopt automation: Big name e-commerce retailers like Amazon and Alibaba are turning to automation to deliver a seamless supply chain. Old-school methods, such as booking shipments by fax or by phone, need to be replaced with procedures designed for modern shipping. Freight forwarders first need automated booking and pricing and must develop sophisticated tracking and notifications to match. Then, warehouses, sorting hubs, last-mile transporters and the final consumer can plug into shipment data and book services with ease.
Optimize routes and pricing: What has long been the role of freight forwarding — optimizing routes and pricing — is taking on new tactics in the age of e-commerce. At one point, finding the lowest price meant negotiating with carriers. While this is still part of what forwarders do, technology can help find even better pricing. With advanced transportation management software, freight forwarders can now choose the very best price across all carriers using data. They can instantly compare performance statistics and pricing by volume for long and short hauls to find the most affordable way to ship items fast. This technology can also determine the fastest route for shippers, further improving the e-commerce supply chain.
Improve reverse logistics: Returned items represent a burden for everyone involved. Customers seek a hassle-free way to get their money back. Shippers are faced with refunding customers and managing transportation back to them to refurbish or resell the items. It has the potential to become a major cost for e-retailers. Bringing reverse logistics into the fold of freight forwarding and transportation has many advantages, from tracking performance metrics and data on customer demands to optimizing transportation costs.
Expand the IoT: While the IoT is often the purview of the carriers they work with, freight forwarders can be key players in helping the transportation industry increase their technology infrastructure for more accountability. The demand for more advanced tracking and optimized fuel costs on the forwarder's end can encourage carriers to adopt electronic data loggers for vehicles to reduce idling, select the best route, provide traffic data and track performance. Sensors for climate-controlled vehicles and facilities can adjust temperatures automatically, reduce waste and add value for shippers.
Streamline warehousing management: As e-commerce requires such a large inventory, warehousing strategy needs to mature to match it. E-commerce businesses need to know how to prepare inventory volume, from assigning SKUs to storing items efficiently. One best practice, developed by Amazon, is to use random or chaotic sorting. When new merchandise arrives at the warehouse, workers place it on any available shelf, rather than spending time on the placement decision. They log its location in a warehouse and inventory tracking system, which can also design optimal routes throughout the warehouse to pick orders.
Speed up cross-border shipping: Customers expect orders to arrive fast, whether the product is the next state over or in another country. While the U.S. and Canada enjoy open trade, the customs process can slow down shipments and create regulatory snags. Customs brokerage can speed up the process, ensure freights cross the border on-time and avoid extra fees resulting from government regulations. Canada is also known for having lots of remote regions, so having local expertise and a robust distribution network is essential for U.S. shippers engaged in international shipping.
The Future of E-Commerce Supply Chains
While e-commerce has revolutionized the supply chain, it is far from done with the job. Recent reports show only 40% of B2B shippers and 30% of B2C consumers have a fully-implemented e-commerce supply chain strategy. Global e-commerce is expected to grow by 19% in 2020. By 2023, e-commerce will represent 22% of all retail sales, and their total value will surpass $6.5 trillion. As the market continues to grow and one- and same-day shipping become the norm, e-commerce logistics practices will continue to shift and improve. Here's how:
Autonomous ships: As automation continues to sweep through warehouses with automated picking and robotic inspections, it will make its way into transportation. Ships and ground transportation alike are adopting virtual assistants to track temperatures and other settings. As the technology improves, international-bound freights may soon be boarding ships with virtually no human staff members.
Drones: While talk of drones taking over last-mile delivery has been on the supply chain radar for a few years, they will likely take up residence in warehouses first. Many companies are already considering drones for inventory tracking, transporting small items throughout the warehouse and collecting things stored at high heights.
Blockchain technology:Global shipping giants have begun using blockchain technology to make shipments secure and remove human error from transactions. Shipping contracts and bill of lading information can be written through blockchains, which can execute on contract terms in response to events in real time. For example, it can update documents after clearing customs based on live data.
Carbon neutrality: As consumer demands for e-commerce retailers develop, sustainability will become a differentiator. Shipping, especially ocean freights, has a substantial environmental impact. Customers want transparency and greener practices, which is driving many shippers to commit to carbon-neutral practices. For example, Etsy offsets the carbon footprint from all its shipping operations, and many freight carriers are pledging to take similar actions.
Advanced end-delivery options: The prevalence of e-commerce has given rise to a new obstacle — unattended packages. Between porch pirates and inclement weather soaking through packaging, people need innovative solutions to get their parcels delivered safely. Many apartment buildings use lockers where residents can have their deliveries secured while they're away. Some companies have or plan to install community mailboxes in high-population areas where customers can choose to have packages stored safely. Customers can then pick them up at any time. Purolator International even offers our own spin on innovative end-deliveries through our Mobile Quick Stop service. Our fleet of quick delivery trucks stop in convenient locations throughout Canada's largest cities near residences and workplaces. Your end customers can specify how and when they want their packages delivered, and we make it happen.

How Purolator International Is Preparing for E-Commerce Changes
Purolator International is your freight forwarding expert. We deliver Canada, and so much more, with supply chain solutions optimized for e-commerce. With a strategy that minimizes handoffs and shortens transportation routes as much as possible, we also provide freight consolidation and carrier rate optimization. Besides all the cost- and time-saving solutions you expect from us as freight forwarders, we also offer a robust returns management service, customs brokerage and automated shipping. We can help with warehousing, inventory and vendor management and even supply chain consulting.
Through all this, we provide world-class customer service with PuroTouch. We understand your customers' demands reign supreme in your e-commerce logistics. Through our PuroTouch, we offer you a single point of contact to meet all your needs — so you can meet theirs.
Want to learn more? Contact Purolator International to see how we can help you prepare for e-commerce.