Holiday Shipping Guide: Spread Holiday Cheer with an Investment in Smarter Logistics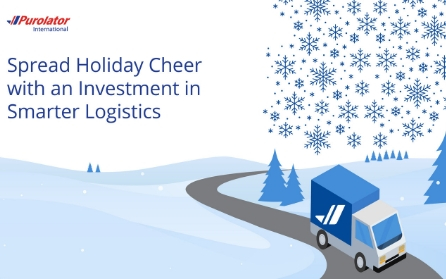 There are many reasons people choose online shopping over physical shopping. One of the biggest reasons is the convenience of shopping from their armchairs and avoiding the holiday rush. Consumers expect your company to get them those items in plenty of time for holiday gift giving.
Analysts predict that 2019 will see a rise in online shopping, which means more items shipped to customers and a bigger focus on smarter logistics that get holiday presents to consumers in time. Plan now for increased mail order sales and know your firm cut-off dates and shipping options.
Prepare for Peak Rates
Some shipping providers raise their rates during peak periods. In 2016, the United States Postal Service delivered 750 million packages during the holiday season. Not only will you sometimes have to pay more to get a package there in time, but shipping may be delayed during inclement weather and high volume days.
Create a Drop-Dead Ship Date
Drop-dead shipping dates vary from year to year, but we can look at last year's dates to get an idea of when you should ship an item out. 
FedEx
FedEx Ground – December 15
FedEx Express Saver – December 19
FedEx Two-day – December 20
United States Postal Service
USPS Ground – December 14
USPS First Class – December 19
USPS Priority – December 20
United Parcel Service

UPS 3 Day Select – December 18
UPS 2nd Day Air – December 20
UPS Next Day Air – December 21
Even though these dates are close guestimates, it's a good idea to build in a couple of days worth of flex time in case something goes wrong. You may want to set your drop-dead ship date for FedEx ground to December 13th for example.
Communicate with Your Logistics Partner
No matter what shipping solutions you offer, communicate with your logistics partner. You may choose to have someone else take over packing, shipping and processing returns. Finding the right logistics company to handle order processing is vital. Your customers trust you to get items to them in time and you trust your logistics manager to fulfill that promise.
Spread Holiday Cheer with an Investment in Smarter Logistics
Offer Free Shipping
Free shipping is a huge factor in whether or not the consumer buys from you online, with about 47 percent of shoppers saying they don't want to pay for shipping when ordering online. Look at the cost of your logistics and see if it's feasible to offer free shipping, particularly for larger orders. Offering free shipping gives you an edge over competitors and allows you to gain business from people who might be on the fence between shopping in-store or online.
To do this profitably, you should consider things like minimum purchase requirements or a customer loyalty program. Also, make sure your provider is capable of handling plenty of ground shipping orders if offering free shipping as this is less expensive for you to pay for than priority or next day shipping.
Offer Pick-up Options
In addition to shipping, allow consumers to pick up items. Offering in-store pick up options for online purchases can also help to offset the costs of free shipping, as 20 to 45 percent of these customers make an additional in-store purchase. Pick-up cuts down on the number of items you need to ship and is a convenient option for local customers. Some shipping companies also offer pick-up locations where consumers can drop in and pick an item up, reducing the time it takes to deliver the item.
Automate Notifications
Take advantage of any tracking apps or automatic updates when you send out a package. The experience of ordering and delivery should be seamless for the consumer. The minute you're notified of a delivery, touch base with your customer to make sure they're happy with the item. Integration between customer service and logistics allows you to show your customers you care about their experience.
Grow More Efficient
Each season plan a more efficient delivery structure. If you have delivery drivers, group items into routes close together. If you use another company, figure out the best way to deliver items in groupings to reduce their work and speed up delivery. Consumers don't care how you get the items to them as long as they arrive on time and in good condition.